I love my shoes. Designer, summer, winter, or comfortable staples (Croc lovers IYKYK) — I am obsessed with buying new pairs. Because you can't really have too many, right? What I don't love is trying to store all of my pairs in my apartment. With only one closet for the two of us (and a hefty handbag collection to keep safe), this job has somewhat become a chore. And the rattan basket in my entryway is no longer cutting it. My precious shoes are starting to look a little like they've been flattened by a truck. Gasps in Chanel espadrilles.
So, if you're like me and are looking for shoe storage ideas to keep your sneakers succinct or your heels looking heavenly, then target your eyes to the handy shoe rack. No, I am not just talking about the basic wooden ones you find at your local grocery store (although these are quite handy, TBF). I'm talking more about shoe racks that you can configure to fit the size of your storage space. And ones that double as a seat so that you can squeeze on your sneakers in comfort. And also vertical shoe racks for smaller spaces. Plus
So, after quite a lot of shopping (and review reading), I've narrowed down all of the best shoe racks you can buy online. As rated by actual shoppers, and approved by hundreds if not thousands of reviewers. The most popular types of shoe racks are ones for closets, wooden shoe racks, and shoe rack benches. So, you'll find three recommendations of each just below, so as not to give you too much choice so that you spend the next month trying to put your finger on the one you love.
9 stylish and super functional shoe racks to buy
Why you can trust Real Homes Our expert reviewers spend hours testing and comparing products and services so you can choose the best for you. Find out more about how we test.
Before we jump into the products, you might be asking yourself how will know which type of shoe rack to choose. So, we spoke with the experts to help answer this question.
As with most home organizing, finding the right shoe storage starts with thinking about the how and the where. "When it comes to shoe organization, think accessibility," says Marie Mandeville, CEO of Tailor My Space. "How do I want to access them, plus how much space do I have? Typically when searching, you should search for a specific location, under the bed shoe storage, over the door shoe storage, etcetera."
So you heard it from a pro. Before you start shopping for bins or racks, take inventory of both your footwear collection and your space.
The prices below were correct at the time of publishing this article.
Shoe racks for closets
If your entryway is narrow or you're a fan of the mininalist look, then it would be smart to store your shoes inside a closet. Here's what to buy to keep your collectioni in order, away from your clothes yet safe and within easy reach.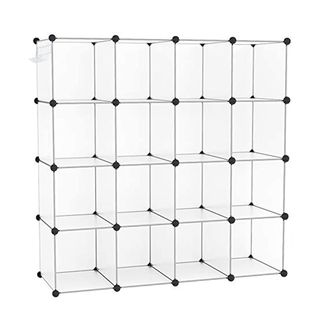 Amazon's Choice
1. C&AHome Cube Storage Organizer
Made from: Plastic/metal
Size (in.): H48.4 x W60.8 x D12.4
Price: $59.99
This genius cube organizer can be configured in any way that fits your closet, whether small or spacious. Each cube is detachable from the others so you could use it all around your home, otherwise, it's the perfect place to keep your shoes safe. Boots, sneakers, heels... you name it, it'll fit. You can also use this Amazon closet organizer for clothes, handbags, and more. It's rated Amazon's Choice by almost 5,000 reviewers. Even better? It comes in six colors, including pink!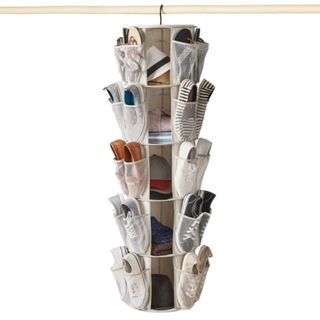 Hanging shoe rack
2. Mainstays 5-Tier Canvas Carousel Organizer
Made from: Steel metal, canvas
Size (in.): L13.2 x W13.2 x H51.75
Price: $24.98
If you've only got vertical closet space free, then this cheap shoe organizer will fit neatly in your closet without taking up too much rail space. It spins so you can easily see your shoe collection, with individual slots for each shoe. In the holes, you could put shoes that won't otherwise fit, such as boots. It's actually genius!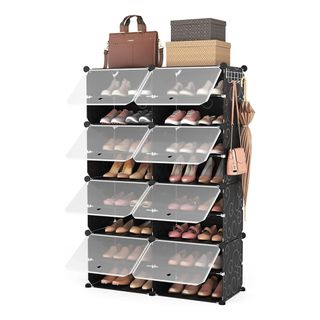 For large closets
3. Rojasop 8-Tier Shoe Rack Organizer
Made from: Plastic/metal
Size (in.): H48 x W32 x D12
Price: $56.99
Show off your shoe collection in style thanks to this genius Amazon shoe organizer. Yes, it's big, but each tier is detachable so that you can shape it however you like. Or you could even use a couple of racks in your entryway closet and the rest in your bedroom closet. In total, it has space for 32 pairs, and it has a flap to open each box to keep them protected. It comes in two colors including white.
Shoe rack benches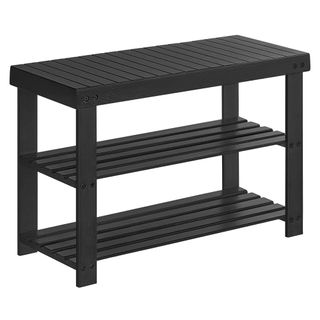 Budget-friendly
4. SONGMICS Shoe Rack Bench
Made from: Bamboo
Size (in.): H17.7 x W27.6 x D11.2
Price: From $35.12
This budget-friendly buy is Amazon's Choice, and it's not really hard to see why TBH. It's basic but it'll get the job done. With two tiers for your shoes to sit and a top shelf for you to perch while putting your shoes on, it's the perfect combo of practical and pretty. What's more? It comes in six colorways. You could drape a sheepskin rug over the top for extra comfort, or pop a few cushions on there.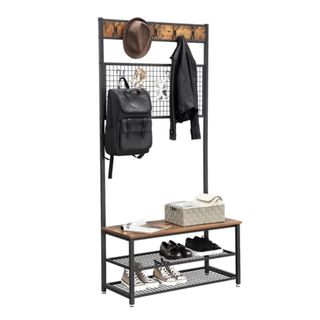 For small entryways
5. 17Stories Lakya Hall Tree with Bench and Shoe Storage
Made from: MDF, Metal
Size (in.): H73.6 x W36.2 x D16.3
Price: $111.99
This shoe storage system truly offers so much space to hold your things. Not only does it have two shelves for your shoes and a place for you to sit as you take them off, but it's fitted with so many hooks for bags, coats, the dog's leash, and more. It takes up little floor space so it's perfect for smaller entryways, and it requires minimal assembly. It has a 4.6-star rating from Wayfair reviewers, with over 1,000 shoppers raving about how much space it saves.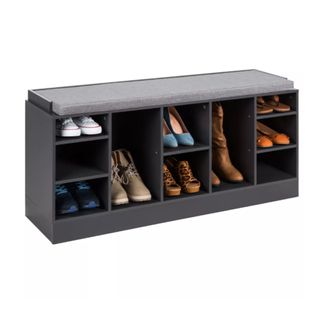 For comfort
6. Best Choice Products Shoe Storage Organization Rack Bench
Made from: Wood, Foam
Size (in.): H21.5 x W11.75 x L46
Price: $84.99
This Target shoe organizer bench gets top marks from us for comfort and style, and reviewers agree having given it a 4.7-star rating where value for money is concerned. In terms of storage space for your shoes, there are 10 cubby holes differentiating in size, to fit everything from boots to sandals inside. On the top sits a cushioned pad so that you and your guests are comfortable while removing your shoes, and this pad is wrapped in a soft linen fabric. Its frame is made from wood and is super sturdy, with a 400lb weight limit.
Wooden shoe racks
Wood is always the more sustainable option when it comes to furniture, so if you're in the mood to help save the planet, then we've found a bamboo shoe rack you'll love. Otherwise, MDF is great if you're on a budget. We all know that wood furniture lasts a lifetime, so here are our favorite wooden shoe racks.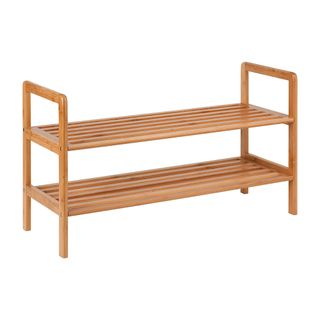 Made from bamboo
7. Honey-Can-Do Bamboo Shoe Shelf
Made from: Bamboo
Size (in.): H10.25 x W27.5 x D15.75
Price: $29.99
Go for the eco-friendly option and the planet will thank you later. This bamboo shoe rack has two tiers for your shoes to live, and it's perfect for displaying in your entryway or hiding away in a closet. It's anything but bulky making it perfect for smaller spaces, and its design will definitely blend in seamlessly in a boho-style or Scandi-style home — more than 3,000 reviewers approve.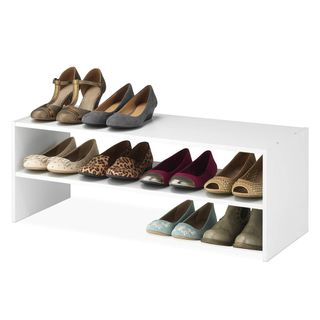 Amazon's Choice
8. Whitmor Stackable 2-Shelf Storage Organizer
Made from: MDF
Size (in.): H12 x W21 x W31
Price: $33.10
Make your floorspace work harder with this Amazon shoe rack. It adds two more tiers to the mix to help store even more pairs, plus it'll work in a closet, too. Though basic, it's actually a genius design, and seeing as it's Amazon's Choice, we're not the only ones who love it. Plain but practical, it can fit around 12 pairs of shoes on it in total, though you could use the top shelf for holding your handbag.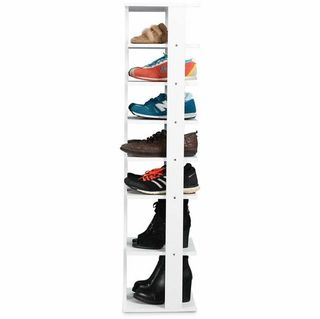 For narrow entryways
9. Costway White Shoe Stand
Made from: Wood
Size (in.): H43.5 x W10.5 x L11
Price: $55.99
If you're working with a narrow entryway, then this vertical wooden shoe storage has got your back. We all have that one awkward corner in our home that's awkward to fill, right? Not anymore. Use it to store your shoes in style — seven pairs to be exact. We love it because it's compact and lightweight so it's not too difficult to move around, plus each shelf is nice and tall.
---
FAQs
What is the best thing to store shoes in?
This all depends on the type of shoes you are looking to store. For everyday shoes, such as your winter boots or your staple summer sandals, go for a simple rack that you can place somewhere that's easy to reach. For seasonal shoes you're not using at the moment, then shoe boxes might be your best bet. Or if you can, use under-bed storage bags to hide things out of sight and use floor space you already have.
Is it OK to keep shoe rack at the entrance of the house?
Definitely! Just make sure that your shoe rack isn't in the way of your front door as that could be a fire hazard. A shoe rack needs to be somewhere that's the perfect balance of practical and not difficult to get to, but also some place that it looks stylish. Every home will be different, but smaller entryways might be more tricky to work with, understandably.
How we chose these shoe racks
These shoe racks have been chosen because reviewers and real-life shoppers rate them to be the best that you can buy from each retailer. So, we've only included shoe racks with more than a 4-star rating, and all of them have been reviewed by lots of people. Some have been tested by 10s of thousands of people.
We also took other features into consideration, for example, the price, material and size of each shoe rack. And we listed them for your reference. We've also thought about how many shoes each one can hold, and if it'll actually benefit your storage situation. We've recommended where to use the shoe racks, whether inside a closet or in your entryway on display.
Where to buy a shoe rack?
If you have something particular in mind when it comes to a shoe rack for your home, then there are top retailers with so many great picks. Find our favorite stores for shoe racks below, and cultivate the perfect entryway in your home.