These closet organizers are essential for setting yourself up for a good outfit day, with compartments to clearly set out your favorite clothes and shoes. If you find that you have to root around for a while before you can find what you need in the mornings, or if you constantly have piles of clothes that need a home, then these organizers are the perfect solution.
Regardless of how big your closet is, an organizer will make your whole set-up feel spacious and easier to keep tidy, especially once everything has a designated spot. Included here are also lots of hanging storage options for ultimate convenience so that you can store your shoes or jewelry in a way that maximizes the space in your closet.
Organizing your closet doesn't have to be an outlandishly expensive activity either, with so many affordable finds that you can piece together to find your perfect fit. Before you get started, take some time to work out the exact measurements of your closet, so you can really take advantage of every last inch.
Afterward, see our closet organization ideas guide for simple design ideas to inspire your closet clearout. And, to ensure your closet looks pretty at the same time as being practical. See the rest of our favorite bedroom organizers to keep the rest of this room tidy.
---
12 closet organizers for a neat and tidy space
Why you can trust Real Homes Our expert reviewers spend hours testing and comparing products and services so you can choose the best for you. Find out more about how we test.
1. A genius closet organizer system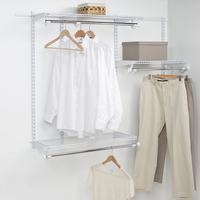 (opens in new tab)
Rubbermaid Classic Closet Kit: View at Amazon (opens in new tab)
This ready-made closet system includes a shelving kit, and rods for hanging clothes, meaning you can fit it how you like inside your closet. Easy to install and inexpensive, just this one purchase can revolutionize your closet space. Overall, it will create an amazing 10 feet of hanging space, and unlock areas of your closet you've forgotten about entirely.
2. A closet organizer for shoes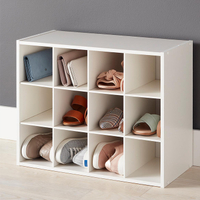 (opens in new tab)
The Container Store 12-Pair Shoe Organizer: View at The Container Store (opens in new tab)
This shoe organizer could fit into so many closets - even smaller ones, for under your clothes rail. For those with more space, they're also stackable so you can store up to 24 pairs of shoes. We think this would also suit a closet in an entryway, for stashing shoes out of sight near the door.

3. An affordable closet organizer for shoes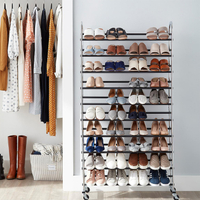 (opens in new tab)
Chrome Metal 10-Tier Rolling Shoe Rack: View at The Container Store
(opens in new tab)More space can be hard to come by when it comes to closets, but if you do have a walk-in closet situation, then this rolling rack is bound to help with making the most of it. With 10-tiers for extensive shoe collections, and the option to wheel it out of your space when you're dressing or organizing, this rack is bound to be in your life for a long time.
4. Check out this closet organiser for drawers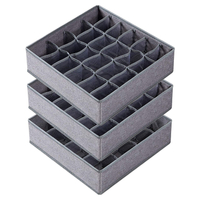 (opens in new tab)
Criusia Store 3 Pack Sock Underwear Organizer Dividers: View at Amazon (opens in new tab)
There's nothing quite as annoying as drawers that won't close due to overfilling, or when you can't find a matching pair of socks. With this 3 pack of dividers, you can bring organized calm to one area of your life very easily, and apply your system to socks, underwear and more.
5. Opt for these plastic storage organizers for drawers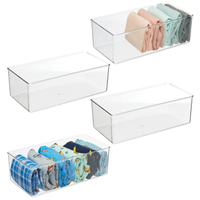 (opens in new tab)
mDesign Long Plastic Drawer Organizer Box: View at Amazon (opens in new tab)
If you need your in-drawer storage to be more accommodating to different items - from jewelry to hair ties, then these plastic organizers are a nice pick. With four in a pack and the chance to organize your closet's smaller pieces like those cleaning influencers on TikTok, these might be just the purchase you need to kickstart your organizing journey. In fact, they're an essential for Marie Kondo's guide for organizing your closet.
6. Separate clothes with these closet organizers for shelves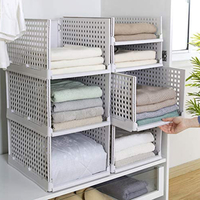 (opens in new tab)
HANAMYA Store Foldable and Stackable Storage Space: View at Amazon (opens in new tab)
If you have in-built shelves in your closet that take up dead space, then these foldable and stackable boxes will make a world of difference. With two handles for ease of movement and made from sturdy materials, you can depend on these to open up your space. Though they're super handy, they might be best for behind closed doors thanks to their somewhat industrial design.
7. Seamlessly divide with this closet organizer for shelves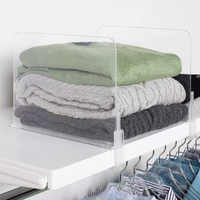 (opens in new tab)
Richards Shelf Dividers for Closet Organizer: View at Amazon (opens in new tab)
If you have exposed shelves in your closet/bedroom area and would prefer dividers that don't attract attention, then opt for these clear dividers to break your clothes into different categories. Versatile for use in a number of ways, including if you have a particularly large bag collection, you can't go wrong with this stylish pick.
8. The perfect closet organizer for small closets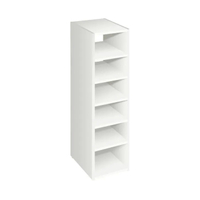 (opens in new tab)
ClosetMaid Selectives White Organizer for Closet: View at Home Depot
(opens in new tab)Fill any spare corner with this well-designed pick, which is perfect for clothes, shoes, accessories and can squeeze into even the smallest of gaps. Having a better closet is all about utilizing what you've got, and with this system, you can do that with ease.
9. This closet organizer for smaller closets has 3 rails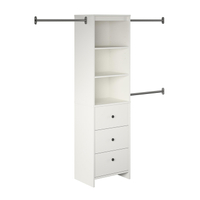 (opens in new tab)
Chipman Closet System Reach-In Sets: View at Wayfair (opens in new tab)
Start from scratch with this system, which you can install into your closet to freshen everything up. There's so much shelving to take advantage of here, as well as adjustable racks to hang clothes. This is the perfect way to transform a small closet into a more usable space without too much expense.
10. This closet organizer is for storing your clothes away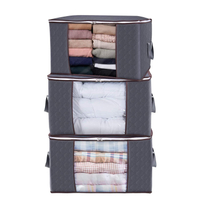 (opens in new tab)
Lifewit Large Capacity Clothes Storage Bag: View at Amazon (opens in new tab)
Fill these bags up and store them away to get rid of endless piles of clothes that haunt your house, especially as the seasons change. With a large capacity to fit in comforters, pillows and jackets too, you can get really up to date with what's in your storage with these bags.
11. This closet organizer is for use over a door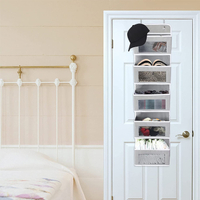 (opens in new tab)
Over The Door Hanging Organizer Storage: View at Amazon (opens in new tab)
Over-door storage is so handy for all those things you can't quite squeeze into your closet. We've picked these ones out thanks to their clear windows because it can get hard to remember exactly what you've stored where. This has five compartments to make the most of available space, and we think it'll work wonders!

12. This hanging closet organizer is one for jewelry lovers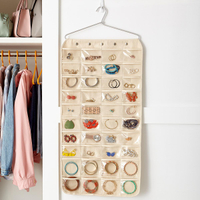 (opens in new tab)
80-Pocket Hanging Jewelry Organizer: View at The Container Store (opens in new tab)
Accessorize better than ever before with this organizer to showcase all your best finds. There is an amazing 80 pockets to fill, so if you need an excuse to get shopping, then filling your organizer is always a good one.
---
Where to buy storage organizers?
Find your own perfectly fitted organizers to freshen up your closet by visiting some of our favourite retailers, as listed below.