If you're also working with a small closet and a lot of clothes, keep calm: we're in the exact same boat and we've solved it. Whether it's an empty closet in your tiny apartment or something you can actually step into (we're jealous!), there's always space for improvement when it comes to organizing your closet. And no, we're not talking about hiring a pro organizer to come over to your home — if only the budget allowed — instead we're telling you to buy a closet organizer.
Your closet is probably stuffed with clothes, purses, shoes, hats, and out-of-season outfits. Essentially, this hidden space holds some of your most prized possessions. Whether you're a little stretched for space or you're just fed up with it looking like a hot mess (it's not very motivational on a Monday morning, is it?) then stay with us.
How can we help?
The 15 closet organizers featured below aren't just approved by team Real Homes, but we've only included closet organizers that shoppers rate highly. And the ones that reviewers say have made their lives easier. While we haven't tested these closet organizers just yet, you can relax knowing the verdict is already in, and they are fab. We've listed everything from specially designed buys to keep your shoes in order, to closet organizers to add more shelving to your home (without drilling any holes into your walls. Genius! Renters, small-space dwellers, and anyone on a budget, let's jump in.
The best closet organizers to declutter your space
Closet organizers with drawers
Why you can trust Real Homes Our expert reviewers spend hours testing and comparing products and services so you can choose the best for you. Find out more about how we test.
If your chest of drawers is small, or maybe you've not got enough space to have one? Then buying some drawers to sit inside your closet would be a smart idea. This way, your pyjamas, socks, underwear and more all has a space to live. And you don't have to hang every single clothing item.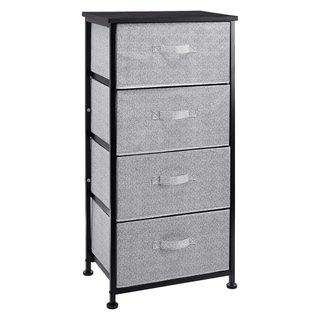 $40.94
1. Amazon Basics Fabric 4-Drawer Storage Organizer Unit for Closet
Made from: Wood/alloy steel/plastic
Size: W11.8" x D18.3" x H37"
This Amazon find will let you utilize the space most of us forget; the floor! With four drawers to store your pants, T-shirts, or shoes, this budget option gives you a chest of drawers without having to sap your savings. After all, we ain't got the money for solid oak furniture, y'all. This piece comes in white or gray, so you can even tailor it to your own tastes.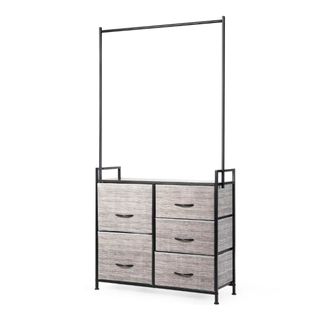 $89.99
2. Costway 5 Drawer Hanger Closet Organizer
Made from: Iron/MDF/non-woven fabric
Size: L33.5'' x W11.5'' x H66''
There are so many ways to store and organize your clothes if you don't have a closet, and this closet organizer will probably tick all of your boxes. Need some drawers for your underwear and hoodies? This guy's got your back. Need some hanging space for your T-shirts and dresses? Walmart knows what's up. Yep, this top-rated closet organizer is perfect for a smaller apartment or rental so you can take it with you when you move.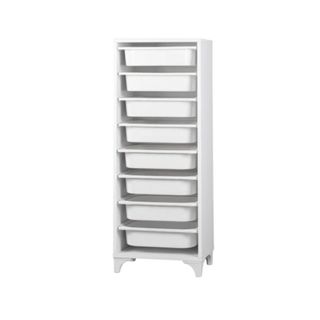 $99.99
3. Latitude Run Organizer with 8 Drawers
Made from: MDF/plastic
Size: W16.2'' x D12.2''
An easy way to store your outfits for the entire week, this closet organizer has integrated drawers to make everything look
a little more seamless. It offers 8 drawers in total, so you could use one for each day of the week and then you'll have an extra for miscellaneous bits. Or, you could use one per item type. One for your summer tops, another for your winter tops... you get the idea. It comes in three colors and reviewers rate it five stars!
Closet organizer shelves
You might already have a shelf or two built into your wardrobe, but you might need some more. We get it, and we also understand that you might not want to (or be able to) drill holes into your walls. So, these closet organizer shelves are so handy for adding extra storage to hold your purses, shoes, and extra stacks of clothes.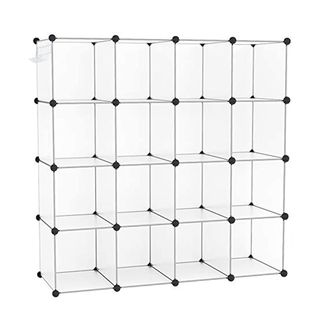 $59.99
4. C&AHome Cube Storage Organizer
Made from: Plastic/metal
Size: H48.4" x W60.8" x D12.4"
While this Amazon cube organizer looks like a generic cube-shaped storage option, the reality is much different. Each cube is its own entity with its own fixings, which means that you can chop and change the shape to your own needs! Depending on your closet size and shape, you could turn these cubes into a tall and thin organizer, a fat and wide organizer, or even a fancy li'1 shape you design yourself because you're an architect.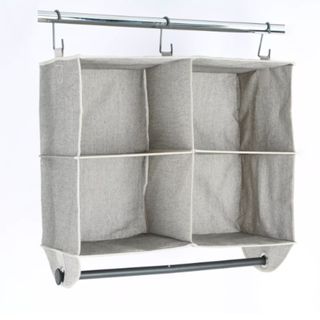 $19.72
5. Better Homes & Gardens 4-Shelf Hanging Closet Organizer with Hanging Rack
Made from: Polyester/cotton
Size: L24.8" x W12.5" x H22.8"
Closets come in all different shapes and sizes, but there's something about hanging shelves that are just so handy. This super cheap closet organizer with shelves will hook onto your rail and give you oodles of extra space to fold your T-shirts or keep your purses within reach. But that's not all, folks! It also comes complete with an extra rail below to ensure that you're not missing out on that vital hanging space in your closet. What more could you want?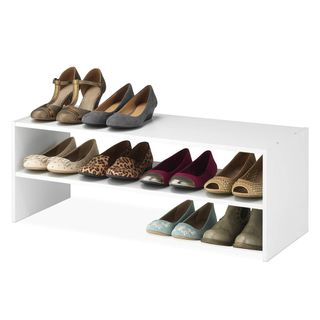 $38.97
6. Whitmor Stackable 31" Extra Wide 2-Shelf Storage Organizer
Made from: MDF
Size: H12 x W21" x W31"
Use up floorspace and add two extra spaces for shoes with this closet shelf. It comes in two sizes, so even if you have a small closet it should fit. The best part? It will use up any floor space you're not currently making the most of, and you can pop purses and more on its top. Though basic, it's quite aesthetically pleasing, too. Reviewers on Amazon have rated it Amazon's Choice.
Closet organizers for clothes
If you're searching for a genius way to store your clothes in your closet, that's not just hanging them on fancy hangers and pushing them in tight, then these solutions below will be sure to wow. And they'll probably mean you don't need to throw any clothes away as they should maximize space and make use of corners of your closet you haven't been using until now.
Avoid these clothes storage mistakes while you're at it, too.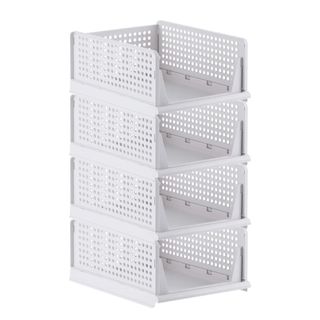 $41.99 for 4
7. Ctsnslh 4-Pack Folding Closet Organizers Storage Box
Made from: Plastic
Size: D13.19" x W7.38" x H16.93"
If you have shelves in your closet but always seem to end up with one giant pile of clothes, then you're gonna want to buy some of these bad boys. These foldable and stackable (!!!) closet organizers are great for shelves, as you can separate all of your different clothes and keep them neat and tidy without them intermingling and getting messy.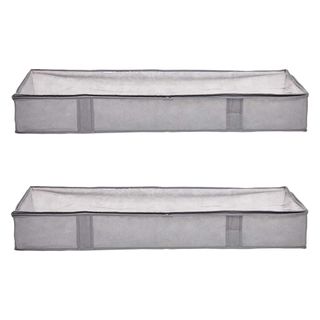 $13.64 for 2
8. Amazon Basics Under Bed Storage Bags
Made from: Fabric/vinyl
Size: H6" x W42" x D18"
Topping the charts, this uber-affordable storage bag comes in a set of two, freeing up plenty of space in your closet. Use it to store any out-of-season clothes, and to use up the floor space inside your closet. With a see-through top and a zip closure, items prone to dust or moth holes are kept safe and sound yet you can still see what's inside at a glance. According to users, it's also relatively sturdy for the price and can hold a whole lot of clothing. It's designed as under-bed storage, but it can be used inside a closet. It's Amazon's Choice for a reason.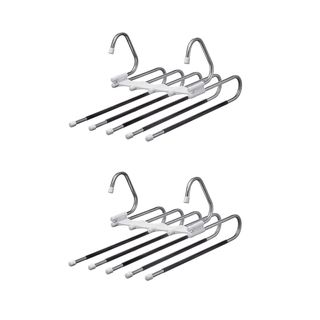 $16.99
9. Azeroth Pants Hangers 2-Pack
Made from: Stainless steel/acrylonitrile butadiene styrene
Size: L14.7" x W9.8" x H2.17"
Pants in all shapes and sizes can take up a huge amount of hanging space in your closet, which is why these snazzy contraptions will change the game. These racks for hanging pants can be used both horizontally or vertically, depending on how much space you have. Each rack doles out enough room for five pairs of pants, so this pack of two could be the new home for 10 pairs of pants!
Closet organizers for purses
Obsessed with buying new purses? We totally get it, and with every new purse comes a need to find somewhere safe for it to live until it's time to take it out and show it off. Here are some dedicated purse organizers, whether you've got vertical closet space to use, some space on your rail or even some empty shelves.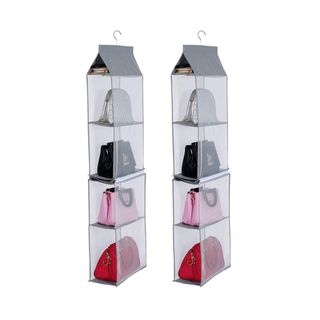 $26.88 for 2
10. Keepjoy Detachable Hanging Handbag Purse Organizer
Made from: Metal/nylon
Size: H52.5" x W15.8" x D6.1"
This awesome hanging handbag organizer attaches to the rail in your closet, and it offers four large shelves for your bigger purses, alongside a smaller shelf at the top for a smaller clutch. Plus, there are two in this pack, so you'll have space to keep 10 of your purses easily accessible and dust-free!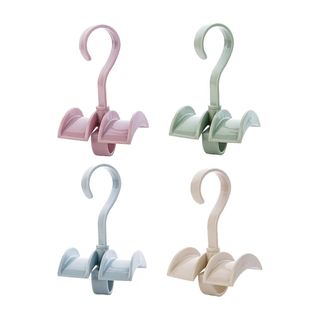 $12.99 for 4
11. Lionweli Rotating Handbag Hanger Rack
Made from: Plastic
Size: H4.2" x W5.4" x L8"
This purse hanger from Amazon is super cheap! Each hook has space for two purses, and it rotates to make the whole thing even more convenient when you're in a rush. But they don't have to be used for purses. If you want to get your closet super organized, you can also use these hangers for your baseball caps, belts, scarves, or ties.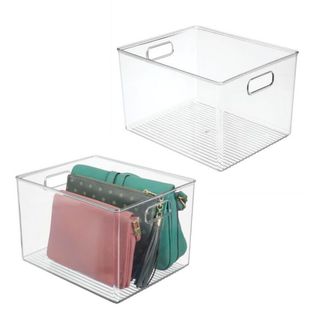 From $39.99
12. mDesign Storage Organizer 2-Pack
Made from: Plastic
Size: H8" x W10" x D12"
Completely transparent, this no-nonsense design adds a refreshing touch to any closet, both parts futuristic and easy on the eye. With built-in handles and hardy construction, you needn't unload your whole wardrobe to make a decision on your purse — that's the beauty of see-through homewares, right? As for looks, this matches most interiors.
Closet organizers for shoes
Last but definitely not least, you need to keep your shoes organized or your closet is going to look messy AF. And stacking them side by side on your closet floor won't cut it, BTW. Instead, these dedicated closet organizers for shoes will help you keep your prized sneakers and stilettos away where you can easily find them, and looking hella cute.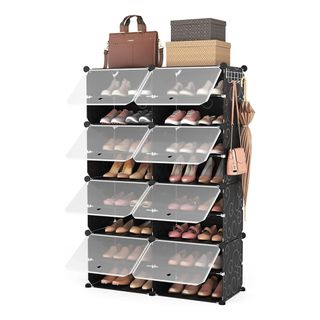 $56.99
13. Rojasop 8-Tier Shoe Rack Organizer
Made from: Plastic/metal
Size: H48" x W32" x D12"
Shoe organizers like this allow you to show off your beautiful shoes, no matter whether you're into sneakers or stilettos. With space for 32 pairs, your shoes will sit inside boxes that can be arranged into a shape that suits your closet thanks to each detachable box.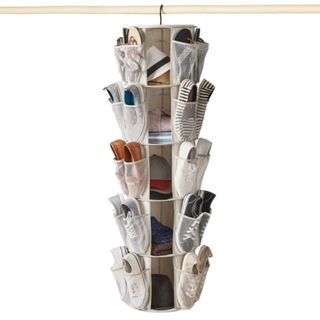 $24.98
14. Mainstays 5-Tier/40-Pocket Canvas Carousel Organizer
Made from: Steel metal, canvas
Size: L13.2" x W13.2" x H51.75"
This super cheap shoe organizer will fit neatly in your closet, and features a quirky little carousel feature which means that you can spin your shoes and accessories around in the morning while you choose what you want to wear that day.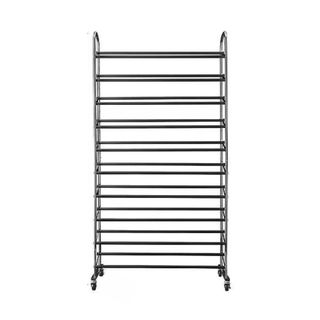 $79.99
15. Chrome Metal 10-Tier Rolling Shoe Rack
Made from: Chrome
Size: H59.63" x D13.75" x W31.13"
If you need more space to store your shoes, then this rolling rack is perfect. It's nice and narrow and is fitted with 10 tiers. It's made from sturdy chrome and reviewers rave about it. Yes, it might be best for medium to large-size closets, but it will save you a bunch of space. Reviewers rate it 4.4-stars out of five and love it.
Which closet organizers do I really need?
We spoke with Mimi Bogelund (the brains behind The Organised Home & Life and The Spark Joy Collective) who explained "each closet is different, so aim for a layout that makes sense to you."
When it comes to organizing she says to "be prepared to adjust and make a few changes, it's hard to get it right the first time." So, before you start buying, look inside your closet and see what items you have the most of — maybe it's purses or you have so many pairs of pants?
She also notes that you should "take inspiration from dreamy Instagram closets and just steal techniques and ideas" but the most important thing she says is to enjoy it.
What is the best way to organize a closet?
We've been chatting with organization experts to get an answer to how you
should organize your closet — especially if it's small. Hester Van Hien from Tidylicious (who is also part of The Spark Joy Collective) told us to "divide your items into categories, and keep categories separate by using storage boxes and/or dividers." This is a great place to start once you've done some decluttering and sent some items to your local thrift store. "So if you store socks and underwear in the same drawer, keep the socks separate from the underwear" she adds. "If categories mix, a drawer can start to look messy. And mess usually attracts mess, making your drawer look cluttered" she finishes saying. So, keeping everything separated it is! Bearing in mind there are so many closet organizers out there, this should be easy peasy. And, you might want to grab your label maker out.
How we chose these closet organizers
These closet organizers have been chosen based on their top-notch customer reviews and ratings. We've only featured products that reviewers truly love. We also chose closet organizers that are sturdy as well as pretty and practical
Where to buy storage organizers?
Find your perfect organizers to freshen up your closet by visiting some of our favorite retailers, as listed below.