In search of clothes storage bags for keeping your seasonal wardrobe in check? Or, perhaps your closet is slightly rammed at the moment (hey, holiday sales), and you're trying to source somewhere to tackle the overflow?
Clothes storage bags are a smart buy since they are budget-friendly — especially in comparison to buying another piece of furniture (aka a clothes rack or dresser). Instead, a clothes storage bag can be used if and when you like, since most of them fold away to be stored from wandering eyes with ease.
Whether it's your winter outerwear collection or the copious amount of bedding you've collected from going from rental to rental, pop all of this stuff into a sturdy bag and you're all set. Looking for something a little more hard-wearing? We've also rounded up the best clothes storage containers. Not only will these protect your items from moths and dust, but it's an easy way to help you stay organized even when you feel like your bedroom is a hot mess.
The prices in this article were correct at the time of publishing.
The best clothes storage bags
Why you can trust Real Homes Our expert reviewers spend hours testing and comparing products and services so you can choose the best for you. Find out more about how we test.
Zipper clothes storage bags
Keep your clothes tightly secured in a zipper storage bag. Not only does it look tidy, but the zipper also keeps anything from falling out. It's a great solution if you're in the process of moving — simply pick up the bag and go, no packing required.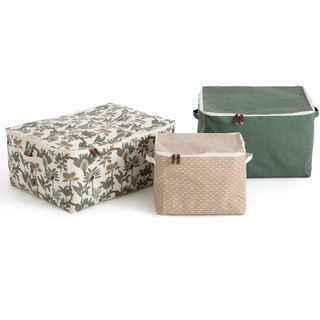 Luxury
1. La Redoute Sunny Storage Covers (set of 3)
Size: Small, medium, and large
Material: Polycotton
Price: $60.20
Probably the most bougie bag set on this list. Ladies and Gentlemen, introducing this green and ecru trio for a li'l over $60. For this, you'll get three patterned bags, each with handles that help you transport them with ease. Don't ask me to pick which is my fave — the sassy leopards and art deco fan motif both exceed my expectations.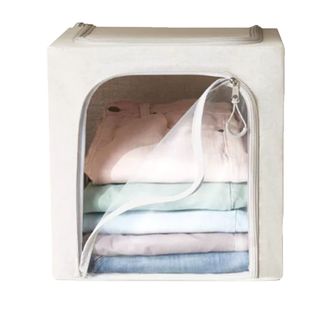 Cubed and cute
2. Brightroom™ Zipper Fabric Storage Cubes Gray (set of 2)
Size (in): H13 x W13 x L13
Made from: 70% recycled polyester
Price: $28
Bet you didn't think of storage cubes when it came to storing clothes! These are one of the best examples I've seen online. They're stackable, collapsible, fold flat, and can hold up to 25 lbs of weight. The zippered enclosure is absolutely genius. It has a door that you can see straight through, so you always know what's inside, and it will sit on a closet shelf perfectly.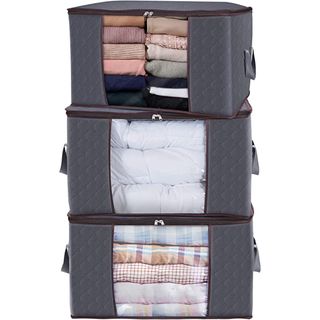 Amazon's choice
3. Lifewit Large Storage Bags (pack of 3)
Size (in): H13.7 x W16.9 x D23.6
Made from: Stainless steel, fabric
Price: $19.99 for 3
These highly-rated Amazon clothes storage bags come in a pack of three, each with a handy viewing handle. They're made to be stored under a bed, atop a wardrobe, or in a cupboard, with handles, zip openings, and non-woven fabric construction. Sizeable enough for 35 items of clothing, six blankets, or a king-size duvet, each storage bag has a 90L capacity. They also come in gray, dark blue, black, and even pink!
Vacuum clothes storage bags
If you've never used a vac bag, welcome, dear reader, to the most satisfying corner of storage solutions. Taking the air out of your clothes makes them smaller and easier to store, all while warding off mold and unwanted moisture. You won't believe how small a stack of clothes becomes.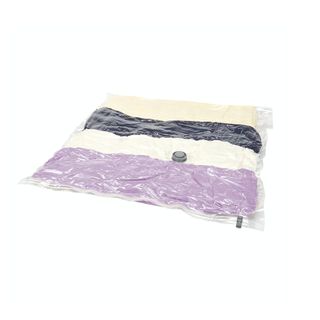 Pack of 3
4. Woolite Vacuum Storage Bag (pack of 3)
Size (in.): H48 x W35 x D1
Made from: Plastic
Price: $16.75 for 3
A household essential, this pack of three promises protection against dirt, water damage, dust, and bad smells — not to mention mildew and mold. Thanks to the airtight and watertight effect, it keeps your clothing dry, clean, and as minimally clunky as possible, providing enough space for around 20 sweaters (music to my ears!). With a durable construction and sturdy nylon bonding, this weathers the seasons. The shoppers' verdict? It remains sealed for a long time, saving a whole lot of space.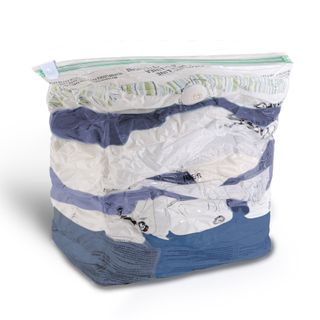 Budget-friendly
5. MagicBag Vacuum Bags (pack of 6)
Size (in.): H39.35 x W27.5 x D12.6
Made from: Plastic
Price: From $24.88 for 6
Freeing up to four times as much space in your wardrobe, these compressing bags work wonders, keeping items airtight between the seasons. The best part? The one-way valve is compatible with most vacuum hoses. Built from a durable polymer, the six-pack comes complete with patented sealing, and, as far as reviewers are concerned, it's a piece of cake to use. Add to this the double-sealed zipper and waterproof function, and you have one serious life safer.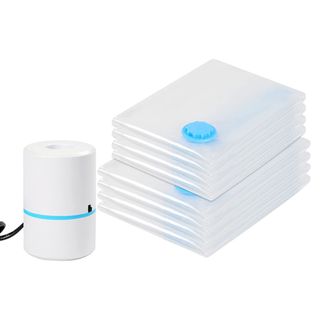 Electric pump
6. Bdzbren Vacuum Bags with Pump (pack of 8)
Size (in.): H31.5 x W23.6 / H39.37 x W27.55
Made from: Plastic
Price: From $29.99 for 8
When it comes to space-saving, this handy eight-pack delivers, offering four large bags and four jumbo bags. Given that the large alone can carry some 10 to 12 sweaters, you can rest assured this has plenty of room for your off-season wardrobe staples. Thanks to the double-zip seal and triple-sealed turbo valve, which sucks the air out, this bag keeps clothes fresh and thoroughly protected from dust and grime. And yes, that pump is electric.
Garment storage bags
Some pieces deserve a little more TLC than others in our wardrobes. Whether it's the prom dress you've hung onto or a precious family heirloom — it's best kept in a garment storage bag free from moths, dirt, and unwanted dust. Oh, and quite handily, garment bags make separating your formalwear from everyday casual that much easier.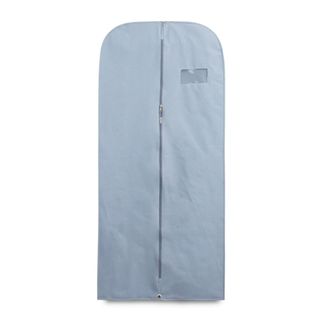 Eco-friendly
7. GoalWinners Garment Storage Bag
Size (in.): H54
Made from: Eco-friendly fabric
Price: From $10.44
Available in a whole spectrum of classic and pastel hues, this design would work brilliantly in a color-coded cabinet. Ideal for keeping your favorite blazer and trousers in tip-top condition, this can be used for travel, folding into a smaller size for use in luggage. As for the construction, the non-woven fabric provides a breathable, stain-resistant outer that's also fully recyclable. So, besides avoiding musty clothing, you'll also be doing your bit. For shoppers, it fits the brief. Plus, who is arguing with that price tag?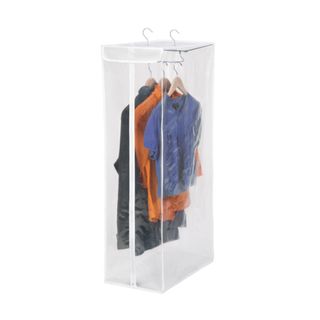 Perfect for coats
8. Rebrilliant Short Garment Bag
Size (in.): H42 x W20 x D12
Made from: Plastic and metal
Price: From $15.99
If you're keen to ward off unwanted attention on your clothing — be it moths or musty odors — then a clear plastic garment bag like this has your name on it. Offering more space than your bog-standard garment bag, this has enough room for suits, jackets, and shirts alike. As for the set-up, it's an absolute breeze — just use the hooks to hang it from your closet railing. For reviewers, this excelled at saving space, and one individual even managed to fit a giant puffer coat and eight other coats inside theirs. Nice going.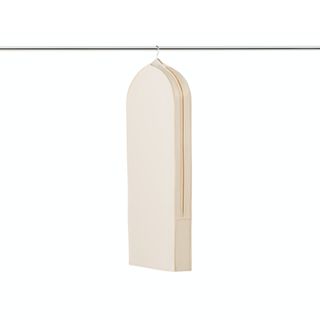 Smart
Size (in.): H42 x W24 x D4
Made from: Cotton
Price: From $21.99
Rendered in a neutral tone, this helping hand works exceptionally well with outerwear designed using natural fibers or leather, because of its own, ventilated twill fabric construction. For many shoppers, this does a lot with a little. In fact, one buyer boasted fitting eight to ten blouses and shirts inside it without a wrinkle in sight. Oh, and fret not, road-trippers — these won't slide around your trunk like thinner, slippier versions.
Under-bed clothes storage bags
Making use of your under-bed storage is a super smart way to store more in your bedroom, all while using floorspace that's already unusable. Under-bed storage bags come in all shapes and sizes — you can even buy ones specifically made for shoes — but these are the best for storing clothes.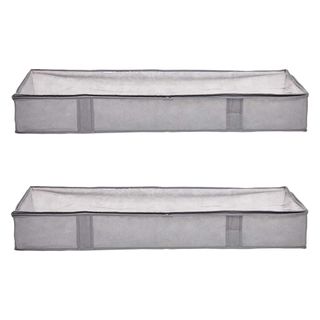 For under-bed storage
10. Amazon Basics Under-Bed Storage Bags
Size (in.): H6 x W42 x D18
Made from: Fabric/vinyl
Price: $13.64 for 2
This uber-affordable pack of two bags is perfect for shoving underneath your bed, using space that's already there. They unzip and they're super spacious. Not only for storing clothes, but you can use them for shoes and purses, too. According to shoppers, it's also relatively sturdy for the price and can hold a hefty portion of clothing. It's Amazon's Choice for a reason.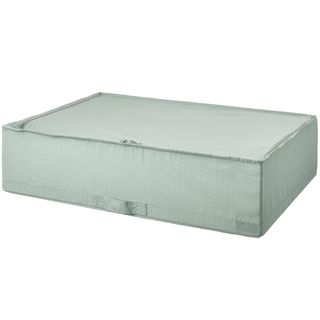 Last chance to buy
11. Ikea Stuk Storage case, light gray-green
Size (in.): H7 x W28 x D20
Material: 100% polyester (min. 90% recycled)
Price: $13.99
Looking for clothes storage bag solutions? You won't be "stuk" anymore with this Scandi solution. Rather than an ugly accessory you'd rather hide away, this sage green and gray case could fit in well with the rest of your pastel decor. Also comes in white and gray for all you modern minimalist babes.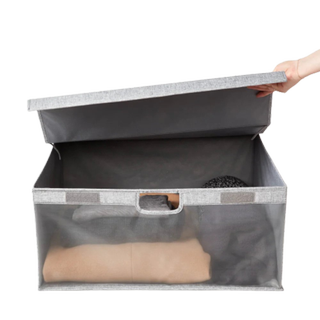 Collapsible
12. Under the Bed Collapsible Storage Box
Size (in.): L22.75 x W22.75 x D10
Material: Polyester, Cardboard, Fiberglass
Price: $25
This well-made and stylish box doesn't have many reviews, but of the ratings it does have are 5-star! It has the sturdiness of a box but can be flattened when you're not using it. One customer even decided to stack two on top of each other and commented on how well it worked. I love the pull-out handle and the fact that you can spot-clean it.
---
What to think about when buying clothes storage bags?
Think first about where you'll be storing your new clothes storage bag, whether that will be under your bed, at the back of a deep built-in wardrobe, or in a garage. If you're storing clothes in your garage, you might want to consider boxed storage that's water-tight, lidded, and heavy-duty such as the Really Useful Box from Amazon.
If your clothes storage is going to be on show in your home — perhaps poking out from under your bed — it'd be smart to opt for something that looks nice too, such as a decorative basket. However, if it'll be tucked way under your bed, prioritize practicality over looks.
How we chose these clothes storage bags
All of the clothes storage bags featured in this guide have been highly rated by online shoppers. We've only chosen clothes storage bags that are rated more than four stars out of five, and we've chosen popular types of clothes storage bags based on what we know shoppers look for the most. These include zipper clothes storage bags, garment clothes storage bags, and vacuum clothes storage bags. For anyone who is pushed for space, we listed some under-bed clothes storage bags which are the perfect size for sliding underneath your mattress.
Where to buy clothes storage bags
Yet to find a clothes storage bag — to suit your size space and budget? Keep searching below.