Knowing how to make a small garden look bigger can be a particular challenge in urban gardens. That said, some period properties in the country, especially cottages, can come with small outdoor spaces too, meaning that there really is no such thing as having too many small garden ideas to try...
When making the most of a tiny garden to make it feel as large as possible, everything from hard landscaping to garden furniture counts.
How to make a small garden look bigger
Why you can trust Real Homes Our expert reviewers spend hours testing and comparing products and services so you can choose the best for you. Find out more about how we test.
We spoke with David Hough, managing director of SMART Balustrades about creating the illusion of space even in a tiny garden. He recommends creating interest with height. 'Creating an elevated area can help to give a feeling of more space and can be used to look out over your garden, which takes the eye further. The key to creating height is to ensure you have durable decking and for a safety, a smart structured glass balustrade which will give the whole family safe, uninterrupted views.'
Proof that there is so much you can do, from putting the best small decking ideas into practice, to playing around with plant displays and more, just keep scrolling for our top tips.
1. Less is more to make a small garden look bigger
Narrowing your wish list of what you'd like in your dream garden is vital, explains garden designer Kate Gould: 'If your wishes and expectations won't ever squeeze into your space, you will always end up with a garden that falls short of the mark, so consider the elements you really want and weigh those against items that you might be able to do without.'
Huge features in a small garden will dwarf the space and make it feel cramped. Instead of a large garden water feature, for example, a modest wall-mounted spillway or spout will be more in proportion. Likewise, an outdoor dining set to seat four people, rather than 12, will work better visually.
But don't miniaturise everything, such as pots, plants and paving, as, oddly, this will make it feel smaller still.
2. Create a clever layout to make a small garden look bigger
Simplify a scheme, keeping the layout bold and striking with room for garden furniture as well as circulating space, is a good way to make a small garden feel bigger.
'Try visual tricks, too,' says Chelsea Flower Show gold medallist Paul Hervey-Brookes. 'It's a mistake to think having an expanse of large paving will create the illusion of space. Often it emphasises the smallness. Create mystery and the illusion of more garden by concealing part of it. Our minds always want things to be bigger, and if you can't see all of your plot at once, it can double or triple in size in your mind.'
Don't overcomplicate the layout and garden design details. Fussy curves and intricate hardscape look odd in small gardens and will always make them feel smaller. Instead be bold, and remember the maxim 'less is more', especially in awkwardly shaped gardens. Where space is tight, you simply won't be able to accommodate everything, so be prepared to compromise. This may sound obvious, but is often forgotten as enthusiasm for an idea takes over.
3. Introduce different levels to make a small garden feel bigger
'Use different levels; going down into a seating area makes you interact with the garden from a new perspective,' continues Hervey-Brookes. A simple change of level adds interest to any design, but introducing more vertical planes will also make a garden feel bigger. One step is relatively easy to introduce, especially with decking; however the riser (the vertical face) should never be taller than 20cm – 14cm to 16cm is ideal. If you're planning for more than one step, the tread should be no smaller than 30cm, but ideally no deeper than 50cm. Different levels are easier to create in a sloped garden.
4. Cultivate a kitchen garden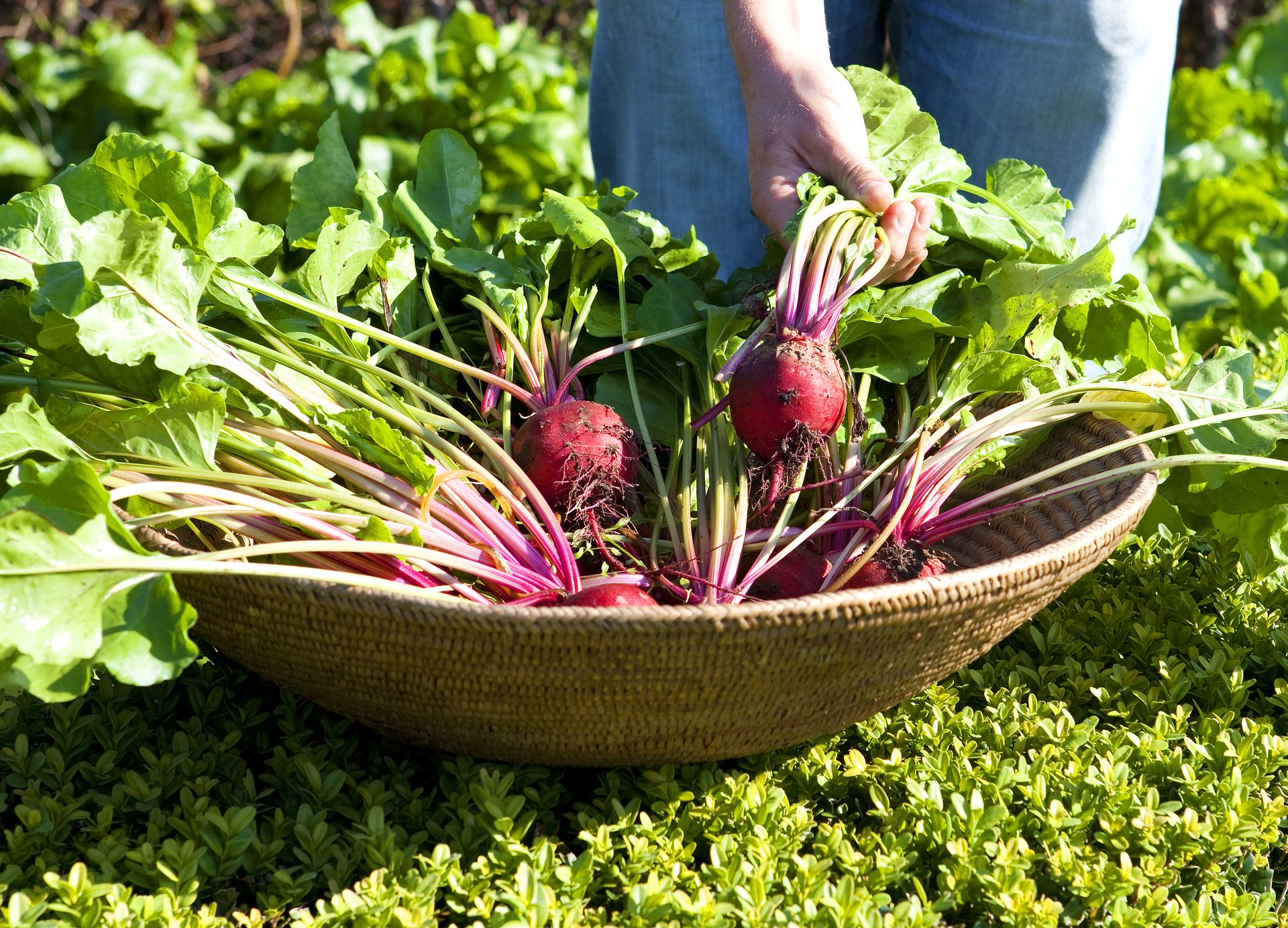 You can still cultivate fruit and veg in a small kitchen garden, even in the most compact of spaces. 'Mix them in with flowers in the beds, or plant in pots on a terrace,' adds Hervey-Brookes. 'Make the most of a small patch by cultivating crops you love.' Runner beans and peas on upright frames can be incorporated with sweet peas for an abundant display, and make use of vertical space.
5. Bin the lawn – create zones instead
'Tiny garden? If you're figuring out how to make a small garden look bigger, bin the lawn and go for additional paving, laid diagonally from the perspective of the house to create a visual trick. On a budget? Go for cheaper, light-coloured gravel in sunny spots, and bark in shade,' advises garden designer and horticulturalist Matt James. 'Quality artificial turf is also an option; you'll cut maintenance time in half and, with no need for a mower, free up precious garden storage, too.'
Dividing a garden – regardless of its shape – into a series of rooms using planting, wooden trellis or freestanding walls will help to hide what's on the other side of them. This obscures the actual size of the space, making the whole area feel much larger. If the garden isn't all revealed at once, this creates a strong sense of anticipation, too – piquing curiosity about what lies beyond.
6. Small garden? Think big
'Small pots, small plants and small paving units will make a small garden feel busier – and therefore smaller. Think big, even if space is tight,' continues Matt James. If container gardening, try to keep pots and planters in the same style using multiple sizes in complementary shapes to maximise impact, and to create a cohesive garden scheme: both these effects will make a small garden feel bigger.
7. Think tall, too, in a small garden
Figuring out how to make a small garden look bigger is all about using the space to your advantage. Use neighbours' walls, the side of the garage, and fences topped with trellis to grow climbers. Hang baskets, fix window boxes full of trailing plants to the house wall and plant tall, and put narrow, trees or canopy trees on boundaries. Potted bamboo can be a good substitute if you're renting. All this will exaggerate your garden's size and pack it with greenery, too. You could even create a living wall for a little drama.
8. Grow a container garden to make a small garden feel bigger
Talking of large pots and planters... they're perfect for cultivating a low maintenance container garden. Plant bold, textured leaves and contrasting forms that look good both in daylight and at night, to maximise the amount of time the garden can be appreciated.
This is one of our many great balcony ideas too.
9. Use space-enhancing materials and plant colours
Where possible, use reflective and light-coloured materials as they will make the space feel larger. The same goes for plants: choose light, bright colours and your small garden will feel larger.
A gloomy space will always feel less claustrophobic if natural light is reflected into it. In tiny, enclosed areas, light-coloured paint isn't the only option for brigtening things up – surfaces that reflect light, such as sparkly granite and quartzite, are more appropriate than dark blue-black slate or limestone. Polished steel pots and plants with glossy foliage, such as the Japanese aralia and hart's tongue fern, will also help bring in a little light. Glass tables and balustrades are reflective, too, and being translucent, don't take up much room visually.
10. Use colour to visually enhance your garden
Light, cool-coloured paint shades in a garden colour scheme will make a small space feel larger, whereas bright, hot colours and darker shades will have a dwarfing effect. The same applies with plants. Pale pink, soft blue and primrose yellow flowers recede into the distance, so position on garden boundaries to evoke depth. Bold blooms and foliage in sunshine yellow and bright orange act in the opposite way, drawing attention. They will have a foreshortening effect on boundaries, so make them centre-focus instead. White acts in the same way by drawing the eye, particularly at night, so position carefully.
11. Include a mirror to make a small garden look bigger
Large mirrors on walls, perhaps covering one side completely, can visually double the size of an awkward or irregularly shaped space and is a fantastic tip for how to make a small garden look bigger. Importantly, make sure that the reflection doesn't show the bin store or an unattractive collection of drainpipes. Instead, angle mirrors slightly away from the house or main viewing point by fixing a thicker timber batten down one side so that the mirror reflects more visually pleasing plants.
Always try to hide the mirror's edges to further enhance the illusion. Close-knit trelliswork fixed tight to the wall around the outside of the mirror works well – for uniformity, perhaps cover the rest of the wall with it, too. Alternatively, train climbers up to do this job; but you will have to wait a while for them to grow to a suitable size. For safety, acrylic mirrors are preferable to glass.
12. Hide boundaries to make a small backyard look larger
In basement gardens, boxy new-build plots and short, sloped gardens – notably those slanted towards the house – boundaries can really draw attention to the limited size of a garden. Packing boundaries with plants works on the principle that if you can't see them, then you can't tell how big the garden actually is.
Free-climbers, such as common and Boston ivy, and climbing hydrangeas have good covering power and tolerate shady walls and fences. Depending on the style or theme, partner them with tall-but-thin clump-forming bamboo, such as umbrella or Chilean, as both bring height but take up little width. Unlike fat shrubs, it's possible to plant shade-tolerant ferns and perennials underneath, too. In warm, sheltered gardens, Musa basjoo bananas, tree ferns and the Chusan palm are good and won't grow to giant proportions. For instant impact, buy big specimen plants if your budget will stretch.
Check out our pick of the best small garden trees to find a plant that suits your plot.
13. Borrow scenery to make a small garden feel bigger
Nothing makes a garden feel bigger than embracing a fine view beyond. Use similar colours, shapes and plants to claim the wider landscape for yourself. Likewise, don't prune back plants that spill over from a neighbour's garden, especially trees. Instead, consider merging them into your own design, perhaps by repeating similar specimens elsewhere. Again, the garden will feel much bigger because the boundaries have been blurred.
14. Use varied textures
Like colour, texture can create the illusion of depth and distance. Fine-textured plants, such as many small-leaved shrubs and ornamental grasses, fade into the background, whereas bold-leaved plants, such as banana or ornamental rhubarb, draw the eye. Position fine leaves in the background and coarse ones in front, to create the impression that the space is deeper than it actually is. This trick works particularly well in shallow, sloping gardens and is one of the most natural garden screening ideas too.
15. Play with perspective
A classic design trick to make a small garden feel bigger is to play with the perspective, essentially deceiving the eye into viewing the space differently. With long, narrow gardens, try to lead the eye across the space instead of allowing it to travel straight to the end. This will help to make the garden feel wider and more spacious. Using an angular design, set at around 30 or 45 degrees, works well. Alternatively, alter the orientation of the paving, or position the main focal point closer, or just off to one side.
Gardens that are wider than they are long can be tackled in exactly the same way, so try to pull the eye across the space rather than allowing it to simply focus on the back boundary. This trick is particularly effective with short-but-wide gardens that slope down to the home where the rear boundary is all too obvious and may well appear to 'loom' overhead. Also, position larger elements – plants, boulders and pots, for example – in the foreground, with smaller ones in the background. As the distance between them appears longer, this creates an illusion of depth.
16. Choose garden storage that doubles up as plant displays
Sometimes, knowing how to make a small garden look bigger means making sure every part of it is aesthetically pleasing – even the practical stuff. Every item should earn its keep in a small garden, especially where it comes to garden storage. You won't be able to avoid looking at it, so all garden storage will need to be good-looking as well as practical.
If you need to hide away clutter, our selection of the best small garden sheds is a good place to start; there are tons of options to pick from.
17. Stick to a coherent planting scheme
In a small garden, try to avoid cramming too many different types of plants, as the effect will likely be cluttered. To keep things interesting, go for seasonal combinations, so that you have at least three different flowering species adding colour to your garden at any given time. This will be enough to create interest while ensuring your space isn't too cramped.
18. Choose garden furniture you can leave out all year
Small gardens usually mean little or no outdoor storage – and likely not much space indoors either, so you'll want an outdoor set that will be fine outside throughout the winter. A hardwearing wood such as teak or eucalyptus will be your best bet – rattan is usually too delicate unless it's a weatherproof synthetic version, and metal will rust.
19. Stick to easy-to-clean materials
Small gardens are prone to getting dusty, since they're often in urban areas and close to roads and other sources of pollution. For that reason, we advise choosing materials that are easy to clean often – think easy to wipe plastic or resin, rather than high-maintenance linen cushions.
20. Plan garden lighting carefully to make a small garden look bigger
The best garden lighting ideas can do wonders for making a small garden look bigger – one of the best ways to do so with lights is by suspending a string of fairy lights or lanterns above your outdoor dining set. Instantly, you're encouraging people to look up rather than across, making the garden seem more spacious.
21. Make the most of window boxes
Using windowsills – or putting up shelves or a garden console table just below a narrow windowsill – to display pretty plants makes good use of vertical space and keeps the garden flooring clear. The result? Bags of colour without sacrificing square footage. Use our guide to creating window boxes to find out how to get the best from yours.
22. Focus on accessories
Adding eclectic accessories to a tiny outdoor space is a great way to exaggerate room and create more interest too. As per our earlier advice, make sure these are larger items if you can – as smaller accessories will just highlight the size of the area even more.
23. Inflate your seating options
Finding the biggest and best garden seating ideas can still be done in a small space – and adding a little comfort factor is a surefire way to make a small garden feel bigger.
24. Bring the heat with a fire pit
Speaking of cosy, adding warmth via a fire pit or other lovely type of outdoor heater will elevate a small outside spot in an instant, and is one of our tricks for how to make a small garden look bigger. Go modern or rustic with your fire pit ideas and see how quickly you can transform your garden.
25. Add an element of privacy with curtains
Trick the eye with curtains and create an outdoor living space which although tiny, looks larger than life. Plus, you'll enjoy a little more privacy too in your sacred small garden.