These raised garden bed ideas are the starting point you need if you're just beginning to grow your own food. Raised beds make vegetable gardening much easier and more productive since you are able to control the soil and weeds much more easily than in an open bed. Raised garden beds also are the perfect option if you live in a city and your garden is just a balcony or courtyard.
Kitchen gardens of all sizes benefit from raised beds, and there are plenty of ways to make them look attractive.
Raised garden bed ideas
Of course, you can hire a landscape designer and have them built for you from fancy materials like stone or concrete, but there are many DIY options that cost next to nothing. Be inspired and start your food-growing journey with these gorgeous examples of building your own raised garden beds.
1. Paint your raised garden bed for a modern look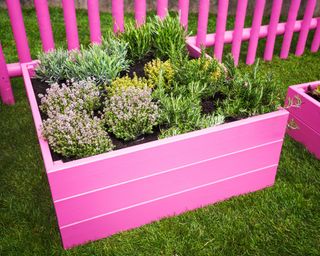 This is easily the simplest raised garden bed idea ever: take a wooden crate and paint it with the best paint for wood you can find. The possibilities are truly endless here, and you won't need to spend a lot on this easy DIY. For best results, do use paint suitable for the outdoors. Make you
2. Combine vegetable raised garden beds with tropical plants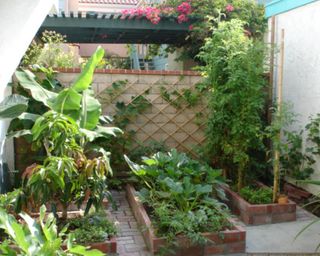 Tropical-themed planting is all the rage right now, and you may be surprised to learn that it's perfectly possible to combine your raised garden beds for vegetables with jungle plants. Tomatoes, especially, are suitable for this type of planting – they originate from tropical jungles and will be very happy grown in the same bed as a banana palm, for example.
This gorgeous tropical-themed garden with raised beds was designed by Roland Oehme.
3. Create a mini wildlife garden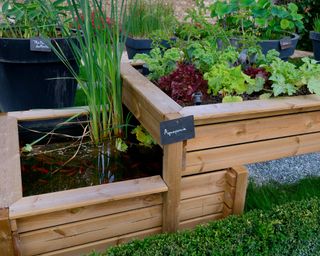 Why not combine a raised garden bed with a mini wildlife garden? This idea is perfect for smaller gardens that don't have the space for a meadow or garden pond. All you have to do is allocate one bed for your veggies and the other for your wildlife-friendly idea.
Top tip: if you do decide to create a garden pond within a raised garden bed, you will need to use a garden pond liner from Amazon to prevent the wood from rotting.
4. Make curved raised garden beds with steel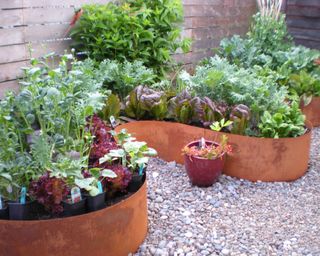 Steel is an excellent material for DIY raised garden beds – easy to work with, it will develop an attractive patina with age. You can buy steel edging as part of your garden edging ideas and use the leftovers to make bespoke raised beds for your veggies.
These steel-raised garden beds were created by Olivine Land.
5. Insert dividers if growing multiple crops in one bed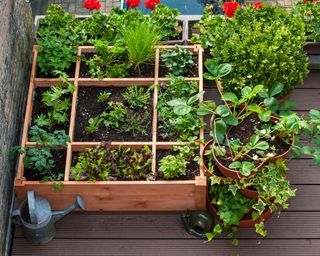 Another good idea for small spaces that looks especially nice when incorporated into small balcony ideas. If you're growing more than crop in a single raised garden bed, which will often be the case in smaller spaces, you'll benefit from inserting dividers all the way into the bed. You'll know this especially if you've ever tried learning how to grow mint alongside other herbs: it will completely take over all other plants if you don't limit its root growth.
6. Build a shape that's easy to move around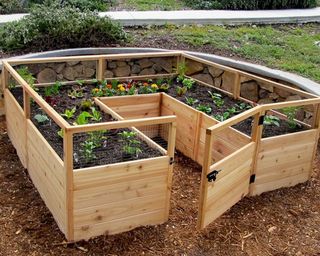 One of the most important things to consider with DIY raised garden beds is how easy it'll be for you to walk around them. You need to make sure that you'll be able to access your beds from different sides and won't have to lean awkwardly to reach your plants. Spacing out your beds adequately is one way to ensure this, but you can also be clever about the shape of your raised beds if you're short on space.
This Garden In A Box kit from Outdoor Living Today has a handy U-shape which means you can walk up to the bed on all sides. It also has a useful gate that'll keep pets out of your veggie garden.
7. Use rattan baskets for a stylish, rustic effect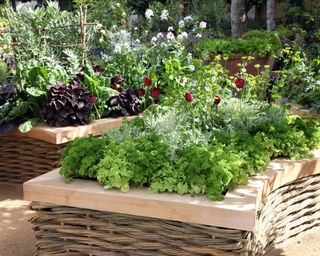 If you're a beginner gardener and want something a bit different from regular wooden raised garden beds, using sturdy rattan or wicker baskets can give you a pretty, rustic look that's a bit out of the ordinary. You will have to use synthetic, waterproof rattan and not the real thing to prevent your beds from disintegrating. For extra longevity, follow the above design and build a top frame from wood.
8. Utilize your greenhouse space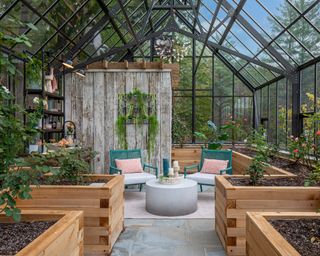 Raised garden beds and greenhouse gardening is a marriage made in heaven. Greenhouses provide the perfect conditions for raising summer crops that are not frost-hardy – think tomatoes, peppers, zucchini, and cucumbers. Whether your greenhouse is large or small, fitting raised beds along the perimeter is very easy.
This beautiful raised garden bed garden in a greenhouse has been built by the Michigan-based Concetti. We really like the way they've blended an attractive sitting area with the natural-wood raised beds. Rustic yet modern.
9. Make a pyramid raised garden bed to maximize your harvest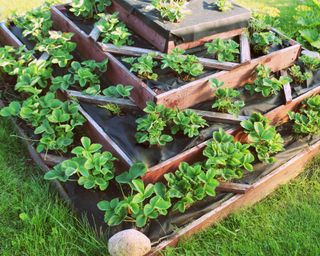 With crops that don't require huge amounts of room for root growth, you can get more yield out of your raised garden bed if you build it up rather than out. This can mean simply stacking your raised garden beds on top of one another, or building a more intricate tiered design like this pyramid-shaped one. Perfect for growing strawberries.
10. Use an old bathtub as a DIY raised garden bed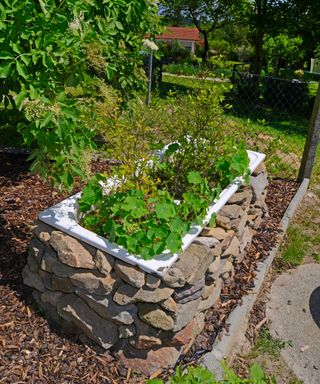 Old bathtubs make perfect raised garden beds – you don't even need to drill in drainage holes! This gardener has gone the extra mile, having clad the tub with stone on the outside, but can just use the tub as it is, or paint it.
Should I line my raised garden beds?
The answer is 'yes', if you're not sure you can commit to an impeccable watering regime. According to the RHS, 'plants in raised beds can suffer more quickly and more severely from drought due to improved drainage.' So, you'll have to water your raised beds a lot more often than you would open-soil beds. ' If in doubt, line the inside of the bed with polythene.'
You'll definitely need to line your raised beds if you're using them as DIY garden water features.