The best gardening tools will take the back and wrist ache out of digging, weeding, edging, and pruning – and be good-looking and nice to hold, too.
Use our guide to find all the basic tools for a well-equipped gardener – secateurs, spades, edging tools, trowels, rakes and forks – with our descriptions with what makes them the best in their category. With this you have everything you need for well trimmed hedges, tidy borders, leaf-free lawns and for planting new additions to your plot.
When you've picked the tools you need for borders and hedges, take a look at our pick of the best lawn mowers to maintain the rest of your green space.
The best gardening tools you can buy right now
Why you can trust Real Homes Our expert reviewers spend hours testing and comparing products and services so you can choose the best for you. Find out more about how we test.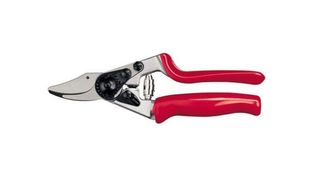 You might not think there's much to a pair of secateurs, but picking up a cheap pair at the till in the garden center can prove a surprisingly costly mistake when you find out they're uncomfortable or impossible to use.
These Felco secateurs are the best of the bunch thanks to their innovative rotating handle, which is said to reduce pruning effort by a third, lessening the risk of tendonitis.
You can rest assured that its blades are up to scratch too, with a toothed center-nut to align and anvil blades for what Felco promise is a 'clean and precise cut'. It was even voted "best tool of its kind" by the Good Design Guide, and we'd be inclined to agree.
We have more of the best secateurs in our buyer's guide.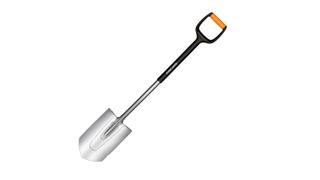 Digging into extra-firm earth is no joke, especially if it's full of plan-foiling grit, small rocks or gravel. The Xact Digging Spade by Fiskars is specially designed to see off such challengers thanks to an extremely durable construction and clever design.
With a super-hard boron steel blade, welded to a shaft of steel and composite; an easy-to-grasp Push-Pull handle, and a non-slip step board to make sure those wellies get maximum traction, it's intended to make short work of tough ground – while the finely sharpened edge cuts through any rogue roots.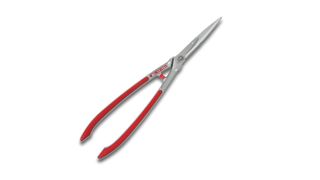 Well-balanced, perfectly sized, solidly made, and frighteningly sharp – that's what reviewers have to say about ARS' Ultra Light Professional Shears, so let us elaborate.
These shears aren't cheap, but if you've only ever used inexpensive blades before, users promise they'll be a revelation. The pipes are ergonomically designed to minimize hand fatigue and the high-carbon steel blades are expertly proportioned with the long handles for leverage, making for a comfortable cutting experience.
Reviewers also commented that they were surprisingly light, so if you have a lot of ground to cover in your garden, consider these.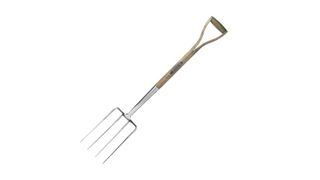 This Spear & Jackson border fork might have a handsome traditional look, but it is precision-engineered to meet all sorts of challenges.
The stainless steel head makes digging in damp soil less of a sticky situation by reducing the amount of earth that clings to its prongs, while also resisting rust – and the wooden handle is weatherproofed to last an age even in less well-sealed sheds.
That's not to say we're ignoring the design altogether of course – how could we? With its comfortable and elegant wishbone handle and natural wood finish, it's among the best-looking garden forks we've seen.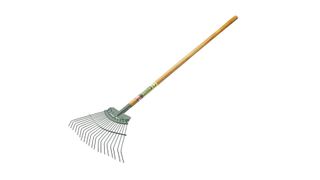 Removing dead grass, or de-thatching, or scarifying, might not be everyone's favourite job, but it is a necessary step in getting a Wimbledon-worthy lawn – and this Bulldog lawn rake helps to make it less painful than you might anticipate.
Reviewers' big impression was of how well-made the Springbok rake is, remarking on the comfort – from the sustainably sourced ash handle – and the flexible strength – from the riveted metal head – both vital features when tackling tough garden jobs.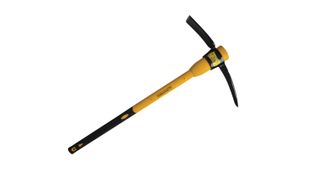 Light to lift but fearless in the face of stubborn roots and soil, reviewers found the Roughneck pick mattock tool to be adept at all manner of jobs, from pulling up stumps to excavating huge amounts of chalk.
With a heavy head and a lightweight fiberglass handle to minimize vibrations from heavy hits, users were impressed with how well it struck a balance between capable and comfortable. Some said you had to drive the head into place firmly on the shaft before first use, but loved that the head had remained tight to the handle after extensive work – good news when it comes to safety in the garden. Nobody wants a pick flying off through the kitchen window!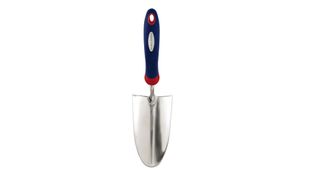 Trowels are endlessly useful things in the garden, handling everything from transplanting seedlings, to potting, to cutting through straggly roots to make room for new plants – so you want to make sure you have a good one.
The Spear & Jackson trowel fits the bill admirably, with a mirror-polished stainless steel head that's not only strong and durable, but sleek enough to guard against annoying soil adhesion, and is resistant to rust. The polypropylene handle is ergonomically designed for wrist comfort too, meaning you can dig to your heart's content.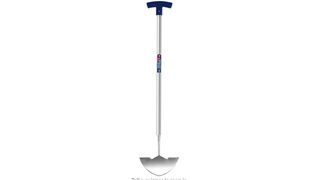 Sure, if you have an extra large plot (lucky you!) then you might want to look into getting yourself a mechanical lawn edger, but the Spear and Jackson edging knife is easy both on the wallet and on the eyes.
It has a stainless steel anti-rust head, but an ultra-light aluminium shaft, which makes for a lightweight yet robust tool for lawn edging. You may find that if you have very tough soil you may want to break it up a bit with another tool first.
What are the best gardening tools?
When it comes to the best gardening tools, there will be some difference in opinion depending on your specific requirements. However, even if your garden is on the smaller side, or you have no great plans to alter the landscaping any time soon, there are a few tools that'll come in handy no matter what.
For pruning back plants to encourage growth and keeping shrubs neat, our top choice is Felco's Model 12 Secateurs – while anyone looking to keep their lawn neat come the Fall will appreciate a helping hand from Bulldog's Springbok Lawn Rake. If you're not looking to make a great investment, we say that's a good starting point. If you're after trimmers, edgers, or something a little more specialist, read more on our above picks.
How to buy the best gardening tools
Our recommended retailers for the best gardening tools
While, again, what you consider to be the best gardening tools will vary depending on the task you're looking to undertake, there are a few factors that should be taken into account when buying any gardening tool. These include:
Handle material
While, in most cases, the functional aspect of gardening tools will be made from metal, you may wish to think about the material used to produce the handle. Opting for wood, or another natural material is the most sustainable option, as the tool can be broken apart and recycled when – or if – it comes to the end of its life. Plastic handles may prove more challenging to responsibly dispose of.
Weight
If you're shopping for the elderly, or you're aware of your own strength limitations, it may be worth considering the weight of your gardening tools and whether you – or whoever you're shopping for – will be able to manage.
Multi-functionality
Take time to carefully consider how you intend on using your gardening tools. Are there any tools available that might perform more than one function?
Read more: