Sweaty socks, toys everywhere and a mountain of clothes placed helpfully NEXT to the laundry basket. Bet this wasn't what you had in mind when your baby boy became old enough to have his own room. That's why you need some good boys bedroom ideas to get things back on a stylish track.
From interiors that pay homage to their hobbies to superhero schemes and monochrome themes, we've got plenty of fun and creative kids bedroom ideas. Yes, because any of these can obviously be used for girls bedrooms, too!
We always recommend getting your little ones be involved in the decorating process from the beginning. Let them help you pick colors, prints and furniture. And nope, that doesn't mean you have to turn the room into an all blue, dinosaur den with camo netting hanging from the ceiling.
There are loads of ways to decorate a boys bedroom that will suit both your style and your son's particular personality, as you'll see.
Where's the best place to start when designing a boy's bedroom?
'Start outside of the bedroom,' says Joanna Landais Founder of Eklektik Studio. 'As with any interior planning, a child's bedroom should create part of a cohesive scheme throughout the house. Whether the house is decorated in Scandinavian or Bohemian style.'
'Then, consider your key pieces: bed, desk and storage solutions and think carefully about the amount of storage you will need in years ahead. Once you know your dimensions, think of a layout and how it will work best for your child, their own playtime, play dates and sleepovers.'
'Don't forget about yourself, reading time or night feeds. Space permitting, plans seating area for yourself or another adult who will be sending their time with your child.'
Boys bedroom ideas
1. Create an out-of-this-world celestial scheme
If you have a boy who goes crazy for comets and craters, then create a scheme that he'll be starstruck by. Start by creating a gallery walll with planets, the moon and intergalactic-inspired artwork. Glow-in-the-dark stickers and LED lights can create a constellation of stars when used as a feature wall idea. Used tastefully, they won't look like a tacky space for a toddler.
Then orbit around online shops and in-store retailers to find soft furnishings for this space. Think purple galaxy-themed bedding or asteroid grey accessories. And, for a vintage bedroom idea, add 80's inspired arcade memorabilia. We think Space Invaders would suit this scheme.
Don't think glitter is just for girls! A little sparkle here and there can really bring this room to life. So if you love your boy to the moon and back, create a spectacular space that's his own.
2. Integrate a sporting hobby into his interiors
Hey soccer and football Moms! If you want an inspirational interior that lasts longer than the game itself, it's time to make some substitutions to your existing boys bedroom space.
Revamp your boys bedroom wall decor idea affordably with a bright wall paint and stencils. Be sure to choose a washable paint so that any scuffs and scribbles can be easily removed.
Swap a boring clothes storage idea for high school style lockers and replace hangers with cloakroom hooks.
This faux grass rug adds a tactile touch and is an on-trend way to introduce the biophillic theme into a boys bedroom decor. And make laundry time a breeze by incorporating fun ideas to shoot his shirts and shorts into the basket – touchdown!
3. Create a bold monochromatic scheme
Think black bedroom ideas are boring? Think again. This minimalist scheme is bang on trend and ages well with your young man.
By incorporating geometric shapes and organic patterns, you can create a design-led look that keeps on giving. As shown in this space, drip designs aren't just for cakes. So get the boy involved with this simple but statement den design. Or, for a more spontaneous and undone look, paint splatters work just as well.
Keep it simple with these two colors or add a vibrant hue for an interior space with impact. Think of a monochromatic boys bedroom idea as a chameleon that can evolve as your boy gets older.
4. Create a powerful superhero wall mural
Keen to add kapow to your boy's bedroom decor? Then use your superhero skills to paint a simple wall mural. Start off by using a bold primary color like blue as your foundation, and add black building and other iconic comic strip characteristics.
But don't be discouraged if freehand sketching is your arch rival. Because stencils and stickers can be your secret weapon. So add wow-factor to this space with loud lettering, zig-zag motifs and all the onomatopoeia. That's sounds like 'bang', 'crash' and 'boom' to you and I.
5. Go wild with a printed wallpaper design
If you've got a little cub who's roaring mad for animals, then incorporating a safari theme into a boy's bedroom scheme is the way to go.
There are so many innovative ways to introduce wildlife into this space but printed wallpaper is one of the easiest. By looking out for stick-on adhesive solutions, you can simply peel this off once your young have grown up and out of it.
Create your own Noah's ark style bedding on a budget by sourcing off-cuts of wood to add to your bed frame. To style, add earthy mustard and terracotta soft furnishings to warm up this space.
6. Get them involved with the color scheme
The easiest place to start when planning a boy's bedroom is with the color scheme. It's something you can both decide on together and will dictate a lot of the design decisions so it's good to decide on colors first.
When it comes to paint ideas for kids' bedrooms, you don't want to be repainting the room every month as your kid's favorite color changes. But do consider what colors they are loving right now and bring them in splashes – like with the yellow in this bedroom.
Note that all the walls are kept fresh and white, the perfect neutral backdrop for adding in other colors as your kid's tastes change. And painting the ceiling is a great tip as it means the color isn't as dominant as it would be on all four walls, plus it's playful to have a colorful ceiling.
7. Make playtime the focus with a fun theme
Most boy's bedrooms double up as a playroom, so make toys and fun the focus from the off. Keep toys accessible at kid-level, and plan quirky things into your decor like this cute rug that replicates grass and the wallpaper that continues that outdoor theme.
You want the space to feel like a little refuge for your kid, a place they can escape to that will allow their imagination to run wild.
8. Pick a cool kid-approved bed
Who (including us grown ups) wouldn't love to have this cute kids' bed in their room? It's like a playhouse and a treehouse but in their bedroom and they get to sleep in it every night!
Not only does it look fab, but it also gives them a sense of privacy too, a place to go and read or play, where they feel like they have their own space. Plus you can decorate it to suit their tastes, changing it up as they grow.
9. Get the bed up off the floor
This is such a cool boy's bedroom idea for when they are a little older, and the dea of having your bed essentially on the ceiling is brilliant as opposed to terrifying. In this kid's room, the bed is built above the wardrobes, with a ladder taking your up to the sleep space.
It creates such a cool cozy nook, and it's perfect for smaller rooms because you don't need to cram in both a bed and storage, you get both in one, leaving more floor space for play!
10. Make a cute gallery wall
A gallery wall is a fun and easy way to bring some pattern into a boy's bedroom no matter what their age. It's a lovely way to get the things your kids love out and on show – frame their favorite books, movies, quotes, photos, anything you can hang on a wall get it up there.
Also loving the half-painted walls and the lovely mute color scheme too, it feels fun and child-like but also could totally work in our bedroom too, so gets the adult's stamp of approval.
11. Create a cool industrial feel with gray
Decorating a teenage boy's bedroom? Lucky you. The key is to just keep everything feeling nice and neutral and then they can go to town adding their own touch with the decor. Gray is always going to be a safe color to go with, it's cool, classic and will suit whatever vibe your boy wants to create in his space.
Hang some floating shelves for them to adorn their vinyls or retro games consoles or whatever it is they are into that makes you feel ancient, and pick out furniture that adds to the steely, gray, industrial feel.
12. Add a mural to a boy's bedroom
Murals are such a fun way to add a bit of excitement to a boys room. Picking something nature-inspired like this mountain vista gives this room an adventurous feel and will stimulate all those creative senses.
Plus, this is a great look for a smaller bedroom too, as it turns a blank wall into essentially a massive window that creates the allusion of more space – a top small kid's bedroom idea.
13. Use prints and toys to add personality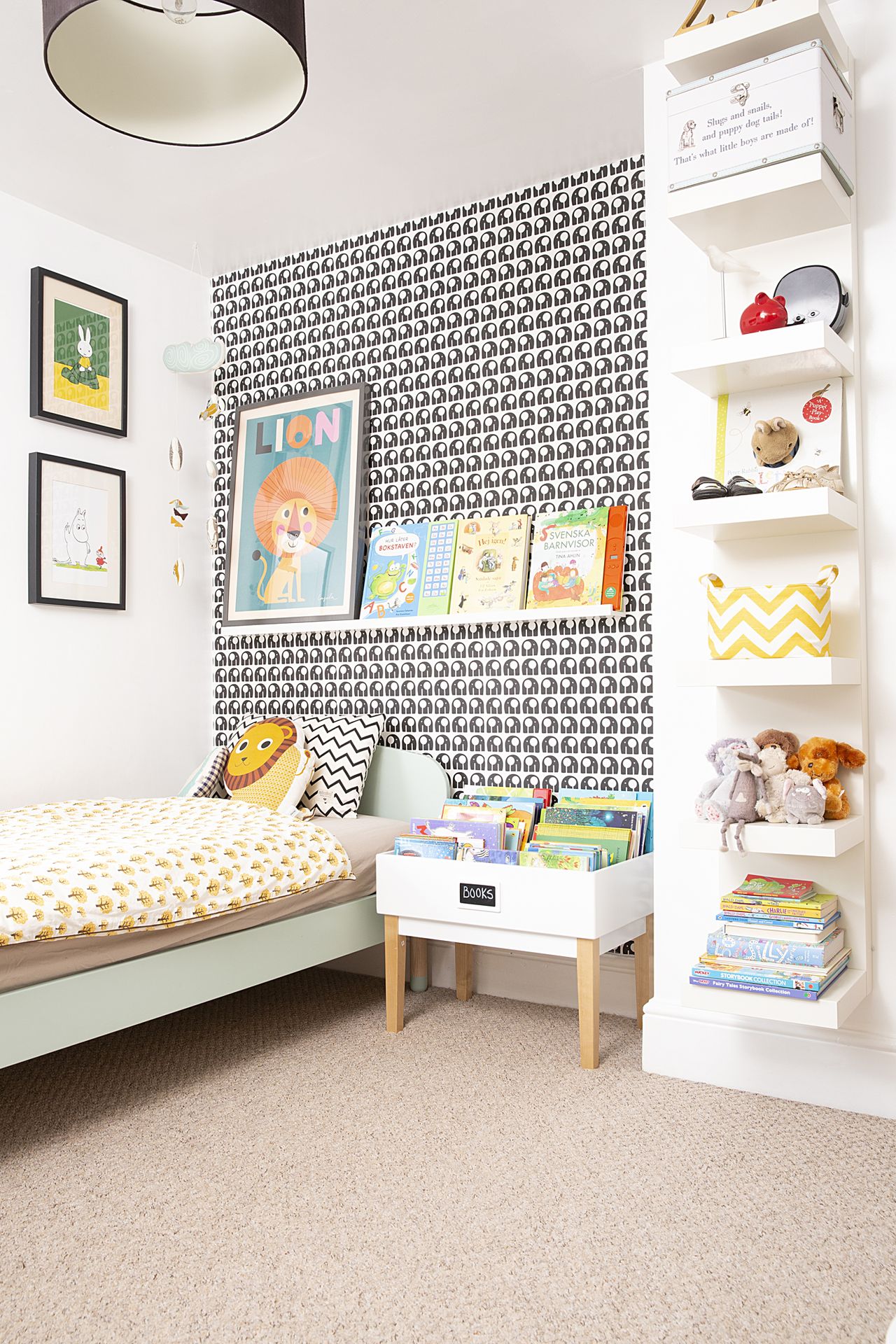 This boy's bedroom is so fun and creative – it feels like a child lives there, which is so important when designing your space. Let your style have some input but remember the room has to be kid-friendly too.
Make sure some of their toys are always on show or easily accessible, baskets and shelving are stylish toy storage ideas that do the job.
14. Mix fun prints and patterns into a neutral scheme
Anyone else a little bit jealous of this boy's bedroom? Minus the giant toy octopus and shark plushy, we reckon we could go for this room. This is the perfect example of how to design a boy's bedroom that's neutral, and so has longevity, but still feels fun and creative.
The mix of funky leopard print with the blue and the sea theme is just right for a child's room, but you could easily change the bedding and the prints to create a whole new look as your kid gets older.
15. Get your storage spot on
No matter what their age or style, you are going to need plenty of storage ideas for kid's rooms to keep on top of clutter.
'When planning a bedroom for children you need to think of the various types of storage needed, who the space will be designed for and how the space will be used.' explains Medina King, Creative Director of MK Kids Interiors.
'The age of the child will play a major role in the types of storage and use. Children ages 0 - 2 will need clothes and book storage, you will also need to consider a changing area, comfortable seating and a side table for bottles, wipes, etc.'
'Ages 2 - 7, will need storage for toys, consider role-play toys, such as shops, trucks, and dolls. Primary school children are also keen on sleepovers and extra beds should be considered when designing. Older children will need more book storage, as well as a desk for studying, as well as more clothes storage.'
16. Add a feature wall with wallpaper
How sweet is this orange print? It feels so fresh and fun paired with the vivid blue of the fireplace.
Adding a single wall of a cute whimsical wallpaper can instantly liven up your space and give you a color scheme to base the rest of the room around. Plus, it's not too tricky to cover up in a couple of years should you and your child want to redecorate.
17. Or go bold on all four walls
The jungle theme is just a classic, and choosing a tropical print wallpaper idea for all four walls is instantly going to a fun feel to a bedroom. Continue the theme in the rest of the room by adding animal motifs, more splashes of green and a cozy rug to soften up the space.
18. Use a tipi to create a den-like space
If you have the room, adding a tipi to a younger boy's bedroom creates an instant den for them to crawl into a play in the day or read at night.
They have a fun den-like feel, like they are on a camp out in their own bedroom. They also make for some great sneaky storage for toys as you pick up throughout the day.
19. Bring in a chair to create a reading nook
As your boy gets older, he might want a place to sit and read with you or by himself away from his bed.
Adding a little reading nook with a soft sidelight and plenty of cozy cushions gives him that dedicated space to sit and focus – plus it gives you a spot to perch to read before bedtime too.
What should you include in a boy's bedroom?
What you should include in a boy's bedroom will depend on the age. 'Toddlers will have different needs to a pre-schoolers and teenagers hence it's generally easier to plan for older children as you now their needs and preferences. But a play corner is always a good idea to keep the little ones occupied. This can later turn into a reading corner and eventually perhaps a TV/ Computer area.' says Joanna Landais.
'The sleeping area is also important, in particular proximity to radiators, especially important with babies and toddlers as the littles ones can easily overheat. Also window treatment and black out options will give you extra hour of sleep in the summer months and an extra layer of insulation in winter.'
'Lastly, storage - ideally open and closed as toys will be coming in all shapes and sizes from small stackable toys to chunky Nerf Guns at 6+. Having accessible storage is also important so children can learn to entertain themselves and hopefully tidy up at the end of play time.'
What colors should I use in a boys bedroom?
Blue is an obvious suggestion – if you do take this route, pick a fashionable inky or teal shade to take things to a more fashion-foward level.
Steph Briggs, TV Celebrity Interior Designer and Co-founder of La Di Da Interiors says: 'Earthy nature-inspired colors are on the up in home interiors, I think we are all craving sunshine and appreciating Mother Nature a little more these days.
'Colors that I've been using recently include beautiful warm burnt oranges and deep earthy terracotta like sun-baked mud huts. This combined with rich mustard tones of yellow gives it a freshness and energy.'
While Momtaz Begum-Hossain, Color Therapy Expert, Modern Color Theorist and Author says: 'In a bedroom, terracotta, moss green and grey would harmonize together – the terracotta brings warmth, the green brings balance, while the grey promotes tranquility.'
Add laminate wooden flooring, a Berber-style rug and natural baskets to accentuate an African-inspired scheme.