Looking to learn how to build a loft bed? This super easy DIY project will have you maximising the space in one of your bedrooms.
I love the look and functionality of loft beds and knew I wanted to build one at some point. They are perfect as a kids bedroom idea and maximizing the space and sleeping area in a room.
The perfect opportunity presented itself when we decided to turn the home we are living in into a short term lease property.
I knew I wanted to be able to sleep as many guests as possible and what better way than by building off the ground, creating more room below for beds.
So without further ado, follow these simple steps to build a loft bed of your very own making.
How to build a loft bed DIY
Tools and materials you'll need:
2x4 lumber
1x6 lumber
Airline cable wire
Eyelet screws
Rope
1x4 select pine
1-1⁄4" dowels
1-1⁄4"spade drill bit
Drill
4" and 2" wood screws
Speed square
Level
Measuring tape
Wood glue
How to build a DIY loft bed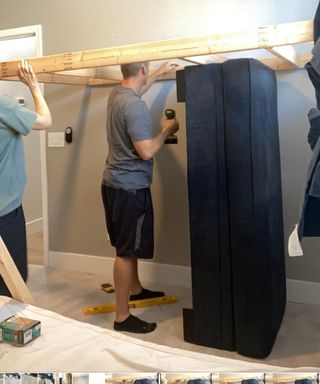 1. Prep
For obvious safety reasons, I wanted to make this loft bed diy project as sturdy and structurally sound as possible.
I began by building a frame with 2x4 timber. My frame was 42" wide by 81" long. Next, I located the studs in the wall that I would secure the frame to.
Since I couldn't hold this frame up by myself and screw into the wall at the same time, I recruited some help by way of my husband and an ottoman that happened to be the exact height I needed for my frame.
2. Attach the frame to the wall
I used 4" wood screws to attach the frame to the studs on two walls. Once the frame was up, I laid 1x6s across the length of the frame to create a platform, and screwed those to the 2x4s.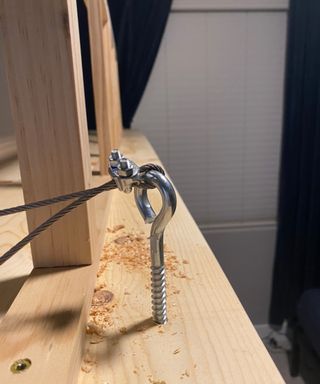 3. Anchor the bed
For added safety, I anchored an eyelet screw into the end of the bed as well as the wall and strung airline cable wire from end to end. Wrapping rope around the cable was a nice finishing touch.
This feature makes me rest easier knowing there is more added strength and security to the part of the bed that just floats in the air!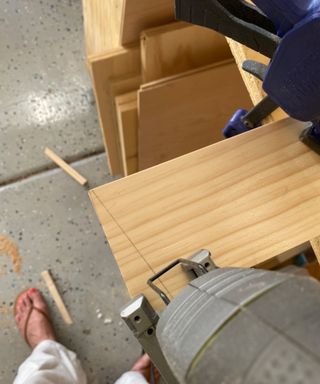 4. Build the ladder
Now, on to the ladder! Every loft bed needs some sort of ladder for obvious reasons.
After doing some research, I decided I would use dowels for the steps and 1x4 select pine for the rails. I measured the height of my bed on the wall and added 1.5" to that measurement for my side rails.
Knowing that the ladder would need to lean at an angle I used my speed square to trace a line from the end of the rail to 7" down at an approximate angle.
I used a jigsaw to cut this and then simply laid the first rail on top of the second rail and traced the same line and cut like before to get an exact match.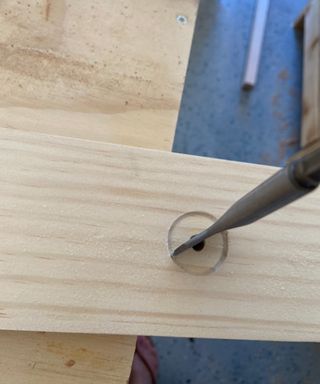 5. Install the ladder
With my side rails cut, I moved on to creating holes for the dowels to sit in. I'll be the first to admit that I'm terrible at math, but I knew I wanted 5 steps so I divided the height of my rails by 6 to get the space between each step.
I marked those measurements on my rails and used a 1-1⁄4" spade drill bit to create a pocket in my rails. I didn't drill all the way through because I wanted the side of the rails to have a nice, clean look.
Note: I installed the ladder at the very end of the loft bed so I would have enough space underneath to put a full sized bed.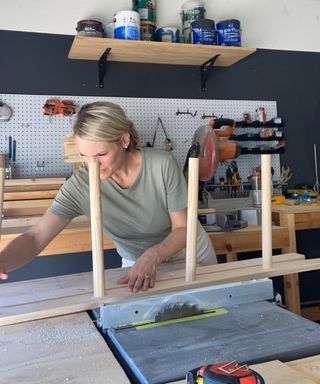 6. Add ladder rails
I bought 1-1⁄4' dowels and cut them each to 15" lengths. I used a wood glue in each dowel notch and once my dowels were lined up I drilled a 2" wood screw into the rail on each side, right into the dowel for extra support.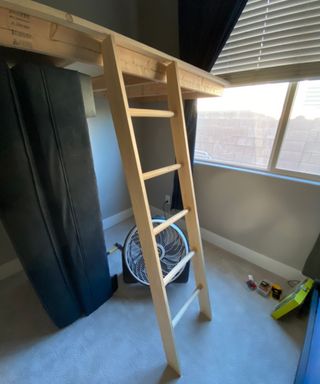 7. Build a loft bed safety rail
Last up, the safety rail. Using select 2x2 pine I created a grid and using pocket screws and wood glue I attached each piece together and then directly into the platform bed.
My rail measures 14" tall by 54" long with enough room to climb down from the bed. I'm also using a lower profile mattress from Ikea.
The results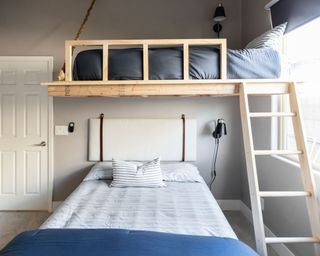 Can you make a regular bed into a loft bed?
If space is at a premium in a room and you need to make more space for another bed, you can convert a box frame bed into a loft bed. You can even make a queen bed into a loft bed. Visit a home improvement center to purchase the right timber or pillar posts designed for porches to support the bed.
Can adults sleep in loft beds?
Yes, loft beds aren't just for kids. Unlike bunk beds which in a home which are usually associated with kids, loft beds can look so much more sophisticated and adults can sleep in them. They give guests the ultimate, all-in-one space, so they are perfect for Airbnbs and short term rentals.
Most adults can sleep comfortably on a loft bed when it's safely and correctly supported. Always make sure the loft bed is long enough, and wide enough to allow an adult to sleep in comfort. Also allow sufficient headroom for an adult to sit up.
For more DIY projects like this be sure to follow me on Instagram @brookewaitehome.