We've pulled together all our favorite hallway ideas so that you can start making the most of what can be quite a neglected space. Despite the fact that corridors see the most footfall and provide the first taste of your home's decor to guests, they tend to be towards the bottom of our decorating priorities...
It's time for that to change because the latest hallway looks will have you eager to get on with updating the space as soon as possible, whether yours is long and narrow, small and stuffy or larger than life (lucky). From gorgeous but speedy fixes to complete revamps, you have options.
Space-enhancing hallway ideas
1. Add statement lighting to wow guests from the get-go
Selecting the right hallway lighting ideas is a must as asides from everyday practical use (especially in the winter months) ⁠— it helps to make an entry.
We love everything about this scheme from Carpetright. The textured ceiling works wonders when coupled with the luxury chandelier. However, this is contrasted with unstuffy informal details, such as the wooden flooring and jute doormat.
2. 50:50 painted doors
Whether you've just moved into a new home, or fancy a weekend of redecorating, it can be frustrating to settle on just one shade. So if you're down to two swatches, it can be possible to include both.
This gorgeous idea by Crown Paints uses cornflower blue and a crisp white shade to create a dipped design that creates interest and cohesion. Be sure to equip yourself with masking tape and a spirit level for great results when painting doors yourself.
3. Use calming lavender for a country-style hallway
Lilac is naturally relaxing and it can create a calming color scheme perfect for smaller hallway spaces. Add rustic furniture, and a mix of ceramic and glass vases for a cute country look.
4. Dress your hallway with distressed furniture
If you have a home with history, the chances are you'd want a home that reflects its heritage. Why not impress guests with a taste of period decor near the front door?
Not everything needs to be new, so scan online marketplaces for secondhand cabinets and consoles. Don't worry about scuffs, scratches and burrs ⁠— they all add lots of character to your interior scheme.
If you love this rich burgundy paint shade, shop Benjamin Moore New London Burgundy HC 61 and search antique or charity stores for lots of gold or brassy frames.
5. Create a warm and welcoming entrance with carpet
If you ask your kids (and guests) to remove their shoes before they walk into your home, using carpet is one of many hallway ideas that can keep your home clean and cozy.
Bursting with light, the pastel pink door and sandy carpet color will make your hallway feel bigger. Of course, the real design trick here is the hallway mirror which makes the most of the smallest room in the home by creating an illusion of a wider space.
Notice how the pink and beige theme comes together with the vase accessories in similar shades.
6. Add shelves for keys and accessories
Is your Victorian home in need of a revamp? Then carry on reading as we've got ways to modernized this architectural style.
First and foremost – let's talk about that dreamy door. Yes, pink is not for everybody, but where the walls and banister is kept relatively neutral, it's a welcome addition to an otherwise traditional space.
To keep in line with these modern additions, the owner has introduced a round, wooden shelving idea.
7. Fake an expensive marble look with luxury vinyl tile
Once you've prioritized other rooms, it can seem that your hallway ideas are an afterthought. So if you haven't got budget for expensive details ⁠— don't fret. Luxury vinyl tiling is a great hallway flooring idea suited for this high footfall area.
Using the same design in different colors, this idea zones the home and gives it direction. Use white on the back wall of the dining area draws the eye to the end of the room and gives the illusion of a lengthy corridor. It's also parallel to a similarly-colored stairway which also helps trick the eye.
8. Paint on a staircase 'runner' in a bold blue hue
If you want to make a regal entrance for your family ⁠— choose a royal blue scheme. Smart and sophisticated, this jewel-like, sapphire shade can even make small hallway ideas look expensive. Forget the red carpet, it's all about the blue carpet. And don't forget to crown your banister with this beautiful color too. It's the perfect suitor for your staircase.
9. Create a contemporary feel with Herringbone tiles
Marvelously modern, Herringbone or broken twill weave tiles are a fail-safe way of introducing pattern into a hallway idea if it's not usually your thing.
While it's a modern-looking motif, it can suit older properties too. Here, it's been paired with berry colored wall paneling and an elegant table in the entryway.
10. Add an Art-Deco feel with checkerboard flooring
Whether you're dashing out of the door in your Sunday best, or shyly accepting post in your dressing gown, there's always a reason to celebrate your hallway with a traditional look.
And, we're heading to the roaring twenties for tile inspo. Using just two colors, this monochrome checkered floor looks classy by itself, but even better when combined with beautifully Gothic stain-glassed door panels.
11. Invest in a rattan console to bring the outdoors in
Investing in a rattan console stand can revive your space and give it an exotic vibe. To complete the look, add Aztec print or globally-inspired accessories and use lots of palm plants or cacti to create a tropical atmosphere.
12. Decorate your door with a geometric paint design
Green is the color of the season it seems. From sage green bathroom ideas to cool, cucumber-colored kitchens, we can't get enough of this soothing shade.
So if you've had a stressful day at work, or need a color that screams Carpe diem, this hue works hard to put you in the right headspace at home.
This idea by Dulux requires a bit of masking tape to make it work. In this hallway idea, they've used Chiffon White 1, Highland Falls 2 and Highland Falls 4. But feel free to use an alternate combination of gradients to make this work in your home.
13. Fit a tall cabinet into a alcove for practical purposes
If the thought of a floating or fixed shelf feels a bit 'messy' in a hallway, consider placing a cabinet in an alcove to display a curated edit of your best homewares.
While this hallway idea uses white and cream tones for the foundation, notice how the inserts have been give a pretty polka dot makeover. Using off-cuts or samples of a hallway wallpaper idea can provide cohesion without straying too far from your angelic aesthetic.
14. Pick the best color to paint a hallway
Hallways are such great spaces to be a bit bolder with your color choices. They are usually smaller spaces that we just pass through, so this means you can afford to be braver in the colors you go for ⁠— have fun with the space and use it reflect your personal style. But you do have to think carefully when picking a scheme because not all shades are going to work if your space lacks natural light, as most entries do.
Our advice would be to avoid any dark, strong colors that are going to make the space feel gloomy. That's not to say you can't use darker colors in a hallway, just keep them softer with warmer undertones.
Always order swatches and test out your potential colors in your space.
15. Decide what furniture to put in your hallway
Just because hallways are often the smallest space in your home, that doesn't mean they can't squeeze in some functional furniture. These spaces are landing areas, they need a small console table to store your keys, lipsticks, dog leads, etc.
Or maybe a compact bench would be a better use of your space, somewhere to perch while yo put on shoes (or impatiently open all of deliveries). Benches can double up as places to dump, sorry we mean, neatly store bags.
16. Go for multiple sources of lighting in your hallway
Clever hallway lights can totally transform the space from dark and dingy to bright and beautiful. Avoid choosing harsh spot lights or single pendants, which we know can look lovely but can create quote harsh light and lots of shadows that's only going to make the space feel darker.
Hang pendant lights in groups or repeat the pendants down the hallway which will actually draw the eye down the space, making it feel larger.
Add in some soft wall light too or a table lamp on a console table for when you don't need a lot of light in the space but still want it to feel well lit and inviting.
17. Choose small accessories to add interest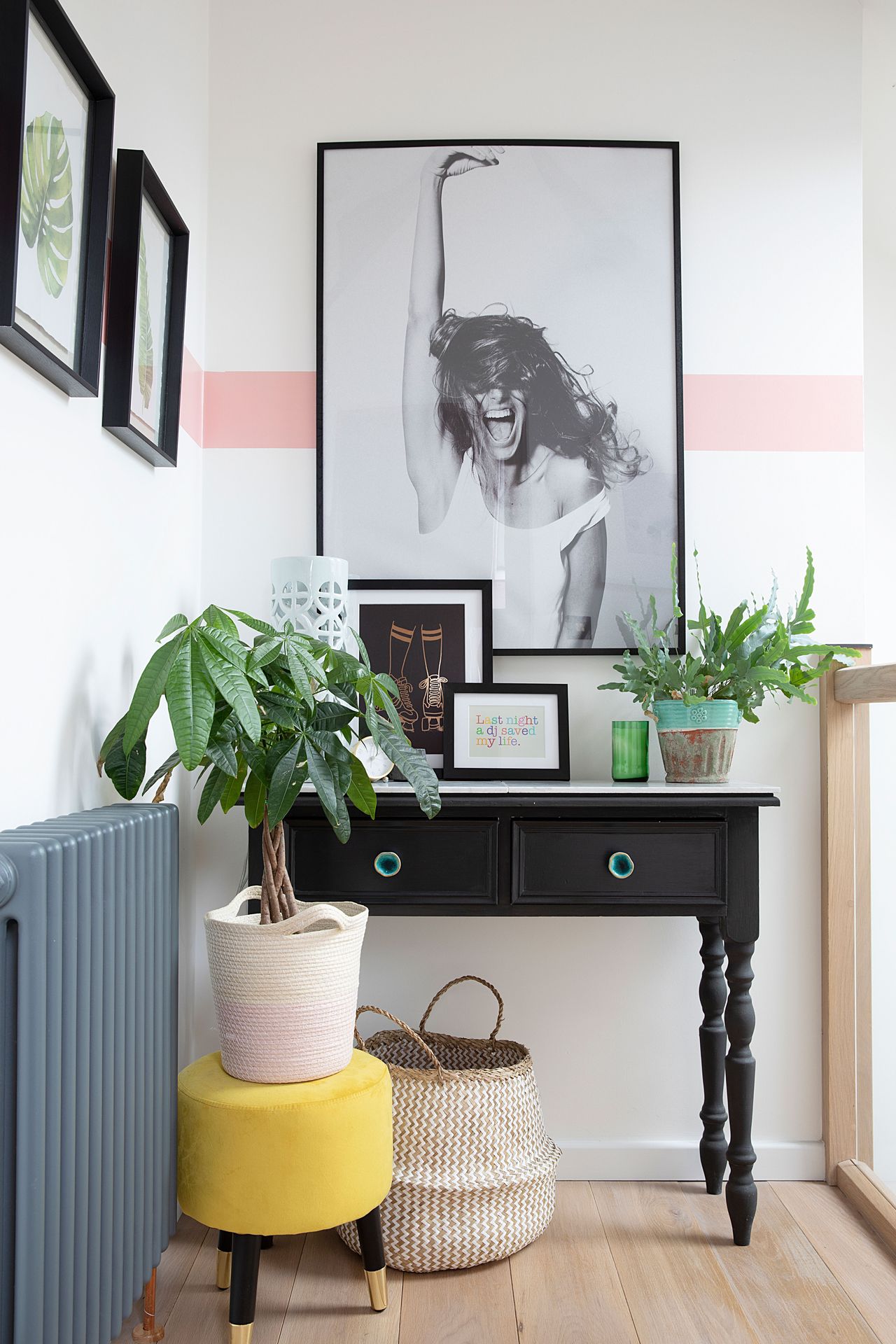 Just because hallways are small spaces, that definitely doesn't mean that they have to be void of any personality. Prints take up zero of that precious floor space, and cute baskets can double up as storage, you might even be able to squeeze in a houseplant to bring a bit of life to the space.
Adding hooks to your walls is a good way to accessories too. Go and steal some pieces from your closet to decorate with and add a bit of texture to those walls. Bags and straws hats are still all over Pinterest, plus it makes sense to have these near then door so it not all about the aesthetic, there's some practicality here too.
18. Think about practical hallway flooring
Now if you are totally redesigning your hallway, rather than just redecorating, flooring is what you are going to be wanting to think about first.
We cover loads of different options below, but do consider your flooring as a way to bring in some style and color to the space, as well as being a practical choice.
For us, that means tiles. They are easy to clean, can handle wear and tear, but look gorgeous too. And you can always soften them up by throwing down a runner.
We've got lots of knowledge and guidance on how to choose floor tiles if you're struggling.
19. Choose neutral tones to make your hallway seem larger and lighter
Creating the illusion of a bright, airy space is best achieved by opting for a neutral color scheme, especially if you are designing a small hallway.
Maximize natural light with white walls, a large mirror design and furniture that (almost) blends into the rest of the scheme if you like the idea of a spacious, minimalist-inspired hallway design.
20. Add depth to your hallway design with contrasting colors
If you want to add depth and interest to a hallway, consider interspersing dark shades among a lighter scheme.
If you're worried about a dark color overwhelming a narrow space, couple with a row of pendants or spotlights to create the illusion of a longer and lighter space. Deep sage green or grey hallway ideas are both on-trend options that would work nicely.
21. Consider embracing a darker scheme in your hallway
As much as we love a neutral scheme, you can't beat a darker, inkier hallway paint idea. And we can't get enough of this rich, dark green scheme.
Not only does this hallway idea fill the space with personality, but it also makes the space warm and inviting which is exactly the vibe you should be after in a hallway.
22. Keep hallway woodwork bright white
If green doesn't appeal, perhaps this gorgeous mauve shade will. Another of our favorite ideas for hallways, it's a color that promises to work in all seasons, especially when paired with a more neutral carpet.
Or even a carpet with a natural finish ⁠— something like sea grass would work really well. However, if you're picking a bold, deep shade for your walls, white woodwork to reflect as much light as possible is a must.
23. Choose a stylish shade of pink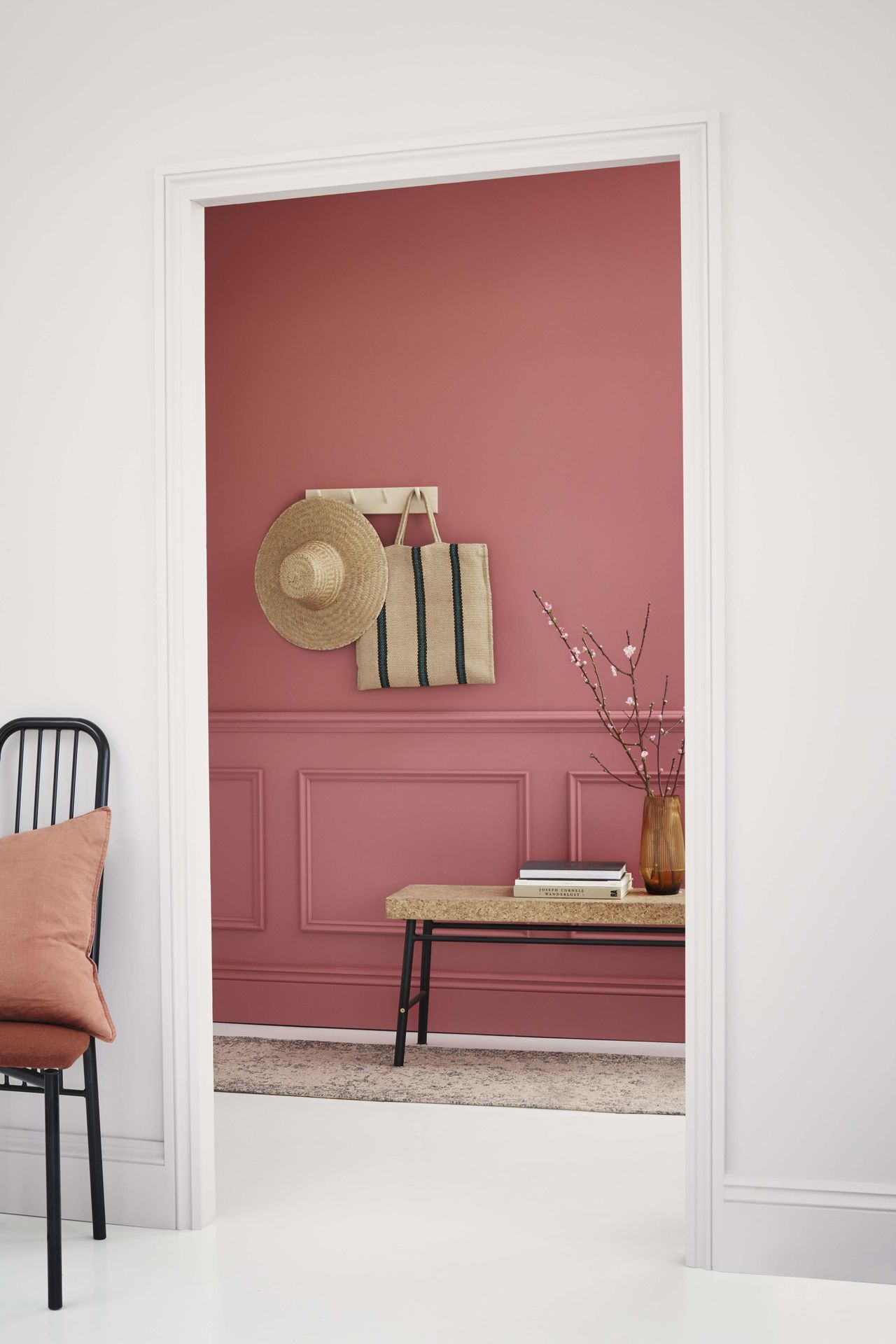 Does your hallway always feel a bit cold? You can combat that by choosing warm and welcoming hues. We love this muted coral shade and how it's balanced with the crisp white floorboards.
The natural textures add some interest and give the space a lovely modern rustic vibe. Note the addition of the runner too, for subtle pattern, softness underfoot and, of course, practicality.
24. Choose a classic monochrome hallway decorating scheme
You can't go wrong with a black and white hallway design ⁠— it's simple and elegant. With a monochrome scheme in a hallway, we say, the more white the better and just add touches of black here and there, as hallways tend to be darker spaces anyways and you don't want to enhance that by getting too happy with the black paint.
For an effective hallway decorating idea try painting the banisters and using accessories to add in the darker hues but keep walls and floors light.
25. Make open-plan hallways feel cohesive
If your hallway opens straight into your kitchen or living space or you have a really small home that's tight on space all round, blending the decor and furnishings from the hallway into the adjoining room is a must. Why? Because doing so will create a one-space feel that helps make it look and feel bigger.
26. Go for pastel blue hues for a calming entrance
Use a few different tones of the same color to create a calming, cohesive hallway design. We love how a darker blue has been used on the woodwork in this hallway, but the walls have been kept a lighter color that really lengthens the space. The blue floor tiles bring the whole look together, and that pop of yellow? Perfection.
27. Give an all-white hallway personality with the colorful furniture
We are totally sold on this slightly more unfitted, rustic hallway decorating idea – and it's easy to recreate with white walls and a set of green in/outdoor cabinets and shelving units. Of course, you could just pick a paint color you love and paint your hallway furniture to co-ordinate).
28. Contrast colors in your hallway to add interest
We love how in the hallway idea, an old chest of drawers has been painted in a lovely bright blue which contrasts so well against the rest of the monochrome hallway. Before you buy a new piece for your hallway, shop your own home, you might find there is some furniture going unloved in another room that would make for a great bit of hallway storage, all it needs is a lick of paint.
If you do want to to give it a go, we've put together a guide on how to paint furniture, it's actually a really easy DIY.
29. Inject color with an accent feature
If you like the idea of experimenting with bright colors but can't commit to an entire hallway, consider copying this fab hallway decorating idea and incorporate color into your space on the inside of your front door. A bright shade of yellow is pretty happiness-inducing, but we also like the idea of a light pink if you're after something slightly more subtle.
30. Pick a repeat print for maximalist hallway designs
If subtle and neutral aren't your thing, consider choosing a bold wallpaper to add interest to your space. You can either opt for a (slightly more subtle) feature wall, as seen in the hallway idea above or go all out with a bold print and dark scheme like below.
31. Introduce wall panels into your space
Wall paneling is back in vogue and we're totally here for it, especially in the hallway. Not only does paneling add a slightly more sophisticated feel to a space, it also offers a unique opportunity to add color without having to commit to using it from floor to ceiling.
32. Or experiment with color blocking
Alternatively, if wall panels aren't an option, you could think about trying color blocking in your hallway. This requires that you use one color to paint up to paint from the floor up to a certain height, then choose another color for use up to the ceiling.
Here white and a pretty millennial pink have been used, but you could choose whatever combination of colors you'd prefer.
33. Decorate stairs to complement hallway decor
We love this idea – these painted stairs have been given instant character with stickers. Simply peel and stick and you've got a whole new staircase.
Find a pattern that complements your hallway decor ⁠— it doesn't have to match. Find more tips on how to paint your stairs in our guide.
34. Paint stairs for an easy, pretty hallway update
This cute idea will just take a few hours but is so effective, plus a great way to add a touch of color. We love the blues that have been used here (very spring-like) but of course, you can use any color you like.
35. Paint hallway floorboards for a quick, cheap update
If you've got plain wooden floorboards in your hallway, an easy way to add pattern to them is to simply throw down a rug... but if you want to go a step further, adding a tile pattern to the floorboards is a brilliant way to up the interest.
Use suitable floor paints and stick to a very muted scheme like this one for best effect – you want the floor to add character not be the focus.
36. Make hallway lighting a centerpiece
If natural light is limited, it's important that you invest in quality hallway lighting that illuminates your space and make it easier to navigate on dark mornings ⁠— anything to make it easier to get up in the morning.
Here a stunning pendant light has been used to enhance the pared-back, boho style of this space, adding height and texture with ease.
37. Hang a gallery wall up your stairs
You can easily add interest to a white-painted hallway (presumably you've chosen that color because it's light-reflecting and easy to maintain) with a gallery wall idea, created with pictures and family photos and mementos.
38. Or add interest to a blank hallway wall
You could go for a slightly more cohesive gallery wall if that's slightly more your style. We love the neutral tones of these prints and how they perfectly bring together the darker and lighter hues going on in this space.
39. Work a mirror into your hallway to make it feel larger
One of the oldest interiors tricks around, working a mirror into a space is an easy way to make it feel larger and lighter. Since that's what most of us want for our hallways, you may wish to consider working one into your space.
Here a stunning round mirror is positioned above a console table to create a stylish set-up that not only draws the eye but also enhances the size of the space.
And remember a statement mirror needs to be spotless for full impact, so it's worth knowing how to clean a mirror effectively.
40. Add personality even to the smallest of hallways
Even if you are working with the tiniest of hallways you can still add some interest and personality, plus some handy storage. Just look at this small space ⁠— a really compact console table and a shelf with some peg rail no only looks gorgeous but means you can squeeze so much in.
Love the idea of putting a table lamp up on a shelf too, means the light spreads further and you can save space on the table.
41. Create a feature wall in a hallway with wallpaper
A feature wall idea using wallpaper in a hallway is tricky: if your hallway is long and narrow, a stand-out print will only make it feel narrower still. So, if you want to add character, you really only want to put it on one wall. The upside? That's quicker and cheaper to DIY.
Our advice is to put wallpaper on the focal wall ⁠— perhaps the one that sits behind a mirror or console table, or the one at the end of the hallway. That's the best way to make it pop.
42. Maximize space with a stylish sliding door
Sliding doors, or barn doors as they also know, are a great option for small hallways as they take up much less space than a conventional door and blend seamlessly into a scheme if painted the same paint color. Plus, we think they look pretty stylish. This gorgeous idea is a great example of just how well sliding doors can work.
43. Hang a curtain at the door
This makes great sense to do ⁠— it's a good way to add pattern, interest and even a feeling of luxury to an otherwise unloved space, and it's brilliant for keeping out the cold. And you know what draughts bring with them? Dirt and noise, too.
If you are going with this hallway idea to hang a curtain over the front door, here's what to know: first, the curtain either needs to be hung from a rail that's fixed to the back of the door ⁠— and this is what you'll have to do if the hallway is narrow like this one – or it will need to be on a rail that extends to the side of the door so that there's enough room to pull the curtain right back so that you can get the door open.
Second? A lined curtain is best because it brings better insulation, but if your door is glazed, bear in mind that the lining is what's on show from outside (so you'll want it to look good).
44. Revamp hallway floors with tile stickers
Interiors Instagrammer Marieke (follow her account @whisperingbold for more gorgeous ideas) transformed her drab hallway tiles into something amazing using a very easy trick: tile stickers.
Literally, vinyl tiles that you peel the back off and stick over your original tiles. It takes a day at most (with coffee breaks, of course) to completely cover your old flooring. It looks totally stunning on this hallway floor but would work just as well in a kitchen or bathroom too.
We love how the monochrome works with the colours of the stained glass and the belly baskets add the perfect amount of interest and texture. The best part? You could do this makeover yourself for under £50 – check out places like Etsy, B&Q and Wayfair for plenty of stylish options. If you after the exact same tiles used by Marieke, they are from Moon Wall Stickers. You can also pick up baskets similar to these from Amazon really cheaply, pop in some house plants and you're done!
45. Or strip back original floors for a contemporary look
Stripped back floorboards are a popular feature that looks super stylish in a variety of homes and can even add value to your property. Here, the original floorboards have been sanded and bleached to achieve a really calming, Scandi-inspired finish.
Find out how to recreate this hallway decorating idea in your own home with our guide to how to sand floors.
Our guide to painting floorboards is also a handy read if you decide stripped wood isn't for you.
46. Picking a hallway carpet? Do it carefully
Picking a hallway carpet is a tricky job: you might not love pattern, but it's a real must-have in a space that will see so much traffic. Why? Well, for one, the hallway is going to gather everything from muddy footprints to leaves that blow through the front door, all of which will show up less obviously on pattern, and 2) wear and tear is also less evident on a patterned carpet. Can't handle the graphics of this one? Look for a hallway carpet with a speckled design which is subtler but will do the job.
47. Or split the difference with solid floors and runners
The bonus of runners on hallway stairs: they add color and character to a space that's sometimes too narrow to furnish with much more than a mirror, a shelf and artwork; they provide comfort underfoot; and they cut down on creaking stairs ⁠— all-important when you have a partner or teenager who likes to come to bed later than you...
48. Prioritize storage solutions that double up as seating
If the priority for your space is maximizing functional hallway storage ideas, find options that are visually appealing as well as practical.
We can all install a great big run of shallow cabinetry to make our hallway storage really vast. But doing so will just make our hallways feel smaller, narrower and character-free. So, do what's been done above and make the storage into an opportunity to add seating.
49. Invest in wall-hung solutions to save floor space
Forget the weird coat tripod in the middle of this hallway – the real focus should be on those wall-hung solutions. There's everything there for coats, hats, bags... Then all those annoying pieces of clutter that get in the way or get lost (keys, paperwork, stuff) are all kept neatly on the pegboard. The clever touch? The mirror with the light that reflects off it: that keeps the space feeling roomy.
50. Find a slimline solution for a small hallway
If you're looking for small hallway ideas, this storage solution is for you. Not only does it provide plenty of space to store the shoes you wear on a daily basis, it also creates a pretty focal point when teamed with a gorgeous round mirror.
51. Go floor to ceiling with slim storage
Using vertical space in a hallway is a must, so install tall, shallow cabinets, shoe stores or even shelving to make the most of a blank wall. Blend them into the space by keeping them neutral ⁠— or matching them to the wall behind.
52. Style a console table to draw the eye
If you're blessed with a large hallway, you may be wondering how to make the most of the space and prevent it from feeling too sparse. Well, friends, it's time you met the console table.
A stylish addition to any modern hallway, a console table not only offers a space to store keys and other essentials, but it will also draw the eye and make your hallway look a little more interesting. Style with a mixture of vases, lamps and baskets or something a little more unique like the gorgeous wooden door panels above.
53. Be imaginative with under stairs storage spaces
Even modest-sized homes have decent under stair storage space that is usually massively under-exploited. Make the most of yours by putting in a central door to create a spacious cupboard for large items (or lots of small ones); a door beneath the bottom steps for seldom-used items; and use leftover space for a shelved-out niche.
54. Maximize light where possible
Hallways have a tendency to be dark spaces – we've all experienced rummaging around in the dark looking for keys ⁠— so we'd recommend considering how you can incorporate as much natural light as possible into your space while designing it.
This might mean installing a front door with windows instead of solid panels or restoring the original leaded lights of Victorian or Edwardian front doors.
55. Or totally open your hallway up to natural light
The addition of natural daylight can work wonders for a dreary hallway ⁠— swapping the front or back door for a glazed version is an easily achieved example.
To turn plain glass into a feature, consider fitting window film ⁠— a single large-scale motif is effective for highlighting the hallway's decorative scheme. Period properties will be enhanced by beautiful stained glass panels. Borrowing light for the hallway from an adjacent room can be achieved by replacing an internal door with a glazed version or simply removing it altogether.
Check before doing so as in some properties, building regulations require a fire-proof door to make the corridor a safe escape route.
56. Choose reflective wallpaper to maximise light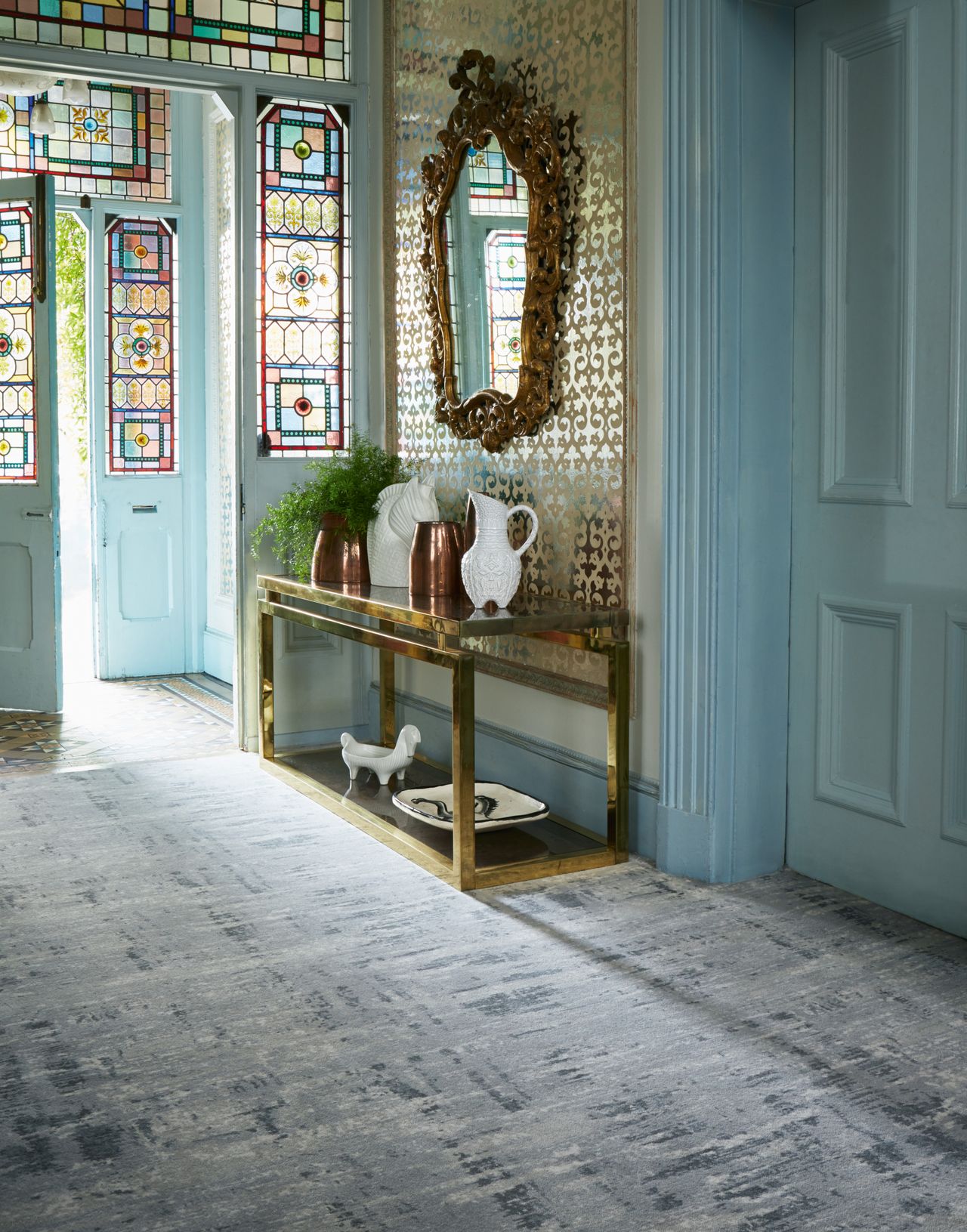 Just like a mirror, reflective wallpaper will help bring more light into a hallway and can enhance the size if your space is small. We get that metallic wallpaper has a bit of a bad rep, but check out a design like Cole & Son's Salvage, which has a very slight almost aged-looking shimmer.
57. Be inventive with hallway lighting
Alternatively, you could take inspiration from this gorgeous hallway, where a simple table lamp and matching pendant light is styled on a shelf to illuminate the small entryway while taking up minimal space.
How do you make a hallway look welcoming?
'Often the first thing you see when entering a house, the stairs and hallway create a first and lasting impression on your guests.', says Jemma Dayman, Buyer, Carpets and Rugs, Carpetright.
'Its the perfect area to take risks and be daring with your styling. Bold, geometric designs and bright colors will give your stairs that wow factor and work well when mixed with minimalist furniture and accessories.
'Opting for repeating patterns will not only allow your design to flow easily into other rooms, but will be forgiving to everyday marks and scuffs as your stairs see some serious use over their lifetime.'
Noemie Deed, founder cosycoco.com adds: 'Pared back rugs can be used to tie together any interior style, while adding a touch of luxury underfoot.'
'Neutral schemes are popular for hallways as they are the first impression of the home and can be a place of calm and relaxation, away from the hustle and bustle of the outside world. For subtle impact, you can add a dash of color with a border or tonal pattern.
'For a statement hallway, incorporate bold patterns and colors as a focal point and an injection of personality. A hallway is a great place to introduce guests to your interior style so if you're a maximalist, don't be afraid to show it straight away.'