It can be hard to readjust to hosting at home. But with these Cyber Monday and Black Friday home organization deals, you can make sure your house is looking neat and tidy ready for loved ones to walk through the door.

Having a clean and chic home isn't just for the 'gram. So give your guests a warm welcome by making sure your space is uber-inviting and uncluttered. This doesn't mean packing up all your stuff in the garage, attic, or above the wardrobe. You can still retain style with these statement buys that show off your interior personality.
From TV units to shelving, wicker baskets, and kitchen bins, we've searched brand pages high and low for super chic products that have had their prices slashed. There's even a bit of seagrass, mango wood shimmering brass if you're that way inclined.
Shop the best Cyber Monday home organization deals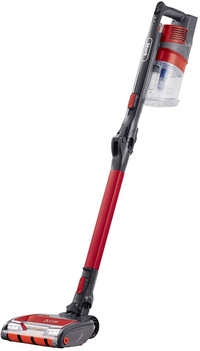 Shark Cordless Stick Vacuum Cleaner | was £349.99, now £173.40 (save £176.59)

First things first: You know what they say... tidy house, tidy mind. And while you may have all the shelves, baskets, boxes, and contraptions, nothing beats dust-free, fur-free, and hair-free floors and surfaces for a home that is clean, tidy, and organized.
By investing in one of the best Shark vacuum cleaners, aka the Shark Cordless Stick Vacuum Cleaner, available on Amazon, you can be sure that your space is spotless. Leaving you to get on with organizing your space the Hinch or Kondo way!
Note that this Cyber Monday special price is even less than the Black Friday home organization deal we displayed a couple of days ago!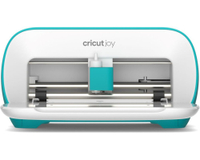 Cricut Joy | was £179.99, now £107.95, available at Amazon
This pint-sized powerhouse from Cricut makes it easier – and faster – than ever to personalize your home with labels and get organized.
This small but mighty machine can help you add a bespoke touch to your kids' bedrooms, home office storage, and even spice up your kitchen pantry and seasoning shelf.
If you held off from buying any Black Friday home organization deals... it might've been for the best. As Amazon has reduced this even more for Cyber Monday!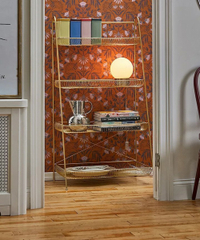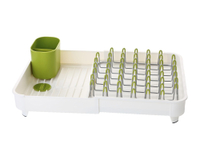 Joseph Joseph 85071 Extend Expandable Dish Rack, Metal, Off-White/Green | was £65.00, now £31.99

Sometimes there's no winning with hand-washing dishes. Drying naturally takes up space (and an age to dry), while using a dishcloth can leave streaks.
Say hello chic draining (yes, there is such a thing!) with the Joseph & Joseph Expandable Dish Rack which has 51% off at Amazon.
Perfect for counters of all sizes, this kitchen storage draining board, extends to almost twice its size to hold more items when needed. The integrated plug can be set to trap water for draining later.
Its raised ribs prevent water from being trapped under glasses and bowls and the sloping base channels water towards the draining spout. And, it includes a moveable drainer for your cutlery and utensils.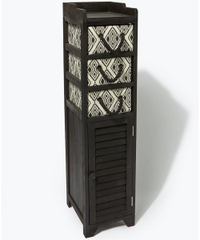 Matalan black Bathroom Storage Drawers (103cm x 24cm x 29cm) | was £50.00, now £35.00
Add a touch of jungle luxe to your bathroom with these black bathroom storage drawers from Matalan. It's perfect for stashing all your bathroom essentials, cosmetics, and creams in sleek style.
Finished in a monochrome Aztec motif, this washroom unit features three drawers with rope handles and a contemporary diamond print, together with a handy cupboard underneath. Its tall, vertical design means it won't take up much floor space, so it's perfect for snug WCs.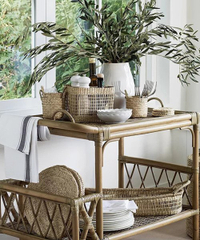 Mini Baskets Nested - Set of 3, was £15, now £12 (using code JOY20)
We love these stunning seagrass baskets which make THE perfect eco-friendly Christmas gifts, stocking fillers, or ehem - self-gifts this season.
Each one is hand-woven in Vietnam by skilled artisans, using a simple-but-effective basket weave to create a beautiful color palette.
The natural materials make each of these White Company mini baskets unique, adding to their artisanal charm, and are the perfect pint-sized storage units for a Scandi or rustic room. The mini baskets can be used as place settings filled with seasonal decorations, or for storing rings, jewelry, or trinkets.
Why not pop fresh herbs in these by your kitchen windowsill?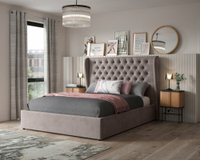 Bensons for beds Orianna Upholstered Ottoman Bed Frame | was £799.99, now £575.99 (save £224)
If there's one piece of furniture you can justify investing in on Cyber Monday, it's a bed frame. So, in order to get the most bang for your buck, make sure doesn't just look nice, but also has hidden bonus features.

This Bensons for beds upholstered bed frame, with its deep buttoned velvet design with winged headboard, lifts up to uncover secret storage space. So whether you're hiding those nearly-weekend Black Friday fashion buys from your partner (shh!), Christmas pressies from the kids, or want to pack away off-season clothes – keep 'em under wraps with this bed.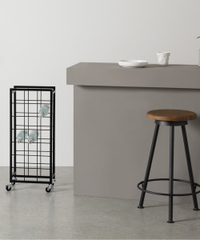 Moss 21 Bottle Wine Rack in Black | was £49, now £39 (save £10) from Made.com

'Tis the season to be Jolly, and with Christmas house parties now in full swing – you don't want your loved ones going too long without a drink.
Typically the time we see multi-buy discounts on wine and spirits at the supermarket, it can be tempting to fill up our cupboards by the trolley load, but this can often lead to surplus bottles being popped on the counter, and in the garage.
With this 21 bottle wine rack from Made.com, you can store and roll out your best pours with this deal on wheels!
It's minimalist design means that it's versatile enough to suit any home, although we think it'd best suit an industrial-chic, modern living room best. Made with iron and with a black powder-coated finish. The grid-like design keeps things clean and contemporary.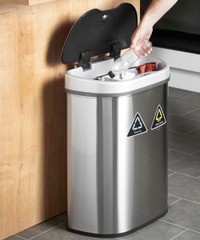 Vonhaus Alagan Stainless Steel 70 Litre Motion Sensor Recycling Bin | was £114.12, now £72.41 (save 37%) from Wayfair
Now that we're slowly getting back to normal and inviting people into our homes, Our kitchen bins can get pretty full... This means you'll need something that's heavy-duty and doesn't look rubbish.
While we don't look necessarily forward to bin day, we can definitely make the chore more stylish and functional with this 2-in-1 motion sensor recycling bin from Vonhaus, available from Wayfair.
This sensor bin with a whopping 70L capacity features smart motion-sensor technology, and two compartments for refuse and recycling so you don't have to have a messy bag on the end of your kitchen or garden door.
Made from stainless steel, this long-lasting, best kitchen bin will last for years of refuse and recycling. With a removable liner and odor seal, keep your kitchen smelling fresh and trash-free.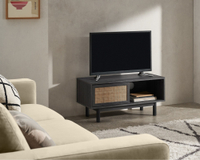 Made.com compact media unit in natural Rattan & Black Wood Effect | was £149, now £119

Bohemian, global, vintage cane, and a smidge of rustic. Could Made.com squeeze any more stylish trends into a media unit?

With a black wood-effect finish and compact size, this Pavia ticks all of our boxes for small and large living room storage. Perfect for keeping all your tech in one place. Now all that's left to do is place your best TV on it to give it pride of place!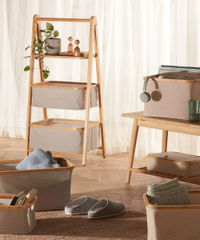 John Lewis & Partners Bamboo Folding Basket Rack, Grey | was £100, now £80 (save £20)
Style, sustainability, and storage? This lightweight, portable bamboo folding basket rack from John Lewis is one of the most versatile pieces of furniture we've seen and now has 20% off!

Ideal for utility rooms, guest rooms, or anywhere extra storage is needed, it features a top shelf and two deep polycotton storage baskets for storing clothes, accessories, or even Christmas craft materials.
If you've got some clothes that you can't bear to get rid of just yet, this is a great closet organization idea that allows you to keep tabs on things, unlike vacuum storage bags.