The best tile cleaner is a must for every home. Most of us will have tiling somewhere in the home, and dependent on the type of tiles, they might require something more specialist than a general, all-round cleaner.
While it isn't the most glamorous job on earth, cleaning the bathroom and kitchen is a task most homeowners will confront at some point. So, to make your life that little bit simpler, we've rounded up some of the best tile cleaning solutions you can buy. Whether your tiling is ceramic, glass or porcelain, there's something out there for you. Plus, we've got you covered for the tricky trims and taps made from chrome or brass, too.
If you have tiled flooring or walls, you're probably aware of how handy they are compared to other surfaces. Because they are often easy to wipe and water-resistant, there are many cleaners out there that can help. Of course, you might be prioritizing certain factors over others, such as non-slip, pleasant fragrance, high shine or no residue. Perhaps, too, you're concerned about bottle size – after all, you need your money's worth. Fortunately, we've outlined some of the key specs and given pointers as to what tile cleaner is best for what.
And, if you are looking for something extra to supercharge your cleaning routine, why not check out the best steam cleaners? They are great to use in place of mops, and some are designed for blasting grime in grout, too. Either way, they will make cleaning your tiles even easier. But for everyday tile cleaners, read on.
The best tile cleaners
Why you can trust Real Homes Our expert reviewers spend hours testing and comparing products and services so you can choose the best for you. Find out more about how we test.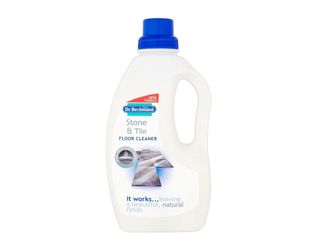 If you want to keep your tiles in good condition, this tile cleaner is certainly a worthwhile investment.
What can it do?
Designed for all types of tiles including ceramic, glass, porcelain and stone, it adds a protective layer to your tiles to stop them from staining or being subject to wear and tear.
The verdict...
Users report that it is simple to use (simply dilute with water and scrub on), and it leaves a natural shine. This cleaner is meant for regular maintenance and to help prevent stains – it is not necessarily the most effective formula to remove existing stains. But you can expect to notice the difference to your floors when you begin regularly using Dr Beckmann's stone and tile floor cleaner.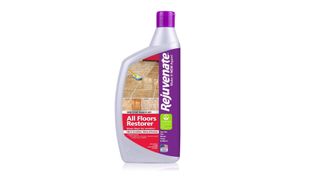 If your tiles need more than a quick clean, this restoring tile cleaner could do the job.
What can it do?
Small scratches and scuffs can be a nightmare when you have floor tiles or any other kind of hardwood flooring, but this floor tile cleaner is designed to disguise and eliminate those scratches so that your floor looks smooth and polished.
The verdict...
Those who tried it say it's very effective, but it doesn't go very far as it's only a small bottle. If you have a small area you wish to treat then this Floor Restorer formula can help inject some life into even the longest-standing floor tiles.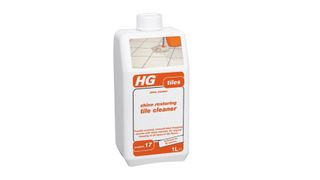 Stone tiles are usually some of the most difficult to tackle in the world of tile cleaning, but users love how easy this solution makes it for them.
What can it do?
This tile cleaner is an ideal product to use when cleaning stone tiles. It leaves a fresh scent, too.
The verdict...
They have said it does require a few applications to achieve and maintain a high shine look, but that it is totally worth the extra effort.
It is said to leave a polished result unlike some, that leave tide marks – and it leaves a fresh scent that will make your home feel incredibly clean.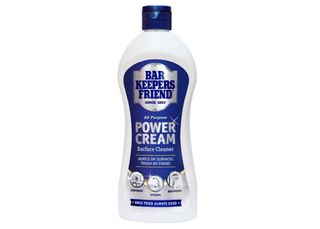 Grout mold can be tough to remove, but with help from this tile cleaner your grout will be back to white in no time.
What can it do?
This household cleaner does a pretty amazing job of cleaning, restoring and polishing surfaces around the home.
You'll need to dilute it first but it can clean anything from ceramic to stainless steel; granite; copper; chrome; china; marble; porcelain; plastic; glass; brass; tiles; and of course, laminates.
The verdict
This incredible product can revive almost anything that needs it. If your tiles need saving from moldy grout, use a toothbrush to scrub the solution into the grout. It's fast acting and super powerful, so can conquer even the toughest of jobs.
Pots and pans, cutlery, hobs, baths – you name it, it'll make it look brand new. We very much suggest buying a bottle and keeping it under the sink in case of emergencies.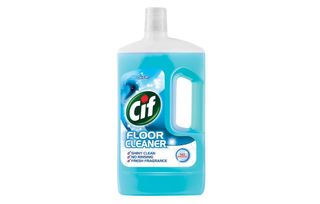 If you're looking for something a little more heavy duty that will cover your kitchen floor and your bathroom tiles, then this floor tile cleaner could do just the trick. The best tile cleaner for larger spaces.
What can it do?
It's an ideal tile cleaner to use on bigger surface areas, as it's easy to use.
The verdict...
A little is said to go a long way with this one as you simply dilute in water and apply to the affected area. What users like particularly about this formula is that it doesn't leave a residue on the floor after cleaning, like some tend to do.
You can also expect smear-free tiles when you use this Cif Floor Cleaner.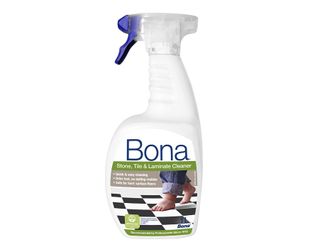 When it comes to a no-hassle option, this spray from Bona is a no-brainer. Leaving no dull residue behind, it is ideal for quick touch-ups.
What can it do?
Perfect for ceramic, vinyl, laminate and other hard surface floors, this is a water-based savior, safe to use around your family and pets. Removing dust, dirt and grime, it is to be sprayed directly on the floor before wiping away.
The verdict...
Reasonably priced, this comes as a one-liter nozzle spray, providing plenty of solution. Plus, if worst comes to worst and you fly through it, you can always purchase a refill bottle – yep, no need to buy a new spray gun. Oh, and because this dries fast, high-traffic areas in the home don't suffer.
As for operation, this couldn't be easier. Complete with a dual-setting nozzle, it has a fan spray for wider, general cleaning, and a stream spray for spot cleaning. No mixing or measuring is required with this option, which means you can get going immediately. Oh, and you needn't rinse, either. Ideal, right?
How to choose the best tile cleaner
To start, you need to know what kind of tiles you are dealing with. Whether they are floor or wall tiles will mean you might need slightly different products for the job, as the types of grime you will tackle and whether they need to be anti-slip matters. For floor tiles, you will want a solution that can be diluted and applied with a mop for quick and easy coverage. Spray bottle tile cleaners are more common for wall tiles, targeting smaller areas.
On top of this, find out what material the tiles are. If your tiles are made from natural stone such as granite or marble, they will be more vulnerable to staining and may have been sealed with a product that some cleaners could strip off. Take care and follow the instructions on the bottle of tile cleaner before use. If in doubt, test on an inconspicuous area first.
Finally, always read the safety information. This is especially crucial if you have pets and small children who might need keeping out of the area until the tiles are fully dry and free from product.
For more advice, check out how to clean tiles in our guide.