A bathroom is used several times a day by everyone in the family, so it's worth putting the effort in to make it feel like your own personal spa. You may not have thought too much about that blank white wall above your head. However, if your space needs a spruce-up, unique bathroom ceiling ideas can really elevate the space. Plus, it can be a relatively quick and easy update. By overlooking the bathroom ceiling, you are essentially neglecting a fifth wall that you could be using to impress.
You do need to be mindful of moisture. Some materials simply aren't durable enough to cope with the humidity of a bathroom. Fear not, ceiling ideas can be both beautiful and functional – even in the wettest room in the house – so you won't have to redo the ceiling again every few months.
Bathroom ceiling ideas to impress
Whether you have a huge bathroom that you want to modernize or you want to impress visitors with your guest washroom, the ceiling is a great place to start. If you're looking for a full bathroom overhaul, combine this edit with other bathroom ideas for maximum effect.
Whether you want a quick, budget, DIY fix that you can accomplish this weekend or a bigger, architectural project, you'll find the inspiration you need.
1. Tile all the way up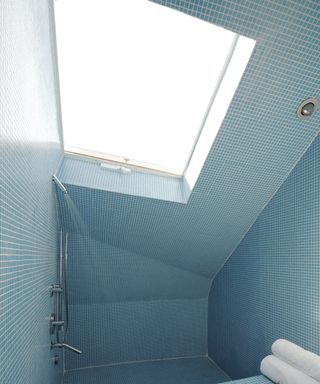 This bright and airy bathroom by Adam Sokol is both striking and practical. If your bathroom is more of a wet room, tiling the ceiling is a brilliant way to combat issues caused by humidity when using other materials like paint or wallpaper.
When choosing bathroom tile ideas for the ceiling, be mindful of the fact that large heavy tiles will be very difficult to install. We'd recommend using smaller mosaic tiles that you can mix and match into a pattern or use to create bold block color like in the bathroom pictured. You can also use classic subway tiles for a timeless look or even scalloped tiles, which are very on-trend right now.
If you have a tight budget, or you're not feeling ready to embark on a tiling mission, you can always cheat and purchase some self-adhesive "tiles" like these at Home Depot. However, take care to ensure the adhesive will withstand the humidity in your bathroom.
2. Paint in bold colors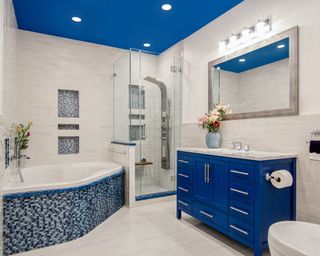 Painting a bathroom ceiling anything other than white is a great way to make a bold design statement. It's also a simple, inexpensive, and practical way to revitalize the space. The bright blue ceiling in the bathroom pictured gives the room a fresh and modern feel. Choose a vivid block color and tie it all together with colorful mosaic tiles and matching vanity.
When choosing your paint, there is more than just color to consider. Make sure you pick a paint that is designed specifically for use in bathrooms. In a room with such high humidity, some paints can start to peel off or allow mold to grow, so choosing the best paint for bathrooms is a must.
Repainting the bathroom ceiling is one of the easiest and most budget-friendly ways to wow with your washroom.
3. Don't be afraid of the dark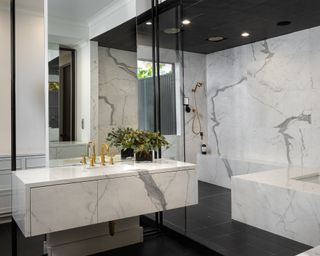 If the idea of a colored bathroom ceiling speaks to you, why not go all out and paint or tile your ceiling dark blue, gray or black? This bathroom by Maestri Studio is gorgeous, with a black tiled ceiling and floor contrasting against the white marble walls and vanity.
A black ceiling is a bold, risky move, but with the right lighting, the contrast can give the room more depth and actually open it up to make it feel more spacious. Your bathroom walls are likely a shade of white already, so if you're daring enough, creating a dark ceiling is a great budget-friendly way to refresh your bathroom for 2022. Go on, we dare you.
4. Try farmhouse chic panels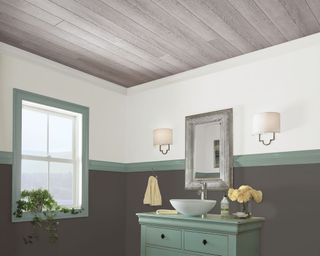 Wood wall paneling is very on-trend right now and it looks great on the bathroom ceiling. We love the mint fixtures with the ash paneling in the bathroom pictured by Armstrong Ceilings. Paneling the ceiling is a super-easy way to give your bathroom a country chic revamp. There are plenty of video tutorials out there to show you how it's done.
It's also a practical ceiling idea, as some woods like cedar, teak, or pine are moisture resistant. However, wood can warp. Instead, you can use a good quality, humidity-resistant shiplap to create the look without breaking the bank.
5. Or install skinny slats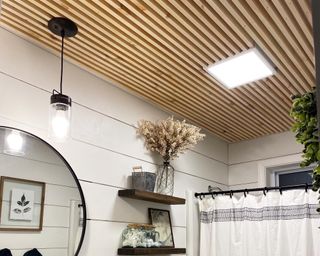 If you like the idea of chic wood paneling and you're feeling adventurous, try skinny slats on your ceiling for a modern farmhouse bathroom finish. The slatted bathroom ceiling pictured by Abbie Clark looks amazing and it isn't difficult or expensive to recreate. You can use a stud finder to locate the ceiling joists and nail the slats straight into them.
Be sure to check at your DIY store that the wood you purchase will survive in a humid bathroom and you're good to go.
6. Wallpaper the fifth wall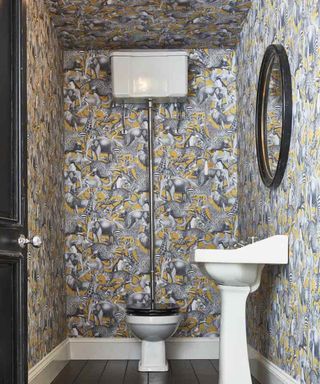 A simple and inexpensive way to liven up your bathroom ceiling is with wallpaper. We love this guest bathroom covered in Lion Paper by Graham & Brown. It's so bold and contemporary.
Beware though, the moisture and humidity in bathrooms can cause wallpaper to peel off. However, not all wallpaper is created equal. Make sure you purchase good-quality, durable wallpaper that is splashproof at a minimum. In a second washroom, like the one pictured above, a wallpapered ceiling works well as there will likely be less showering, so less moisture causing the adhesive to become unstuck.
7. Add statement lighting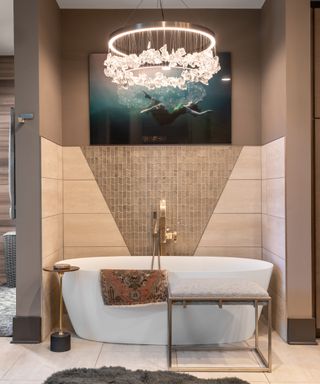 It can be a little tricky to wallpaper, panel, or paint when it comes to the bathroom ceiling. If you're looking for a quicker, easier update, add a statement light to give that plain, white ceiling a new lease of life. This contemporary chandelier above the bath gives a luxurious feel to the space. The freestanding tub, sumptuous rug, and golden fixtures all add to the feeling of luxury.
Often these spaces seldom get a lot of natural light, so bathroom lighting is a great way to brighten up the room. A statement design can be the focal point of the room, drawing your attention upwards.
8. Or create cove lighting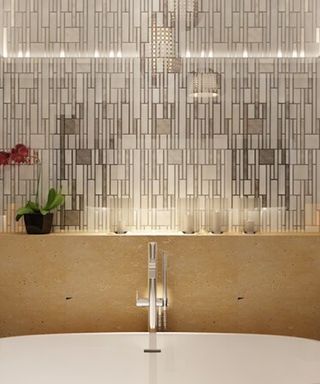 If you're not into statement ceiling lights, try subtle cove lighting instead. Light is a super important element when it comes to bathrooms. It can feel dingy if there isn't enough light, or unrelaxing if there is too much. We love this luxurious bathroom with beautiful mirrored metal mosaic tiles from Wayfair and cove lighting. The lighting and reflective tiles work together to create a lovely warm, ambient glow, so you can relax and soak away the stress of the day.
This bathroom ceiling idea does require a little DIY mastery, but it's not as hard as it looks. To make cove lighting, you install some crown molding a little way below the ceiling and run rope lights all the way around. The rope lights are hidden inside the molding and you're left with deluxe, 5-star accent lighting in two easy steps.
9. Install a skylight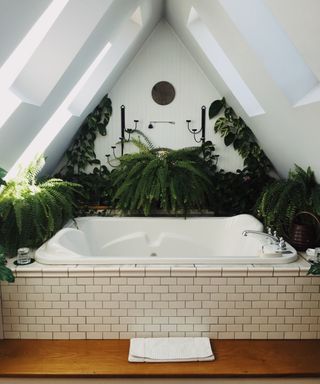 Okay, so this one isn't very quick and easy, but adding a skylight to your bathroom ceiling can really open up the room. Often bathrooms are in a small space, which can feel even smaller when there is very little natural light. Installing a skylight in your bathroom ceiling is an investment, but you'll save on energy bills for heat and artificial light in the long run.
Natural light is also said to have many benefits. Research suggests that it can make people happier, calmer, and more productive. Plus, it feels so luxurious staring up at the sky, whilst you relax in the bathtub.
If this isn't an option in your bathroom or you're not looking to make any holes in the ceiling right now, a statement chandelier or cove lighting (above) are great alternatives.
10. Hang plants from the ceiling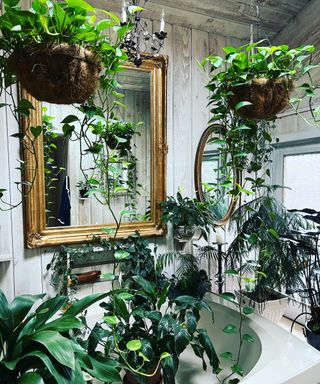 Hanging plants from your bathroom ceiling is one of the easiest ways to spruce up the space. We love this beautiful bathroom jungle by Raffaele De Lallo, Ohio Tropics. So. Many. Plants.
If you have the light, real plants are always best. But, if you don't have much natural light, there are a lot of very convincing faux options out there too. If you don't fancy putting too many holes in your ceiling and you do fancy a little DIY, you can try making a hanging laundry rack that you can position over the bathtub to suspend your plants from.
If you're really looking to bring the outdoors in, you can even create a live wall of sorts across the bathroom ceiling. You can trail vines the length of the room and frame mirrors and windows too.
If you'd like some plant parenting tips, check out Raffaele's new book Houseplant Warrior.
11. Work vintage tiles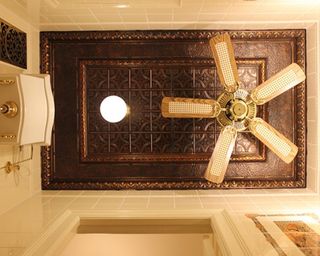 If you want to feel like a king whilst sitting on the throne, try using metallic ceiling tiles and molding. In a period home, a bathroom ceiling covered with vintage tiles can give the space a real palatial feel. The ceiling in the bathroom pictured above looks truly lavish.
However, these tiles from American Tin Ceilings are as practical as they are decorative. They are durable and resistant to moisture.
If you like the sound of metallics, but don't want to go this over the top, you could try silver paint, chrome effect panels, or mirrored tiles to brighten up the space.
12. Create a mural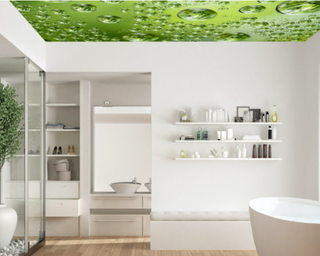 You can get really creative and paint a bathroom ceiling mural for you to behold whilst you relax in the bathtub. If you happen to be an artist, go ahead and make yourself a masterpiece. However, if you're like us and can barely draw a stickman, we would recommend cheating instead.
The bathroom mural pictured above was printed onto a stretch membrane by a company called Laqfoil. You can print any custom design you like for your bathroom ceiling, from a starry night sky, green treetops, or fluffy white clouds to the Sistine chapel!
What can I use on a bathroom ceiling?
There are many unique options for the bathroom ceiling. Just keep in mind that this is going to be a humid space so whatever you use will have to withstand moisture well.
Sarah Barnard of Sarah Barnard Design suggests, 'While painted drywall and mineral plasters are the most typical finishes for residential bathrooms, ceilings can be outfitted with decorative and durable materials like ceramic tile, terrazzo, t&g wood boards, or natural stone slabs. I love designing bathrooms where the wall tile flows into the ceiling tile, creating an integrated and nearly indestructible aesthetic.'
Can you tile a bathroom ceiling?
Yes, you certainly can tile a bathroom ceiling. They can look amazing and it's a practical solution, as tiles are great in wet conditions.
Lee Crowder, national director of design and model experience at Taylor Morrison believes, 'Tile is always the best choice to use on your bathroom ceiling, staying away from wood planks or shiplap is a good idea due to warping from the added moisture.
The biggest reason you would add tile to your ceiling is to protect it from moisture. If you are adding a steam shower or a rain shower head that is also a good reason to protect your sheetrock from the added moisture that could occur with those shower additions.
Another reason to use tile is to add extra wow factor to your bathroom, if you are looking for a bigger showstopper, a tile ceiling can take your shower to another level.
When using a mesh, mosaic overall a smaller tile will be easier for install due to less weight than a large format floor tile.'
Can you plank a bathroom ceiling?
We are a big fan of a planked bathroom ceiling. However, you do need to think about the material planks are made of and ensure that it's well suited to the humid bathroom environment. You don't want to use paneling that could warp in the wet.
Krista Walton, marketing and communications manager at Armstrong Ceilings suggests, 'For the most part, planks should only be installed in half baths without showers/tubs. The excessive moisture caused by water and steam can cause planks made from medium-density fiberboard (MDF) to warp.' But if you love the look as much as we do, try faking it with PVC or laminate that's more water-resistant.
What are the best materials to use on a bathroom ceiling?
Your first priority should be to find a material that won't get damaged in all the moisture. Sure, we want the bathroom ceiling to look incredible, but we'd also like to keep it that way. Ceramic or glass tile is fantastic, or waterproof shiplap or bathroom-specific paint or wallpaper that won't peel.
Miranda Diaz of asap / adam sokol architecture practice says, 'The materials we've used have come to a great turnout. Materials such as fiberglass, ceramic, glass tiles, and marble.'