After a taxing day, a long soak in a small bathroom bathtub can be the perfect antidote for physically tired joints and an exhausted mind. Whether you opt for a copper, tin, or porcelain bath, sitting in a vessel of warm water to wash in, can be a much-enjoyable experience, especially when accompanied by a book, or perhaps a glass of wine if you're that way inclined.
If you haven't got the capacity for a long hip bath, a shorter or deeper bath can be a viable small bathroom idea if your space is particularly snug. Boat, Japanese soaking corner, alcove types are all examples of smaller units that can look like they haven't been squeezed in.
And, placing a tub in the room is only one of many decisions you'll have to make. Style-wise, we've lots of things up our sleeves when it comes to small bathroom bathtub ideas. From feminine and fun to modern traditional, take a dive into these designs and think of your scheme as a whole.
Small bathroom bathtub ideas to slip into
'There's not much better than a hot bath after a stressful day at work, but if space in your bathroom is at a premium, you may feel as though a bath is out of the question - and let's face it, a candlelit shower with a good book and a glass of wine simply isn't the same!' says Dominic Lees-Bell, bathroom expert, Drench.
'But just because your bathroom is smaller doesn't mean you have to sacrifice the ultimate bathroom luxury. We've got a huge range of small bathroom bathtubs - and the best news is that they'll have your bathroom looking just as stylish and luxurious as any other room in the house.'
1. Create a Cottagecore style bathing suite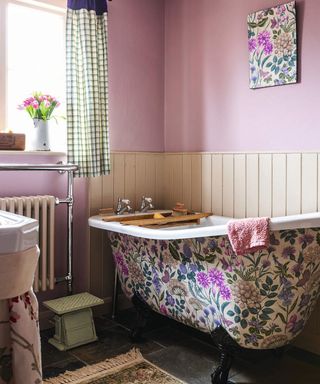 When wondering how to organize a small bathroom, it's a wise idea not to go overboard with too many bathing accessories as this will only create clutter.
But, if you love maximalism, go to town on your small bathroom bathtub design. In this pastel green and pink bathroom, the tub has been decorated in a romantic floral design, with matching wall art.
Yes, the saccharine pink paint might be too sweet initially, but when paired with the creamy shiplap, it cancels any sickly tones out.
2. Create a global feel with palm print and jute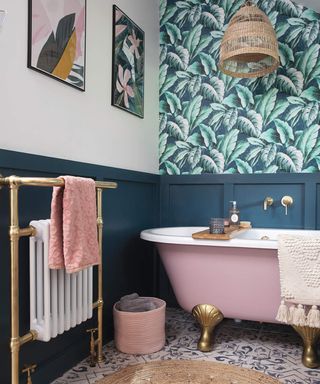 While we're not all lucky to stand under a tropical waterfall to wash, you can create an exotic bathroom right in the heart of your home. We love this pink small bathroom bathtub (with that brass shell detail on the foot) and the blue and green palm print wall covering.
If you're fortunate to have the space, this busy clash of color, pattern, and texture makes a cool ensuite bathroom, as this more personal space can remain more distinct from a traditionally-styled home.
Totes giving us Miami Mermaid vibes!
3. Place the tub near a stain glassed window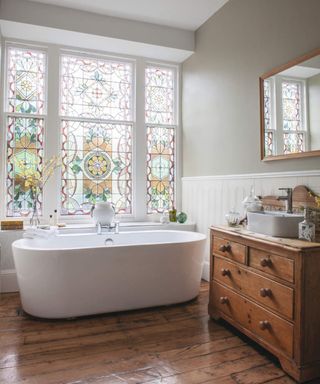 Half the task of working out how to make a small bathroom look bigger is in how bright it looks. Of course, starting with a white small bathroom bathtub is probably the most practical first step, but you'll need to also think about your walls and windows.

Gothic glam isn't all dark and gloomy, so when looking at your bathroom window treatments, why not consider some stained glass? Offering style and function, this'll provide privacy without the need for curtains or blinds. And, of course, having that wooden framed mirror design helps to bounce light and reflect the ornate motif around the room.
4. Blur eras with a modern traditional feel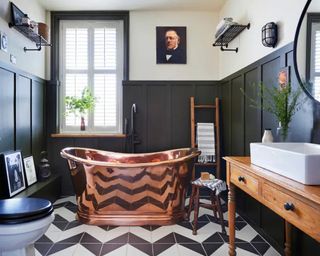 Whether you've been pinning your favorite posts on Pinterest or getting inspo from Insta, you don't have to stick exclusively to one scheme or trend. After all, your house, your rules. A generous dose of Georgian wall paneling, with a modern chevron floor motif and bam! A beautiful backdrop for your small bathroom bathtub.
Of course, don't think that this smorgasbord of styles needs to happen all at once. Enjoy seeing this space evolve over time adding and omitting items as you like.
'Homeowners are more informed than ever when it comes to what they love and want and are willing to take more risks when it comes to their bathroom design, creating something truly unique along the way,' says Barrie Cutchie, design director at BC Designs.
'This is true when it comes to how we're seeing a mixture of old and new bathroom styles mixed together. The secret to making this work is in the mix - just remember, opposites attract! Try a traditional bath with a modern and sleek faucet, or period faucets with a modern sink.'
5. Go for gold... Quite literally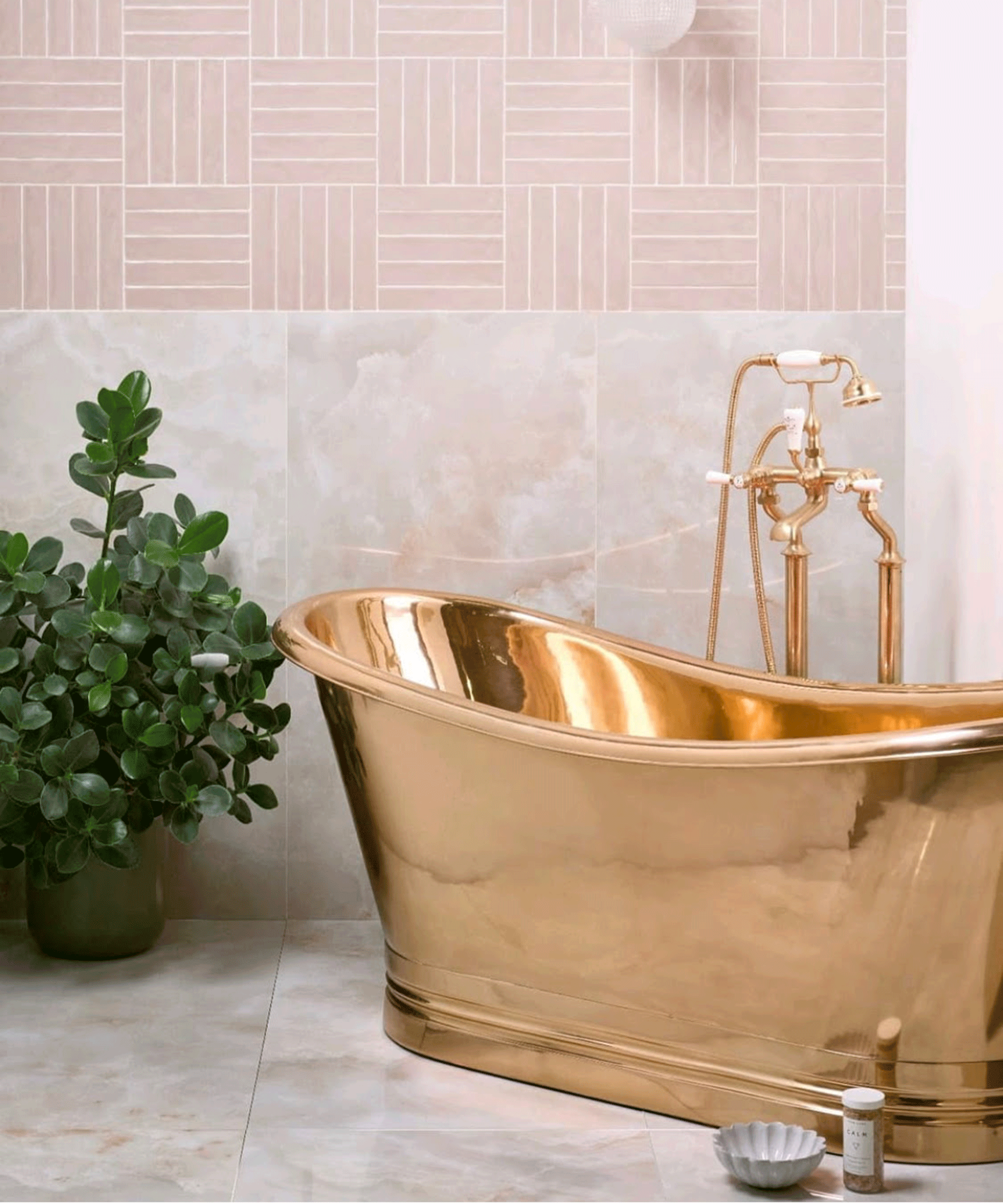 If you want a bathroom that defines feminine bathroom goals and feels like a celebratory Oscars-style event, mix pink bathroom tiles with marble-effect tile panels and a gold bath.
'This softer take on a pink bathroom is effortlessly glamorous and grown-up, providing a perfect neutral backdrop for the star of the show – a copper boat bath. These two colors bring out the best in each other: copper gives pink a bit of an edge, and pink brings out the warm, rosy tones in copper, giving it a special glow.' says Cutchie.
Grey-veined marble and blush tiles by Ca'pietra (California Onyx and Avery Ceramic Plaster) are the perfect combinations to work alongside BC Designs' copper boat bath.
6. Display your small tub on a stand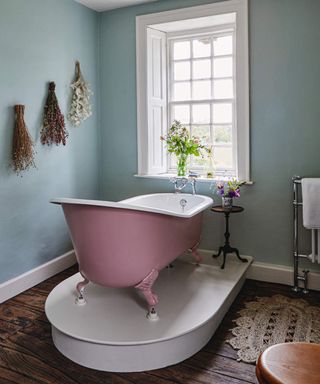 If you have a small bathroom layout with a slipper tub, consider elevating the space – quite literally. Place the taller side of the small bathroom bathtub facing toward a window so you can look out onto your garden or external scenery.
You could create a floaty, airy space and feel like you're on cloud 9 with a bath plinth like in this blue bathroom idea.
7. Pair your tub with a chandelier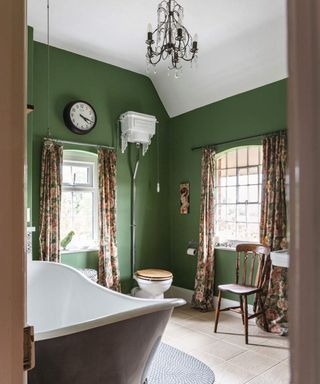 Small bathroom lighting fixtures can make or break a snug washroom scheme. So put the spotlight on your small bathroom bathtub with a fancy chandelier for a touch of French charm. This characterful glass ornamental fitting can take a bland scheme from 'blah' to voila in an instant.
Teamed with a toilet that has a high tank, and lengthy drapes, you can create the illusion of high ceilings too to look up to while you relax in your chateaux-style space.
8. Create a traditional bathroom space with wallpaper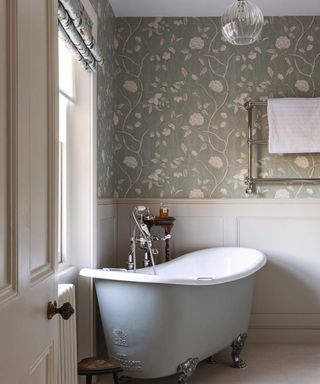 Many of us have a bathroom that is neither uber-modern nor incredibly Period in style. Indeed, whether you're buying, selling, or renting, you can be sure that a traditional bathroom scheme is a neutral style that is least likely to offend.
This small bathroom bathtub in a duck egg blue colorway, has been positioned at an angle, rather than flush against the wall to 1) make use of the space most effectively 2) Show off the gorgeous wall panels and floral bathroom wallpaper design.
9. Buy a two-tone tub... or upcycle one with paint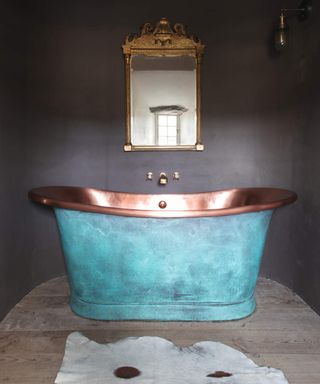 Fancy taking a dunk in a dual-colored small bathroom bathtub? You've two options. You can either buy the Verdigris Copper Boat Bath, coming soon from BC Designs... or fake the look yourself.
Whether you've bought a smalll bathtub (with a few nicks and scuffs) as a budget bathroom buy, or just fancy an affordable change without forking out on the best bath. We love the contrast of this copper tub with 'Green of Greece' effect, especially against the dramatic black wall paint.
Get started with our step-by-step guide on how to use furniture paint to update a roll top bath.
9. Add an Art-Deco feel with checkered flooring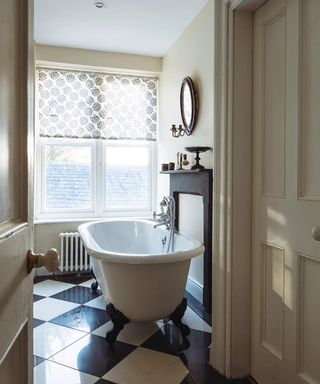 You can't go wrong with a simple monochrome bathroom for style and versatility. However, the color combination of black and white, or cream and black can sometimes look uninspired at the best of times. But, by pairing a white small bathtub with checkered bathroom flooring, you can create a classic scheme that will last for years to come.
We particularly love the contrast between the white porcelain bath and black feet.
10. Combine a metal bath with busy textile prints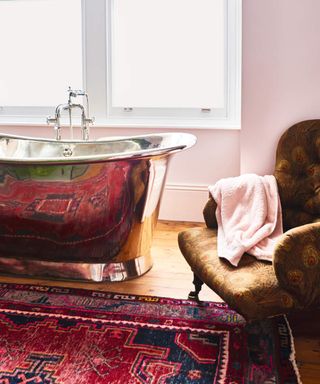 A shiny small bathroom bathtub is a great idea for adults and kids alike. The reflective surface looks so chic... And is a good way for children to learn about their bodies and how to cleanse themselves.

But if you really want to channel your interior designer, combine your tub with trendy accessories such as a statement rug and armchair. The chic patterns and colors will project themselves onto your metallic bath for beautiful, luxury bathroom results.
11. Combine rustic wood and brick textures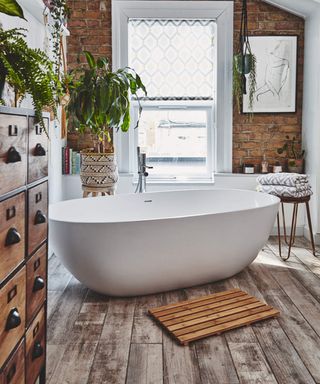 A rustic bathroom is reliant on the use of organic materials such as wood, slate, metal, and more. And this suite is the perfect example of how it doesn't need to look harsh or grungy.
Add a freestanding small bathroom bathtub in the epicenter of your bathroom and create a concrete jungle. To do this, you'll need to know how to create an exposed brick feature wall, then add wooden elements such as LVT wood-effect flooring, wooden storage, and lots and lots of plants.
12. Create a scheme inspired by nature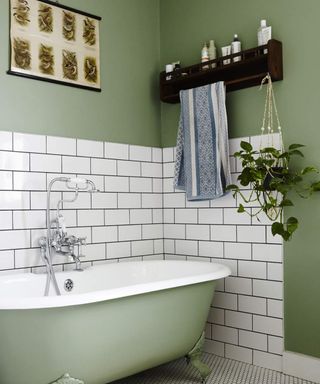 There are so many benefits to having a green bathroom. But when we even when we talk about grassy schemes, we seldom speak about small bathtubs that are this shade.
Create a woodland-inspired scheme with green wall paint and a statement verdant vessel. Houseplants hung from macrame containers will add to the look, as will a wildlife wall hanging.
13. Hide away from the world with a khaki bathtub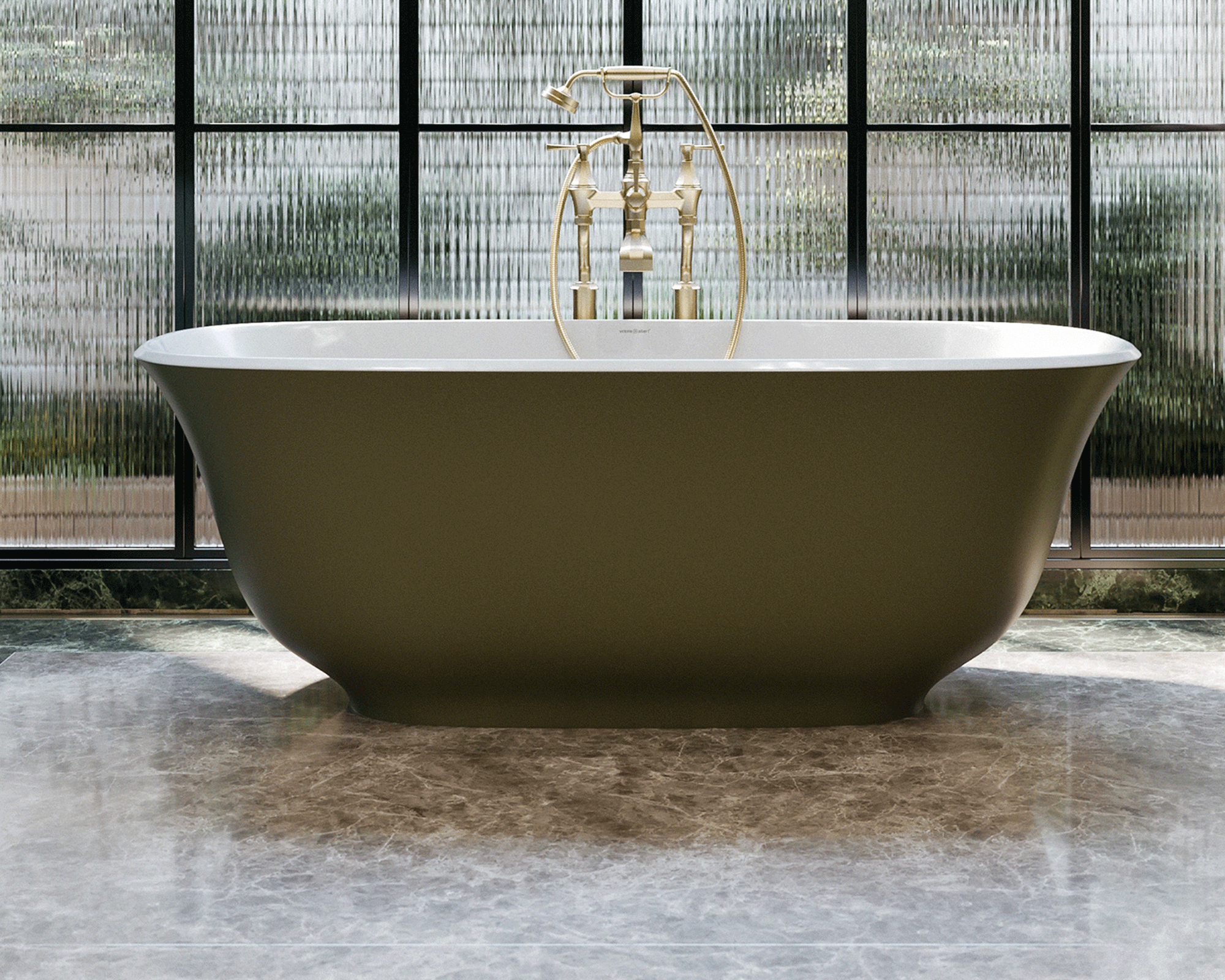 Staying on the theme of green schemes, let us introduce you to this khaki bathtub setup. Far from its avocado cousin, this modern bathroom is miles apart from the seventies.
Fluted window glass and black-framed, Crittall-style windows are the perfect contemporary backdrop for this camo-colored small bathroom bathtub. And, the brass faucet fitting, and veined green marble decor?
We wouldn't hesitate for a second to pour luxe bath oils and rose petals into this bathing tub.
14. Add marble floor tiles for a touch of spa luxury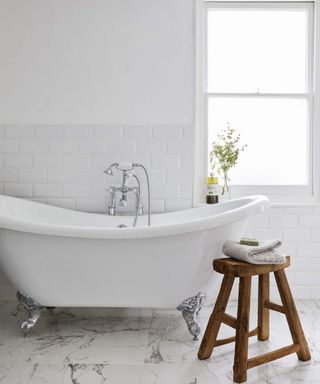 White bathrooms already offer a clean canvas for your small white bathtub, but if you are looking to add interest and make your scheme look more expensive... Look no further than marble bathroom tile designs to add a high-end feel to your washing space.
The grey veining complements the silver feet of the small bathroom bathtub, while a short wooden stool is perfect for warming up this cool scheme and placing towels, creams and cosmetics on.
15. Dip into modern bathing with geometric tiles
Bigger isn't always better when it comes to bathtubs. So when scouring the net or shopping at your local hardware store, consider a small bathroom bathtub for cozy self-care.
This particular deep, built-in model looks like a deep Jacuzzi in a modern health club. The green and white square tiles add on-trend geometric interest to your scheme if you're considering something a little different when looking at how to decorate a bathroom.
16. Go rustic royal with a tin bath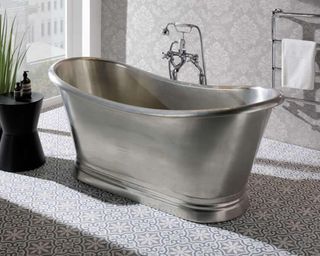 You may have heard about silver service, but if you really want to create a regal bathroom then investing in a tin bath is the way to go! Just make sure you know how to clean a bath properly because a princess or prince deserves a space that's spic and span to sink into.
But, what for the walls and floors? We say, go for heavy Baroque and encaustic tile-effect flooring in a blue and grey bathroom, because you deserve the best, right?
17. Add ample storage with a cubby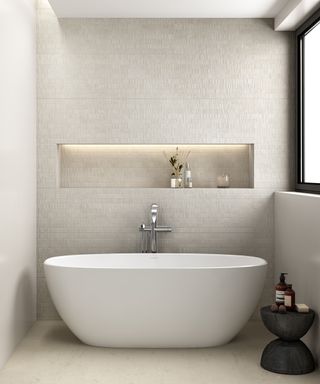 In a tiny washroom, small bathroom storage can come at a premium, but that's not to say that you can't keep your shampoos, shower gels, and bath foams organized.
Instead of surrounding your small bathtub with self-care products, consider creating a cubby hole to shelf soaps and cosmetics.
You can even add some strip lighting within the recess to ensure that you can see all of your bottles and tubs.
19. Create a cocooning space with an egg-shaped tub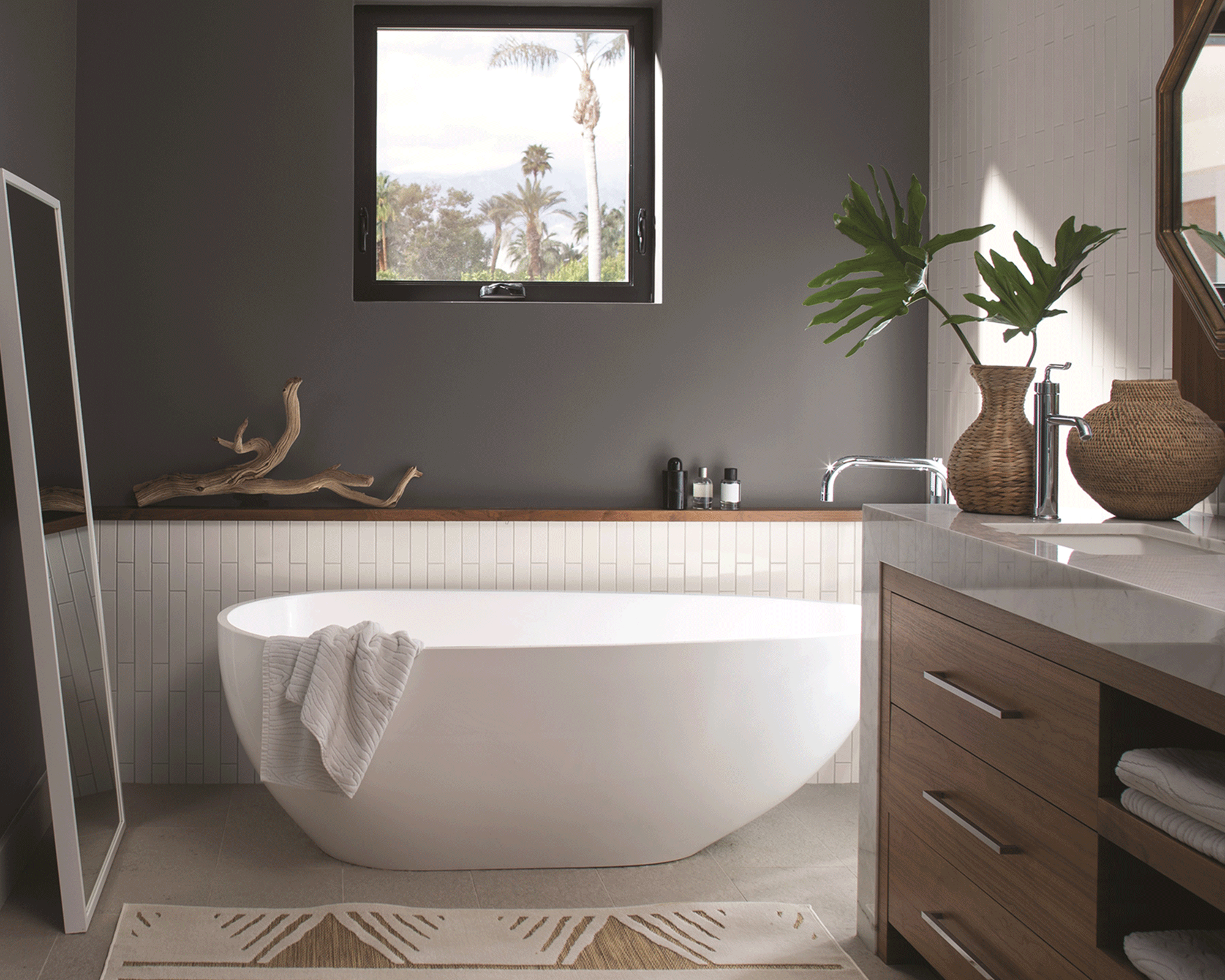 In human society and in the animal world, we all crave a safe space away from external stressors, and so a soak in a cocooning egg-shaped small bathroom bathtub can serve a purpose.
Where black can be a no-no or some, a brown and dark grey bathroom is the perfect alternative for a little respite away from the world. The benefit of houseplants can also be experienced here, to create a calm and tranquil environment.
20. Theme with accessories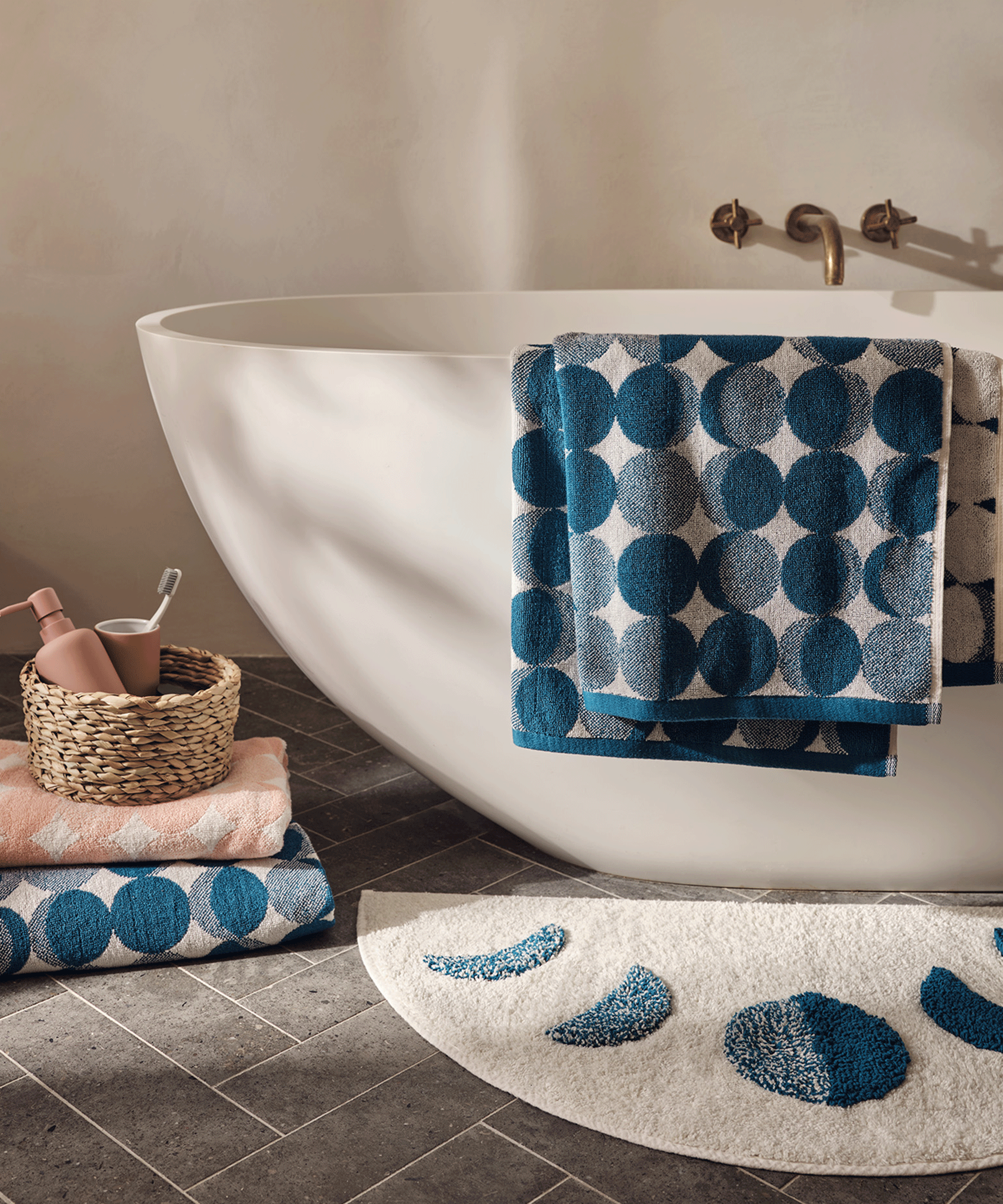 If you're someone who likes to chop and change the decor that surrounds your small bathroom bathtub with the seasons – do this with affordable accessories. We love this celestial scheme which is based on cute moon motif towels and half-moon bath mats. We'd pair with star accessories for twinkly tub time, along with a healthy glug of shimmer-effect bath oils.
'The Eventide trend offers sumptuous, spa-inspired pieces designed to make your bathroom your very own sanctuary, no matter what size,' explains Katy Traill, senior design manager, George Home.
'Working with deeper tones helps reflect light, whilst keeping space uncluttered with bold focal points maximizes on space. Accessories in natural textures will create that at-home spa experience, and the bold geo print towels and bath mat are perfect for adding flashes of color against the natural materials for an effortlessly warming touch.'
21. Fill the room with multiple mirrors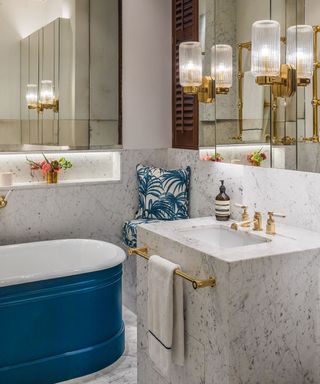 Second to bathroom lighting, your bathroom mirror ideas are your small bathroom bathtub's best friend. These reflective panels of glass will give the illusion of a larger space and help create a bright space. They'll also come in handy when you're shaving, scrubbing, and exfoliating for that day spa-style design.
Buy this particular Bute cast iron bath from Drummonds for sultry soaks.
22. Match your bath color to painted wooden beams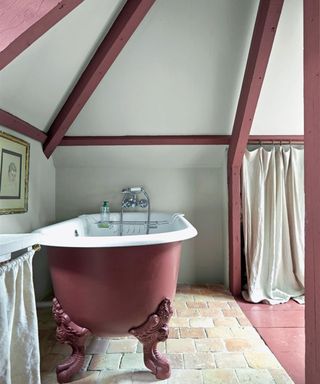 For a rustic twist on a small bathroom bathtub, why not paint your tub and traditional wooden beams in the same paint shade. Here, the furniture and architecture have been given a healthy lick of Eating Room Red, available from Farrow & Ball.
'The deep blackened pigmentation of our Eating Room Red gives a rich burgundy finish with a wonderfully aged feel.' says Joa Studholme, color curator, Farrow & Ball.
23. Warm up a small space with yellow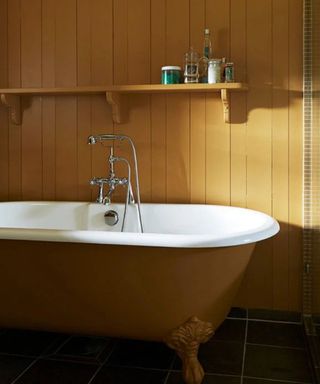 Both large and small bathrooms risk feeling cold and clinical if incorrectly styled and color can play a massive role in this. So why not add a warm and spicy hue in your washroom while you simmer in warm bubbles? In a yellow bathroom, a shade like India Yellow, available at Farrow & Ball can help to turn up the temperature by a couple of Fahrenheit by dousing your shelves, tub and shiplap in this paint pigment.
'This deep mustard yellow...creates a really cosy and surprisingly un-yellow space. It should, however, be used in moderation in small rooms where its moody intensity may be a little overwhelming.' warns Studholme.
24. Find the right shade of white with a color expert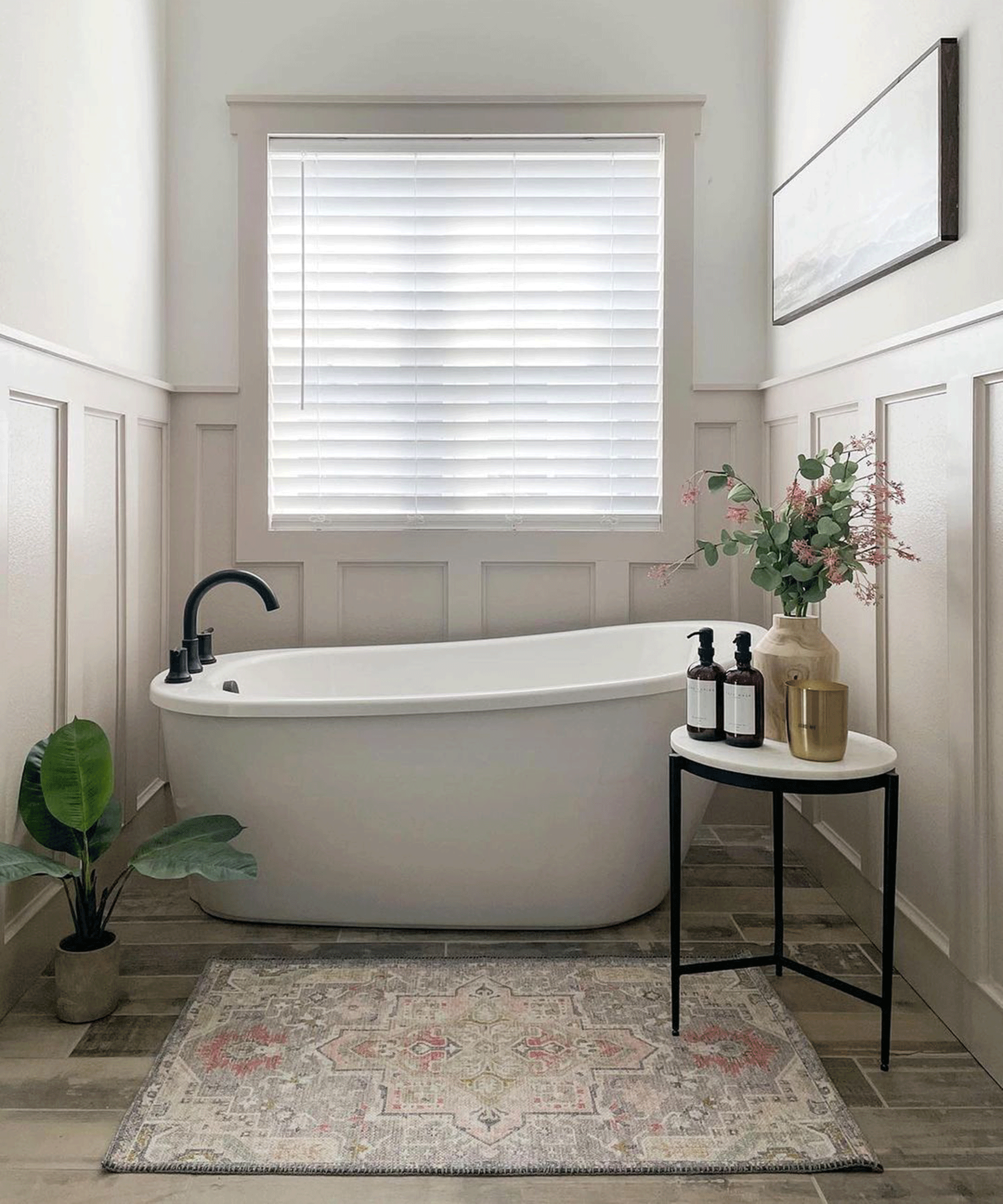 Melissa Tyler (aka @lakeandlumber) worked with one of Farrow & Ball's color consultants to create a bright and airy bathroom. And wouldn't you agree that the results are delightful?
The benefits and beauty of a color consultant are that they take your preferences into account, whilst recommending colors that you may not have initially considered but end up falling in love with! This was definitely the case here, with Elephant's Breath, available at Farrow & Ball, being the winning color for the beautiful paneling, adding stunning depth and warmth to this warm grey bathroom.
'Elephant's Breath reads as an uplifting mid grey with its hint of magenta but can become almost lilac in the cooler light of west-facing rooms.' says Studholme.
Don't underestimate the small touches in this bathroom too! From the exotic rug to the foliage and the bathroom blinds (a great window treatment for privacy and light control), this is such an easy look to copy.
Are small bathtubs worth it?
'A colored bath can be a great way to add color for those who are color confident–and with a variety of shades available, it can easily be introduced into the room without having to change your existing scheme.' says Cutchie.