Knowing how to clean a bathtub properly makes the difference between having a soothing bathing experience, or enduring a grimy disaster with a very unsightly view. Whether your bathtub is stained beyond belief and far from white, complete with a bath drain riddled with soap scrum or calcium build-up, you can clean a bathtub easily using strong cleaning agents like bleach, but also using natural ingredients like baking soda, vinegar and more.
Lucky enough to have a bathtub with jets? We can help you clean that up with sparkling results too.
The secret to keeping your bathtub white like new (or the color you originally bought it in!), is to make it part of your main cleaning routine. So factor this in when practising how to to clean a bathroom properly and aim to deep clean it every month, minimum. So if you enjoy a good soak, keep reading to get clued up on how to clean your tub properly and to reveal some expert bath cleaning tips from our favorite cleaning gurus too.
How to clean a bathtub using baking soda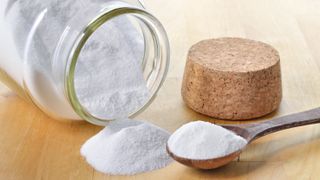 Using baking soda to clean a bathtub is a cheap, easy and environmentally friendly way to tackle daily grime and stains too. It is also a great way to clean the drain (more on that in a moment), getting rid of unpleasant smells and removing any gunk.
For a regular clean and for stubborn stains sprinkle baking soda around your bath and then spray your vinegar and water solution over the top of the bicarb.
The mixture will begin to bubble. Leave it fizzing for five minutes and then scrub with a sponge until a paste forms.
Leave the paste for a further 10 minutes then wipe away all residue with a soft cloth and rinse clean with water.
How to clean a bathtub with vinegar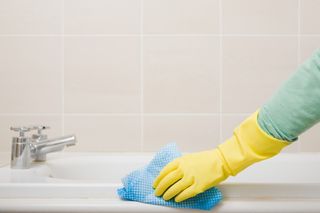 Using vinegar to clean a bathtub is a great way for both a quick spruce and a deep clean as it is a natural disinfectant.
Make your own bath cleaning solution in a plastic spray bottle by simply diluting equal parts of white wine vinegar with water.
Spray onto the surface of your bathtub and simply wipe the dirt away using a sponge or soft microfibre cloth.
For a deeper clean, leave the vinegar and water solution on the bath for 15 minutes before wiping away.
How to clean a bathtub with jets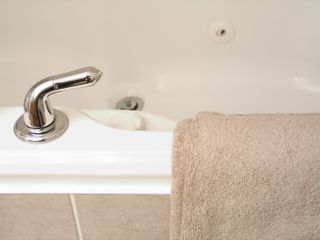 To clean a bathtub with jets properly, you'll need to tackle this differently to a regular tub. Before cleaning yours for the first time, check the manufacturer's manual. Some manufacturers recommend closing the air controls, while others recommend leaving them open during cleaning and certain manufacturers recommend specific cleansers for their jets.
Fill the bath until the jets are covered by 5-8cm of hot water.
Add 2 tablespoons of low-foaming dishwasher powder and four tablespoons of white vinegar.
Run the jets for 15 minutes.
Empty the bath, and refill it (cold water is fine this time) let the jets run for 10 minutes more and then drain fully.
Rinse well and use a nonabrasive cloth to remove any gunk off.
If there's still dirt around the jet covers, try using dental floss to get behind them.
How to clean a bathtub drain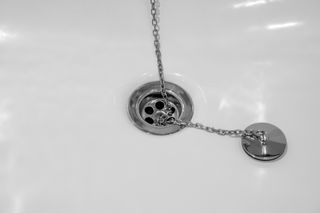 To clean a bathtub drain, pour six tablespoons (4fl oz/ half a cup) of baking or bicarbonate of soda straight down the plug hole.
Follow this with an equal measure of white vinegar.
This mixture will bubble and foam in the plug, breaking down any blockages much like when you're unclogging a shower drain that's blocked.
Finally pour boiling water down the drain to rinse the solution away.
How to clean a bathtub with bleach
To clean a bathtub with bleach, use it neat on an old toothbrush (always wear rubbing gloves when working with bleach) and scrub well onto any stains but also on any mould from the grout and sealant around your bathtub.. Make sure you rinse away any bleach immediately with water afterwards and keep the windows open while you are cleaning.
How to clean a bathtub that is stained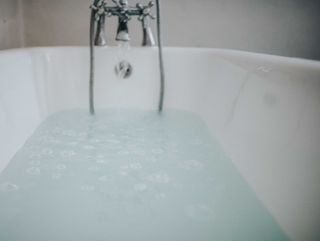 To clean a bathtub that is stained (badly) you can use bleach on an old toothbrush (as above), rinsing thoroughly afterwards and wearing rubber gloves throughout. Alternatively, you can use apply baking soda using an old toothbrush and scrubbing it in well. Leave it for a while before spraying with white vinegar, scrubbing again and rinsing well.
Another clever trick: Grapefruit!
We spoke with the cleaning hack specialists at NetVoucherCodes.co.uk who suggest that 'If you have an issue with bathtub rings and soap scum, cut a grapefruit in half, sprinkle some rock salt on top and then scrub away.'
How do I get my bathtub white again?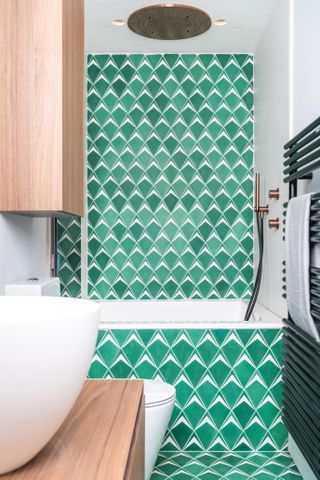 To get your bathtub sparkling white again, you will need to tackle any build up of limescale and soap scum as this can leave your bathtub off-white (and not in a nice way). Do the following if your bath is made of enamel:
Mix half and half white vinegar and water solution.
Apply it to the limescale only (not the surrounding areas of bathtub) using a soft cloth.
Keep rinsing and re-applying and rinse again thoroughly when you're done.
To whiten acrylic bathtubs:
Apply a half and half solution of vinegar and water from a spray bottle.
Leave for 30 minutes, then rinse thoroughly.
How do you clean an enamel bathtub?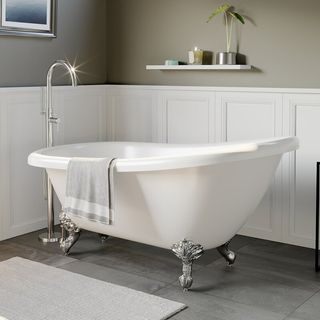 The key with cleaning enamel bathtubs is to tend to it little and often. Simply use a damp cloth to wipe away all soap when the bath is still warm after use. When you do come to clean it, follow these tips.
Never use abrasive cleaners to clean an enamel bath, avoid scouring powders and steel wool on an enamel bath as they will damage the finish.
Don't use acidic products, even vinegar, as they could wear away the enamel, which makes it unpleasant to touch and prone to discolouration.
Stop your taps dripping and remove your plug. This will prevent staining from persistent dripping or standing water.
For a deep clean fill your bath with warm water and add washing up liquid. Allow the bath to soak in the mixture for 30 minutes. Empty the bath, rinse with water and use a non-abrasive cloth to dry.
How to clean bath taps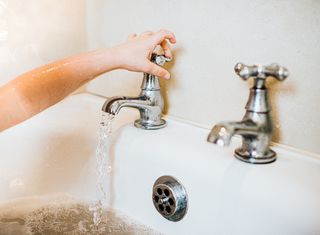 To clean bath taps, you want to avoid using any harsh chemicals as they could damage the surface. Lemon juice is the perfect solution for dissolving limescale and tackling water build-up.
Do this fairly frequently as although high quality bathroom faucets will shine for many years and are extremely durable, you need to clean them regularly to make them sparkle. This is how to clean your bathtub taps:
Cut a lemon in half and squeeze the juice into a bowl.
Take one half of the lemon and shove it onto the spout of your tap, twisting gently until it stays in place. Leave it to work its magic.
Meanwhile soak cotton wool pads in the lemon juice you collected and wrap the pads around the parts of the taps most affected by limescale.
Wait an hour then rinse with cold water and wipe clean.
You may need to scrub gently with a scourer to loosen any stubborn bits of limescale, you can replace the lemon for longer if required and then scrub again.
How to keep your bathtub clean
Rinse out your bathtub after use: This will get rid of any leftover soap and shampoo for a more sparkling tub.
Remove oil-based products with white vinegar: Oil based products leave a dark ring around the top which is difficult to remove when left overnight or longer. Quickly wipe down with white vinegar and a sponge following every oil-based soak.
Remove hair and soap regularly: Clearing the bath drain on a regular basis to help the water flow away quickly and reduce the likeliness of blocking your bath drain.
Avoid using steel wool or abrasive brushes: Using scouring powders and harsh cleaners when working on your bath can scratch the surface making it harder to clean. Especially if you have an acyllic bathtub.
Never mix cleaning products: Certain combinations of chemicals such as chlorine, bleach and ammonia can create toxic fumes and even burn your skin.
Keep an eye out for mould: If you spot mould or mildew around the sealant, use the bleach method above or for a softer approach apply a mix of bicarbonate of soda and water to the mould – two parts bicarb to one-part water – leave for 15 minutes and scrub away with the toothbrush. Rinse with water and wipe with a soft dry cloth.
Ventilate: To reduce the risk of mould in the first place, always let steam out of your bathroom and let fresh air circulate. Damp, badly ventilated rooms are the ideal breeding ground for mould and mildew.
Expert tips on how to clean a bathtub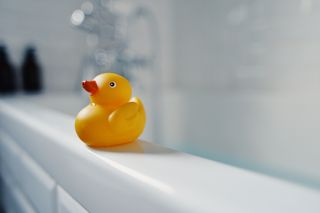 How Mrs Hinch cleans a bath with the best bathroom cleaners
An essential part of cleaning a bathroom, Mrs Hinch's bathtub cleaning routine looks like this: 'I make a start on my bath using Minkeh (Minky Anti-bacterial Cleaning Pad), and then out comes the Flash Bathroom, of course — liquid or spray version. The suds are amazing. It breaks down all soap and scum, and the shine is fabulous. Coupled with Minkeh, you can't beat this duo. I've always said if I could wear Flash Bathroom as a perfume, I would — and I am not joking!'
How Lynsey Queen of Clean cleans a bath with bleach
Lynsey Crombie's top advice: 'Fill the bath a quarter of the way with hot water and then add in 4 capfuls if neat bleach.' You should let this soak whilst you carry on cleaning and remember to open the window! 'Using the bleached water from the bath now scrub the rest of the bath using an abrasive cloth. Rinse and buff dry.
More top tips from Lynsey include, 'The best way to get stains like nail varnish, purple shampoo or fake tan off the bath is to use the 'scratch' side of Marigold's Cleaning Me Softly sponge with just water' and 'If you're tackling limescale around the bath, spray undiluted white vinegar on the limescale, leave it for 20 minutes, then wipe it down with Let It Shine! with just water.'
When you're done, it's totally time for a bubble bath!