Looking for small bathroom lighting ideas? Well, you are in the right place. It might be interior design 101 that when it comes to small spaces, good lighting is key, but how do you get 'good lighting'? What does 'good lighting' even involve? We've got you covered with all the big practical lighting questions, plus plenty of lovely ideas to show you what you can do in your space.
So whether you are designing a small bathroom from scratch and need advice on where to even start with your lighting, or you are looking for some easy updates to your current space to make it lighter and brighter, just keep on scrolling to get inspired.
1. Add bathroom lighting at eye level
This kind of linear sconce is perfect for small bathrooms as they visually don't clutter the space thanks to the very simple, elegant design but still bring some style into your room.
They are ideal for either side of a mirror where you want a bit of extra light and create a really satisfying symmetrical look – something we love to see in smaller rooms. Pick a light that's going to give off a soft glow, you don't want any harsh lighting going on around your sink area where you probably get ready for the day and get un-ready too.
Also, note how the linear shape looks paired with the arch of the mirror – lovely lovely stuff. It's the perfect size for the area, so when choosing your wall lighting, be sure to take measurements of the mirrors they will be sat on either side of and check it will look balanced.
2. Create symmetry with long hanging pendants
We've just said how much we love symmetry in a small space, and this tiny bathroom only further proves our point. The neatness of the matching sinks, matching mirrors and then to finish off the look the matching pendants are just so visually pleasing. This lighting is also really practical too, a simple way to light your sink area that doesn't add any extra clutter to the space.
Find more lovely small bathroom ideas like this one over in our gallery.
3. Make a statement with adjustable sconces
Just because you are working with a small bathroom it doesn't always mean your lighting has to be discrete. If your space can handle it, why not make a statement with your lighting? These striking wall lights with the clean lines and dramatic silhouette really add something to this otherwise quite simple monochrome bathroom.
Plus, these lights are actually adjustable, so you can move the light around to focus on particular areas of the room. Ideal if you need extra light to do all your beauty maintenance, but then don't fancy a spotlight on you while you brush your teeth at six in the morning.
4. Match your lighting to your fittings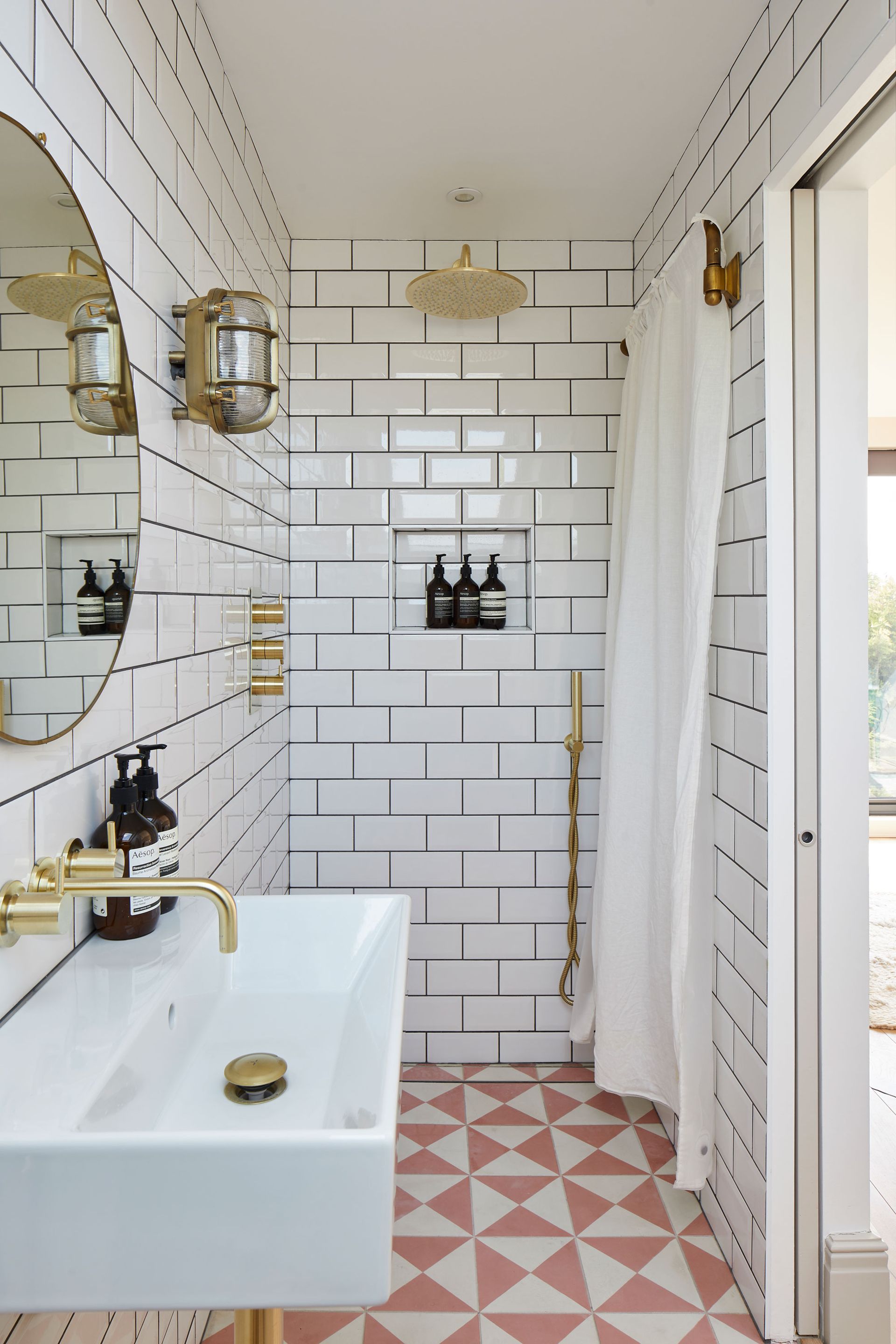 In this small bathroom, the lighting blends so seamlessly into the space. It perfectly matches the shower and the taps to create a totally cohesive look which is what you want in a bathroom of this size, so no single feature takes up too much visual space. Their choice of brass add warmth too, balancing out all the tiles going on here, and preventing the space from looking clinical.
'Think not just about the overall lighting effect but the look of the fittings themselves. Bathrooms can often look austere, so it's worth investing in quality materials such as copper or bronze that can soften the look and add warmth. You don't need to use chrome or aluminum light fittings just because your taps are chrome.' says Charlie Bowles, Director, Davey Lighting.
Love this small bathroom? Check out all our walk-in shower ideas for plenty more gorgeous spaces.
5. Incorporate different light sources
This is key in any sized bathroom actually – ensure you have multiple light sources. You'll need different types of lighting for different tasks and potentially different types of lighting depending on the time of day too.
In a small bathroom, you might not have the space to go add tons of different lights, so we suggest sticking with two – task lighting and ambient lighting. Task lighting is an easy one, spotlights in your ceiling or one central ceiling light will do the job and fill the whole room.
Ambient lighting can be done in a few different ways, but the idea of this is to add a layer of softer lighting that's ideal for when you need lighting around your mirror or want a nice light for when you are chilling out in the tub. Wall lights are an easy way to add these in, but low hanging pendants are becoming a popular option too.
6. Make a pendant light a feature in a small bathroom
In a bathroom that's this diddy, say an ensuite or a powder room when you can really only afford to have one light source, make it work hard. It should be a practical choice but also bring in some style.
This glass pendant is the perfect example. It's the perfect size for the space so that you notice it but it doesn't overwhelm either. Its cut glass design will disperse light beautifully and effectively. And it's hanging in the perfect place, closer to the mirror where the light is more likely to be needed rather than in the center of the ceiling.
There's also a top hack going on here. If your light fitting is central to your room, but would work better if the fixture hung elsewhere, you needn't go paying an electrician to move the fitting. Pick a cord that's long enough and place a hook in the spot you want your light to hang from and just thread the cord through that, checking it's secure. Very nifty.
7. Bring in natural light too
If you are totally redesigning your bathroom, you should consider natural light too and where it's going to come from.
If you're designing a new bathroom in a loft conversion think about adding a skylight above your shower to let the natural light pour through while still maintaining your privacy. Alternatively, add a row of smaller windows along the top of the wall.
If you aren't blessed with plenty of natural light, fake it and recreate the feel of a skylight by adding spotlights in the ceiling of shower.
8. Wall mount adjustable spot lights
Track lighting is making a comeback, and not just on our ceilings. Check out how in this bathroom, track lighting has been used vertically on a wall. It's clever because it means you can really easily change the feel of your bathroom by changing the direction of the lights. Plus it's practical for when you need a stronger light to focus on a specific area of the room.
9. Double the light with a mirror
This is an old school design hack. Placing a light close enough to a mirror so it's reflected in it, won't exactly double the light but it will enhance it, bouncing more light around the room. Position a sconce so that hangs out over the top of your mirror and we promise you'll notice it gives off so much more light than if it was hung just a few inches higher.
10. Use lighting to bring color into small bathroom
It can be tricky to bring personality into a small bathroom when every design choice has to be practical before anything else. But lighting can, fortunately, be both, so pick pieces that will add to your bathroom as well light it. Use lights to bring in some color!
In this bathroom those statement coral lights tie together this color scheme, linking the colors in the print with that glorious yellow sink. It's fun and quirk but still does the job of effective lighting the sink area.
11. Add down lights to a walk in shower
Sometimes you want to be able to light just one section of your bathroom to make it the focus. A walk-in shower or a freestanding tub are the ideal features to set apart with some downlights. This look is particularly effective if you have statement colored or patterned tiles that really pop under lights.
What is the best lighting for a bathroom?
A mix of lighting it the best way to light your bathroom effectively. Just be sure to layer different types and cover your bases with task lighting and ambient lighting.
'There are several things to take into account when planning: how big your space is, how much existing natural light is there, do you have shower and/or a bath, will you be using your bathroom to do your makeup? If so, you will need to ensure that the mirror is well-lit, that there is even lighting in the bathroom and that there are no shadows.' explains Chris Jordan, Managing Director at Christopher Wray.
'If space is at a premium LED strips or directional wall lighting work well in highlighting a feature whereas downlighters or wall lights are great for ambient lighting. Task lighting needs to be considered around mirrors so that you have plenty of light when shaving, cleaning or flossing your teeth or applying make-up etc. You should always choose lights that will illuminate without causing shadows i.e. a single strip above the mirror or wall lights situated either side of the mirror.'