Looking for design ideas for a Shaker kitchen? Modern Shaker kitchens, the direct descendants of the American style, designed purely for simplicity and utility in the late 19th century, are very clean and uncomplicated looking, a stylish blank canvas on which to add some personal touches. 
Shaker kitchens are synonymous with master craftsmen and great quality, and add definite rustic charm to any interior and above all, it will add a level of practicality to your kitchen. Be inspired by these Shaker kitchen design ideas, created for both contemporary and period homes.
For more kitchen ideas, go to our hub page. 
1. Opt for a kitchen island
We are big fans of a kitchen island. They are a great way to add a bit of extra storage, more prep space and you can always use them to tag on some extra seating. But practicalities aside, they also give you the opportunity to be bolder in the finish or colour you choose, or perhaps allow you to choose a more expensive worktop material that you wouldn't have dared to use for the whole kitchen. To create a real show-stopping centrepiece, choose a luxurious material for the worktop such as marble or a bespoke rustic wood and pick a colour that stands out against the cabinets. 
Find which kitchen worktop material is best for your kitchen in our guide.
2. Add shelving for (Instagrammable) storage
Make sure you break up solid blocks of cabinetry with some open shelving. You could choose glass fronted cabinets to do this or have a few wall shelves to store only your prettiest glassware and china. 
Check out our kitchen storage ideas for more space saving solutions. 
3. Mix and match the cabinetry 
Combining cabinets of different colours or materials is looking to be a big kitchen trend for the year ahead. In this DeVOL kitchen, the kitchen island has been painted in Printer's Black and the cabinets in Damask. If you aren't blessed with an island, another frequent iteration of the look includes using a darker colour for the lower kitchen cabinets and a lighter shade for shelves and wall cabinets. Think creamy, neutral coloured cabinets above and a darker, dramatic colour for the lower cabinets.
4. And do the same for kitchen worktops
You could also add interest to a Shaker kitchen by using different worktop materials. In traditional Shaker kitchens worktops were always wooden, but more modern materials such as granite or quartz are often more practical and hardwearing, and will give the kitchen a contemporary edge. So get the best of both worlds by combining the two – this would work especially well if you wanted to have an island. 
Find more inspiration in our white kitchen design ideas gallery. 
5. Be brave and choose colourful cabinets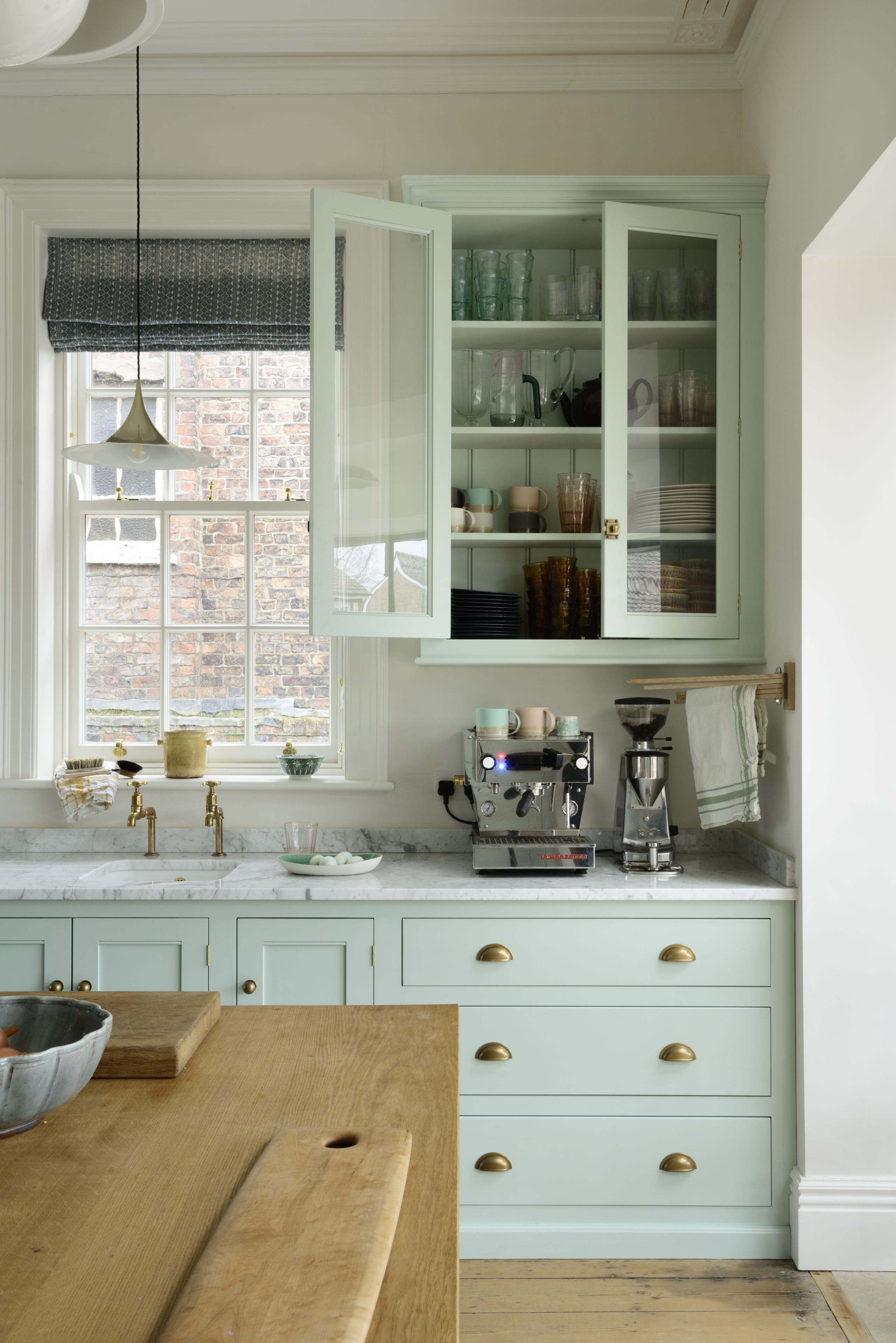 There is no doubt that the Shaker style's mostly neutral colour palette is a big part of its staying power, but we are starting seeing slightly bolder colours creep in. Okay, maybe pastels aren't exactly 'bold', but it's a nice change from cream or grey. We love that in this kitchen, the pale minty cabinets have been teamed with marble worktops and gold accessories to prevent it from looking too twee. 
Convinced a bolder kitchen is for you? Check out these inspiring colourful kitchen design ideas... Find more about how to paint kitchen cabinets in our guide.
6. Or embrace the dark side with inky hues
If, like us, you are obsessed with dark and atmospheric interiors, turn to the Shaker palette of muted deep blues, dark greens and inky blacks when designing your kitchen. If this look is a bit too Tim Burton for you, try combining darker cabinets with a light worktop like quartz or a pale wood, choosing knobs and handles in chrome will also give the look a lift. 
Find more dark and dramatic kitchens in our design gallery. 
7. Add interest with wall tiles
By nature, the Shaker style is very simple, and while we love its understated, timeless design it does mean you have to find ways to add some added interest into your kitchen. Tiles are a great way to do this, whether it be a splashback in a quirky pattern or a whole wall of coloured tiles as seen below. For similar tiles try these crackle glaze tiles form Tiles Direct. 
Find out how to choose the best kitchen tiles in our guide. Fancy DIYing a tile wall yourself? Check out our step-by-step guide to how to tile a wall. 
8. Choose the right flooring
If you are after that traditional, country cottage type vibe then choosing stone flooring is your best bet. If you want a really rustic look, you could choose reclaimed stone flooring, it's slightly more pricey but the finish will be more authentic. If you are trying to stick to a tighter budget, opt for new stone tiles for a similar look. 
For a modern, cleaner look go for bare boards or herringbone flooring. We love how the intricate pattern looks with the simple Shaker style. If having parquet flooring laid is slightly out of your budget, we say fake it till you make it with a herringbone effect vinyl. 
9. Give your Shaker kitchen a modern twist
The Shaker style maybe be very traditional but that's not to say it can't totally be adapted to work in a modern space. The sage green cabinetry combined with the quartz worktop has brought this kitchen right up to date. And then there's the smaller details like the super modern lights, stylish house plants and those Crittall-style doors. Love it!
Find advice on choosing metal doors and windows in our practical guide.
10. Mix old and new
If you love the practicalities that come with a modern kitchen but still want your space to have a bit of vintage charm, mix in some reclaimed furniture. Search markets and antique shops for an original Shaker-style dining table and chairs. The quintessential Shaker chair is upright with three horizontal struts across the back and a woven fabric seat, but any country-style chair will work.
You could also add some vintage (or maybe just vintage looking) kitchenware and accessories  – copper pans, interesting pots, antique glass ware, just any antiquey odd and sods would add to that country feel. 
11. Add a peg rail
The Shakers were big on form and functionality, so of course they were big advocates of the humble peg rail. Not only do they look lovely above the stove or over worktops, they are also super practical as you can keep all the essentials at arm's length. You can always find this in antique shops in lots of different sizes but you can also buy them new from places like Garden Trading and Not on the High Street.
Want more kitchen inspiration?