Coffee table decor is an essential part of any living room scheme. As the center of your room, coffee tables are the beating heart of your space. Housing everything from afternoon cups of tea and biscuits, to late-night glasses of red wine and cheese, coffee tables play host to many an occasion.
And while we, of course, love decorating our walls and fireplaces, your coffee table is ultimately the area you're going to use and look at most. When you and your friends and family are sitting on the sofa, it's the coffee table that's in your immediate sightline, so we say it needs some extra care and attention.
Consider dressing your coffee table in a similar way you would your fireplace or open shelves. Assuming you've already found the perfect coffee table for your space, begin by deciding how you want your coffee table to function. Do you want it to be predominantly decorative? Do you want extra storage on your coffee table? Do you want to create a statement or keep things pared back?
Whatever living room idea you've gone for, ensure your coffee table decor ideas match up and accentuates the scheme. As a general rule when choosing accessories for your coffee table, round items work on round tables and square items work on square tables – a clever top tip to get you started.
The best coffee table decor looks to try out
'When styling, avoid a flat design and create visual intrigue by using objects of varying heights, colors, and textures. To start, I like to use a serving tray in a neutral color that can be changed seasonally. From there, layer in a floral arrangement for height, textural coasters, and a small stack of your favorite reading material,' says Anna Franklin, interior designer and founder of Stone House Collective.
'If you desire a minimalist look, stack books with aesthetically pleasing colors and unique topics in odd sets (such as a set of 3, a set of 5, etc.) in the center of the coffee table. To add further design depth and height, style a small bud vase with dried blooms on top of the stack,' continues Franklin.
1. Add some texture with a straw basket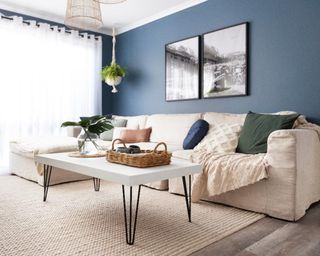 A rectangular plain white modern coffee table can look a little stark and can be difficult to fill. So if you're starting with a simple base, look for ways to create layers to add interest.
'A styling must-have is a tray. It can be a beautiful base to begin layering items,' says Stacy Lewis, interior designer at Eternity Modern. Using a rattan tray is a great place to start, as a means of bringing in extra texture and depth.
Position this on one side of your coffee table and fill it with any decorative items that you'd like to keep close to hand. Whether it's candles, bud vases, coasters, or the remote, a rustic rattan tray is both stylish and practical.
2. Bring nature in with a vase of bouncing blooms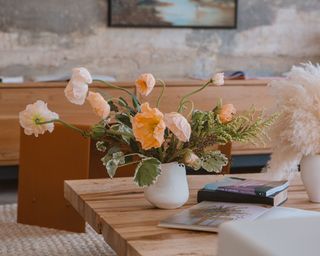 It's an oldie but a goodie. As coffee tables are generally in the center of a room, using them to position a beautiful bouquet really puts the flowers center stage and lets them have all the glory they deserve.
If you're not a houseplant person, making the most of your fresh blooms is an easy way to bring nature inside and promote a calm and tranquil space. Why not treat yourself to a flower subscription at Bloom & Wild to get your fill of flowers easily.
3. Keep healthy with a bowl of fruit always to hand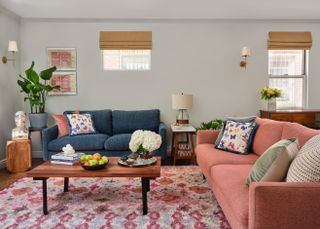 A bowl of fruit may not be your first thought for dressing a coffee table, but it's a great way to add a blast of zingy freshness to a scheme. It also, of course, encourages you to grab an orange rather than some chocolate while you're watching Netflix.
4. Turn a footstool into a coffee table with a large tray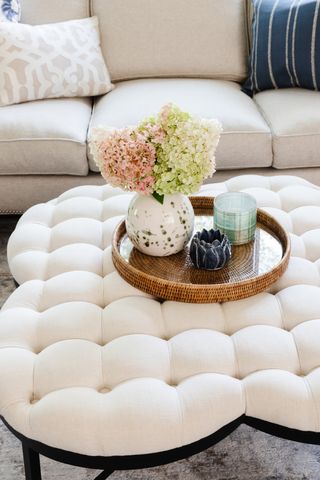 If you've invested in a statement footstool so the whole family can put their feet up, and you don't want the added clutter of extra side tables to house your cups of tea, transform your footstool into a coffee table with a tray.
Placing a sturdy tray in the center of a footstool gives your the best of both worlds – a safe space to balance drinks, a foundation from which to display pretty flowers, and a cozy footstool all in one.
Ensure the tray you buy is sturdy and waterproof, to prevent any leaks. We'd recommend a solid wooden tray like these from Amazon.
5. Layer up with 2 smaller tables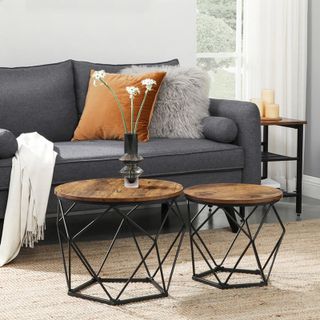 If your living room is also your yoga room, your home office, or your spare bedroom, two smaller coffee tables that are easily portable may be a better bet than one large, heavy design.
Choosing two different heights like this makes for a cluster feel, and adds varying layers to your scheme for a more modern and relaxed feel. We love this Keema Frame Bunching coffee table set from Wayfairas the matt black geometric legs bring an industrial vibe while the wooden tray tops add warmth too.
6. Throw down a linen tablecloth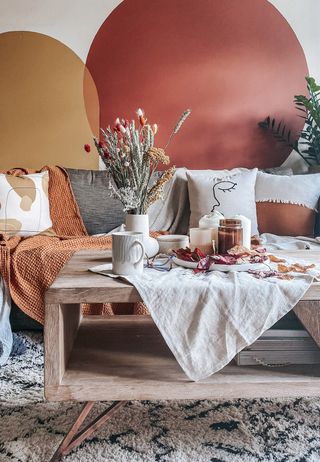 Throwing a linen table cloth somewhat haphazardly over your coffee table is not only a much more laid back and stylish way to protect your table from potential tea spillages, but it's also a great trick for covering up a coffee table that's less than perfect (hello renters).
If you've got bold decor in your living room, such as this vibrant and sunny arched wall paint idea use your coffee table as a way to pull the scheme together. These earthy and organic candles, vases, and dried flowers bring that nature-inspired rustic feel to life and accentuate the rugged and grounded feeling in the space.
7. Up your game by displaying your chess board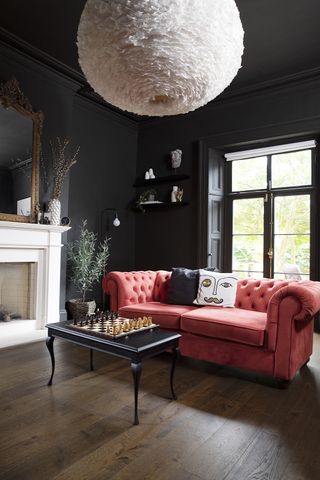 'When styling your coffee table, it's important that it not only is aesthetically gorgeous but that it represents your personality. Let the objects on your coffee table tell a story about your life and passions. There are endless ways to make your coffee table style uniquely yours,' says Lewis.
Possibly the most statement living room you ever did see, this traditional style coffee table is given a modern twist with black paint and added sophistication with a chessboard.
If you're a lover of the game, why not use it as a decorative piece that shows off your personality. Yes, you may need to move it aside when the tea and cake for five comes out, but it's a unique and fun addition that's sure to be a conversation starter.
7. Use a coffee table to link your patterns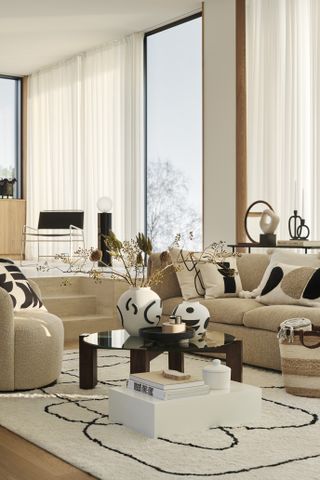 This gorgeous scheme really hones in on those striking black half-moon and semi-circle shapes, and the round black coffee table is a striking addition to this. The high gloss finish really bounces light around the room, making it feel brighter and lighter than it is.
Round coffee tables are great as they don't have any sharp corners for you to knock yourself on and are a bonus for the same reason if you have young children.
8. Simply pile up your good-looking books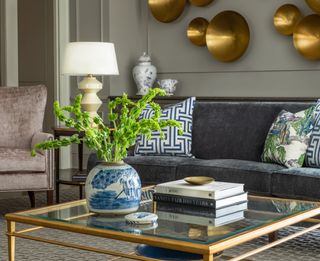 A lovely pile of books is often all that's needed on your coffee table and sometimes all there's space for.
You could place a scented candle on the top and a favorite novel to have to hand when you want it. Always style with groups of three, that is a top stylist tip. Think three books in a pile, never four. Don't ask us why – it simply works and that's good enough for us.
9. Mix and match your colors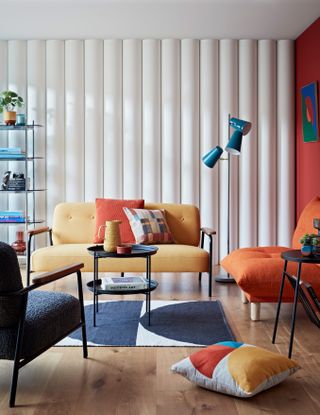 Although this coffee table is small, it's still key to this living room. It ties in because it has black legs like the sofa, chair, and side table on the right. And the yellow vase completely matches the yellow sofa, and the orange bowl matches the orange chair for perfect color symmetry.
10. Add fun with quirky ornaments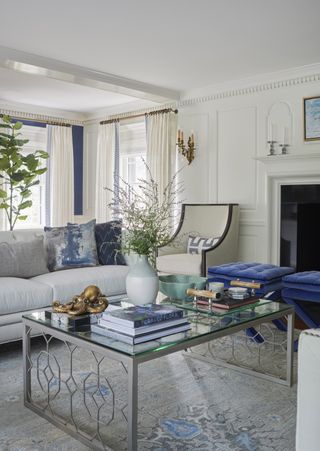 Coffee tables are the perfect place for unique and quirky pieces that can become a talking point. This golden octopus ornament is a simple way to add some fun to your space.
If you have a large rectangular glass coffee table like this, divide it up into four corners and give each quarter of the tabletop a clear purpose. Above, the octopus, books, tray, and ceramics mark out the four zones of the table and turn it into a practical and stylish feature.
11. Pick luxurious metallics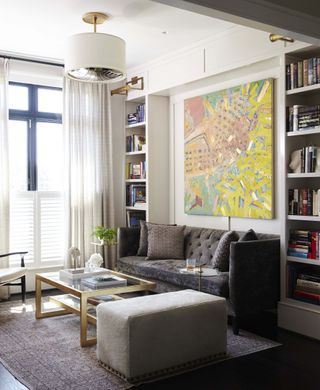 Bring warmth to your living room with a shiny metallic gold coffee table. Whatever your style, there's a metallic coffee table to suit - be it contemporary and refined or traditional and elegant.
Metallic textures are a great way to bounce light around the room, making your space feel bigger and brighter. In the image above, we love how the gold accents are also used in the pendant and wall lighting, working to unite the scheme and create a warm and luxurious feel.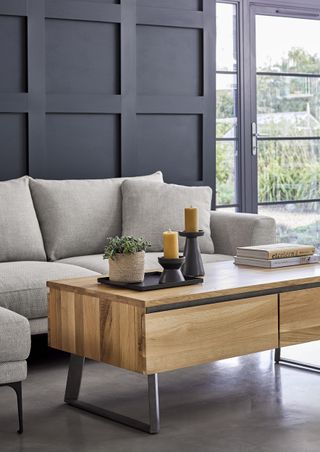 If you've got a small living room, dual-purpose furniture, such as a coffee table with storage is the way to go. This rectangular design has large pull-out drawers that are perfect for stowing away your magazines, board games, throws or your secret box of chocolates. Sleek handleless doors are an easy way to create a seamless look and ensure a tidy, clutter-free space.
Otherwise, a lift-top coffee table might be the best option if you'll also be using your coffee table to work from (or dine on!).
13. If in doubt, decorate your coffee table with candles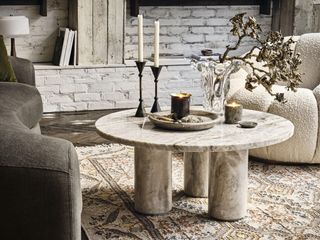 'The coffee table is the perfect place to stand products that will keep your home smelling beautiful. Don't feel as though you can only put one candle on the coffee table, feel free to set out an entire collection of candles and diffusers. Just remember to check that the smells complement nicely,' says Emily Wells at Thomas Sanderson.
Due to coffee tables being in the center of the room they are perfect for the scent to originate from so it will equally spread through the room. We love how this table also has dinner candles on too – varying heights are key to a successful display.
14. Stick to a simple color scheme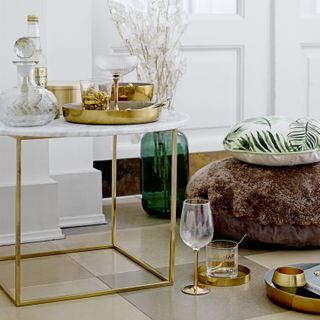 You don't need to use many colors to create an impactful display, here, the common denominator is brass and it works so well.
Anything metallic adds style to a scheme and brass is a big trend right now, choose a few key pieces like a round tray, small bowl, vase or use it for storing brass stemmed glassware. Consider your coffee table design too - the brass legs link to the brass accessories - it's a win-win!
15. Use your space effectively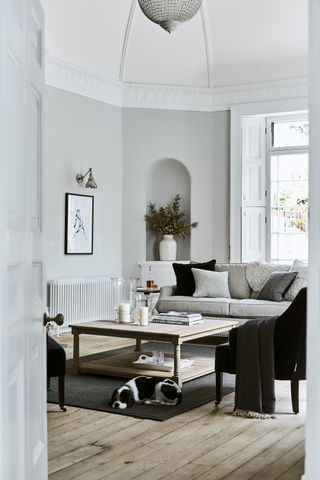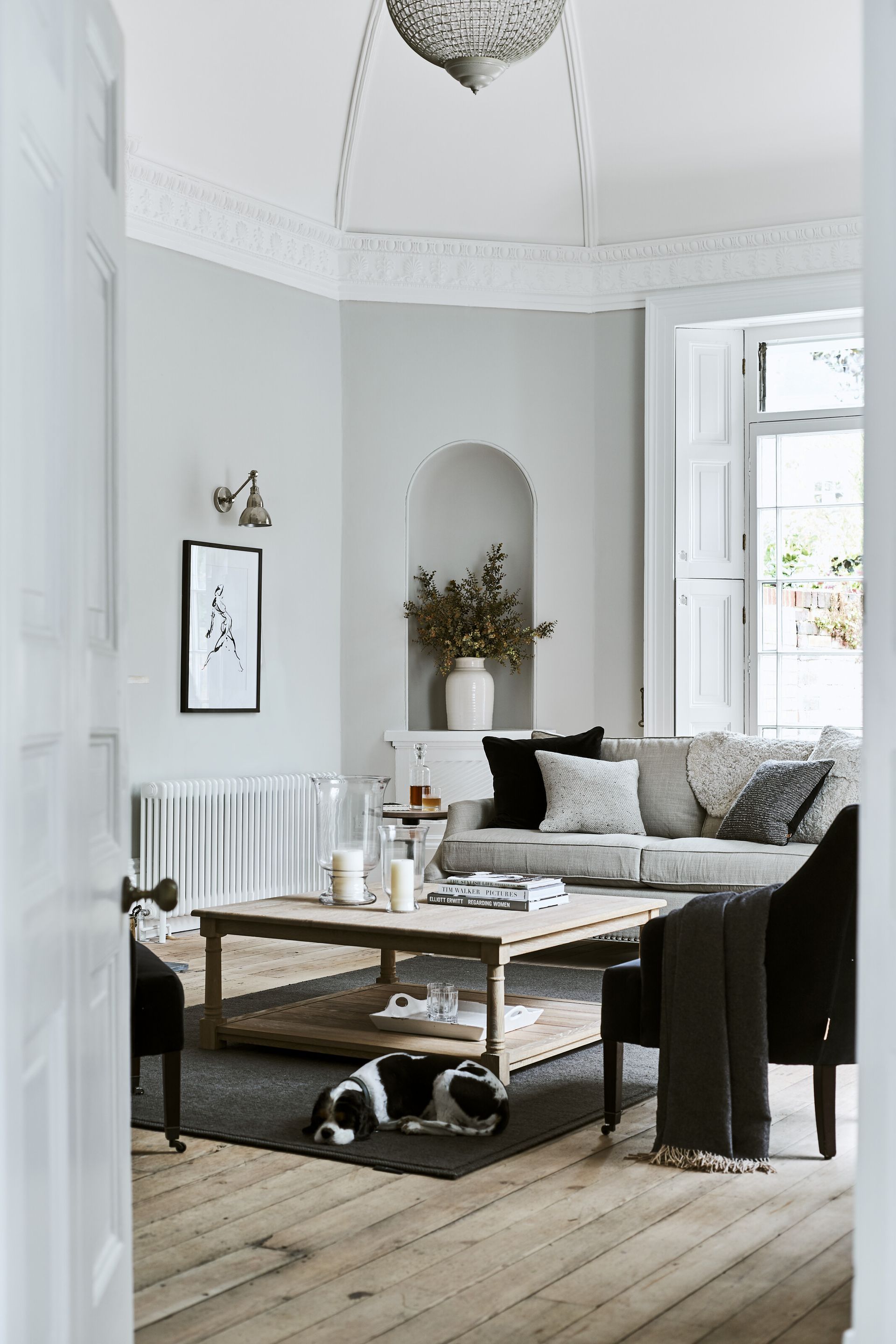 Now, just because you have a good-sized coffee table doesn't mean you should fill it to the brim with stuff. On the contrary – sometimes less is more. This beautiful display is the perfect example of this – a trio of books and two hurricane lamps like these from Wayfair - that's all.
The hurricanes are clear glass, which allows you to see through them. This means they don't take up too much visual space and therefore maximize the airy feel in this light grey living room idea.
What should I keep on my coffee table?
Think about what you're likely to be doing when sitting on your sofa, and plan what to keep on your coffee table accordingly. If you love to sit down with a cup of Joe and your coffee table is made of wood or marble, coasters are a must. If you need glasses for watching the TV or reading, create a space to store them.
Less-pretty items such as the remote or your tablet can be hidden away in baskets, boxes, or drawers. It's a good idea to display something that makes you smile on your coffee table. For many, this is flowers, plants, or candles, but this could also be board games, decorative items, or anything that takes your fancy.
What do you put on a coffee table tray?
Trays are a great way to zone a coffee table and create a centerpiece for the space. A popular choice is to layer up vases of varying heights. A tall, medium and small vase gathered together in a triangular shape is a failsafe way to add interest and height to your table.
You can then either keep these as they are for a more simple look, or fill them with blooms for a botanical and seasonal lift. You can also put small plants on a coffee table tray – cacti being a great option. This is also a great place to gather and display candles.