If you have ever caught an episode of MTV's Cribs, Keeping up with the Kardashians or even good old Through the Keyhole, you may have got a serious case of dressing room envy at the sight of the floor-to-ceiling shelves full of their neatly nestled garms.
A dedicated dressing room might be the dream, but even if you don't have space for a walk-in wardrobe, these dressing rooms, areas and dressing tables will give you a good dose of inspiration for creating the perfect clothes storage solution in your home.
1. Statement clothes storage
Walls of wardrobes can make a room feel enclosed, so choose open storage instead. The Elvarli system from Ikea comes in a variety of combinations and lets you make a feature of necessary storage. It also means you can see exactly what you own, so fewer items will be left lurking at the back of your closet, out of sight and out of mind.
Shown here is a three-section combination costing £378, and a two-section shelf and drawer unit for £316.
2. Parisian glam
Blush pinks and luxuriant textures make for a chic dressing area in this room from Maisons du Monde. If you can, place your dressing table somewhere that gets plenty of natural light to help you see well as you get ready.
Salome solid mango wood dressing table, £439; Mauricette punk faux fur and birch vintage chair, £93.49; velvet curtain, £57.90 all from Maisons du Monde
3. The walk-through wardrobe
An interior room between the bedroom and en suite can be the perfect spot for a walk-in (or through) dressing room. If possible, choose fitted wardrobes with doors over open shelving to protect your clothes and accessories from bathroom steam.
This dressing room was created by Barbara Genda Bespoke Furniture. Prices start from £1,200 per linear metre.
4. Mirrored hideaway
Section off part of the bedroom or build a walk-in wardrobe in an adjoining room, using sliding doors for division and to keep dust away. A mirrored door not only has the obvious practical use, but will also create the illusion of even more space.
Pictured below is an installation including Signature doors (full panel Grey Mirror with a titanium frame) and Signature interior in Cashmere from Spaceslide, POA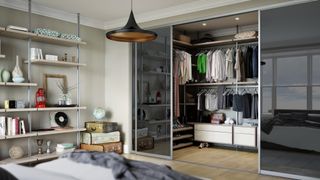 5. The perfect fit
Maximise every last inch of space in your dressing room with bespoke, fitted furniture. Before appointing a joiner or company to kit out the space, do a good audit of what you want to stow away. Shelves are great for shoes and bags, and make the most of space by using a combination of full-length hanging space (for dresses) and half-height for shirts.
Boutique Dressing Room from Neville Johnson. Fitted furniture concepts start at £3,000 + VAT
6. Love an unloved corner
Sloping ceiling, an awkward alcove or too small for a wardrobe? We all have those spaces in a room that don't seem suited to much else, so make the most of them with a compact dressing table, statement stool and some dramatic wallpaper. Just make sure you have a plug socket nearby for plugging in lights, hairdryers and straighteners.
Blush vintage dressing table in white and pink, £165.50; Blush fabric polka-dot button-tufted pouffe chest in pink, £53.99; silver eyelet curtain in silver, £47.99; white faux fur rug, £71.99; Blush 10 LED origami lantern string lights, £23.99; multicoloured graphic artwork, £59.99; all from Maisons du Monde
7. Room divider
Even if you don't have a walk-in wardrobe, you can create the look in a small space by using a wardrobe (or a floor-to-ceiling storage system) as a room divider. In this bedroom from Ikea, a Pax wardrobe with dark green Hokksund sliding doors (priced from £585) has been used to zone the room.