Dressing rooms cannot be beaten as a bedroom storage solution. They are the ultimate answer to clutter – and they are glamorous, too. If you have ever caught an episode of MTV's Cribs, Keeping up with the Kardashians or even good old Through the Keyhole, you may have got a serious case of dressing room envy at the sight of the floor-to-ceiling shelves full of their neatly arranged garments.
A dedicated dressing room might be the dream, but even if you don't have space for a walk-in wardrobe in a small bedroom, these dressing rooms, dressing areas and dressing tables will give you a good dose of inspiration for creating the perfect clothes storage solution in your home.
Designing a bedroom from scratch? Go and have a read of our tips and tricks to designing a bedroom so you know what you can do with your space first.
1. Choose statement clothes storage
Walls of wardrobes can make a room feel enclosed, so choose open storage instead. The Elvarli system from Ikea comes in a variety of combinations and lets you make a feature of necessary bedroom storage. It also means you can see exactly what you own, so fewer items will be left lurking at the back of your closet, out of sight and out of mind.
Need help decluttering your wardrobe to make it look this Insta-worthy? Read our tip guide for hoarders to find out how
2. Pick a characterful dressing table
Choosing the right dressing table is very important for creating a beautiful dressing area. Make sure that the dressing table matches the rest of your bedroom furniture and accessorise with cushions, rugs, and throws for a French boudoir look.
Blush pinks and luxuriant textures create a chic dressing area in this room from Maisons du Monde, featuring the Salome Solid Mango Wood Dressing Table. If you can, place your dressing table somewhere that gets plenty of natural light to help you see well as you get ready.
3. Consider a walk-in wardrobe option
An interior room between the bedroom and en suite can be the perfect spot for a walk-in – or through – dressing room. If possible, choose fitted wardrobes with doors over open shelving to protect your clothes and accessories from bathroom steam.
See more walk-in wardrobe and dressing room ideas in our gallery.
4. Create a secret room behind mirrored doors
Section off part of the bedroom or build a walk-in wardrobe in an adjoining room, using sliding doors for division and to keep dust away. A mirrored door not only has the obvious practical use, but will also create the optical illusion of even more space.
This dressing area solution uses the Signature Range in Cashmere from Spaceslide, POA.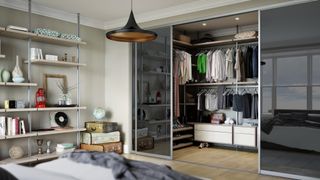 5. Go bespoke for the perfect fitted dressing area
Maximise every last inch of space in your dressing room with bespoke, fitted furniture. Before appointing a joiner or company to kit out the space, do a good audit of what you want to stow away. Shelves are great for shoes and bags, and make the most of space by using a combination of full-length hanging space (for dresses) and half-height for shirts.
This boutique Dressing Room from Neville Johnson uses all available space, while still leaving plenty of floor space for getting dressed. Fitted furniture concepts start at £3,000 + VAT
6. Utilise an unloved corner
Sloping ceiling, an awkward alcove or too small for a wardrobe? We all have those spaces in a room that don't seem suited to much else, so make the most of them with a compact dressing table, statement chair, and some fun wallpaper. Just make sure you have a plug socket nearby for plugging in lights, hairdryers and straighteners.
7. Use a room divider to create different zones
Even if you don't have a walk-in wardrobe, you can create the look in a small space by using a wardrobe (or a floor-to-ceiling storage system) as a room divider. This will work if you want to use part of your bedroom as a home office, too.
In this bedroom from Ikea, the Pax wardrobe with dark green Hokksund sliding doors (priced from £585) has been used to zone the room.
8. Show off your clothes and shoes
Got a particularly sharp set of clothing and shoes you'd like to show off? Put them behind glazed doors and – even better – light them to show off your clothes softly even at night.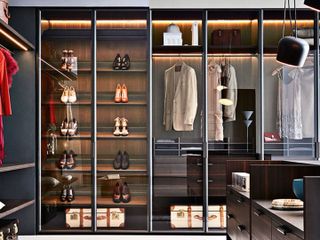 9. Repurpose a spare room
Got a box room you're not using for much? Why not swap the spare bed out for a sofa bed and line with walls with wardrobes for a dressing room feel? Mirrored doors will stretch your space visually and add a touch of glamour.
Find more clever ways to repurpose your spare room.
10. Choose a budget-friendly option
Designing your bedroom on a budget? If you've got an alcove or a long run of wall, fixing clothes rails and shelving, then hiding them behind curtains that match your scheme is an affordable way to create a walk-in wardrobe effect, without the spend. Ideal if you're renting and don't want to fork out on new bedroom furniture, too.
Read more: