We love a good budget bedroom idea. Bedrooms can be such easy rooms to update, switch out a cushion here, paint a wall there – you can have a totally different feeling room by the end of a weekend. But how do you give your bedroom a really luxury refresh on a budget? We have all the answers right here.
Sometimes all it takes for a cheap bedroom makeover is a fresh lick of paint, a gorgeous new candle or a new throw pillow. None of which will break the bank but will all make your bedroom feel refreshed and instantly more expensive. So just keep scrolling for all our tips on giving your bedroom a big makeover on a tiny budget...
1. Freshen up your bedroom with paint
Paint is potentially the cheapest way to give your bedroom a whole new look. Even if you are renting so going for something bold isn't an option, just giving your walls a fresh coat of white paint can instantly make it feel brighter and cleaner.
You can get so many inexpensive paints now you could definitely redecorate for under $50, but what color to go for?! We are loving the soft and subtle vibes of this bedroom, but you could go bold with a deep teal that's very on-trend right now, or dapple in some even darker hues like charcoal greys and navy blues. Just be sure to order testers so you can see what the colors look like in your space – they are always super cheap and can be used for smaller DIY projects too.
Find plenty of bedroom color ideas over in our full feature.
2. Switch out your bedlinen
Ah, pillows, the most versatile of the soft furnishings and such an inexpensive way to update your bedroom. Switch up your pillows and your bedding when you start to feel uninspired by your space and pick different colors and patterns from your previous lot so you really feel a difference.
Top tip! Over stuff your cushions too if you want to give them that plush hotel vibe. Do this by either ordering an inner that's slightly too large or filling your cushion with two inserts. Then do the chop technique to get them looking extra full and fancy.
3. Upcycle your furniture
A really easy way to save money when updating your bedroom is to upcycle furniture that you already own or buy super cheap second-hand pieces. There are so many amazing upcycling ideas and Ikea hacks out there but you can't beat the cane trend that's everywhere at the moment. There are loads of ways to turn your old furniture into a beautiful cane creation, but for this look head over to our Instagram (opens in new tab) where you will find a really easy to follow step by step.
And if you are a totally DIY novice, then just grab a paintbrush and freshen up your furniture with a new color. Replace any hardware too for even more of an update.
4. Curate your bedside tables
This budget bedroom idea actually could be totally FREE if you shop your own home for pieces to style your bedside table. Clear your bedside table of all those half-used eye creams and mugs you have been collecting there and put some time into making it look like more of a feature of the room. Add a cute lamp, a little pile of books you want to read, a trinket dish and some fresh flowers or a house plant will make all the difference.
5. Update your drapes
Drapes and blinds are the kind of thing you get so used to seeing every day you've literally stopped noticing them. So change that! Switch out window treatments for something that's going to actually add to your space and make it feel more expensive. Pick drapes in a soft, linen-like fabric and if your room lacks natural light be sure to keep the colors light too. Hang them floor to ceiling, and even go a few inches above your window to add some height, for a lovely elegant feel.
For more bedroom window ideas head over to our gallery.
6. Pick out new lighting
There are so many gorgeous, affordable bedroom lighting options out there it seems such a waste to not be done with your standard cream lamp shape and add something that's going to make a real statement. Check out Ikea (opens in new tab) and Made.com (opens in new tab) for some of our fave pics.
Replace your main light with something that adds texture and interest to your room, like a rattan shade or an industrial-style metal number. If it's just a straight swap, changing a shade it's something you can do yourself in minutes, just always read the instructions and if in doubt hire an electrician (it's not worth saving money where electrics are involved).
7. Hang budget-friendly artwork
Prints are a brilliant, inexpensive way to decorate a bedroom and turn a sad empty wall into something creative and stylish. Plus, once you have your frames you can change the prints every few months for a quick update. You can find really cheap artwork on Etsy (opens in new tab) and FY (opens in new tab) but also think about framing things you already have like postcards, wallpaper samples, even gift wrap can look cute! Tear things out of magazines too – if you like a more relaxed vibe you could go frameless, saving you even more money.
8. DIY a headboard
A DIY headboard may sound complex, but there is a project out there to suit you no matter how questionable your DIY skills. We love this chevron headboard and if you've got the patience you could create something similar by covering chipboard in wooden boards. But you could also create a headboard using just paint, or a section of wallpaper, or by hanging a rug above your bed.
9. Throw down a large rug
An area rug can cover a multitude of sins – a stained carpet, a yellowing vinyl, tired looking floorboards, get a rug over them and no one need know what lies beneath. Go as big as you can afford, an area rug looks best if the majority of furniture is sat on top of it, plus this will make the room appear larger too. Layer up your rugs if you have the space, add a smaller one on either side of the bed for extra texture and coziness. Wayfair (opens in new tab) and H&M Home (opens in new tab) are our go-to's for bargain rugs that look way more expensive than what you paid for them.
10. Add some houseplants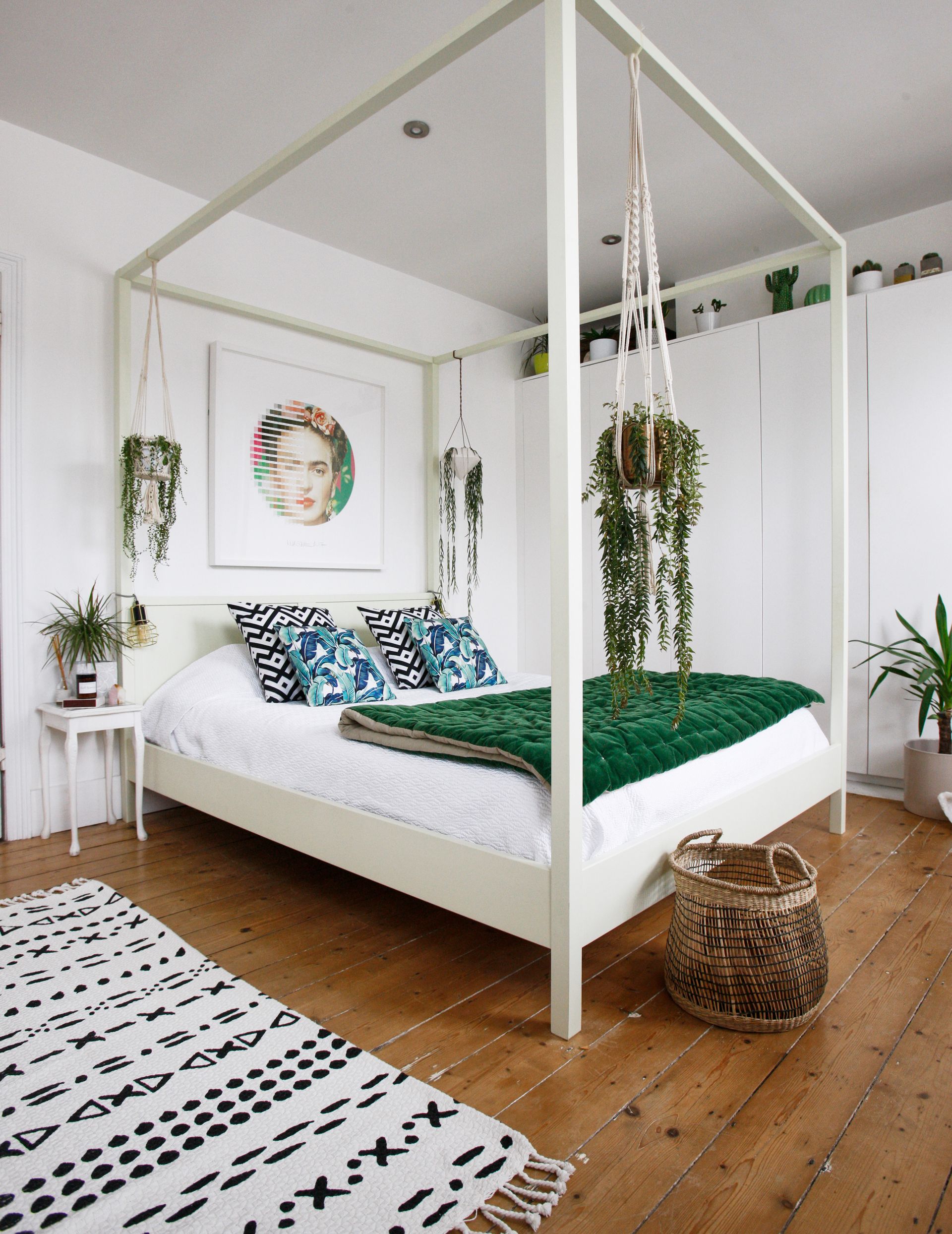 The humble houseplant has room-changing abilities – pop a cute fiddle leaf fig in one corner or hang a string of pearls in from your ceiling (or from bed if you are blessed with a four-poster). They add life, color and texture to a bedroom, plus you can pick pretty pots that add some decor too. And if your fingers don't even have a tinge of green to them, remember you can always go for fakes.
11. Style up some shelving
You can find wall shelves for under $10 at Ikea and Amazon (opens in new tab) and not only do they add some handy storage by they are perfect for adding some decor. Wall mount a single shelf above the bed to make it a clear focal point, then add photo frames, books, knick-knacks, and plants too for some extra texture. Have a play around with the setup until you are happy with the result – you can find loads of shelving ideas in our gallery if you need some inspiration.
12. Invest in key pieces
Now we know this is a budget bedroom ideas gallery, but sometimes rather than spending little bits here and there to update your space, the best thing to do is pool your money into a gorgeous, key piece that you love and will last. See how in this room all the attention is on that gorgeous mahogany sleigh bed, the rest of the room can just be really minimal and hence not cost much to decorate.
13. Cover up your closet with a cute drape
A super cute budget bedroom hack – cover up your open closet with a drape. Not only does it hide away the clutter, but it also brings color and pattern into the room and you can switch it out really cheaply when you want to create a new look. To create this in your own bedroom, all you need is an adjustable curtain rail, curtain rings with clips and a fabric that you like.
How can you decorate a small bedroom on a low budget?
The best way to decorate a small bedroom on a low budget is to shop second hand, and only buy what you need. Strip back on the furniture in your space and you'll not only save money but the space will feel bigger too. When it comes to upcycling shop your own home first and see if there are any pieces in other rooms that could have a new lease of life in your bedroom. Then hunt around thrift stores and even yard sales for pieces that will work in your space – remember don't be fussy about colors or stains, if you like the shape of something you can always update it with paint or by stripping it down.
Stick to simple colors too, so start by giving your room a fresh coat of white paint – basic white paint is the cheapest around but can have such an impact. A neutral color scheme will also mean your room won't date so you won't have to constantly spending money changing it as styles change. Instead, each season you could just invest in a few throw pillows or a new blanket to change the feel of the room.
How can you remodel a bedroom on a budget?
Paint! Paint is the cheapest and easiest way to make your bedroom feel like a totally new space. So don your decorating dungarees and grab a paintbrush, you can do it yourself in just a weekend. And while you have your paintbrush out, see if you can paint your current furniture to give than a whole new feel too. Then it's just about small tweaks, like changing your lighting so the mood of your room changes, switching out your bedding and hanging artwork.