If you're looking for the best mattress then you've landed in the right place to find it. With the clocks set to go back by an hour this weekend (don't forget!), you can look forward to an EXTRA hour in bed so you'll need to make sure you're feeling as comfortable as possible. 
With the transition from summer into autumn, and the frequently changing weather patterns, a new mattress could be the one thing you change in your night time routine which helps you to sleep better. Some mattresses don't even need to be rotated – such as the Emma and eve – which will make it a whole lot easier for you as we transition from summer into autumn.
Best Mattress 2020 Quick Links
Mattresses come in various fillings, depths and qualities – think pocket-sprung, hybrid and memory foam mattresses – so we've taken it upon ourselves to try, test and review all the best mattress variations to feature in our helpful guide. When we test we look out for factors such as how it arrives, motion transfer, support, temperature regulating and price.  And, because choosing a mattress is a very personal decision, we've also taken into account other customer reviews so you can really hone in the most suitable option for your daily nighttime retreat.
Prefer to hang onto your mattress a little longer? No worries: you may want to read our best mattress topper guide so you can upgrade your mattress, for less.
What is the best mattress?
If you want to buy the best mattress 2020, (in our opinion) we highly recommend you buy the Simba Hybrid mattress. Our reviewer found that it is an excellent all-rounder which is especially suited to side sleepers who are in need of relief from achy joints. It's also recently won the 'Best Mattress' category in our Real Homes Awards, so you know you (really) are onto a winner.
Alternatively if you want to get one of our best-selling mattresses – the Emma mattress – then this option very closely follows our number one choice. This is a medium–firm people pleaser which is complete with memory foam (the second of three incredible layers of foam) and zoned support to keep even the most fidgety of sleepers truly content. 
Want to see what other sleeping mattress options are out there for you? Then keep scrolling to see more of our mattress reviews from brands such as Rem-Fit, Nectar and eve mattress.
Our best mattress picks available to buy
Best mattress (over all): a comfortable hybrid with a cooling foam layer
Specifications
Size: Small single–emperor
Depth: 25cm
Type: Memory foam/micro pocket springs
Comfort grade: Medium
Reasons to buy
+Bouncy bounciness+Excellent 'give' for side sleepers+Great for front and back sleepers, too+Medium firmness but forgiving+Good motion transfer
Reasons to avoid
-Only the top cover, not sides, can be machine-washed
This is an excellent all-rounder – and gets our vote for the best mattress for side sleepers. The Simba mattress has also recently won our Real Homes Awards for the 'best mattress', so you know you're onto a winner.
Who will the Simba Hybrid suit?
The Simba Hyrbrid will suit anyone looking for a bit more movement from their memory foam.
What is the Simba Hybrid like to sleep on?
In a nutshell, the thin layer of tiny conical springs makes this predominantly foam mattress feel more like a traditional pocket spring mattress. It is responsive and moulds to your body, while also offering decent levels of support. Designed to accommodate all types of sleeping styles – back, front or side – there is no 'wrong' way to catch some Zzzzzs on the Simba Hybrid. Review-wise, there are multiple tales of miraculously pain-free sleep from poor souls previously in back-related agony (including the Ed-in-Chief of RealHomes.com). So, with the 100-night trial in mind, anyone suffering has nothing to lose from giving this mattress a bash (and potentially hundreds of pounds to save at the chiropractors). 
Special features?
The cover is hypoallergenic with integral airflow for cool temperature regulation. Simba has also developed its own latex-like layer, called Simbatex, which contains cooling soybean balms. Basically it's cool all round. 
Fillings?
From the top: the Simbatex layer provides initial comfort, then there's the aforementioned layer of conical springs (2,500 in a king size), which brings on the bounce. Next is a layer of visco-elastic memory foam for body contouring and weightlessness. And of course there's a fairly solid foam base, which has been sliced in seven sections to provide differing density levels, essentially targeting the support where you need it.  
What do you get for your money?
Free delivery, 100-day free trial, plus a 10-year guarantee and hassle-free returns, and a knife for opening the heavy-duty plastic bag it's suctioned into. They'll also whisk your old mattress away.
Editor's note: 'I've had a Simba mattress for a year. I tend to sleep on my side and need a forgiving surface that offers lots of support – and that's what Simba gives me. I suffer from hip and shoulder pain if I sleep on a hard mattress (or more usually, 'don't manage to sleep on a hard mattress'), and back ache if I sleep on a soft or squashy mattress. The Simba mattress isn't what I'd class as soft (although Linda, our expert tester found it a little too soft for her liking). If anything, I think it's much firmer than the memory foam topper over the sprung mattress that I swapped it for – but the level of support and cushioning is spot on. I'd go as far as saying my physiotherapist has had to rethink her income for the year ahead: I'm like a new woman. If that scenario sounds familiar to you, I'm pretty sure you'll like it. And if you don't you can return it within the free trial period (although I'd suggest putting a mattress protector on it if you think you'll need to do that).'
Reals Homes verdict 4.5 out of 5 stars
Best mattress for motion transfer: it also offer a good level of support, too
Specifications
Size: Single–super-king
Depth: 25cm
Type: Comfort foam/memory foam
Comfort grade: Medium-firm
Reasons to buy
+Zoned support+Perfect temperature control+Good motion transfer
Reasons to avoid
-None that we can think of!
Hot on the heels of Simba is the Emma mattress which is one of the best mattresses out there for motion transfer. It's also one of our top sellers, which is easy to see why. 
Who will the Emma suit?
The Emma mattress is the best sleeping mattress for anyone who is a self-proclaimed memory foam mattress fan. In our opinion, it's the best pick for those who tend to move lots in their sleep.
What is the Emma like to sleep on?
There pretty much nothing we don't like about this mattress. It's easy to switch positions, and comfortable in whichever position you favour for that matter. We'd rate it towards the firmer end of medium, but it's certainly not rock solid. The mattress is evenly supportive across the entire surface, so there's plenty of room to spread out. 
Special features?
The breathable, removable top cover can be washed at 60 degrees, which is going to bust dirt better than the standard 40 degrees. Handles make it easier to manoeuvre.
Fillings?
Three layers of foam. The top layer is an elastic foam called Airgocell, which brings you pressure relief. The memory foam layer is next and, like all memory foam, keeps you comfortable in any position. The base is made from Cold Foam that supports the above layers, as well as you. 
What do you get for your money?
A 100-night sleep trial, no questions asked, 10-year warranty and free delivery, usually within one to three working days.
Real Homes rating 5 out of 5 stars
Best mattress for firm support: as our next runner-up, this mattress offers exceptional support
Specifications
Size: Double - super king
Depth: 28cm
Type: springs, foam and memory foam
Comfort grade: Medium-firm
Reasons to buy
+Next generation pressure relief+Low-risk 100-night trial +Easy to clean and antibacterial properties built-in+Decent thickness+Seriously impressive support
Reasons to avoid
-Lingering chemical smell-No single or EU size options
Claiming second prize for the best mattress 2020 is the eve Premium Hybrid mattress which, like the Emma, provides impressive support and is of a very decent thickness indeed.
Who will the eve Premium Hybrid suit?
It's perfect for those who like/need firm support – great if you have a bad back or achy hips.
What's the eve Premium Hybrid mattress like to sleep on?
This is the deepest mattress in our guide, which was the very first thing we noticed about it and is good for hoisting yourself out of bed every morning. The mattress is FIRM so this may take a bit of adjusting if you've moved on from a softer mattress.
For motion transfer you barely notice your sleeping companion is there. And for sinkage into the mattress you can except the same level of support across the entire surface.
Special features?
It has a top cover which can be zipped off for washing. It even antibacterial and antimicrobial, which is reassuring. 
Fillings?
There are no less than four layers of foam, including the new Floatfoam layer, before you hit springs. There are 1,500 of these individually wrapped, and more importantly, targeted to all those pressure points. There's a non-slip case at the bottom, too, to keep it all neatly in place.
What do you get for your money?
A 10 year guarantee; free returns after 100 days and excellent, speedy delivery.
Real Homes rating 4 out of 5 stars


Best mattress for bad backs: a memory foam mattress which doesn't loose firmness
Specifications
Size: Single–super-king
Depth: 25cm
Type: Memory foam
Comfort grade: Medium-firm
Reasons to buy
+Medium firm for firmness+Good motion transfer+Good breathability+365 night trial+Forever guarantee
Reasons to avoid
-No handles-Too hard for some side sleepers
A trustworthy memory foam mattress that won't lose its firmness even after a whole year's use.
Who will the Nectar mattress suit?
The Nectar mattress will be loved by anyone looking for a completely risk-free experience and decent memory foam mattress at a fair price.
What's the Nectar Mattress like to sleep on?
Thanks to its memory foam filling, the Nectar Mattress will make your joints feel cushioned from night one. With regards to motion transfer, the Nectar is as good as any memory foam, and if sliding into your other half during the night is a massive bug-bear, this is the best find for you. On the firmness front, the Nectar is rated 5.5–7.5 on the website, which the company claims is 'just right'. It's also not too firm – nobody wants a mattress that is too firm, trust us.
Special features?
It has an Adaptive Cooling Cover designed to draw away heat from your body and circulate fresh air every time you move. Also, look out for special offers on the Nectar website, such as free pillows or £100 off – they seem to be pretty much ongoing.
Fillings?
There's nothing especially unusual about the Nectar's construction but, as mentioned, it is reassuringly heavy, which is always a sign of quality. It features a decent layer of proper memory foam which is nicely aerated, and then pressure relieving foam that deals with contouring to your curvy bits. Finally the seven-zone base foam provides more contoured support plus depth. 
What do you get for your money?
The Nectar comes with an unprecedented 365-night trial period. And, if that's not enough for you, it also comes with a Forever Guarantee. 
Reals Homes verdict 5 out of 5 stars
Best mattress for relieving aches and pains: a comfortable yet incredibly supportive hybrid options
Specifications
Size: Small single - super King
Depth: 25cm
Type: Memory foam + pocket spring
Comfort grade: Medium-firm
Reasons to buy
+Mega supportive+Great motion transfer+Advanced temperature regulation+Designed and made in the UK
Reasons to avoid
-Slight lingering plastic smell, but it does go within a few days
The Rem-Fit 400 is a hybrid mattress which is both comfortable and supportive.
Who will the Rem-Fit 400 mattress suit? 
This mattress would be a treat for all sleepers, whether you're a fan of memory foam or not.
What is the Rem-Fit 400 mattress like to sleep on?
Really lovely, after the first few nights. According to the Ts & Cs at Rem-Fit they recommend that you sleep on your new mattress for a minimum of 30 nights to allow enough time for your body to fully adjust, which gives some comforting encourage to pursue (it's worth it, honest).
Our reviewer tested it throughout the summer months when there were some temperature highs and lows. The mattress didn't cause any over heating. And even if there was some restlessness, you wouldn't know it because the motion transfer is great – you wouldn't even know your companion is there (unless they steal the bed sheets from you).
Special features?
The first layer of the mattress (out of five) is the Re-AX breathable cover which encases the 25cm-deep Hybrid. It's removable and machine washable, too, which will make caring for the mattress nice and easy.
Fillings?
For a hybrid, there's nothing too out of the ordinary with this mattress. But it does use a combination of cool open-cell memory foam and 2000 premium pocket springs, plus foam encapsulated the side walls with edge-to-edge support for a very supportive base to lie on at the end of each day.
What do you get for your money?
A 100 night sleep trial with no quibbles if you're not completely satisfied; 15 year full replacement guarantee at no extra cost and free next day delivery (when you order before 1pm).
Reals Homes verdict 5 out of 5 stars
Best mattress for fussy sleepers: eight layers of incredible support
Specifications
Size: Single–super-king
Depth: 28cm
Type: Mini + normal pocket springs + support base + thermo-regulating foam topper
Comfort grade: Soft, medium and firm available
Reasons to buy
+Spinal alignment+Variety of comforts – 8 layers!+Thermo-regulating top layer+Non-slip base+Washable top cover+Good for most sleep positions+Comes in a box – easy transporting
Reasons to avoid
-Some may take a few days to adjust to the mattress
Say hello to blissful baby-like sleep with eight unique layers to ensure ultimate luxury and a seriously good night's rest. 
Who will the Brook + Wilde Elite mattress suit? 
This is the ideal mattress for all different types of sleepers. Side-sleepers, those who suffer with Goldilock's Syndrome (not too soft, nor too hard syndrome), and anyone who is simply looking for luxury and comfort every night.
What is the Brook + Wilde Elite mattress like to sleep on?
It's what you get on the tin, so if you order a Medium, you will definitely be enjoying a Medium mattress. It's worth noting, however, that if you do order the wrong firmness rating, it should be easy enough to rectify the situation with Brook + Wilde.
The mattress is fairly thick for a memory foam, and therefore feels a little more luxurious, which is just as ideal for sleeping on, as it is for getting up and out of bed in the morning! Although you probably won't want to. Look forward to seamless sleep, pretty perfect temperatures with the thermo-regulating top layer and less shuffling around to get comfy. It might take you a minute or two to settle into a good sleeping position, but once you do, you'll be out like a light.
Special features?
The thermo-regulating top layer is made from natural and sustainable materials. It's a unique blend of raw soybean oil and a naturally sleep inducing balm for a heightened sleeping experience. It's the open cell structure that makes this mattress breathable which in turn, helps you stay cool and sleep more comfortably by wicking moisture away.
Fillings?
Get ready for it, there are eight incredible layers. Starting from the bottom up with the supportive base of large pocket springs, followed by 1,000 regular (1.35mm) pocket springs, a layer of specialist foam (to aid spinal alignment), there are then a further 2,500 mini pocket springs, the thermo-regulating layer (details above) and the memory foam protector. This is one well-engineered mattress.
What do you get for your money?
Premium delivery (two man service) to your room of choice, a 100 Night Comfort Trial, 10-year guarantee, a mattress recycling service, and finally, it's made in the UK.
Reals Homes verdict 5 out of 5 stars
Best mattress in a box: it's super comfortable and offers good motion transfer
Specifications
Size: Single–emperor
Depth: 25cm
Type: Hybrid Foam/Spring
Comfort grade: Medium to Firm
Reasons to buy
+Quality springs give decent support+The whole surface is equally comfy+Good motion transfer+Medium to firm for firmness
Reasons to avoid
-Firm may be too firm for some side sleepers
The Otty Hybrid is a super comfortable sleep that our test loved, which is why it's made our list of 'also-ran' best mattress 2020 in a box.
Who will the Otty Hybrid mattress suit?
Cool customers seeking a non-sweaty night's sleep + space-hogging couples. 
What is the Otty Hybrid mattress like to sleep on?
This is one of the cheapest 'branded' bed-in-a-box mattresses out but never is this fact reflected in the quality feel or sleep experience. More robust than many memory foams, the lengthy springs provide just the right levels of bounce and support – it's not too soft, nor too hard. That would be perfect then. Except there is a small amount of motion transfer but certainly not as much as you'd get from a full-on pocket sprung and nothing to really blot its copy book. The best in a box for memory foam lovers, we think.
Special features?
The cooling technology inside this beast is the stuff of legends – no exaggeration. Night sweats = a distant memory. The cover is removable and washable – hzar!
Fillings?
As you might predict, a layer of Cool Blue Gel memory foam keeps you cool (and it works), and a layer of reflex foam brings support. The 14cm tall pocket springs are where this mattress stands out from the other hybrid mattresses, who tend to go for short or conical springs. Then there's the requisite solid foam base that protects it from your bed base and generally prevents sinking. 
What do you get for your money?
A 100-night trial, 10-year guarantee and free delivery. 
Reals Homes verdict 5 out of 5 stars
Best pocket sprung mattress: a luxurious sprung mattress with a latex topper
Specifications
Size: Double–super-king
Depth: 30cm
Type: Pocket spring/latex
Comfort grade: Medium
Reasons to buy
+Luxury feel+Good motion transfer+Allergy-friendly+Medium firmness+Handmade in the UK
Reasons to avoid
-Heavy + high (fortunately it's 'no-turn')
This top-rated sprung mattress is latex-topped mattress for added comfort; the latex layer also makes it a good buy for allergy sufferers.
Who will the Richborough mattress suit?
This Rest Assured mattress will suit anyone seeking a really luxurious pocket sprung sleeping mattress. 
What is the Richborough mattress like to sleep on?
This mattress falls on the firmer side of medium, but still offers a good level of cosy comfort thanks to its latex topper. It offers decent support for shoulders and hips, which is great news for side and back-sleepers, and we also found motion transfer was minimal – i.e, your partner won't disturb you during the night. Build quality is unprecedented, and this shines through when you sit on the edge and it stays strong and supportive. Speaking of which, it is a deep mattress, which could prove an issue if you already have a tall divan base.  
Special features?
Treated with Purotex, a textile additive that uses good bacteria to stop dust mites and other household allergens from multiplying. Allergy UK approved. Single-side, so no need to flip but it does require rotation. Also comes in soft and firm versions. 
Fillings?
A pocket spring base (2,000 in a King size), with a latex filled pillowtop for extra comfort.
What do you get for your money?
A five-year guarantee. Delivery is an extra £14.99.
Reals Homes verdict 5 out of 5 stars
Best mattress for back sleepers: although a good all-rounder, we found this mattress to be the most comfortable when sleeping on the back
Specifications
Size: Single–emperor
Depth: 24cm
Type: Comfort foam/memory foam
Comfort grade: Medium-firm
Reasons to buy
+Breathable foam (great for sweaty sleepers)+Great for hardier side and front sleepers+Good motion transfer+Medium-firm for firmness
Reasons to avoid
-Chemical odour when first unpacked
A comfortable combination of firm foam and cosy cushioning, this mattress will suit back sleepers, but side sleepers will find it comfy, too.
Who will the eve mattress suit?
The eve mattress is aimed at the masses, this is a one-size-fits-all sleeping solution (though we found it most comfortable on our backs).
What is the eve mattress like to sleep on?
Once you have got your head around the bounce-less solidity of memory foam (which takes a couple of nights), the eve mattress will treat you to really decent, undisturbed sleep. Ranging on the firmer side of medium, maybe even forget the word medium completely, the eve is particularly popular with those who like to sleep on top of their mattress, rather than in it. Online reviews suggest you will have 'the Best Sleep Ever', and while we might not go quite that far, the eve definitely out-performs some of the other bed-in-a-box memory foams we have tried. 
Special features?
The top cover, which zips off for washing, is made from moisture-wicking fabric for a cool night's sleep. 
Fillings?
From the top; a 3.5cm thick open-cell hybrid foam offers maximum breathability, then there's a 3cm layer of memory foam for contoured support, and a 17.5cm thick base layer, again foam, that's sliced into zones to target key body areas. 
What do you get for your money?
A 10-year guarantee, free delivery and free, no-fuss returns after 100 days. 
Reals Homes verdict 4.5 out of 5 stars
Best mattress for flexible comfort: good for couples who don't share firmness preferences.
Specifications
Size: Single–super-king
Depth: 20cm
Type: Comfort foam/memory foam
Comfort grade: Multiple
Reasons to buy
+Customisable comfort means couples can choose different sleep surfaces+Good motion transfer+Breathable – handy for sweaty sleepers
Reasons to avoid
-Bit of a faff to flip the mattress layers about
The multiple firmness options for couples make this innovative new mattress your flexible friend.
Who will the Dormeo S Plus suit?
The flexible Dormeo S Plus Mattress will suit couples who don't share firmness preferences.
What's the S Plus like to sleep on?
This mattress offers four comfort option: firm with shoulder support; firm with hip support; soft with shoulder support; and soft with hip support. Additionally, it splits in two within the cover, so each partner can find their dream firmness. We tried all the permutations, and although the soft side wasn't as soft as it could have been, we found our perfect match. Rather cleverly, and don't ask us how they've done it, our posture tests revealed perfect spine alignment in every comfort option. In short, your joints won't be put under pressure no matter which way the mattress is flipped. 
Special features?
Besides all this flexibility and choice, the S Plus offers great temperature control thanks, in part, to its Climalite cover that wicks away moisture. 
Fillings?
Two layers of Ecocell foam, one soft, one firm, sandwich a foam spring core. The giant S-Shape created provides the differing firmness levels for shoulders and hips.  
What do you get for your money?

A 60-night sleep trial (refund or exchange), 15-year warranty, free delivery. And a free Octasense pillow when you buy direct from Dormeo.
Reals Homes verdict 4.5 out of 5 stars
Best memory foam mattress: good for all-over body support
Specifications
Size: Small single–super-king
Depth: 25cm
Type: : Memory foam
Comfort grade: Medium
Reasons to buy
+ Offers 25cm of comfort +Medium firmness+Good motion transfer
Reasons to avoid
-Expensive-Sweaty sleepers might feel hot
This mattress is a fantastic memory foam mattress and got high marks in our review, so it got our vote for the best memory foam mattress 2020.
Who will the Tempur mattress suit?
Side-sleepers with or without backache or muscle pain.
What is the Tempur mattress like to sleep on?
The Tempur didn't feel like the other memory foam mattresses we've tested: the longer you lay prone, the deeper you sink, but subtly. The bonus of being a bit sinky is that the Tempur Sensation Elite scored really well on motion transfer. There just wasn't any, end of story. Tempur grades this mattress medium for firmness, and that's a fair assessment. Posture – which is all about body support – is where the Tempur comes into its own and why we have rated it the best for side-sleepers. During testing, we noticed that our shoulders and hips felt comfortably supported, contoured by the mattress, and we woke feeling fresh and ache-free. In our opinion, this is the best memory foam mattress for those who suffer with back pain.
Special features?
The material becomes softer and more malleable in warmer areas, essentially where it comes into contact with your body temperature, and remains firmer in cooler areas – hence the body hugging appeal. 
Fillings?
On top, there's 3cm of comfort material, below 4cm of support material, below that 4cm of dynamic support, and lastly 14cm of DuraBase technology. We don't know what that is but it sure works.
What do you get for your money?
A 100-night sleep trial, 10-year warranty, free delivery and free returns. You can also get up to two years' interest free credit – you're probably going to need it! 
Reals Homes verdict 4 out of 5 stars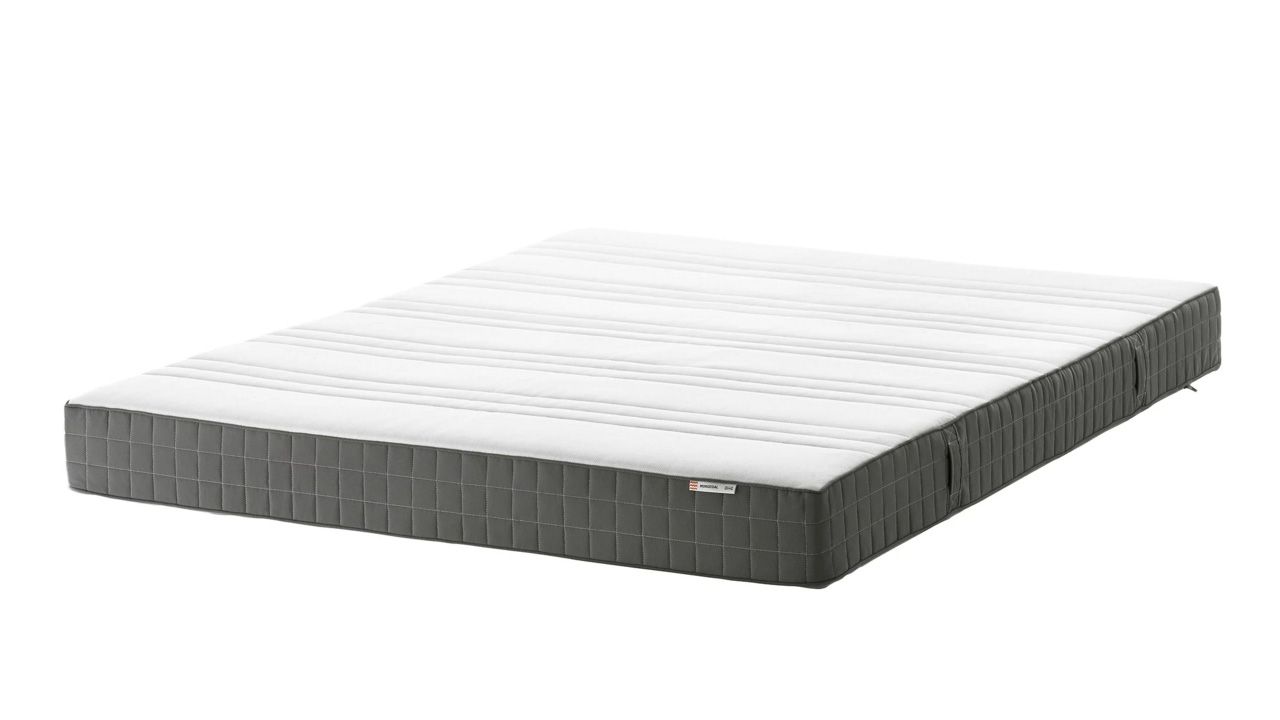 12. Ikea Morgedal Mattress
Best budget mattress: a basic mattress from a trusted brand
Specifications
Size: Standard single–king and 140 x 200cm / 160 x 200cm
Depth: 18cm
Type: Foam
Comfort grade: Medium
Reasons to buy
+Cover can be taken off to clean+Relieves pressure on your shoulders and hips+Medium firmness+Has handles so you can easily move the mattress
Reasons to avoid
-No cool features, pretty basic
A brand we all love and trust, Ikea's Morgedal mattress won't disappoint, and for good reasons too.
Who will the IKEA MORGEDAL suit?
The Ikea Morgedal Mattress will suit anyone who suffers from aches and pains around the top of their body, or those who are looking for a basic mattress from a trusted brand. We think this is the best you can buy if you're looking for something easy and affordable.
What's the IKEA MORGEDAL like to sleep on?
As the mattress is delivered rolled up, they say you should ideally leave it for a few days to return to its suitable flatness, but in a whole, it's a comfortable mattress which makes you fairly immune to the movements of your partner.
Special features?
Not a special feature as such, but the cover of the mattress can be taken off and washed in the washing machine.
Fillings?
Foam, foam and more foam.
What do you get for your money?
There's a 90-day trial period and it has a 25 year guarantee.
---
Choosing a mattress:
Work out your sleep position: side sleepers tend to need softer mattresses (think memory foam or hybrid) than back or front sleepers, or they suffer from achy joints;
Are you heavy or light? Heavier people tend to find firmer mattresses comfortable; lighter people need a softer mattress they can sink into a little;
What's your preference? If you're light but love a hard mattress, go with it, no matter what we say;
Fidgety? Fidgety partner? 'Good motion transfer' is the phrase you're looking for in a mattress – most of those below have that (memory foam or hybrid mattresses usually more so than trad sprung mattresses);
Back pain sufferers? Look at memory foam or a hybrid (which is foam over springs); 
Allergy sufferer? Consider latex as a filling (although memory foam/hybrids will be good for you too, as will a money-saving mattress protectors; 
Sweaty sleeper? Find a mattress made of breathable materials: most of those below have this type of filling;
Budget: not everyone can splash out, which is why we've included a range of mattresses to suit all spends; PLUS our clever widget works out the best prices every day.
How to choose the best mattress
Considering a new mattress? If you haven't replaced yours for seven years (or more), or if you're at the point where you are waking up in the morning feeling feeling achy or uncomfortable, now is the time for an upgrade. Follow our comprehensive guide to how to choose a mattress for a better, more restful night's sleep
1. Use the free trial to test your new mattress
We'd never advise anyone to buy a mattress without trying it first. Back in the day, that meant hitting the shops and lying on mattresses in-store but honestly, the days of buying a mattress in-store are far behind us. Now, you can safely shop online and take advantage of the free trial with no quibble returns. As the majority of the mattresses we've reviewed come with super handy 100-night/more sleep trials and/or one year to 10 year warranties, you're sure to find an option that has you covered.
2. Buy the best mattress for your sleep position
Are you a back sleeper, a side sleeper or stomach sleeper? Purchase your next mattress to suit how you sleep, and you'll be pain and ache free in no time. 
Side sleepers can experience achy joints, especially around the hips and shoulders. Opting for a softer mattress you can sink into is the way to go, with medium-soft the most recommended comfort grade. Other than our overall list topper, the Emma mattress, we rate the Simba Hybrid for side sleepers (it has cured our ed-in-chief Lucy's chronic neck and back pain) and the Casper Hybrid; we also really like the Rest Assured Richborough mattress. 
Front sleepers might experience sore pressure points in the ribcage, knees, and elbows, as well as what's alarmingly called 'general spinal discomfort'. You will find a firm mattress that supports you but has give for these sensitive points most comfortable. Our all-round best bet is the Sealy Activ GelTex, a medium mattress with a winning spring and latex construction. We also like the Silentnight Risborough Mira Pocket.
Back sleepers need to go for a middle ground for maximum comfort: not too soft, not too firm. Our favourite for back sleepers is the Eve mattress; it's also a good buy for side sleepers who prefer a slightly firmer sleep surface.
You also need to consider how things like your pillow impacts on your sleeping position and mattress choice, too. Use our guide to how to choose a pillow for your sleep position to get that right.
3. Get the right level of mattress firmness
One of the most important things to think about when purchasing a new mattress is getting the right firmness for you. Often it is down to personal preference and whether you prefer a soft or firm feel; you just need to be confident that you have the correct support for the way that you like to sleep. Your weight plays a part, too: heavier people will find a harder mattress more comfortable than lighter people, who will usually fare better on a softer mattress. Here's a rough guide to what should suit you:
Soft medium: Ideal mattresses for side sleepers, as they let your shoulders and hips sink into the mattress while supporting the rest of your body;
Medium: If you sleep on your side but prefer the feel of a firmer mattress, choose medium support;
Medium firm: If you change position from your side to your back this is the best option;
Firm: If you prefer to sleep on your back or sleep on your stomach, choose a firm mattress, which will give you just the right amount of support;
Extra firm: Sometimes called an orthopaedic mattress, extra firm mattresses offer a very firm level of support. 
4. How to do a quick mattress comfort test
If you are testing out a range of mattresses in-store, you can check if it might suit you by lying down and sliding a hand beneath the small of your back. If your hand slides in easily, the mattress is too hard; if you can't slide your hand in at all, it's too soft.
Bear in mind, though, that the base you'll be putting the mattress on will affect how the mattress feels at home. For example, a sprung divan will make a mattress feel softer than a solid divan or slatted base. 
Is that rushed showroom test not assuring you that your new mattress is right for you? Or perhaps you're buying a new mattress online? This is where those 100-day, no quibble return policies come into their own – so double check what your retailer is offering when making a decision.
5. Choose the best mattress material for you
There's a mind-boggling array of material used in the best mattresses but it's important to state that no one particular type is better than another; it's much more about what you'll find comfortable. Here's a quick rundown of the mattress types available:
Memory foam moulds to your body's shape, and gives plenty of support, making it perfect for side sleepers or anyone with back pain. Newer memory foam mattresses have breathability built in – so look for this as a feature when buying. It's also good for allergy sufferers. Our top choices are the Tempur Sensation Elite and the  Eve mattresses.
Hybrid mattresses/sprung memory foam mattresses are constructed with a pocket-sprung base and a memory foam top layer, so you'll get the responsiveness of springs plus memory foam support. Good for allergy and back pain sufferers. Our favourites are the Simba Hybrid and the Otty Hybrid.
Latex is durable and breathable; it tends to be on the firmer side, and is ideal for allergy sufferers thanks to its anti-microbial properties. It's also a very durable material and can be expected to support you soundly for years. For a good combination of latex and pocket springs, we like the Rest Assured Richborough mattress; we also like the Naturalex GELTECH mattress if you often find yourself getting hot and sticky in the night.
Pocket sprung mattresses, made from individual springs in pockets of fabric, provide lots of support, whether you prefer a soft or firm sleep surface. They can also come with different levels of support on either side of a double for partners who prefer different levels of firmness. Our favourite is the Rest Assured Richborough Pocket Latex.
Open sprung mattresses are cheaper and lightweight, but less supportive and responsive; choose them for guest rooms.
Natural mattresses should not include foam; rather, look for only natural fillings such as cotton, hemp, and flax, and it should provide an alternative to the chemical fire retardants that are used in other mattresses. A mattress that calls itself natural needn't be low-tech: advances in pocket spring technology mean that the days of squeaky, massive springs are over; new models use thousands of micro-springs that rotate as your body moves, so you should, at least in theory, be as comfortable sleeping on your natural mattress as on a foam or hybrid mattress.  
6. Pick the right mattress size
This will often be determined by the bed that you already have. However, if you are starting from scratch and looking to get a new bed and mattress then a good place to start is with the right size. 
If you are sharing a bed with a partner a double is usually sufficient, but if you are someone who requires more space or is often disturbed in the night, then it may be wise to go up a size. Ideally, your mattress should also be wide enough to allow two of you to lie side by side with your hands behind heads, without your elbows touching. Our guide to how to buy the best bed is useful in helping you to choose the right option for both your home and your lifestyle. 
As for mattress length, it should be 10cm longer than the tallest person sleeping in it. So, if you're a strapping 6 footer, you'll be looking at a king size mattress as a minimum. 
The mattresses in our list range from 18cm to 30cm in depth. See how high your bed is and check the overall height of your bed isn't going to be an issue (especially if your bedroom is in a loft with sloping ceilings).
Below are the most common UK standard mattress dimensions:
Single: 90cm x 190cm
Small double (often called a queen): 120cm x 190cm
Double: 135cm x 190cm
King: 150cm x 200cm
Super king: 180cm x 200cm
7. Look at the mattress's additional features
It's useful to consider whether the mattress you're purchasing has any added features such as:
A cover that zips off for easy cleaning; 
Handles for turning; 
Allergy UK approval;
Temperature regulation – see our pick of mattress cooling pads for more. 
8. Buying a mattress in a box
Mattress in a box? Yes, it's a thing. Where once, we'd decide whether a mattress was right for us by spending just a few minutes on it in a shop (fully clothed, obviously), now you can have yours posted out to you.
Why not? It makes sense. Why spend (or, we think, waste) your time trying mattresses in an overheated store when you can order a mattress in a box, have it delivered within days, then use the 100 day free trial that most of the best boxed mattress companies will give you to decide if it's the right mattress for you? And if it isn't, you can get either an exchange or, in many cases, a full refund with no hassle returns policies. 
Made from innovative materials that can be rolled into a surprisingly small box (think fridge-sized), these mattresses can be easily hauled upstairs and simply unfurl to regain their shape after just a few hours. 
Our top choice of all the mattresses in a box is the Otty Hybrid, which offers superb levels of comfort for all sleep positions, but particularly side sleepers. 
Right up there too are the Casper, the Simba Hybrid mattress and the Casper Hybrid. Also in our top 10 mattresses in a box is the Emma Original.
9. Will your mattress need turning?
Gone are the days when you had to turn a mattress every few weeks – undoing all that good work your mattress has done on your back in the process. Many newer mattresses don't need turning, so do check when you buy. If your new mattress does need turning, take note of whether it has handles or not, which will make manoeuvring it much easier.
10. Can I use an electric blanket with a memory foam mattress?
Wondering whether you can use an electric blanket with your lovely new memory foam mattress? You've done all your mattress research, perhaps even read one of our mattress reviews. The issue is: you love your electric blanket, too, and might want to use it on cold nights, but you've heard memory foam and electric blankets are a no-go. True? 
The good news is that most memory foam mattress manufacturers say that their mattresses are fine to use with electric blankets. However, there are a few simple rules you can follow to ensure that you're not reducing the beneficial effects of your memory mattress.
Memory foam mattresses are so comfortable because the foam reacts with your body heat: this is how the moulding process they're renowned for works. Moreover, some mattresses have complex layers of foam, so that you keep comfortable without overheating. One of the concerns about using an electric blanket with a memory foam mattress is that the mattress will become too warm and won't be as comfortable as a result. 
To make sure this doesn't happen, Nectar advise always 'prepping' your mattress by placing a sheet between it and the electric blanket. It's a good idea to do this anyway, for the sake of your own comfort and safety: sleeping on an electric blanket without a sheet as a barrier may lead to overheating and even injuries.
The other tip is to always warm up your electric blanket gradually, rather than cranking up the heat to the highest setting straightaway. You may well find that you're comfortable with a low setting, and the mattress is then much less likely to get too warm. 
Finally, always use a timer with your electric blanket. Experts recommend that, to keep your memory foam mattress in the best condition, they shouldn't be exposed to heat for more than half and hour at a time. Again, setting a timer is also essential for your safety. 
When to replace your mattress
The Sleep Council says that after seven years your current mattress may not be offering adequate support. This will depend on the quality of the mattress in the first place and how much use it has had, but if your mattress is nearing that age it is time to check if you need a replacement.
If the mattress doesn't spring back to its original shape when you get off; has lumps and bumps; is dirty beyond cleaning; or is in any way uncomfortable it is time for a new one. 
Top tip: if you're wondering when the best time to buy a mattress is, early spring and summer is when we tend to see the latest releases, but what's even more certain is that online is where you'll find the best prices. To make life even easier for you, we keep this page up to date all year long so that it feeds the best prices available, for the best mattresses out there on the web right now. 
Black Friday mattress deals 2020
Every year, Black Friday mattress deals are up there with the most searched offers. This year, we have no idea what Black Friday will look like, but we can expect that as many of the mattress companies have largely managed to keep it business as usual throughout the coronavirus outbreak, Black Friday 2020 will not be that different for them.
We will keep you posted as soon as we know anything about 2020 Black Friday mattress deals and exactly what we will see up for sale.
You've reached the end of the page. Jump back up to the top ^
More bedding advice