You're going to want to avoid these small kitchen organization mistakes if you want to keep your space tidy. Trust me, preventing a mess from forming in the first place is a lot easier than cleaning one up.
There are a few simple steps you can take to make sure your space is always put together and looking its best. Plus, if you keep everything in its designated spot, your cooking space will be so much more functional.
I spoke to two organization experts, who provided us with their small kitchen ideas and individual takes on what not to do if your space is always organized and how to actually keep it that way.
8 small kitchen organization mistakes
Although spending time in the comfort of your own kitchen is blissful, it can be overwhelming if you misplace items after cooking up a storm. It can even feel that there isn't enough room to store small appliances in your cabinets for other issues, especially if your kitchen is one to always be organized.
1. Not regularly clearing out your cupboards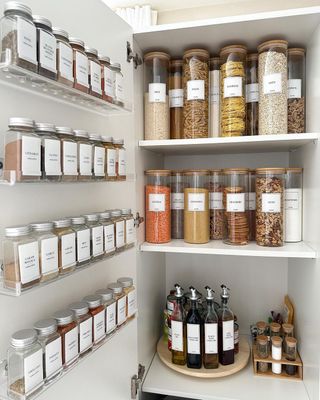 To keep your small kitchen organized, first start by asking yourself what items you really need and use on a daily basis. It's quite easy to hoard items, so being conscious of this will help in the long run.
"To declutter, clear out those extra baking dishes that are never used and collect dust, not to mention the dry food that has been lost to the back of the cupboard," suggested Al Bruce, Founder of Olive & Barr.
"Whether you have a large space or a smaller kitchen, getting creative with your storage solutions will make sure your kitchen always feels clutter-free."
We love this five-piece kitchen gadget set available on Amazon for keeping all your items together in one spot.
2.Design storage to suit your needs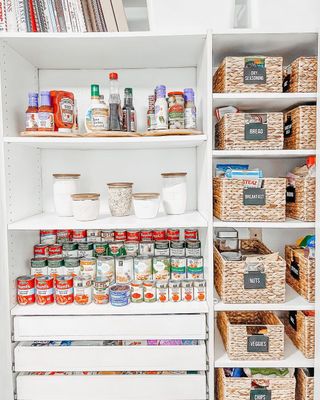 "Not every cupboard needs to be filled to the brim, instead thinking carefully about the order of each cupboard will help to keep everything in its place," suggests Bruce.
Storage units, such as this kitchen storage cabinet available on Amazon, come in all shapes and sizes and are great at maximizing space in every kitchen regardless of space.
From slimline full-length single units to double larders that stow away bulky electricals such as microwaves, toasters, or even your coffee machine, the possibilities are endless.
3. Don't assume your kitchen is too small for an island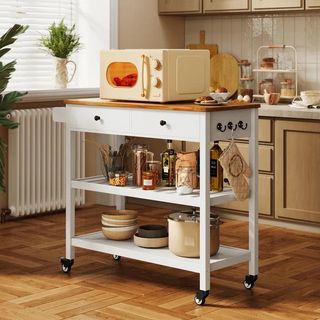 Just because your kitchen might feel small, doesn't mean you need to think small. A harvest table or compact kitchen island such as this, Kyong kitchen island from Wayfair, can offer the most creative storage solutions.
Kitchen islands or harvest tables are designed to give you more workspace and all the storage options you could ever dream of — they are an extension of your existing cabinetry and then some.
4. Not utilizing open shelving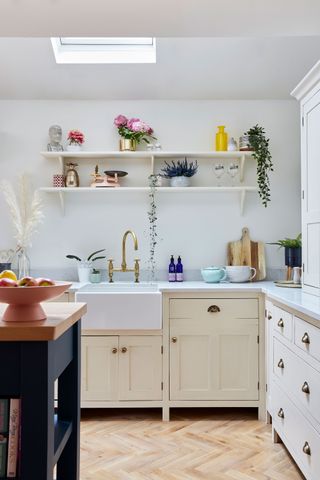 The key is to keep it simple by not overcrowding; a minimalistic approach is the best way to keep open shelving organized.
"For a uniform and aesthetically pleasing shelf look, decanter your dried food items into mason jars and use jute or woven baskets to hide any possible clutter," said Bruce.
"From pasta to flour, you can fill them with anything you like and display them like art."
5. Prioritize your tools
In a compact kitchen, space is prime real estate. Identify the tools and kitchen utensils you use daily and give them prominent homes.
"Everything else? If it's used less than once a month, it might be time to donate or store it elsewhere," said professional cleaner and organizer, Lina DaSilva. This not only saves space but also saves time during your cooking adventures.
Using a versatile mount rack, such as this kitchen pot rack from Amazon could do the trick as it provides a dedicated space for the most-used tools, keeping them off counters and within easy reach.
6. Maximize wall space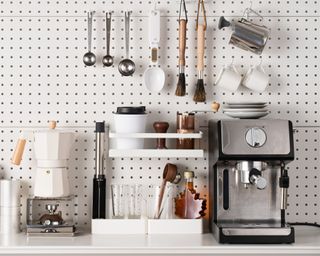 Think vertically! DaSilva stated walls are often underutilized in small kitchens. Install hooks or a pegboard to hang pans, utensils, or even herbs. It's an efficient way to free up cabinet space and keep your essentials within arm's reach.
She suggests using a customizable pegboard storage system, like this Wall Control kitchen pegboard available on Amazon, because it allows for a flexible arrangement of hooks and shelves that can adapt to changing storage needs.
7. Find stackable containers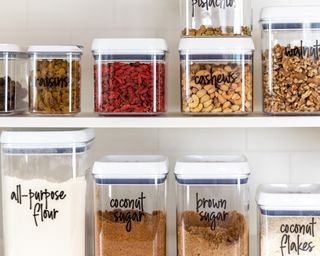 Invest in stackable containers, such as these transparent stackable bins and drawer organizers from the Container Store, that fit your drawers and shelves.
It's about making the most of every inch. With the right organizers, you can double your storage space and reduce the search time for that elusive garlic press.
8. One in, one out rule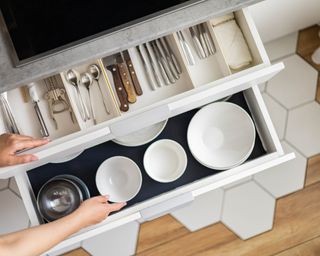 Whenever you bring in a new kitchen gadget or dishware, practice the one-in, one-out rule. It's a sustainable way to declutter, manage your inventory, and ensure that your kitchen doesn't become a gadget graveyard.
DaSilva suggests using a sleek, mounted shelf with a "donation station" basket because having a designated spot for items that need to go makes it easier to stick to the one-in, one-out rule.
FAQs
How can I prevent my kitchen from getting messy?
Establishing an organization system that works for you is the best way to prevent mess. It should be easy to follow and you should be able to access everything you need quickly. Keep everything in its designated spot and you'll be surprised how much better your kitchen looks.
Whats the biggest small kitchen organization mistake?
Shoving everything in your kitchen cabinets may seem like a good idea to get everything out of the way, but really you're just hiding the mess. Installing some kitchen cabinet organizers and keeping these hidden spaces neat and tidy will go a long way.
Meet the experts
Al Bruce began his illustrious career 25 years ago studying to be a cabinet maker at college. From humble beginnings, his natural skill in the craft of cabinetry and keen business acumen saw him quickly rise up through the ranks of the handmade kitchen industry, gaining invaluable experience and a wealth of knowledge along the way. With a natural flair for design and a deep passion for the industry, Al finally opened his own Shaker kitchen company in 2018.
Lina DaSilva is the founder of the award-winning Toronto Shine Cleaning. With over 5 years of industry experience, she specializes in residential cleaning and home organization. Her venture focuses on offering living wages and empowering homeowners to enjoy cleaner, more organized spaces.
---
Overall, keeping your small kitchen intact and organized will be easy once you follow the advice provided by the experts above. Make sure you're organizing your kitchen every few months and you'll see the results for weeks on end.
All in all, continue enjoying your small kitchen while it's organized!