Finding ways to feel motivated in a small office space can be tricky when you don't have a lot to work with. Whether it's the demoralizing square footage, a dispiriting lack of light, or a depressing deficit of personal style — it can lead to your mind wandering.
Fortunately, you aren't stuck. There are many ways to make your small home office a more motivating space — even with a small budget.
I spoke with several experts, including workplace coaches, design experts and a professional organizer, to find their best small office ideas for staying motivated. From converting to digital, to decorating tricks and fantastic organization techniques, these tips are true game-changers.
How to feel motivated in a small office space
Ready to get on the road to motivation? Here's what you need to do in order to feel motivated in a tiny home office — and it won't surprise you that it starts with decluttering and setting up your home office for comfort and productivity by having a clear out.
Prices were correct at the time of publishing.
1. Keep your small home office decluttered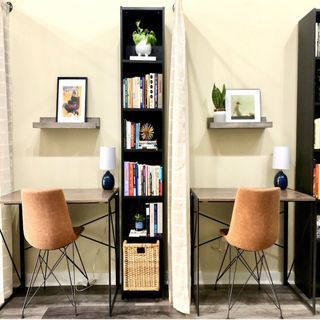 While we all get busy, it's easy to get overwhelmed by small office clutter. "Excess items can lead to overwhelm. Keeping your desktop clear of unnecessary items is a great way to help your mind focus on the task at hand," says Pulver.
She suggests starting by decluttering your small space. "Pull everything off the desk, and any other areas of the office. Sort by type and identify what categories you have. Decide what your new office essentials are and re-home the rest in a space that makes more sense."
The coach also advises keeping your most necessary items within arm's reach. "Using an organizational system like a hanging pegboard is perfect for keeping small offices organized."
The beauty of pegboards is that they offer plenty of storage options, without taking up valuable floor space. We found plenty of pegboard ideas for some organization inspiration. If you want to get started, these heavy-duty pegboards from Amazon are great to stock up on.
2. Clean your small home office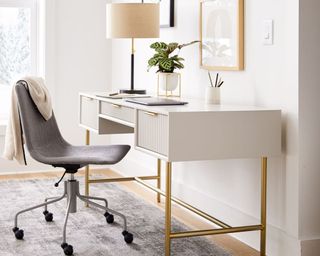 "Cleaning your home office regularly is a must if you are to stay motivated," says Lucy Searle, Content Director at Real Homes. 'This is much easier once your room is clear of clutter, but if you work from home every day, it's a habit you'll need to keep up weekly.
"I find that the best way for a quick, natural clean is with e-cloths, which you can buy from Amazon. They pick up dust when simply dampened with water. I also have a handheld vacuum handy to clean my keyboard and to pick up crumbs after I've eaten lunch at my desk."
Lucy Searle has written about interiors, property, and gardens for over 30 years, starting within the interiors departments of women's magazines before switching to interiors-only titles in the mid-1990s. In 2018, Lucy took on the role of Global Editor in Chief for Realhomes.com, taking the site from a small magazine add-on to a global success. She was asked to repeat that success at Homes & Gardens, where she also took on the editorship of the magazine. Lucy is now Content Director across Homes & Gardens, Woman & Home, Real Homes, and Ideal Home. Lucy is a serial renovator and also owns rental properties in the UK and Europe, so brings first-hand knowledge to the subjects she oversees.
3. Rearrange your workspace based on how you work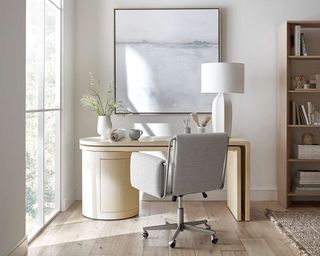 "Having to work in a small space can often feel cramped and confining. But does it have to? After all, you likely spend a good part of your life in this cozy little spot," says Rose Pulver, professional organizer, and co-founder of The Thoughtful Home.
Pulver suggests designing your home office based on how you work more than anything else. "When organizing a home office for our clients, we focus on understanding exactly what they need from the space. We take into consideration what line of work they're in, how they like to work and identify the systems that will help maximize their efficiency and inspire creativity."
Some examples include sitting on a medicine ball, like this exercise ball available at Amazon, or using a treadmill desk, as well as doing smaller things to make space easier to work in.
"Are you constantly running to the kitchen for a snack? Create a snack drawer with your favorite granola bars," says Pulver.
Rose Pulver is a professional organizer, and co-founder of The Thoughtful Home.
4. Boost storage in a small home office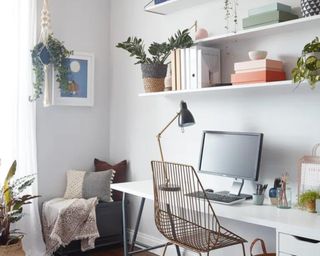 In a small home office, you're going to need all the storage you can get. Getting clutter off your desk will help you feel lighter and more productive. There are a number of home office storage ideas you can try in a smaller room, like installing floating shelves on a wall. For a really subtle option, these highly-rated acrylic shelves from Amazon will blend right in.
"In a room with a small footprint, making use of the walls for storage is much more space-efficient, taking up little room, but offering a ton of space to hide away everything from files to stationery," says Searle.
5. Boost natural light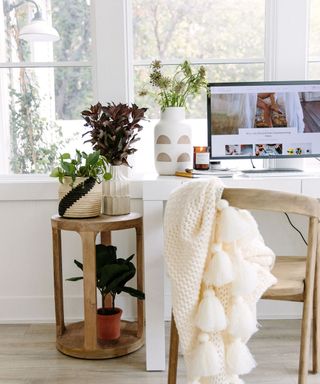 Nothing can have a positive effect on mood and wellbeing quite like natural lighting. Get your vitamin D in and position yourself near a window to soak up those rays.
"One of the best ways to make the most of any space is to let in some natural light and that's especially true in a home office. Natural sunlight can give you a great burst of motivation," says Searle.
Explore home office window treatment ideas to find the best way to channel more sunlight. For starters, you could swap out heavy or light-stealing drapes or blinds for light-filtering ones, like these highly-rated sheer curtains available on Amazon.
It's also important to keep your windows free of any objects that may be blocking your view. Make sure to declutter your windowsills to make sure you're letting in as much natural light as possible.
6. Add a light source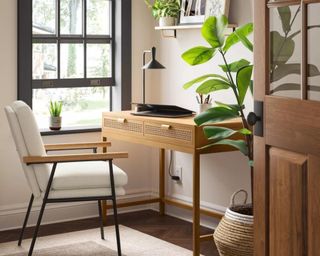 When it comes to staying motivated in a small office space, Arissan Nicole, career and mindset coach takes a "let there be light," approach.
"Add a fun lamp or light to your office, I have a colorful cactus one in mine. When you arrive for the day and are ready to sit down for work, turn on the lamp, and when you are ready to wrap up, turn it off."
According to the coach, this is a physical signal to your brain that when the light is on it's work time, and when it's off, it's time to leave. "It doesn't have to be a lamp but find something that you can physically do when you enter for the day that signals it's time to work."
Whether it's one of our favorite Target lamps or a fun lamp like Nicole's cactus, having a light source that reflects your style is key. Below you'll find our favorites.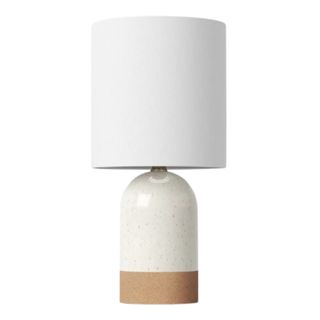 Budget-friendly
1. Ceramic Mini Table Lamp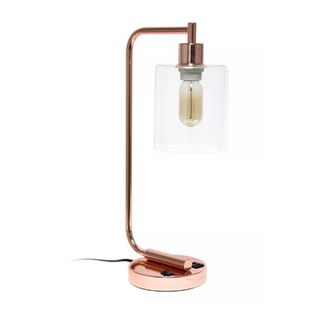 Industrial
2. Modern Iron Desk Lamp with USB Port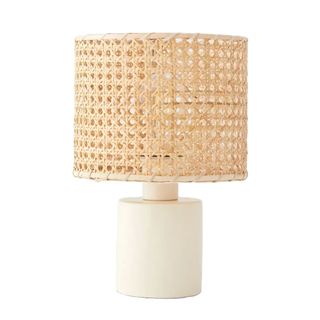 Super chic
Arissan Nicole is a certified career and mindset coach helping women approach the job search process from the inside out.
7. Personalize your space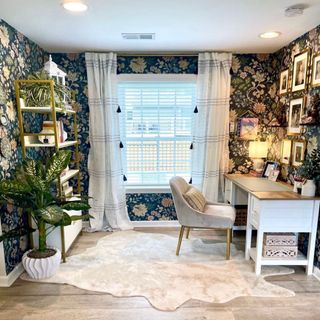 According to Tramelle D Jones, Strategic Success and Workplace Wellness Coach with TDJ Consulting, personalizing your space can be a good way to feel motivated.
"With a small space, adding things around you cultivates a motivational environment that encourages creativity," she says. "I've added abstract art because each time I look at it, I see something different."
Sometimes, explains the coach, it can even be something incredibly simple. "If looking at white walls does it for you, then go right ahead but I have yet to meet someone who feels creative by looking at nothing! "
Try installing some peel-and-stick wallpaper around the room or creating a custom gallery wall with your favorite prints and personal photos.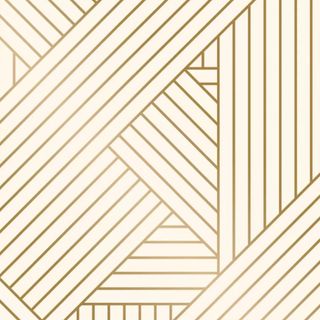 Geometric
1. Project 62 Metallic Ribbon Wallpaper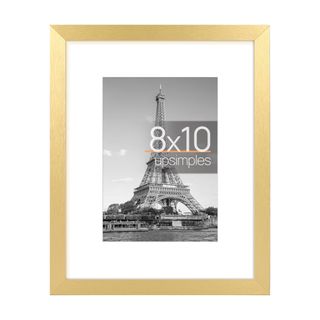 Luxe
2. upsimples 8x10 Picture Frame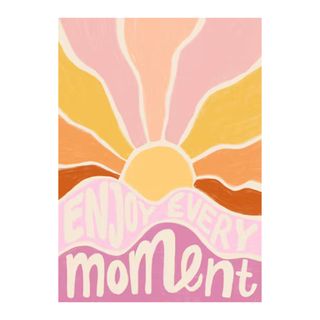 Bold
3. Desenio Enjoy Every Moment Poster
Tramelle D Jones, is a Strategic Success and Workplace Wellness Coach with TDJ Consulting.
8. Ditch the organizer and switch to an app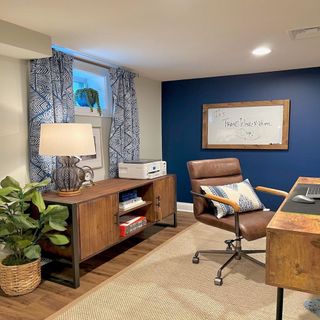 When it comes to getting things organized — Pulver takes a less is more approach and suggests going digital when you can. "Export your paper planner, desktop calendar, and sticky notes to a digital format to save space and feel less distracted."
While this can take some time to get used to, she tells me, "Once you have a system in place, you realize how efficient and portable it is."
There are a variety of apps for this but Google Calendar is easy to use and free. It's a great place to start and see what other bells and whistles you might need in a digital planner.
9. Try the Pomodoro technique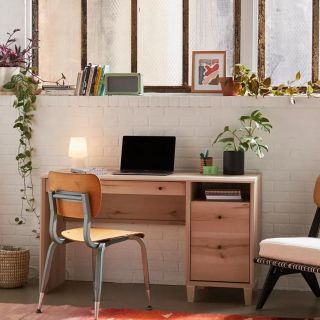 "If you are having a hard time staying motivated, try using the Pomodoro technique. Set a timer for 25 minutes and dedicate that time to focused work," says Nicole. "When the timer goes off give yourself a five-minute break and repeat with some longer breaks sprinkled in throughout the day."
Nicole stresses the importance of taking breaks throughout the day to stay motivated. "The important thing to remember is to actually take your breaks, stand up from your chair, and have a stretching routine and when you sit down for focused work again make your sure phone is on do not disturb and your computer notifications are off."
To avoid looking at your phone, you can order a basic timer from Amazon to stay focused.
FAQs
How do I avoid getting distracted in a small office space?
To avoid getting too distracted try to stay off your phone as much as possible — even leaving it in another room altogether. Keep your workspace neat and tidy and avoid things you never have in a small office like uncomfortable chairs and overhead lighting.
Can furniture make you feel motivated in a small office?
Having an uncomfortable chair can make you feel less than motivated as you'll be moving around a lot and too focused on your back. So, it's important to find a comfortable one that supports your body and looks nice, like our favorite selection of Amazon office chairs.
---
Just because your office is small doesn't mean you can't feel motivated in the space. Another factor is choosing the right desk for your set-up. If your desk isn't the right size for your workspace, you'll spend too much time adjusting it and moving around. Find a desk that best suits the room you're working in, like this selection of the best desks for small bedrooms.