On a frantic hunt for home office organization ideas before your next virtual call? Whether you've been waiting your whole life to work exclusively from home or you're longing to go back to the days when catching up with colleagues took place in conference rooms and around the water cooler rather than on Zoom calls, there's no denying that a new remote-friendly way of working is here to stay.
And with WFH comes a need for more permanent home office ideas – while that laptop on the couch was comfy for a couple of months, it's high time to foster something a little more professional and organized to help streamline your office hours while ensuring little distraction and time wasted searching for a notepad or charging point for your electronic devices.
So, on our agenda, we've penciled in some things that'll make home office organizing that little bit easier. From luxe letter trays to fashionable filing finds (yes really), we show you how to boss the task at hand.
Home office organization that looks professional
'With more of the nation working from home than ever before, it's no wonder that people are searching for storage ideas to keep their home office organized and neat' says Sam Baldry, head of design, Swoon.
'A clean workspace can encourage higher productivity and better mental health, creating a space that works for you (whilst you work) is important.'
1. Upcycle office essentials to boost your mood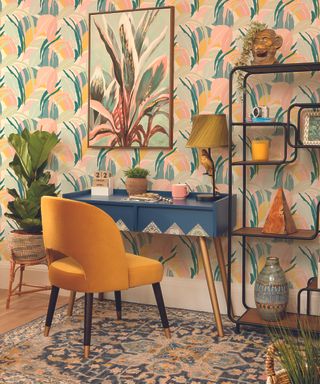 Experimenting with carefully-coordinated bold prints and adventurous furniture is one way to create a holiday vibe in your home office, and an engaged mind can make the day go more quickly.
Make your home office your own by decorating with sentimental items, eclectic ornaments, and accessories. Working from home feels more like a vocational vacation when you surround yourself with feel-good finds!
'This home office look is all about making it your own, with sentimental items, unusual pieces, and accessories that remind you of places you've visited,' says Laurie Davidson, spring stylist, Homesense.
'Give your desk drawers an update with sticky vinyl tiles cut into a geo pattern, and add ethnic-inspired ceramics for a change of energy.'
2. Add wow-factor to your waste bin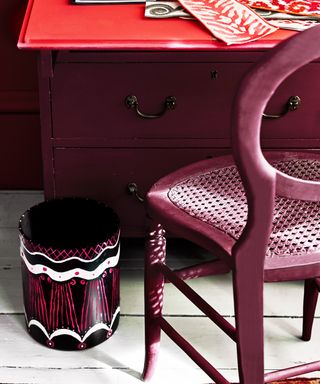 Post-it notes, design proofs and food wrappers can all take valuable space on your workspace, so banish the trash by zhuzhing up a dull paper bin with some chalk paint.
This hand-painted red, black and white design has been created using Capri Pink, Old White, and Athenian Black – all available from Annie Sloan.
3. Swap a traditional desk for something modern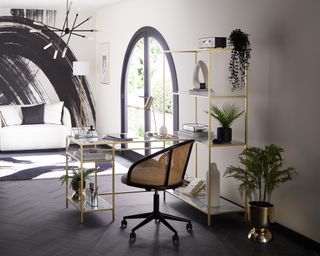 Opening and closing drawers in search of your favorite pen, or that stylish stapler to group documents? Save the need for hunting and accidentally (on-purpose) slamming them by switching out a traditional desk with drawers for a glass table with transparent compartments.
Just like the adjacent open shelving unit, like this gorgeous gold ladder desk is functional and stylish and means that stationery can be seen in plain view in a modern home office. We love the ribbed glass trays too for that sleek and chic minimalist aesthetic.
4. Go for a 2-in-1 floating desk and shelf combo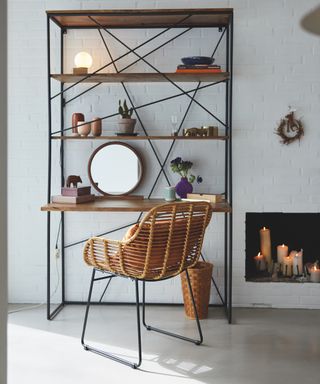 When it comes to small home offices you need to be clever in creating a layout that doesn't look cluttered. Yes, the best desk might be on offer, be designer or have some other amazing unique selling point, but if you're scooting and shuffling around a long or width-reducing writing desk might cause more woe than it's worth.
Consider something like this shelf office to make use of vertical space and give the illusion of height to your ceilings. The slimline frame and sturdy wooden planks are the perfect balance of contemporary and industrial for a cool-looking space that allows you to be organized without the need for heavy and bulky furniture.
5. Make your alcove work harder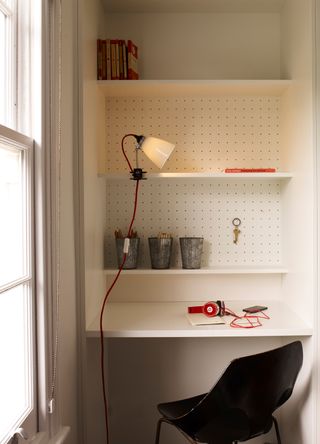 Alcoves often get a bad rap for being that awkward niche that needs a bit more attention. But, rather than look at this recess as something you're reluctant to redecorate, jump in head first with home office organization ideas.
This cozy corner is perfect for installing a floating desk and shelving and, a contemporary pegboard to hook keys and the bits we might find in 'that' junk cupboard. Essentially the overall objective of smashing your home office organization goals is to maximize your home office storage opportunities that will work for you.
6. Make filing fashionable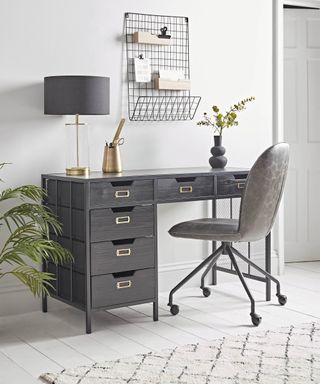 While filing might not be the most thrilling of tasks, it's essential to sort papers into relevant piles to avoid looking scrappy. But if you haven't got a lot of surface space to work with, look to desks that deliver on file-friendly features, and are fashionable too.
The perfect balance between a characterful apothecary table and a functional desk, each drawer in this Lowell Desk from Cox and Cox sits on metal runners, can be completely removed, and is fronted with a card holder so that each can be labeled.
Combined with the wire wall organizer and the comfiest best office chair, this setup has all you need to stay on top of all-important invoices, forms, and business paperwork.
7. Make your gallery wall functional with calendar art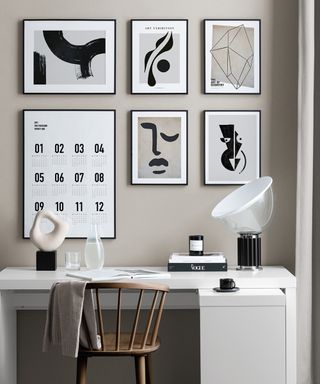 If your paper calendar is looking a little dog-eared and you haven't got an electronic device to hand, consider making your monthly organizer part of your gallery wall. As well as the usual family portraits or abstract art, this chronological wall art, available from Desenio will mean you can catch a glimpse of what day or week your social and professional events fall on. Because diary clashes are not part of the agenda.
Fancy something a little bespoke? Learn how to make a DIY wall planner for some homemade home office organization.
8. Create a colorful DIY noticeboard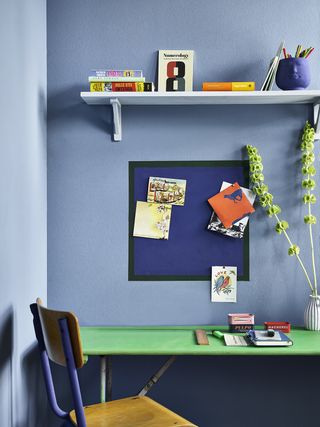 If you don't want to invest in flimsy noticeboards and have a sample pot or two of paint lying about, why not add some interest with this budget home office design by Annie Sloan?
This decoration provides a purposeful place to place children's paintings, school reports, and whatever else needs your attention. Alternatively, it makes a cute kid-friendly design to pin homework and birthday party invites.
8. Store stationery in cool concrete compartments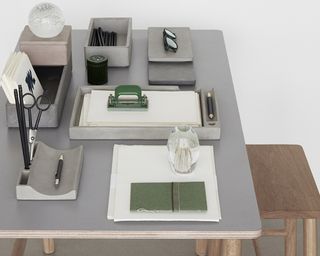 Perfect for clean freaks, trendsetters, or as a home office for him, concrete desk organizers offer an edgy and eye-catching look for your desk.
And, because they weigh more than their paper or plastic counterparts, they also make great paperweights for holding down those decision-making docs.
If you're not a fan of the au natural grey blocks, get crafty with paint and decorate them in a color that'll match your office aesthetic.
9. Go glam with a gold letter rack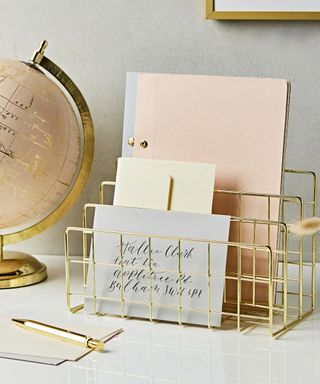 Not just for storing mail in style, a letter rack is a hot home office organization idea that can house your legal docs, envelopes, and lunch break magazines. So be a boss babe and slay your tasks with this industrial-but-boujie stationery stand.
Great for gifting to your work BFF, this luxe Mmetal organizer by Martha Brook can also come An optional gift box can be added, and optional metallic embossed gift wrap.
10. Swap plastic letter trays for patterned paper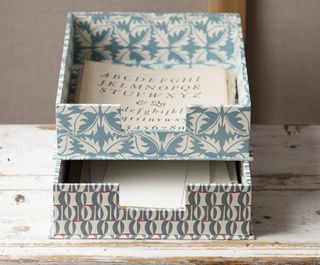 Whether you want to reduce your consumption of plastic or want something some home office organization ideas that add color and interest, choosing a paper letter tray is an eco-friendly option that can add some excitement to your desk.
These muted motif boxes from Cambridge Imprint make a sophisticated and elegant addition to any desk, and won't look out of place in a traditional home office or cute country study, especially when placed on a rustic, reclaimed, or distressed wooden desk.
11. Use planters for paper storage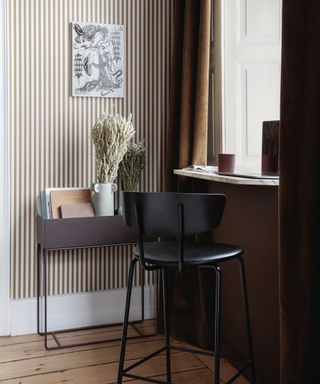 Think outside the (planter) box and use garden furniture for office storage. We love the look of this unfussy home office setup which has been set up with an extended marble window ledge and multipurpose container. Plus, if you do want to use it for its originally-intended purpose, the industrial boho mix of books and dried flowers oozes that healthy work-life balance aesthetic.
Alternatively, create an impromptu office-cum-home library by stashing your fave novels and literature classics in this compartment for a much-needed screen break.
12. Use lockers for a retro feel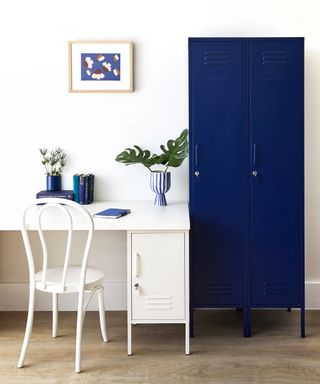 Whether you're using the home office for corporate work, or your children are using the space for homework, vintage lockers have made quite the revival, not just in schools and commercial workplaces, but inside the home too.
They're a great home office organization tool for adding a touch of personality, and by choosing different colors, each family member can be held accountable for keeping the workspace nice and tidy – encouraging good habits for when you return to a professional place of work, school or college.
13. Use chalkboard paint for taking notes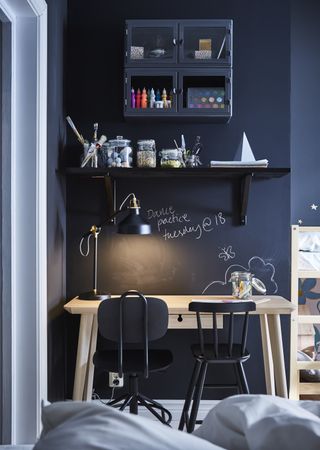 If you've ever been on the phone, scrambling for a piece of paper or pen to take down all-important client details or contact numbers – this creative DIY desk idea is for you. In this dramatic black office, the wall has been painted in chalkboard paint decor to create an impromptu blackboard for notes and doodling (perfect for if you've been put on hold.)
Rust-Oleum® Specialty Chalk Board paint, available from Amazon converts surfaces into a usable chalkboard, and can be applied to metal, wood, masonry, drywall, plaster, glass, concrete, unglazed ceramics, and hardboard. It does contain latex, so worth noting if you have an allergy. Still wondering how to create a chalkboard wall? Our 8 step-tutorial is child's play...
14. Clad a wall in corkboard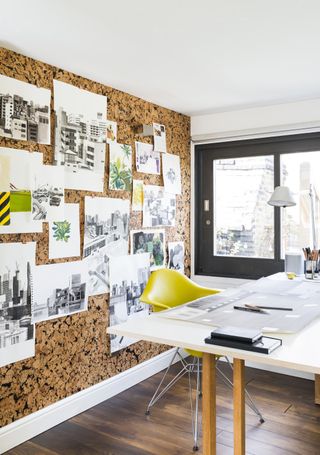 If your current piece of corkboard isn't big enough to pin down your child's artwork or creative proofs – go hard or go home – quite literally with a wall made of bark-based material.
By covering the wall in its entirety, there's no excuse for not staying organized. Use colorful drawing pins and go for wooden flooring to add personality and warmth to your home office.
15. Display stationery with a clear Lazy Susan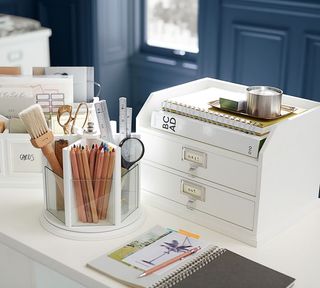 While some of us are completely content with taking down all notes, reminders, and dates digitally, others prefer a good old-fashioned pen and paper.
Rather than struggling to find the right pen or highlighter in your junk drawer or wherever else you might have set it down, consider adding a modern desktop Lazy Susan like this one from Pottery Barn to your workstation—not only is it elegant but it's actually quite practical and will come as a huge time saver.
16. Opt for a multi-functional printing station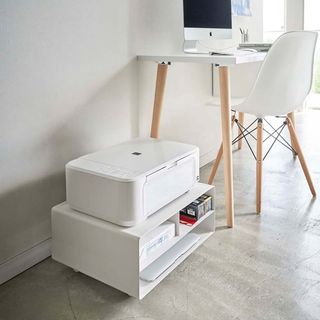 If your job still requires you to print and scan documents, you might want to invest in a multi-functional printing station where you can keep all things printer-related in one compact area. One of the best small printers can easily be tucked under your desk or into a closet if you're working with a tight office space.
17. Take your calendar offline with a wall insert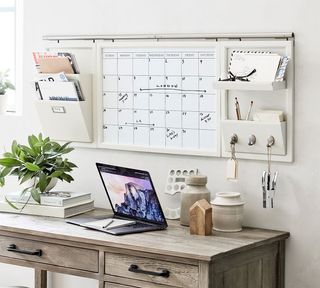 Used to working with a multitude of screens and endless desk space? It can be hard to downsize from two large monitors to just one – or even just a simple laptop. If you're longing to have your calendar and to-do on display at all times, consider taking it offline and putting it up on the wall space above your desk.
While it takes up pretty much no space at all, it'll give way to a much more streamlined overview of the month ahead – and some reusable wall calendars even come with additional hanging storage.
18. Add minimalist dividers to your catch-all drawer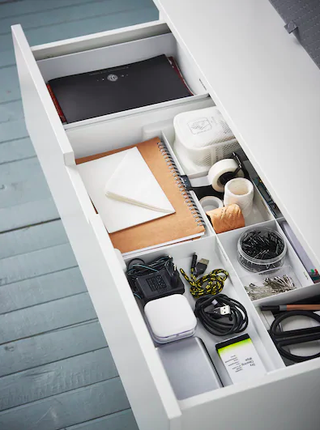 Desk drawers can quickly become a drop space for any and all paperwork and access supplies if you're not careful. But if you're still trying to sort and organize that untapped storage space, consider adding a couple of minimal drawer dividers like this Malaren set from Ikea.
They don't take up much space in your desk but they'll be huge in terms of keeping like items together and easily accessible.
19. Make filing fun with colorful magazine files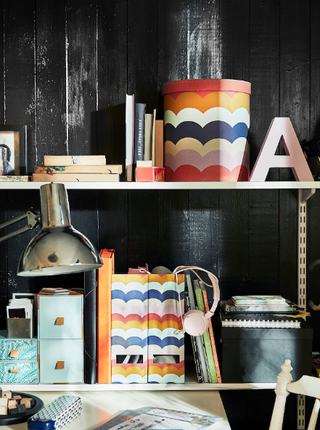 If you're working with limited space and don't necessarily want to take up precious floor space with a clunky filing cabinet? A handful of colorful magazine files will work just as well as a filing cabinet but can easily be tucked into your existing bookcase or left on the corner of your desk for easy access.
An alternate idea would be to color-code your files based on the categories you find useful.
20. Reclaim vertical space with a modern pegboard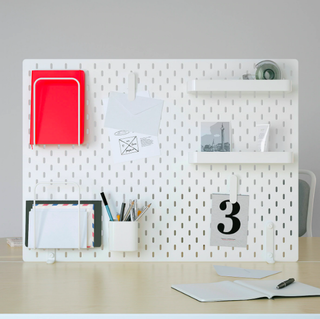 The wallspace in front of, or behind, your desk is valuable real estate! If you haven't already gone vertical you'll be amazed by the sheer amount of stuff you can store and organize on the wall. This modern SKÅDIS pegboard, available from IKEA, allows for a modular solution that can be organized and reorganized based on your needs.
21. Make the most of unused kitchen drawers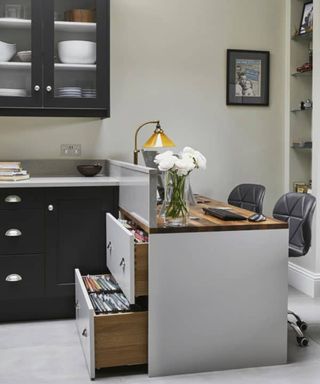 If you're in a fortunate position where your kitchen drawers aren't piled high with plastic containers and Tupperware – use this space as a bureau for office equipment and materials.
'Open-plan living is commonplace today and downstairs spaces are becoming increasingly multifunctional. Many of us now cook, relax and entertain in a single open space, so why not work there too?' asks John Lewis, owner at John Lewis of Hungerford.
'Whether you are redesigning an open-plan kitchen or adding a new function to your existing dining room, it's possible to make working from home part of the purpose these spaces serve.'
'The trick is to maintain some kind of separation so that work doesn't venture into the rest of your life uninvited. Living room cabinets that transform into writing desks, kitchen islands with filing storage beneath, and kitchen cupboards that quietly conceal a mini office are all distinct possibilities in these most modern of spaces.'
22. Divide your office and living room with a bookcase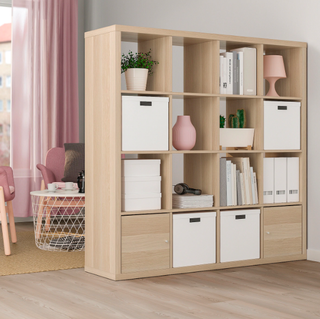 Working from home can be a challenge, especially when other family members are lounging in the living room perhaps watching TV or gaming. So in order to stay focussed (and not be a party pooper on their social space), create a home office setup that is respectful to everyone's needs.
A double-sided cube bookcase (like this KALLAX bookcase from IKEA) is a practical and aesthetically-pleasing way to divide your workspace and the rest of your home without cutting out light or feeling boxed in. You can easily add convenient little boxes for subtle storage or fill the cubes with pretty accessories and decor to brighten up your space.
23. Create a workspace that folds away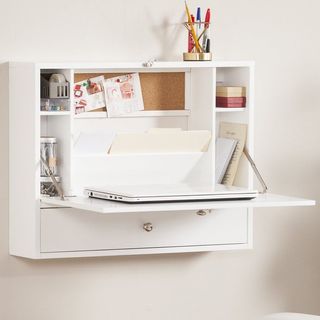 If you've been struggling to find enough space in your home to set up a more permanent-feeling workspace, consider a folding secretary desk, available from Wayfair.
This compact design mounts onto the wall and is big enough to comfortably store your laptop, notebooks, pens, calendar, and any other work-related essentials. The best part? Once it's folded away it resembles little more than a simple wall shelving unit.
24. Consider a rolling utility tray for office essentials (or snacks!)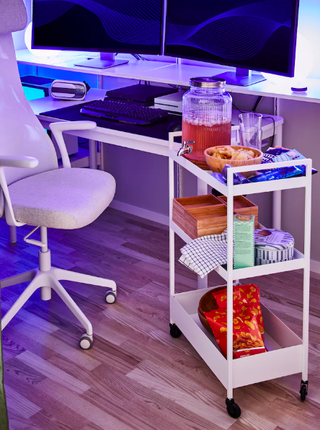 Sometimes grabbing your laptop and moving from the desk to the couch or other nooks and crannies around the house helps to break up the day and foster a new sense of creativity and focus – and a rolling utility tray like the Elfa white mesh file cart by The Container Store makes it even more convenient.
Pack your tray with charging cables, extra pens, and any other day-to-day essentials and enjoy the convenience of a mobile workspace. Plus, the added bonus of beverages on tap means that you can stay hydrated – essential for remaining productive.
25. Make your own hot desks with individual storage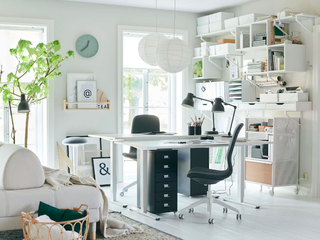 Likewise, working from home is even more engaging when you have multiple desk spaces to choose from. If you and your partner or roommate are both working from home at the moment, consider creating your own at-home hot desks.
The added space will make it feel a little bit more like a real office space – just make sure to have your own designated rolling cabinets to ensure your work essentials don't get lost in the mix.
26. Create a cubicle for privacy and vertical space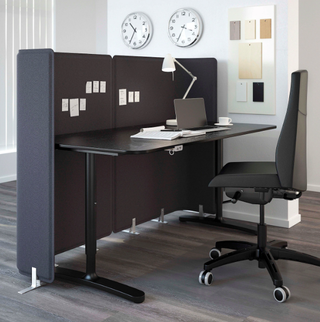 Whether you're struggling to set boundaries during your office hours or you just miss the vertical space that comes with an office cubicle, consider making your own with folding felt walls.
Not only will it help you focus on the work in front of you but it also gives you a huge amount of surface area for notes, pen holders, calendars, and other work essentials.
27. Enlist the help of a portable storage basket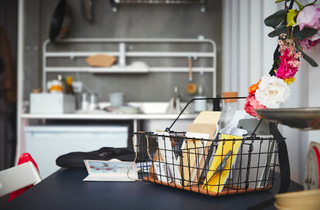 If your office essentials are pretty minimal, consider packing them all in a portable storage basket the NATADE storage basket from Ikea.
Whether you keep it artfully arranged on your desk or you bring it with you from the couch to the dining room table, it'll allow you to keep everything together without feeling tied down to one work zone.
28. Don't be afraid of commitment (to shelving units!)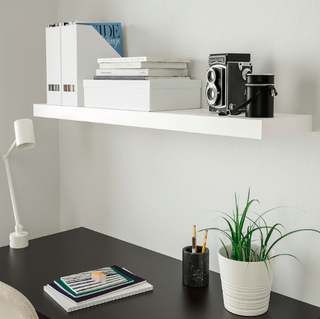 We can't say enough about reclaiming vertical space – especially in the form of practical shelving ideas. If you're worried about drilling into the wall when your home office might not be a permanent fixture in the house, don't be.
The right shelving can be great for getting office supplies off the surface of your desk but they'll work equally well for books and other home decor items once you're back in the office.
29. Create a family-friendly DIY door organizer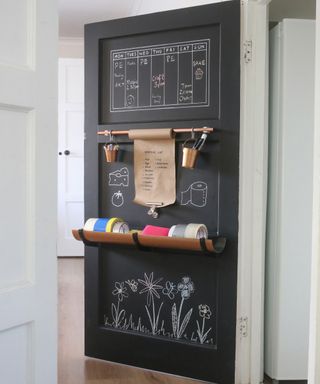 If you want to organize the family, keep track of the kids' activities and make lists of tasks and shopping all in one place, why not have a go at turning a door into a family organizer?' says Cassie Fairy, upcycler and owner of My Thrifty Life blog.
'It's a handy space to make to-do lists and to keep an eye on what tasks need doing each week, whilst increasing your home's storage space by utilizing every possible nook and cranny. Children can use the chalks to add their own lessons to the planner and will enjoy drawing you a lovely picture at the bottom of the door.'
'This space-saving family door organizer makes use of any odds and ends of DIY materials you've got lying around, such as a small section of guttering to store essentials, and copper pipe left over from a plumbing task to hold a roll of paper for shopping lists and pots full of pens and chalk.'
'You could use the door under the stairs, or as your office door to keep on top of tasks while working from home. It might even encourage your teenager to make a revision planner if it's painted onto their bedroom door!'
30. Isolate the workspace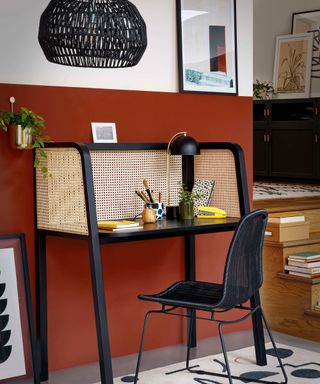 'Opt for a room divider or desk with built-in walls to carve out a designated area for work,' says Rachael Fell, furniture buying manager, Habitat.
'Isolating the workspace in this way evokes an element of seclusion which encourages focus and concentration. These clear physical boundaries also help mentally separate office and living areas, meaning it's easier to leave work behind at the end of the day.'
31. Invest in flexible furniture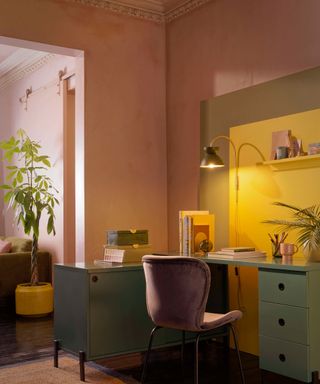 'Home working shows no sign of abating, so as a design studio we continue to put emphasis on products that support flexible living,' says Ben Stanton, designer, Habitat.
'This desk unit is designed and built to increase storage solutions whilst being adaptable to different home office needs. The unique swivel mechanism allows for a multitude of positions: the 'L' shaped desk can zone a space or make the most of unused corners, and it can also extend flat against a wall.'
32. Optimize the bedroom office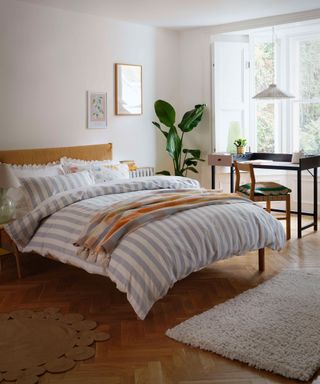 'For hybrid spaces like a bedroom office, consider the placement of the desk,' advises Fell.
'Face it towards a window or corner of the room if space allows to help compartmentalize the work area and keep bedroom cues out of sight. If a bed is visible in video calls, consider white or neutral bedding to create a simple, non distracting background. Our Fresh Vintage scallop bedding set in crisp white makes an ideal backdrop, defined by its unique curved edge in a bright yellow hue.'
What makes a productive home office?
We all wish a productive workspace was as easy as plugging a laptop into a free outlet, logging into Slack, and going about your day - but for most of us, a streamlined workspace involves a little more planning and preparation.
If you work mainly online, for example, you likely won't need to set up a printer or color-code your highlighters and other writing utensils, but you may benefit from wireless charging zones and a visually appealing background for Zoom calls. It's all about being honest about how you work and optimize your space so that your day-to-day operations can be executed as smoothly and seamlessly as possible.
Below, we're rounding up a bunch of home office organization ideas that will help you achieve that dreamy workspace that is both stylish and productive. Whether you've set up a home office in a roomy basement, a spare bedroom, or you're still posted up in the dining room, these smart ideas will make working from home a lot less hectic and much more harmonious.
And don't forget your accessories as home furnishings can play an important part in how engaged you are. The benefits of houseplants are scientifically-proven and are an affordable way to bring the outside in, and the best home fragrance (be it in candle, oil, or reed diffuser) can provide a wonderfully fresh smell to mimic the natural fresh fragrance to amplify or maximize your home office experience.
'Studies have shown that greenery can alleviate stress, and adding just one small plant to the desk will have a calming effect on the space,' says Anna Cross, home living buying manager, Habitat.
'Scenting the air with candles or diffusers is also a great mood booster; soothing notes of lavender are best for relaxation whilst invigorating citrus scents will sharpen focus.'
What is the best way to organize a home office?
'If you want to work from home and have a desk set up, nothing will aid productivity more than having natural light.' says Whinnie Williams and Kierra Campbell aka Poodle and Blonde.
'Always position your desk near a window, and to really maximize on daylight from above, consider adding VELUX roof windows to transform a space by flooding it with light.'
How can I organize my office space at home?
'If your office is a smaller space, why not opt for a folding desk such as the stunning Pembridge?' asks Baldry.
'This unobtrusive piece will hang on your wall unassumingly when not in use, and opens up to reveal a desk surface and hidden storage space for your stationery! As this piece takes up no floor space whatsoever, you can now afford to choose a larger chair with better support, helping you through your workdays with small wins. Speaking of small wins, the Pembridge also comes with built-in cable management holes. That's what we call stylish yet functional.'
'Storing files, cables, and office equipment such as shredders may be essential, but it doesn't mean you have an excuse to hoard clutter. To organize your belongings in the classiest of ways, opt for a sideboard such as the Katana. With three roomy cupboards and a stunning white façade, this asymmetrical sideboard will not only be the ideal space to organize your belongings but will also bring a calming, minimalist vibe to even the most stressful of environments.'
How to create an organized home office in a dining room
'One of the easiest ways to instantly improve a workspace is by swapping out a dining chair for an ergonomic office chair,' says Fell.
'When many spend more than eight hours a day working from a desk, these designs offer the cushioning and support needed in a range of trend-led styles to fit with any interior scheme.'