Learning how to clean windows is all about that covetable streak-free finish. We all want windows that are so clean that they're completely transparent. If despite putting in your best efforts, you're still seeing grime or streaks, it may be time to turn to expert advice and investigate lesser-known window-cleaning hacks alongside traditional methods (hello, vinegar).
We'll be honest and say that even the best window cleaning products won't do the job if you're using the wrong tools or haven't yet mastered the proper technique for getting your windows clean. Don't worry, though: learning is easy and you soon will notice a difference while needing to put in less effort (yes, that really is possible).
Armed with our top tips and all the necessary paraphernalia, your windows will rival those cleaned by a professional.
How often should you clean your windows?
We spoke to the Thames Valley Window Company (opens in new tab) about the best way to clean your windows inside and out, and how often we should be doing it.
Ryan Schofield, Managing Director says, 'In order to maintain the aesthetics and practicality of your windows it's important to clean the frames once or twice a year, although you may need to do this a little more if you live near the sea where salt exposure is high, or if you live in a busy city and are close to major roads or industrial sites.'
'Water marks, dust and dirt will soon build up if you don't regularly clean window glass. We suggest using warm, soapy water, but don't use too much washing up liquid, as too many bubbles will leave residue marks on your windows. Use a clean lint-free microfibre cloth and change the water regularly so you're not smearing on dirt! Use a soft, clean cloth to remove any drips. Finish by using a glass cleaner, or one part distilled vinegar with one part warm water if you'd like to make your own solution. Spray this directly onto the glass and use a soft paper towel to rub it off.'
The best way to clean windows
There are a few different routes to go down when cleaning windows, depending on how dirty yours are, how big they are, how much time you have and whether you prefer to use natural cleaning agents like vinegar or not. This is the best course of action:
1. Pick the right day for streak-free clean windows
Is it a sunny day? If it is, hold off washing windows until a cloudy day – it might be easier to see smears on a sunny day, but the sun drying the windows too quickly is usually the cause of any streaks in the first place.
2. Remove dust from dirty windows
Have you brushed, swept or vacuumed the window? Your success rate will be far higher on windows that are free of dust, so vacuum the sash, frames and sills first. Plus, doing so will ensure there's no muddy, soupy mess on the floor afterwards. Thomas recommends ''To clean window frames, start by opening your windows wide. Using a soft paintbrush, loosen any cobwebs, dirt and grime around the edges and hard to reach areas, then use a hoover with a soft nozzle brush to hoover around the frames.'
3. Choose your window cleaning tools, products and method
The tools you use depends on the buildup of dirt and your preference too. For every day wiping down, you may not even need any product whereas neglected windows will need more elbow grease for sparkling results.
Quickly cleaning windows
If your windows are given a regular wipe over and aren't hideously dirty, you can simply use a damp microfibre cloth (opens in new tab) to wet them, and a dry cloth (or a series of dry ones) to dry them off and achieve a streak-free finish.
Ryan advises to 'Mix up some mild detergent with warm water and use a soft cloth to clean away any dirt. Make sure you don't use anything with harsh chemicals as they may damage the frame finish. Wipe the window with fresh water to rise off any suds before wiping dry.'
The upside to using microfibre cloths is that they can be simply popped in the washing machine, ready for use next time, making them a fairly eco-friendly way of cleaning windows. Plus, you can use a squeegee before you dry off the windows with your microfibre cloth to cut down on the cloths you use and get the job done even faster.
Deep cleaning windows
If microfibre cloths aren't coping with the dirt on your window – maybe it's not stubborn, but it's definitely copious – you might need to take a solution of washing up liquid and warm water to it.
Start by wiping the soapy water on with an abrasive sponge, then rinse the windows with clean water; use a squeegee to get any further soapy deposits off; then use the microfibre cloths for a streak-free finish.
What not to do: Make the water too bubbly – soapy suds will be left as filmy streaks on your windows and you'll wish you'd never started.
If you're set on using a chemical cleaner to wash windows, we'd recommend a product that professional window cleaners use (and that we've tried out): HG Window Cleaner (opens in new tab).
It does not contain ammonia or methylated spirits and complies with all professional requirements, as it is pH-neutral and does not damage paint, varnish or plastic. Follow the manufacturer's instructions for best results.
To squeegee or not to squeegee?
We absolutely swear by squeegees (opens in new tab) at Real Homes . There's one by the shower to clean the glass shower screen, and one under the sink to wash windows. We simply use the sponge mentioned in tip 2 then take a squeegee to the soapy suds to leave a streak-free shine. Finish it off with a clean, dry, e-cloth and you're done.
What not to do: Clean the outside of an upstairs window from a ladder – leave that to the pros.
4. How to clean windows with vinegar
Vinegar is probably what your grandparents used to wash their windows – and it's still seen as a really effective way to remove stubborn dirt. Better still, it's non-toxic and anti-bacterial. To make your own vinegar (opens in new tab)-based window cleaning solution, simply add two tablespoons of it to a small bucket of warm water. Then follow the steps for using soapy water (but be sure to wear rubber gloves).
If dirt is really, really ground on, put the vinegar solution in a spray bottle and apply to the panes, then leave for a few minutes before tackling with your sponge.
What not to do: Use a vinegar solution on any windows that have matt-painted or undercoated-only frames – you might find the frames stain.
5. Clean big windows with a Kärcher
If your house has a large glazed extension or if you're lucky enough to have lots of large windows all around the house PLUS your home is somewhere that's prone to dirt build-up on windows, a window vac like Kärcher can help you get the window cleaning job done quickly – and with good results.
Choose a cordless model with decent battery life, and bear in mind that these cleaning appliances do tend to do the job best with a cleaning fluid, so if you're looking for a natural solution that doesn't involve chemicals, you may like to keep reading.
What not to do: Invest in one of these for small window panes; these appliances are best suited to expanses of glass. If you're not sure if you need one, reading our Kärcher Window Vac review should help make up your mind.
More ways to clean windows naturally, or not
Clean windows with lemon
This is a simple alternative to window cleaners that both cleans and has a mild abrasive action. Simply cut a lemon in half, taking care to remove all pips, and rub the lemon half all over your window, finishing with a lint-free cloth. This method will work best on smaller windows as it's quite labour- (and lemon-) intensive.
Clean windows with rubbing alcohol
Don't have or don't want to use vinegar or lemon? Reach for your first-aid kit: rubbing alcohol is great at cleaning windows and disinfecting them, cutting through even stubborn dirt. The trick is to always mix it with distilled water rather than just your regular tap water. Distilled water doesn't have any mineral content that could show up on your windows as streaks once the alcohol has evaporated. Use a couple of tablespoons per 500ml of water.
How to clean windows without streaks
Still struggling to find out how to clean windows without streaks? You may have to rethink what you're using to clean your windows rather than the cleaning solutions you're using. Alicia Johnson, the owner of West Covina-based Cleaning Green LLC (opens in new tab), told us that for 'ensuring it's absolutely spotless and no streaks are left behind, the tool you are using carries more importance than the cleaning solution.'
It doesn't so much matter if you're using good old vinegar or a fancy window cleaning spray – if you're using 'an ordinary cloth that isn't even designed for cleaning windows', you likely will find that it 'leaves messy streaks and marks behind.'
So, 'if you want your windows to be appropriately cleaned, we highly recommend you invest in a professional cleaning tool. Nowadays, you can get your hands on a window vacuum that cleans your window spotless and leaves ZERO streaks behind. There are even magnetic window cleaners available in the market! Both are clamped against the window in between; as you move one across the window to clean, the one on the other side follows, and you can clean both sides simultaneously.'

That's definitely food for thought. A robot window vacuum cleaner from Amazon (opens in new tab) will cost you around $150 – not cheap, but it will do a perfect, streak-free job without you needing to lift a finger.
How to clean windows from the outside
If you like buying specialist window-cleaning sprays, save these for cleaning windows from the inside. If you want to know how to clean a window from outside, Ray Brosnan of Brosnan Property Solutions (opens in new tab), advises no wasting time on 'fancy chemicals or detergents. Less is most definitely more here. Washing up liquid/detergent and warm water is more than enough to get the job done.'
Again, 'the real trick here is equipping yourself with the right tools to ensure you get a good result. Plastic T-bars (opens in new tab) are essential for getting your windows wet firstly, these are quite cheap and can be purchased in most online stores, they're also quite durable when used correctly.'
Next, 'you'll need a good-quality squeegee to get the water back off the window. Finally, the secret weapon, the "scrim (opens in new tab)" – this is the cloth used to wipe the edge of the windows. It leaves a smudge-free finish every time and is quite cheap.' These are readily available online also. Scrim is made from linen; you can use synthetic alternatives, so long as they're labeled suitable for window cleaning.
When It comes to the technique, Brosnan recommends 'the S-Shape method' – 'and be sure to cover the entire pane/section of glass. Be sure to not take the blade of your squeegee when cleaning the glass or you'll be left with water marks.'
More window cleaning tips
Avoid direct sun: Remember that you shouldn't clean windows when the sun is shining directly on them, as the heat can cause the water to dry into spots or streaks.
Remove window dressings: This isn't a must, but if you're doing an annual, thorough window clean, it makes sense, especially if your window dressings are a) in the way and b) likely to be dirtied easily by drips and splashes. Plus, you can use this as a good opportunity to have curtains and blinds cleaned or freshened.
Frames first: Make sure the frames and sills are clean before you start.
Newspaper on streaks: Did your grandparents buff the windows with newspaper? It does work if you haven't got a microfibre cloth handy.
Avoid flimsy kitchen roll: Some can disintegrate when they get wet and they will leave lint deposits on the window panes.
Air the room: Especially if you've been using vinegar as it's not the smell you want hanging around.
Best window-cleaning cloths
The Marigold Crystal Clear Window Cloth (opens in new tab) is a machine washable microfibre cloth that you wet and use to wipe the surface.
We wanted to know the quickest and most efficient way to clean mirrors, shower screens and windows, so we tested various cleaners to see how easy they were to use, how well they cleaned, and how easy they are to keep clean themselves.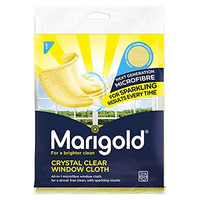 (opens in new tab)
When you're in a hurry (and when are we not?), you don't want to be faffing around with loads of bottles, so we tested with plain old water. The Marigold Crystal Clear Window Cloth is designed to be used with either water or a spray-on detergent for more thorough window cleaning. In our test, it was the easiest to use – it's just a single cloth that you dip in water and then use to wipe away marks.
How effective is it at cleaning? If you want to quickly whizz around the inside of your windows, a window vac is undoubtedly speedy, but if you're on a low budget, don't have the storage space for one, or are tackling smaller surfaces, such as mirrors, the Marigold cloth gets your surfaces sparkling with minimal effort – simply wet and wipe.
Is it easy to keep it clean? Yup, the Marigold cloths can simply be popped in a 60ºC wash, which makes them simple to keep clean. Job done.
You can see clearly now! 🏡