Trellis is the bones of a garden, especially one that is full of lush planting, vegetables and more that needs support to flourish. And trellis ideas are not just functional, oh no. Whether you want to DIY a trellis from canes to help those cucumbers out this year, or add a painted trellis panel to extend a brick wall, these structures can add style and dimension to your garden or another area of your backyard, instantly.
1. DIY an obelisk trellis for vegetables
Whether you're growing tomatoes, cucumber, peas or another climbing vegetable this year, building your own DIY trellis obelisk structure is a simple, cheap and efficient way to ensure they have all the support they need.
2. Use trellis to complement a north-facing garden
If you have a north-facing garden complete with shade plants, keep the look and help your greenery thrive by adding more dappled light with horizontal trellis around your planting. Stylish and sure to provide just the right amount of shade throughout the day for plants that need tropical-like conditions.
3. Corner off a seating spot with trellis for privacy
This modern looking trellis is a fine way to show off a seating area, all while keeping it secluded too. Dress yours with climbers like ivy and bulk it out further with a planter, just for show, for a lush spot to escape to.
4. Use a slatted trellis design instead of fencing
If you want the option to pretty up your garden's boundaries then consider slatted trellis instead of full on fencing. Pick a neutral shade so that you can go to town on eclectic planting up and in front of yours.
5. Use your pergola as a trellis alternative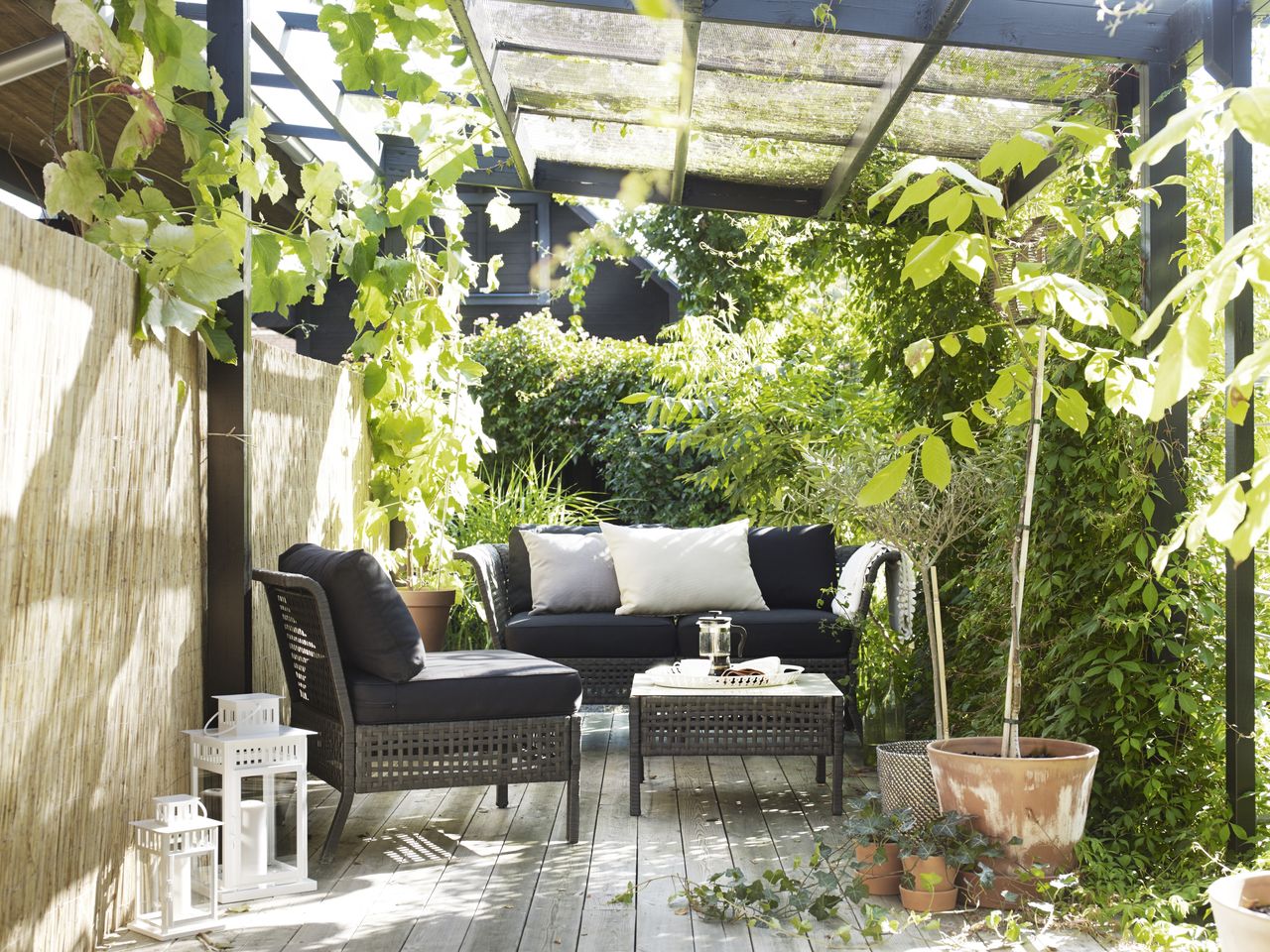 Trellis is often used as a bit of a metaphor for other types of support that climbing plants can wrap around. So why not consider treating your pergola as trellis instead? It's the ultimate way to create a vertical garden without having to try that hard, or spend that much, and it will enhance a plain garden structure too.
6. DIY freestanding trellis for the front of your home
DIY a freestanding trellis planter and you'll be able to position it, anywhere you'd like! We love these in a front yard, for a wholesome greeting when you come home. Mix colorful plants with climbers for a layered display that will make your front garden space sing.
7. Go au natural with unpainted trellis panels
Trellis panels are an easy way to add dimensions to your outside space, whether you want yours to frame a patio, courtyard or other area of your backyard. Keep yours unpainted like this gorgeous bespoke red cedar panel from The Garden Trellis Co for a stylish yet natural finish to your space. It's a great way to conceal a less than attractive exterior wall also, think pebbledash and the like, as you won't even notice it's there.
8. Use trellis instead of a garden wall
If you haven't got the means to install the brick garden wall you'd like but still want to add privacy and structure to your garden, trellis can make the next best substitute. A solid structure will still have all the benefits of a garden wall like privacy and a wind break so it's a quick (and cheaper) fix for all types of outdoor space.
9. Zone your backyard with trellis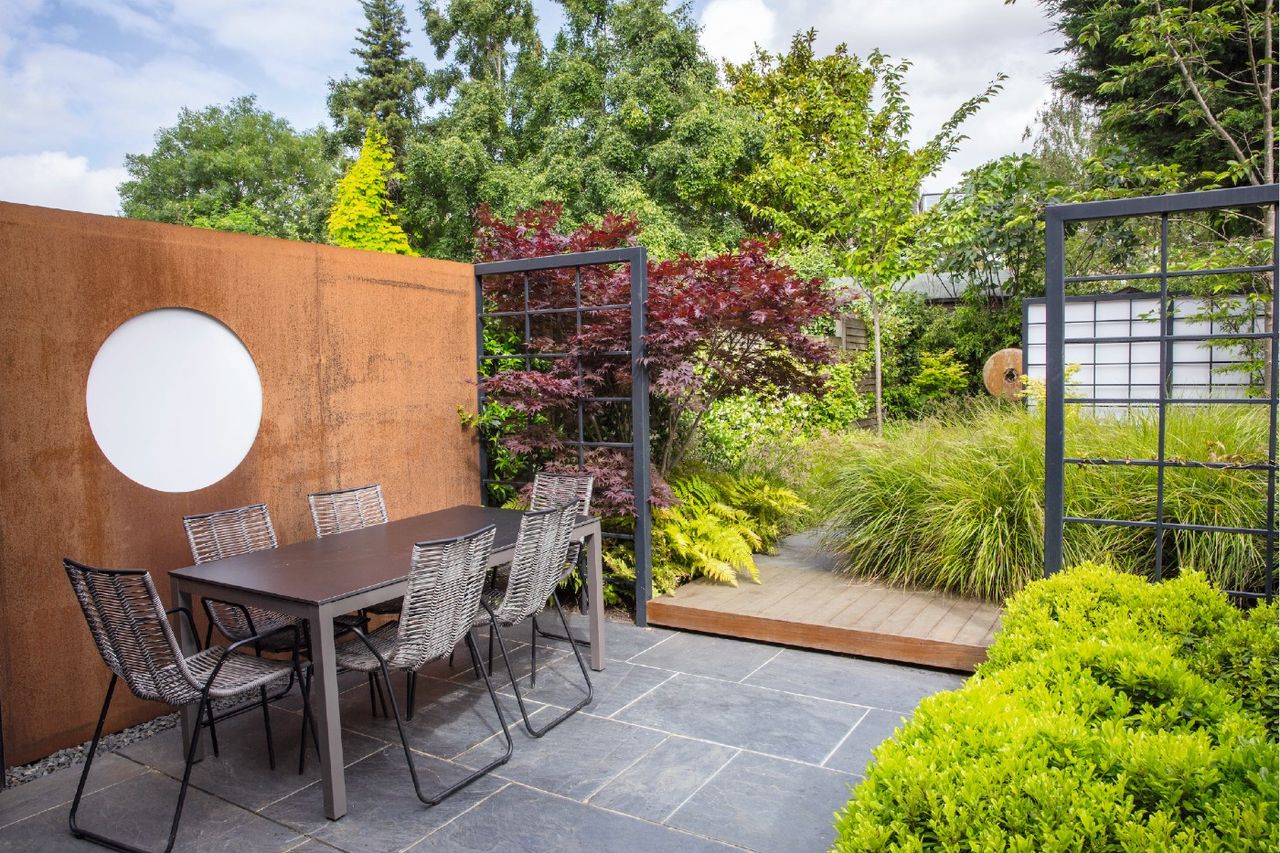 If you have a large backyard to work with, using trellis to zone different areas – like your patio from your garden, and even your outdoor kitchen from your seating area – is a simple way to define your space. And, will let you add to your display over time.
10. Extend your floral display
If you've cottage garden plants galore or another divine floral display around your home's exterior walls, line part of a wall with trellis to continue the planting theme upwards. Sure to create the perfect visual, we love the light trellis vs. the bright planting in this thatched cottage for a standout look.
11. Use trellis for privacy on a raised deck
If you've got a raised deck in your garden that puts you in the sightline of your neighbors, use a trellis panel for privacy and for further natural hiding from prying eyes, choose fast climbers like Jasmine and Ivy to go big on the greenery also.
12. Paint trellis to conceal an ugly brick wall
A pop of color always goes a long way in a garden and what better way to add a little more personality to a bland space? Save on costs buy purchasing crisscross trellis and then jazzing it up yourself with some brightly colored paint.
We spoke with the experts at Essential Living about what you could do with trellis decoratively and they agree that 'Painting a trellis in a vibrant shade will help it stand out for all the right reasons. For example, a bright pink trellis stands out in front of a natural stained fence panel and helps you co-ordinate with your planting choices. Here you could introduce some white roses, a summery, ice-cream style that together creates an appealing combination. To be extra creative, you can add some colourful tile inserts to your trellis, with whatever colours you prefer. One-off tiles placed randomly in the trellis squares create a truly unique look. Make sure you fix the trellis so that is secure enough against the wind.'
13. Focus on trellis ideas for vines
With any trellis, the main event will be the planting so know the vines you want to create the right look and feel in your outdoor space. What you need to check is how heavy the vines become over time to ensure that you have the correct trellis setup. A few of our favorite vine plants for trellises include:
Sweet Peas: Amazing scent and color variations, not too heavy.
Climbing Hydrangea: Takes a little longer to establish but give a bold finish and flowers all summer long. The vines can become heavy so will need sturdy support.
Climbing Roses: Fragrant, romantic and not technically a vine but they will climb high and can become heavy.
Jasmine: Stunning display, quick growth and sweet scent. Be equipped for a large display.
Clematis: Delicate and pretty flowers in every color under the sun.
Wisteria: Resembles grapes and makes for a seriously stunning and sweetly scented display. It's a hardy perennial that needs full sun.
14. Cover yours in Wisteria for a maximalist look
Proof of why Wisteria is a favorite flowering vine of ours, it's just beautiful. Often thought of as a tree, it can become quite heavy so your trellis support needs to be sturdy like this pergola or you could use an arbor. Then admire those cascades of purple flowers all spring and summer. Some species can be invasive growers, so try going for North American Wisteria to avoid problems with other plants.
15. Choose a trellis archway for roses
Choosing a trellis arch is probably one of the most stunning ways to present climbing roses. Choose a metal frame for extra sturdy support, or DIY your own with the help of green saplings and wood interests to create a sweet walkway with your favorite planting.
What can you use instead of trellis?
'Trellis serves an important function in the garden and they can be completely utilitarian or they can be a work of art. The best part is that there are cheaper alternatives, such as a wooden ladder, which can add some unique charm to your garden. When using a ladder instead, make sure that the feet are planted into the ground a bit. Once it has foliage on it, it tends to catch the wind and it could rip the plant up by the roots if you aren't careful.
Alternatively, you could use pallets that are inexpensive and you can sometimes find lying around for free. Staked into the ground with a 2×4 or made into a triangle, they make a great trellis for your shorter growing vines. Just be sure the pallets you use are heat treated and not chemically treated so your harvests are contaminated.
Trellis, you gotta love it 🙌