Front garden ideas don't have to be an afterthought: after all, you see your front garden every day, and so do neighbours and visitors. With just a few plant pots, strategically positioned lights, and a bit of good maintenance, you can transform your front garden into a beautiful and inviting space.
So it's worth spending some time updating your front garden. Think about the following key areas to create a successful front garden design scheme that won't require much maintenance post-project.
Find out more garden ideas at our hub page.
1. Keep the route to the front door simple
Not all front garden design ideas need to be overly complicated. And an easy-to-navigate route to the front door is essential, so avoid fussy arcs or curves in your design for the best results. You will find that visitors will cut corners and might trample your plants in the process if presented with a winding path. Go for a wide design with borders either side; geraniums or lavender are good, low-maintenance options, but best placed alongside a wider path as they can be unpleasant to brush against in wet weather. A firm footing is also necessary, so flagstones, rectangular cobbles, setts, non-slip tiles or authentic-looking imitation stone are best.
Find out more about designing a garden path in our guide.
2. Choose big plant pots to create an impactful look
Even if your front garden is small, it pays to use the biggest plant pots you can find if you want to create a smart, confident front garden design. You can mix and match square and round shapes, but if there's anywhere on your property that's perfectly suited to specimen plants or even trees, it's the front garden.
Browse the best small garden trees in our guide.
3. Choose sympathetic materials for the path
Complement your house in by linking it visually with the front garden path – neutral materials work best. Natural sandstone flags or original encaustic tiles (above) go with period properties, blue-black slate works well with slate roofs, while York stone or dark grey granite setts marry well with houses made of red brick (try CED Stone or Bradstone at Simply Paving for paving ideas). For seaside homes, consider a pebble path (below).
Brick set in a herringbone pattern is perfect for country cottages (below). Cheaper options are gravel, or bark chips if your budget is tight. Poured concrete paths are unimaginative – so avoid them, as it will look as though the pavement runs right up to your front door.
Into DIY? Find out how to lay a gravel path and how to lay a herringbone path in our step by step guides.
4. Highlight your front door
To direct visitors to your door, don't hide your entrance – make it obvious, especially if there's more than one way into your home. Place containers either side of the front door or go for topiary or box plants to add a formal note to your garden scheme whilst climbers, such as jasmine and honeysuckle, draped over a porch work well, providing colour and a welcoming fragrance.
Be inspired by these traditional front door design ideas to get your transformation kickstarted.
5. Hide the bins in a bin shed
This is another one of those things you could take with you when you move – although most buyers would assume it would be left behind and would want to keep it. Bin stores are an easy fix to hide away ugly wheelie bins, plus you can paint them to blend away into the greenery – choose a dark matt grey, black or green, ideally. And easy front garden idea that considerably improves your kerb appeal.
See all the bin stores at Primrose.
6. Pay attention to paintwork in a small front garden
Small front garden ideas aren't just about pretty planting: maintenance is massively important, and the easiest repair jobs you can do are to paintwork. So, get fences, front doors, and the windowsills either cleaned up – or give them that new coat of paint they've been needing for a while. Don't forget that the colour you paint your front door could have a positive or negative effect, too. Steer clear of anything too bold or left field and go for easy-to-live with colours like blue, black or white to be on the safe side.
7. Paint your front gate an inviting colour
Painting a garden gate in a bright and playful colour is a simple way to bring life into your front garden. It makes for a cheap update, too. Using a bold colour is one of the easiest ways to nicely interrupt a pared back garden design that deserves a bit more oomph – and you can match it to your planting to create a coordinated feel.
8. Choose cost-effective gravel to cover ugly surfaces
Permeable gravel is an ideal alternative to solid paving and worth considering as part of your front garden design. Not only does it let water drain through, it is easier to maintain than a tiny front lawn that is a pain to mow. It presents opportunities to grow attractive but easy-care shrubs and perennials, acting as a foil to the flowers and foliage, while helping to reduce weeds.
Although a relatively cheap option, do consider the cost of edging the perimeter and the required foundations. Ask a landscape contractor to help with the design, which will ensure the best placement of the gravelled area. Paving laid outside the front door will help stop the stones being dragged indoors and will also emphasise the entrance. Another advantage of gravel is that it crunches underfoot – a simple but effective security measure.
Choose the best gravel for your garden with the help of our guide.
9. Parking or garden?
How much room do you need for manoeuvring and parking? Sometimes there's space for six cars, when you have only two. A combination of materials for different functions – paving for people and gravel for the car – stops the car from being the focus of the front garden and breaks up the space, creating more interest. Delineate these areas with different textures, patterns or colours that work together.
For driveways, steer away from tarmac and concrete block paving to avoid it looking like a car park. Gravel is a good alternative but it needs a sub-base laid by professionals. Make sure there's a lip around the area to stop the gravel from spreading where it's not supposed to go.
As crazy paving is dated, you might want to dig the whole lot up – but this is a job for a contractor, and it's expensive to do and to replace. Exercise some ingenuity and ask the contractor to cut out some borders and large beds with a special stone saw, leaving the parking area and path as they are. Once it's all done, dig over the old soil and add lots of good compost to create new planting areas – it's hard work but worth it to see some green in your garden again.
By law, impermeable materials like natural stone and concrete must be angled so that rainwater is directed to a lawn, border or garden drain. If you're using impermeable paving on an area that's bigger than 5m² you'll need to get planning permission.
Ask paving suppliers for advice or use a BALI (British Association of Landscape Industries) approved contractor. New drop kerbs also need planning permission as the pavement may have to be strengthened to protect underground gas and water pipes.
Find out how to plan and design a driveway in our guide.
10. Choose a planting structure for year round interest
Topiary and the front garden are made for each other and suit both town and country gardens alike. Tiny city front gardens with nothing but topiary – a collection of clipped box balls, cones and spirals – look smart by day but quite magical when lit up at night – see below for a modest but achievable design.
Even just a few well shaped shrubs and conifers in your front garden will instantly elevate the front garden design – and they also look great decorated with fairy lights around Christmas.
Knot gardens (formal, square-framed designs) with box, yew or small-leaved privet planted closely together and kept trimmed can also be filled with dwarf lavenders and herbs or scented summer flowers.
A good structure of evergreen grasses, perennials or shrubs is important, as are long-flowering plants such as Verbena bonariensis, Japanese anemone, catmint, astrantia and geraniums. As it's on the front façade, any planting design needs to look good in all seasons.
Break up the garden path, too, with low planting, such as camomile (below).
Don't forget trees. An ornamental cherry tree or small crab apple tree acts as a good focal point when planted in the centre of a front garden. Avoid weeping willows, though, or anything else that's going to grow too big, such as pampas grass.
For a small space, add colour to walls and fences with evergreen climbers such as Clematis armandii and star jasmine for sunny spots, and climbing hydrangea for shaded areas. Ivy is particularly useful on walls and provides nectar for bees at the end of the summer – just don't allow it to grow up walls in need of repair, because its aerial roots only exacerbate existing problems.
Check out our top tips for how to make a small garden look bigger (and better).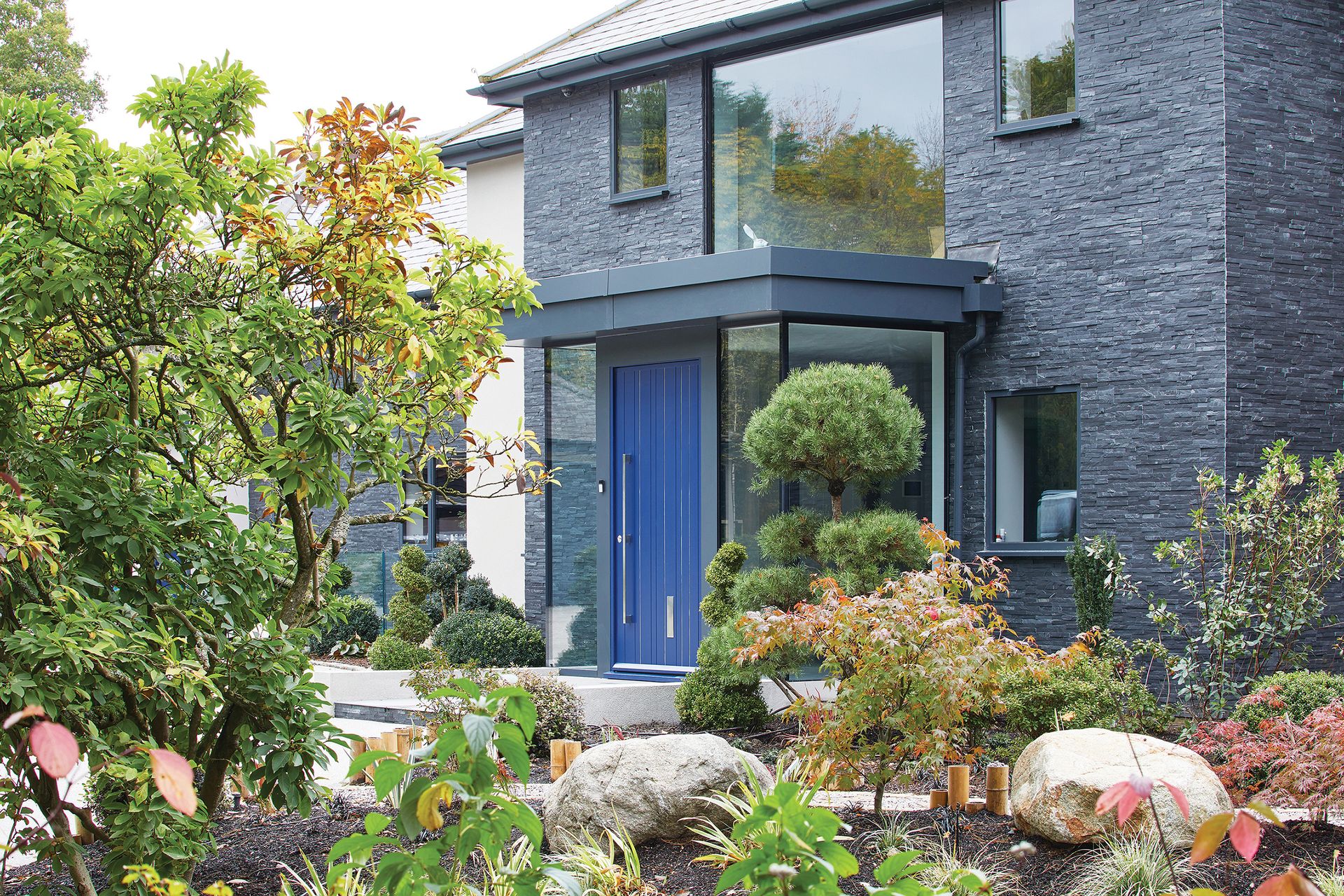 11. Pick a front garden colour scheme
Choosing a planting scheme that's unified in a front garden will make for a smart finish. For ease of maintenance, find plants that will come back stronger every year with very little maintenance, such as tulips (above), and ones that will give off a scent, such as lavender (below), as you and your visitors brush past.
Find out more about choosing a colour scheme for your garden in our guide.
12. Consider front garden security
An open aspect is essential as tall plants create opportunities for burglars to hide behind, so consider their eventual mature size when selecting which types to include – if some privacy is important, alternate tall trees and plants such as conifers and large shrubs with smaller ones. This works better than creating a 'wall' of foliage and adds visual interest throughout the year, without restricting light.
You may want to fill your garden with plants, but avoid planting large specimens directly in front of windows, other than low-growing, prickly-leaved plants that act as a deterrent to burglars. Keep hedges low with spiky osmanthus or holly – but don't use leylandii because of their expansive roots and their potential to damage foundations and cause subsidence.
Consider using gravel as a security feature, as well as a means of low maintenance drainage. The simple fact that gravel is impossible to walk on quietly will keep burglars at bay.
Investing in front garden feature lighting will not only give you a chance to appreciate the space at night and create visual interest with shadows and texture, but will also deter burglars by increasing visibility. Use triggered lighting with a motion sensor, or line walkways or steps with bollards.
Find garden lighting ideas in our gallery.
13. Recycle containers for floral displays
This is a great budget-friendly tip for if your front garden is so small that you don't have a lot of soil to plant in. Recycling old metal pots or barrels, to use as outdoor containers for cut plants and foliage, is a lovely way to add more greenery using what you have. Plus, you can change up your display regularly to keep it looking even more fresh.
For tips on container gardening, be sure to check out our feature.
14. Add height with hanging pots
A modern take on hanging baskets, hanging pots can bring cool character to a front garden, and will instantly add height to help draw the eye up and enhance a small space too. For even more added interest, cluster a few together with a variety of foliage for more texture and colour.
15. Liven up the front garden during the dark months
Whether it's decorating with pumpkins for Halloween, or with ducklings or reindeer for Christmas, there are plenty of opportunities to cheer up the front garden as the nights draw in. You can, of course, go all-out on fairy lights all along the perimeter of your house, but there are plenty of front garden decorations out there that will add a glow without being overpowering.
Read more: