A balcony garden is a must if you live in an urban, small space setting but still like to stay connected to nature. Growing and keeping plants on your balcony will not just enhance your view from the inside but it will also give this easily forgotten or lesser used spot of your apartment a real sense of purpose.
As when starting a garden in a yard, you'll need to assess your space to help figure out what plants you can actually keep on your balcony. From growing florals and vegetables to herbs and more tropical picks, there are lots of ways to plant up and arrange your balcony garden for success.
1. Start by assessing your space and sunlight levels
First off, you need to be realistic with your space and climate, assessing all the factors required to ensure healthy plant growth. Measure the hours of sun your balcony gets, how much room you have for containers and planters plus, how much protection your plants will have from the elements. This will help you arrange your balcony garden to maximize the growth of your plants.
Matthew Geldin, Head Farmer at Farmscape says 'You can definitely grow vegetables on a balcony. It's best if your balcony is south-facing, or gets at least 6-8+ hours of sunlight. You can use a light meter or an app like Sunseeker to check your sun exposure. This will ensure your plants mature fully and produce nice quality vegetables, as well as reduce pest issues from bugs that pounce on weak, sun-starved plants.'
A simple way is to use a sunlight calculator for gardeners like the Luster Leaf 1875 Rapitest Suncalc Sunlight Calculator from Amazon that measures the amount of light accumulated in a particular location. You can then choose plants that will thrive in Full Sun, Partial Sun, Partial Shade or Full Shade.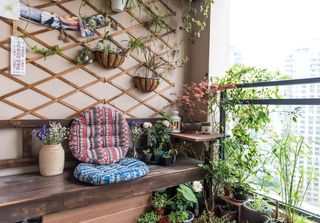 Jack Sutcliffe, co-founder of Power Sheds, further comments: 'There is no right or wrong answer when it comes to arranging your balcony garden, a lot of it depends on the size of the space available and what you hope to achieve. But there are some things you should consider when creating your outdoor oasis. Firstly, you should think about the weather conditions and plant according to sunlight. You should position your plants where they're going to get the most sun, and if your balcony is high up, you should try and find sheltered areas to protect your plants from harsh winds.'
2. Plant for survival
It's easy to pick plants you love but to avoid disappointment, let the sun and space influence your final decisions, you won't regret it.
Sutcliffe comments: 'What plants you choose to put on your balcony also depends on the space you have available. You should first consider the direction your balcony faces and buy plants based on how much sun they can expect throughout the day. Just like your balcony arrangement, you should also consider the conditions on your balcony, if it's going to be windy, you can take inspiration from plants that thrive in blustery gardens. Creating your own shelter is also an option though, if you have your heart set on less robust plants.'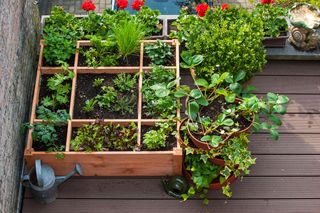 'Herbs are a brilliant option for balconies, they bring a fresh, aromatic smell and are relatively small, making them well suited to containers or small pots. Bedding plants also thrive on balconies, you can put out a combination and create a stunning display. If your balcony is in the sun, consider zinnias, pelargoniums and coleus, and for shades outdoor spaces, begonias and nicotianas will enjoy these conditions. If you want to grow something for your kitchen, tomatoes and strawberries are versatile fruits that can be planted in pots or hanging baskets.' Continues Sutcliffe.
3. Choose fruit and veg with a tidier growth habit
If you want your balcony garden to mainly grow vegetables, rest assured that it is totally possible. Beginner gardener or not, for a better success rate, choose varieties that suit your balcony space and growing conditions. As tempting as it is to go overboard, resist!
Geldin says that if you are working with a small balcony, you are better off choosing dwarf varieties or veg and plants that naturally take up less room. 'The easiest vegetables to grow on a balcony tend to have an upright, tidier and smaller growth habit, as well as smaller fruit. It's also best to choose determinate varieties as these tend to be more compact. Balconies with gates or fences can support vining vegetables, but I would not recommend those as vining plants can quickly become unwieldy in small spaces.'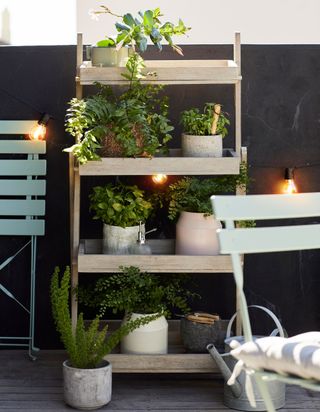 4. Pick the right plants for pots
'Tomatoes are one of the easiest vegetables to grow in containers and will thrive as long as they have five to six hours of sunlight per day. If you have limited space, try dwarf or cherry tomatoes.
Peppers can also easily be grown in containers. They will require a deep pot, at least one foot deep. If you have a container that is deep enough to support their long taproots, short carrots can also be grown on a balcony. Avoid overwatering and keep the foliage dry to avoid issues with mildew. Finally, peas are another great vegetable suitable for container gardening. I recommend using dwarf and bush varieties if you are limited on space. Moist soil and cool weather are best for peas.' Says Sutcliffe.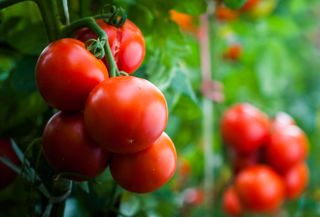 'Cherry tomatoes and saladette varieties like 'Patio' are well suited to pots. Hot peppers like 'Thai' or Habanero are compact growers, as are 'Lunchbox' if you prefer a mild sweet pepper. 'Fairy Tale' Eggplants have small striped fruit and are very ornamental. Soft herbs like parsley and basil are also great.' Geldin continues.
'Hardy herbs are great plants for balcony pots, as they can typically thrive in a wide range of conditions. Many are Mediterranean in origin and don't like to have "wet feet", so they will still be healthy even if the pots get a little dry– just don't let them go too long without a good drink of water.'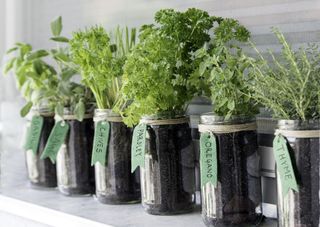 5. Go big where you can
'I also recommend using large pots, 18" diameter and height would be ideal for most fruiting crops. Small pots can stress plants because they are prone to drying out too quickly. As the plants mature, their roots will take up more and more space in the pot, reducing the water-holding capacity of the soil, at the same time that the maturing plant needs more water.' Comments Geldin.
'Planting balcony gardens can also be more complicated because there is no soil to directly plant into, pick a dedicated spot for an oversized planter and add some charm and personality to your balcony.' Adds Sutcliffe.
6. Let hardy plants live on the wall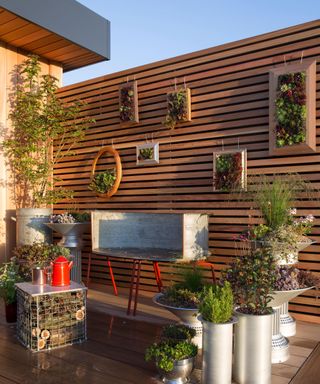 Sure, a balcony garden more often than not, relies on growing in containers, but that's not to say that you are limited to only using your floor space – far from it.
As when working with all manner of smaller or awkwardly shaped outdoor spaces, getting creative is the key to maxing out square footage. Look at bare walls and see where you can add trellis or DIY shelves for a stretched display. Note however that these plants will be more exposed to wind, rain and intense sun so opt for succulents and hardier plant varieties that can withstand a quick change in climate.
7. Be conscious of maintenance
A balcony garden is more compact by nature and should be maintained slightly differently to when growing plants and vegetables in regular garden beds.
'Potted plants also need to be fertilized throughout the season to ensure there are enough nutrients for good quality vegetables. Fertilizer sticks or spikes are a mess-free way to feed your vegetables without stinking up your balcony with fish fertilizer.' Says Geldin. Also remember that in high winds, bring less hardy plants in for protection, this is one of the bonuses of planting in pots.
8. Enhance your balcony garden with furnishings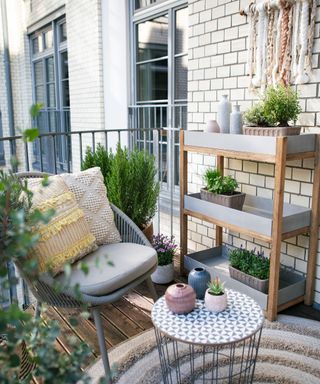 If you don't have heaps of room choose a potting table or shelves similar to the above from Wayfair, there are lots of different outdoor shelves to choose from that will let you make use of vertical space.
'Finally, if you've got the space, choose some stylish outdoor furniture to be the centrepiece for your balcony garden, providing the perfect place for a morning coffee when the weather is nice.' Adds Sutcliffe.
9. Bring select houseplants out for summer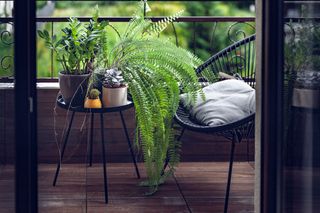 If you want to be a seasoned balcony gardener, why not pick summertime as your month and bring your houseplants outside? You'll need to ensure the weather conditions are right and that you acclimatize them properly but once they are all out there, you'll have a gorgeous, tropical outdoor display.
Top tips for balcony gardening
'Balcony gardens can add a touch of greenery to a modern concrete jungle,' says Guy Barter, chief horticulturalist, RHS.
'From bringing a touch of nature to your environment, providing an opportunity to relax in an additional space, filtering the air, giving wildlife a chance to thrive and giving you the opportunity to enjoy gardening whatever space you have, the small balcony should never be overlooked.'
We spoke to Barter at Chelsea Flower Show where he shared his top tips:
Check the weight loading of your balcony - this is usually calculated at around 70kg per m2 (dependent on age, construction etc.) including containers, chairs and people
Use big containers where dryness and breezes are expected. These will dry out more slowly and be less stressful for plants
Choose drought-resistant plants such as succulents, grey-leaved plants such as lavenders, and hardy palms and dwarf conifers for sunny spots
Remember that your container will need watering in winter as well as summer particularly in windy situations
Peat-free potting media with added loam are likely to be better suited to long-term plants than other media
Consider an automatic irrigation system, especially where small containers must be used, set this to deliver the bare minimum of water, topping up by hand if needed
Feed pots with liquid fertilizer such as seaweed fertilizer every week in summer
Alternatively, add controlled release fertilizer each spring to feed plants all summer
In winter, repot if required, or replace the top 5cm of potting media with fresh material each year
When plants get rootbound and a larger pot is impractical simply repot, in winter, in the same pot replacing 25% of the soil and roots with fresh potting media.
How do you make a balcony look like a garden?
If you want that real garden feel, consider DIYing some raised beds so that you can make them bespoke to the space you have and to the plants that you want to grow.
You want to use all the pockets of space you have to plant out your balcony and then you have the option to weave in more decorative balcony detail around any greenery to still keep your balcony a cool hangout space.
What plants can be grown on a balcony?
'Balconies are great for growing vegetables because it's easy to pick them fresh when you want to use them, and you can bring them indoors if the weather gets too cold. With the right conditions and care, just about every vegetable you can grow in your garden can also be grown on your balcony.' Says Geldin. Here are a few favorites that do well in containers on balconies:
Tomatoes: cherry tomatoes
Peppers: small hot pepper varieties also
Short carrots
Peas
Strawberries
Fairy Tale' Eggplants
Balconies as mentioned, make ideal spots for herb gardens, consider the following depending on your climate:
Parsley
Basil
Rosemary
Thyme
Dill
If you want to incorporate more garden plants into your balcony, try the following varieties for north-facing, full sun balconies:
Zinnias
Pelargoniums
Coleus
Diamond Frost Euphorbia
Succulents
These shade plants will do better in north-facing balcony garden spots:
Begonias
Nicotianas
Hydrangea
Ferns
Ivy