A North-facing garden isn't many people's top choice. A plot with this aspect will have areas of shade for much of the day, as the house blocks the sun. You'll have to be selective about what you plant, too.
But there are benefits as well as downsides to being the owner or keeper of a north-facing garden, and you can still create a gorgeous planting scheme. Evening sun could also be yours for much of the year, too.
If you're planning a garden design from scratch, then it's worth getting clued up about north-facing gardens.
We spoke with Chris Bonnett from Gardening Express also about the best way to approach a North-facing garden space, 'Gardens that face north in the UK will enjoy sun on their left side in the mornings and to their right in the evenings. During the rest of the day, North-facing gardens tend to have areas that spend large amounts of time shrouded in shade. South facing gardens are usually more desirable for homeowners, as they get fully soaked in the sun, but gardens facing the north have plenty of redeeming features.'
Yep, you read that right. We know south-facing gardens are the ones estate agents boast about in home particulars, and it's true that there are plenty of great things about them. However, don't despair of your North-facing plot just yet.
First, the verification. To ascertain whether your garden is North-facing, stand by the back wall of the house with your phone's compass or another compass to the ready. North directly ahead of you? That's a North-facing garden alright.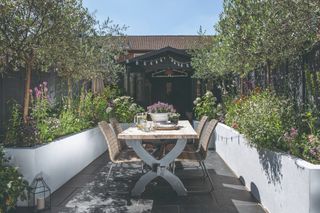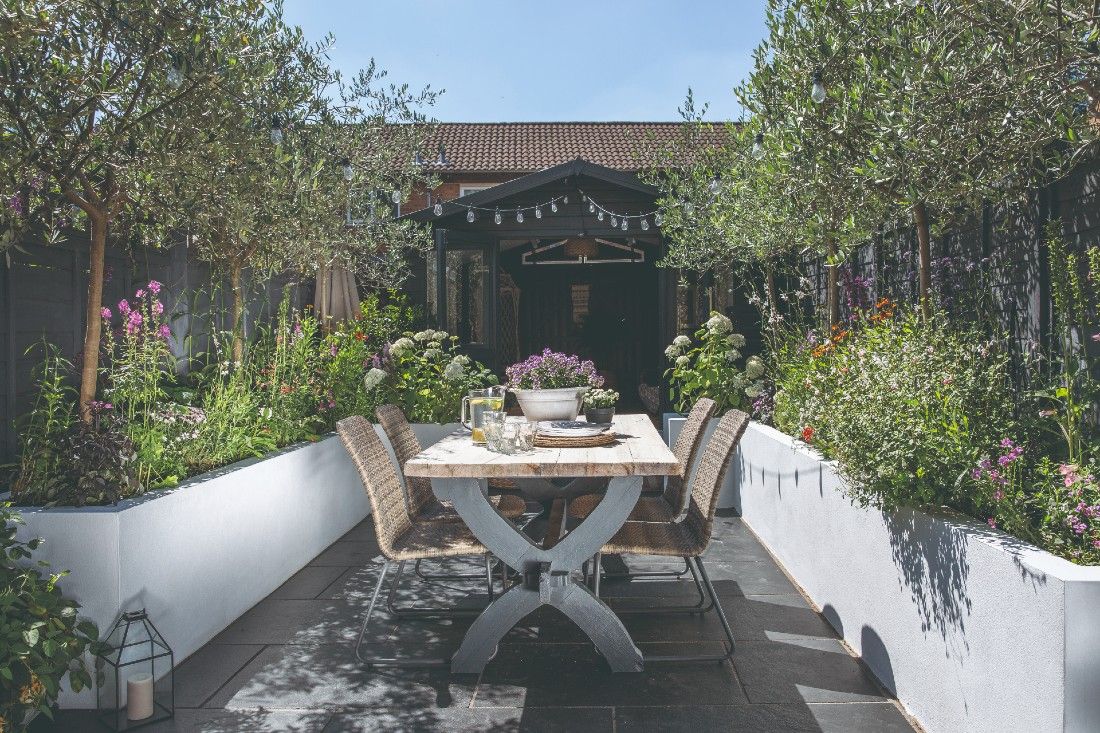 Best North-facing garden plants
Think shade plants that thrive in low-light and cooler conditions for a North-facing garden to create a plot full of interest. Flowers such as snowdrop, snake's head fritillary, lily of the valley, dog's tooth violet, begonia, dicentra and hellebore will bring you a garden filled with blooms.
For fabulous foliage, go for hostas and ferns, along with sweet box, which is an evergreen shrub, and has wonderful sweet-smelling flowers in the winter. For walls, try variegated ivy for an attractive display.
There are also lots of vegetables you can grow in a North-facing garden. Try lettuce and rocket as well as kale. You could also grow oregano, mint and chives in a plot like this and flavour recipes freshly.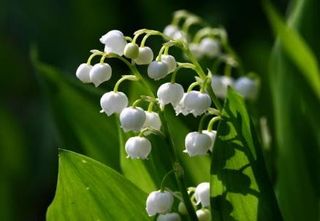 Advantages of a north-facing garden
Long evening sun: Having established that you have a North-facing garden, be pleased that one of these does mean your garden has the potential to get a fair amount of evening sun from May through to October. Hurrah!
Planting perks of shade: Even plants that really do love the heat, will enjoy some midday shade. And, when it comes to the planting, there are many wonderful shade plants that like dappled sunlight, making a North-facing garden a plus. Think woodland plants for inspiration.
Makes the most of awkward designs: If the garden is long – a shape that's common for many town gardens and often considered awkward to design – this could actually prove a boon. Why? Well the bottom of a long north-facing garden can be sunny while the rest of it is in shade in the summer months. If this is the case, you'll want to design a seating area for the end of the garden rather than leaving it as an outpost of the space you don't use for anything but your homemade compost heap.
Natural sun protection for you: Perhaps you don't like sitting in the sun? In this case, a north-facing garden could be your preference, allowing you to spend time outdoors comfortably when temperatures sky-rocket. Bonnet adds also how 'The more sensitive skinned gardeners amongst us will find it a lot easier to get work done outside, without the constant need to be topping up the factor 50. This means less sweating and cooler climates to do your digging in.'
Natural sun protection for garden furniture: 'The lack of light glaring down on the garden will protect garden furniture from the bleaching effects bright sun has on coloured fabrics. This means that seat covers will have to be replaced less frequently.
Less damaging fluctuations in temperature: It's also worth knowing that a north-facing garden won't experience such extremes of temperature, either high or low, as other plots.
More entertainment space: A final bonus of a North-facing garden? You might have plans for an outdoor kitchen and one of these shouldn't be positioned in full sun, making your plot a possible site for one of these much-desired garden features.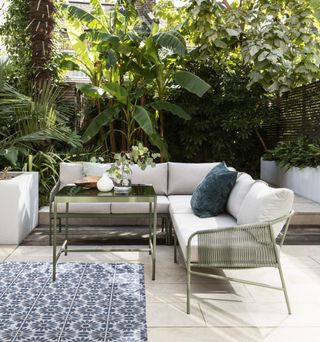 Disadvantages of a North-facing garden
Cool spells: We've already mentioned that there will be cooler spots in your shade garden space over much of the day. For fans of sitting out in the heat, the fact that the garden will be cooler and only warm up later in the season isn't ideal.
Moss growth: You're likely to have to spend more time removing moss and other growth from a deck or patio in a North-facing garden. Our advice? Keep up with removal of leaves and debris from these surfaces as they provide the damp and dark conditions that allows this unwanted growth to thrive – especially in a shady area.
Planting limitations: The other drawback is when you think about the planting. Sadly, it is the case that you're going to encounter limits on what will grow well in a North-facing garden. You won't be able to go for those plants that love full sun and warmer temperatures, for example, which might mean abandoning ideas of planting some of your favorites.
Green lawns: 'A fully green grass lawn might not fare so well in the North-facing garden's shade, so it is worth investing in greenery that enjoys low light, gravel and paving stones.' Suggests Bonnet.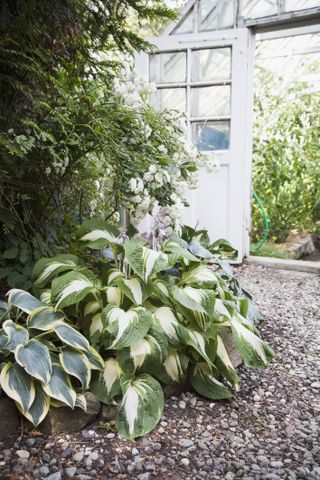 What about gardens that don't face directly north?
A garden certainly won't necessarily have a direct north aspect, and yours might face the North-east or North-west instead, so what's the effect?
If your garden faces North-east, when the sun rises in the morning, the garden will get sunlight. The bottom of the garden could get sunlight in the summer as well, if the length of the plot is sufficient.
A garden that faces North-west could benefit from evening sunlight, and this might well be the time your plot sees the most use from day to day.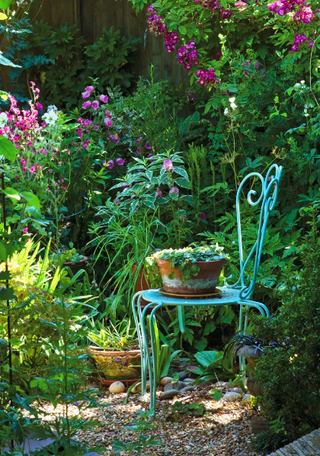 Time to enjoy the hazy shade 🙌