There is no other flower that has received more attention from gardeners through the ages than the rose, regardless of whether your garden has a traditional or contemporary design. You can incorporate these 'queen of flowers' into your garden whatever its size or style. Roses are also perfect for creating a quintessential romantic English rose garden.
Gather inspiration from garden visiting or books to decide how you would like to include roses – as part of a cottage garden style, in formal beds, draped over a wall, or in a container garden on a patio.
Thinking of incorporating a rose garden into a new garden design? Find out how to plan, design and cost your garden transformation.
Planning a rose garden
Creating a beautiful rose garden scene needs careful planning. Begin by assessing your garden's micro-climates and conditions.
Decide colours and style of flowers to suit your taste, the style of your house and garden, the conditions, and what effect you are aiming to create. Ideally try to see roses in bloom by visiting specialist nurseries and rose gardens during the flowering season.
Whether you want to add some roses to your existing garden or start a garden from scratch, sketching out a diagram is helpful, as is deciding whether you want roses on their own or mixed with herbaceous plants or shrubs.
Roses will grow in most well-drained soils, but incorporate some well-rotted compost or manure before planting. The majority are fully hardy and prefer a sunny position – although will do well if they get five or six hours of sun a day and are placed in an open position. Some grow in shade, so they can be selected for different situations.
The most economical way to grow roses is to plant bare-root plants from late autumn to early spring. Water well until established and feed often in spring, followed by mulching with organic matter to retain moisture and suppress weeds – but not close to the stems.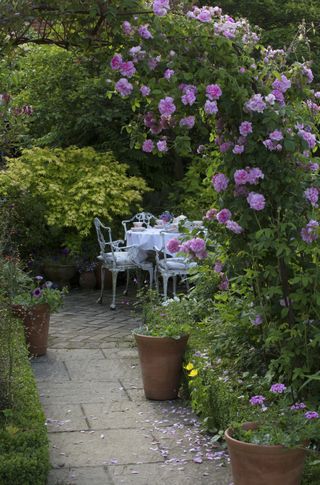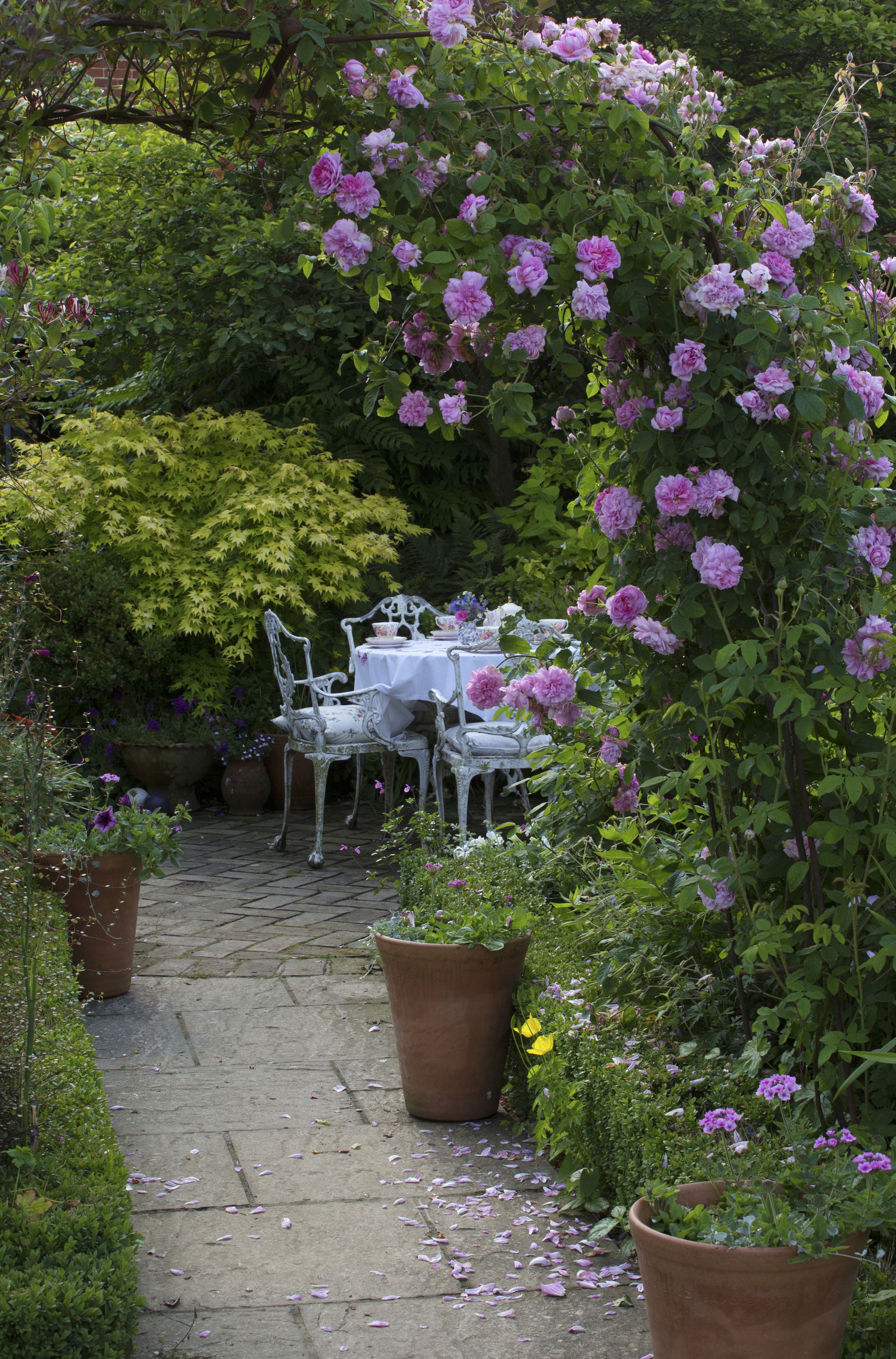 Formal rose garden design
For a formal rose garden, design a series of beds and interesting paths; keep in mind that more beds mean more maintenance. Plan a geometric layout of square, rectangular or round beds, but keep the design simpler for smaller spaces. You could enclose your roses with low, neatly clipped hedges of box, myrtle or privet, which will hide the bare earth and lead the eye straight to the flowers.
Shrub and modern roses are ideal choices, as are standard roses. For a strictly formal garden design include roses alone, carefully positioned, planted quite close together and mulched, then trained and trimmed to conform to the design.
For a more casual touch, underplant roses with a controlled colour scheme of shallow-rooted annuals, perennials or tiny bulbs. If the plants chosen are lower than the rose bushes, their roots will not compete, and the formal look won't get lost amid a tangle of growth.
A fringe of lavender as hedging or as a ribbon of colour inside the low hedges also softens the rigidity and could be echoed by planting around a central focal point.
Use our guide to choosing plants for your garden to get more advice.
Topiary is another perfect companion and will provide structure when the roses aren't in flower. An elegant focal point of an urn, statuary or a water feature will complete the scene. Large pots of standard roses could punctuate each bed or be placed at regular intervals along the framework.
To add an element of height, include climbers, arbours, pillars or tunnels, and position seating to enjoy the scene through summer. Read our guide to creating a vertical garden for more design advice.
Rose groups
Roses derive from around 100 species, with thousands of cultivars now to choose from. The array on offer can get a little complicated and bewildering, so think of roses in three main groups:
Species or wild roses – mostly single flowered that like to sprawl in a natural style, many have colourful hips in autumn; includes rugosa, glauca, moyesii and canina.
Old Garden Roses – dating from before the 1860s, these large graceful shrubs with mostly one flowering are richly fragrant; includes alba, gallica, damask, cabbage and moss roses.
Modern Roses – bred from the early 20th century, these repeat-flowering varieties include floribundas, hybrid teas, landscape, climbers, miniature and David Austin English roses, which combine flower and fragrance of old roses with wider colours and repeat flowering of the new.
Informal rose garden schemes
If you'd like to mix roses in borders and beds for an informal, eco-friendly garden style, interplant with low shrubs, bulbs, climbers, annuals and perennials that like the same amount of sun and water.
Consider the colours, textures and shape combinations and ensure there is still good air circulation around the roses. The trick is to plan a succession of interest from flowers and foliage.
The most romantic roses are ones with a wild habit and there is an array of cupped, fragrant old-fashioned-looking options, many of which are actually modern, such as the English roses. Rather than being tightly pruned, they are allowed to grow into larger, more natural shapes. Complete the look with ramblers, which flower once, or repeat-flowering climbers on supports or arbours.
Rose care and maintenance
A good mix of flowering shrubs, trees, perennials, annuals and bulbs alongside roses ensures that insect pests and rose diseases do not have as many host plants. Good companion plants include peony, forget-me-nots, bearded iris, foxglove, nepeta, phlox, poppy, clarkia, lavender, and ornamental grasses. Feverfew draws aphids, marigolds and chives repel pests and insects, and garlic protects from pests and helps prevent fungal diseases.
Be vigilant with your maintenance. Tidy up any fallen leaves and keep your roses well fed and pruned to help them bloom to their best – use our garden maintenance checklist for more handy tips.
Don't plant where roses have been before to prevent replant disease. If you have to spray there are organic options for aphids and thrips, but for some conditions you may need chemical sprays.
Roses are easy to look after; they need fertiliser in spring and summer, watering when it's dry and pruning in late winter. Deadhead flowers unless they produce rose hips, and for pruning advice refer to the RHS website, which lists the steps for different types of roses. Ensure your secateurs are sharp so that they won't tear or harm the plant. As a general rule, prune established roses early February, climbing roses after flowering, and a midsummer tidy-up will help reinvigorate tired roses and encourage a second flush in autumn with repeat bloomers.
12 recommended roses
'American Pillar' – A very hardy, vigorous long-lived climbing rambler that is fast growing with glossy foliage. It blooms once spectacularly with dense sprays of flowers in midsummer, is best grown in full sun but tolerates some shade and is drought resistant. It has little fragrance, but it is a good choice for walls, arbours, or other structures -grow on its own or it will smother other climbers.
'Darcey Bussell' – A David Austin English shrub rose which is repeat-flowering with a fruity fragrance. With compact growth it is lovely in the border, in a dedicated rose garden, for hedging or in containers. The richly crimson full blooms look lovely with mauve nepeta and lime green Alchemilla mollis.
'Constance Spry' – This beautiful rose was the first of David Austin's and introduced the myrrh fragrance to the English roses. Flowers once in early summer and has strong growth. It can be grown as a climber with easy to train flexible canes, making it ideal for fences, walls, trellises and pergolas. It is best in full sun but tolerates some shade.
'Just Joey' – An elegant, continuously flowering hybrid tea with large fragrant blooms of ruffled petals. Disease resistant and with attractive mahogany-tinted foliage, its compact habit makes it ideal as a border plant, massed together and in containers, while the blooms make good cut flowers as well. Ensure that it gets plenty of sunlight.
'Nevada' – Creamy white semi-double blooms, which open fully to show their deep yellow stamens, smother this shrub rose early in the season, and then it flowers intermittently through summer with showy red or purple fruits in autumn. Grows best in full sun and is tolerant of poor soils.
'Peace' – The classic hybrid tea known for its sweetly scented pink-flushed yellow double blooms, from late spring to autumn. It is healthy, vigorous and makes excellent cut flowers. Grow with other hybrid teas or at the back of a border
'Graham Thomas' – A strong, vigorous David Austin English shrub rose with perfumed yellow cup-shaped blooms, which flowers almost continually through summer into autumn. Plant in groups to form a large bush in the border, or it is also available as a climbing rose. Voted the world's favourite rose.
'Rambling Rector' – An abundantly flowering rambler with a delicious fragrance from the sprays of small semi-double flowers that make a magnificent sight, then followed by masses of red hips in autumn. This is one for a large space, scrambling up a tree or on a strong support. The plant prefers full sun but will tolerate some shade.
'Gertrude Jekyll' – Twice voted the nation's favourite rose for its abundant rich pink rosette blooms and old rose fragrance, it is repeat-flowering, very healthy and reliable. It grows in sun or part shade and looks pretty planted among billowing perennials.
'Twist' – A patio climber with a blaze of small delicately scented flowers through the season and dark green foliage. It is ideal for a large container or small garden and has excellent disease resistance. Reaches a height of 1.5m. Grow in a sheltered, sunny spot. Underplanting suggestions include tiny white alyssum, viola and calibrachoa.
'Rosa Mundi' – An old rose with a delicious old world fragrance that is a mutation of gallica, and because of its natural disease resistance it has lasted well through the centuries. It makes a stunning sight at the height of summer with its distinctive flowers and makes a pretty informal hedge.
'Coral Flower Carpet' – One of the best ground cover ranges with clusters of repeat flowering blooms. Disease resistant and easy to maintain – just shear back by one third in early spring. Drought and low-water tolerant. Once established they can provide up to two thousand flowers from late spring to autumn.
Rose gardens to visit
Mottisfont Abbey – walled rose garden with one of the best old rose National Collections. Romsey, Hampshire SO51 0LP.
David Austin Roses – display garden with the largest collection of David Austin roses, and plant centre. Albrighton, Wolverhampton WV7 3HB.
Coughton Court – rose labyrinth with 200 varieties. Alcester B49 5JA, Warwickshire.
Sissinghurst Castle – famous white garden with roses and herbaceous. Cranbrook, Kent TN17 2AB.
RHS Garden – modern roses in the Queen Mother's garden. Rosemoor, Torrington, Devon EX38 8PH.
Read more: