Bedroom storage ideas do not have to be purely functional – in fact, we are of the belief that bedroom storage furniture can be as stylish as it practical. But where do you start hunting down the best and beautiful storage for your space? There are so many options out there, different sizes, styles and budgets...
Well might we recommend right here – we have covered everything you need to turn your bedroom from a cluttered mess to the ultimate space for relaxation. And small bedroom dweller we have you covered too with loads of storage ideas for small bedrooms.
So just keep on scrolling for plenty of quick, affordable ways to add a ton of storage to your bedroom. And for loads more bedroom ideas, head over to our gallery.
How do you choose the best bedroom storage?
The type and amount of bedroom storage you need completely depends on what kind of items you need to store and how much space is available. Most of us need some sort of clothes' storage, which may be in the form of drawers, wardrobes, rails or even under-bed storage boxes. You may also be looking for a bedside table or other ways to store things like books, glasses or chargers that you will want near the bed.
Finally, don't forget miscellaneous items that don't have a home elsewhere, or bedlinen and out-of-season clothes that might be best stored in an ottoman at the end of the bed.
Before you buy your bedroom storage solutions, start by having a big clear out and sending unwanted items and unworn clothes to the charity shop – because that old saying 'less is more' really counts, especially if you are looking for storage for a small bedroom.
1. Use the walls for recessed shelves
If you are making structural changes as part of your bedroom makeover, take the opportunity to add some clever recessed shelves. A carpenter or builder can accommodate these when building stud walls. In a large master suite, you could even build a stud wall to help zone the space and add storage in the process.
They can be designed to fit exactly what you want to store in them, be it storage for jewelry, ornaments or extra book storage ideas. They can be finished with plaster, or if you need something more hardwearing, consider adding a wooden sill.
2. Build your own bed and bedroom storage combo
Bunk beds make the most of space in a kid's room, whether they share with a sibling or just need a place for friends to stay. So, why not get custom-made, built-in bunks that incorporate plenty of bedroom storage? This involves creating an alcove and using the end walls for shelving or cupboards.
For even more storage, fit drawers under the lower bunk and recess some shelves at the head or foot or each bed. See more storage bed ideas in our feature.
3. Opt for a fitted wardrobe for plenty of bedroom storage
Whether in your main bedroom or as part of a dedicated dressing room or walk-in wardrobe, a fitted wardrobe will maximize the storage potential of any room. With no end of design options, these bedroom storage solutions are not only great for clothes but also the miscellaneous items that don't really belong anywhere else. Some can even be designed with a fold-out ironing station for last minute de-creasing. For more dressing room ideas check out our feature.
Before talking to a furniture designer, decide how much space you need for hanging. The rest of the space can be a combination of drawers, shelves and shoe racks. Use boxes and baskets on the shelves to corral things like hats and handbags.
And try to pick a design that's in keeping with your home's architecture – streamlined for contemporary homes with clean lines and with detailing in period properties. Mirrored doors, of course, will also make a small or dark room feel lighter and larger.
Need to have a sort through your current wardrobe before you can even think about switching to a fitted one? Check out these tips on how to declutter your clothes.
4. Don't forget under eaves for bedroom storage
If your bedroom is in a loft conversion, maximize what is usually wasted space by opting for bespoke fitted bedroom storage furniture under the eaves. Cupboards are an easy fit, but drawers or shelving can help make the most of the space.
Drawers or cupboards will work well but take the slope of the roof into account. You can actually use this slope to your advantage – high heels are the perfect item to store in that awkward prism of space at the top of the eaves.
5. Go for a pretty and practical bedroom storage with a window seat
Window seats with storage beneath are definitely worth considering if you want to maximize the space you have around an otherwise unpopulated window. They also give you somewhere to sit and read – or you can use the top to keep neatly folded throws on (yes, we're Marie Kondo fans).
Go for a made-to-measure fitted option to complement other fitted furniture in the room, or find a suitable bedroom storage bench that fits the space. But remember that you may need to swap long curtains for blinds or shutters to make it work, so have a look through these bedroom window ideas to find something suitable.
6. Invest in a closet that can be adapted to your requirements
A standard double wardrobe will have a rail and either drawers below, or a shelf above. However, a wardrobe with a little more flexibility in the design will mean you can set it up as you like. Some have the option of added shelves, or two rows of hanging rails, which can be preferable if you don't have lots of long clothes such as dresses.
If it is a shared bedroom and the wardrobes need to accommodate two people's clothes, adaptable interiors will allow you to divide the wardrobe according to each person's storage needs. Where space is tight, this will be easier to accommodate than two separate wardrobes.
7. Enhance space with mirrored bedroom storage
If you need storage ideas for small bedrooms that are more substantial than a standalone clothing rail, a closet a mirrored door or some cute mirrored drawers like theone used here, will not only provide more clothes storage but also visually enhance your space. For more clothes storage ideas head over to our feature.
8. Add interest and optimise your wardrobe storage
As well as shelves and rails, there are additional things you can add to your wardrobe to make it even more organized. Racks for scarves and ties, or shallow drawers to stow away watches and jewelry will streamline your storage. They also speed up your morning routine by keeping everything you need for your outfit in one place.
A new wardrobe may come with these elements as optional add ons, but there are retrofit options available from most department stores or DIY outlets. Designing your bedroom on a budget? Try Ikea (opens in new tab) for a range of customizable choices.
9. Ditch the wardrobe for a streamlined small bedroom storage idea
A wardrobe is a must-have, but it also tends to be the bulkiest, and the least forgiving of small bedroom storage. So why not go without? Your bedroom needn't be messy, especially if you don't own tons of clothes – a cute clothing rail may well do the trick, if you only use it for your most worn items. We love this rustic rail made using a birch branch.
10. Choosing a chest of drawers? Go for width or height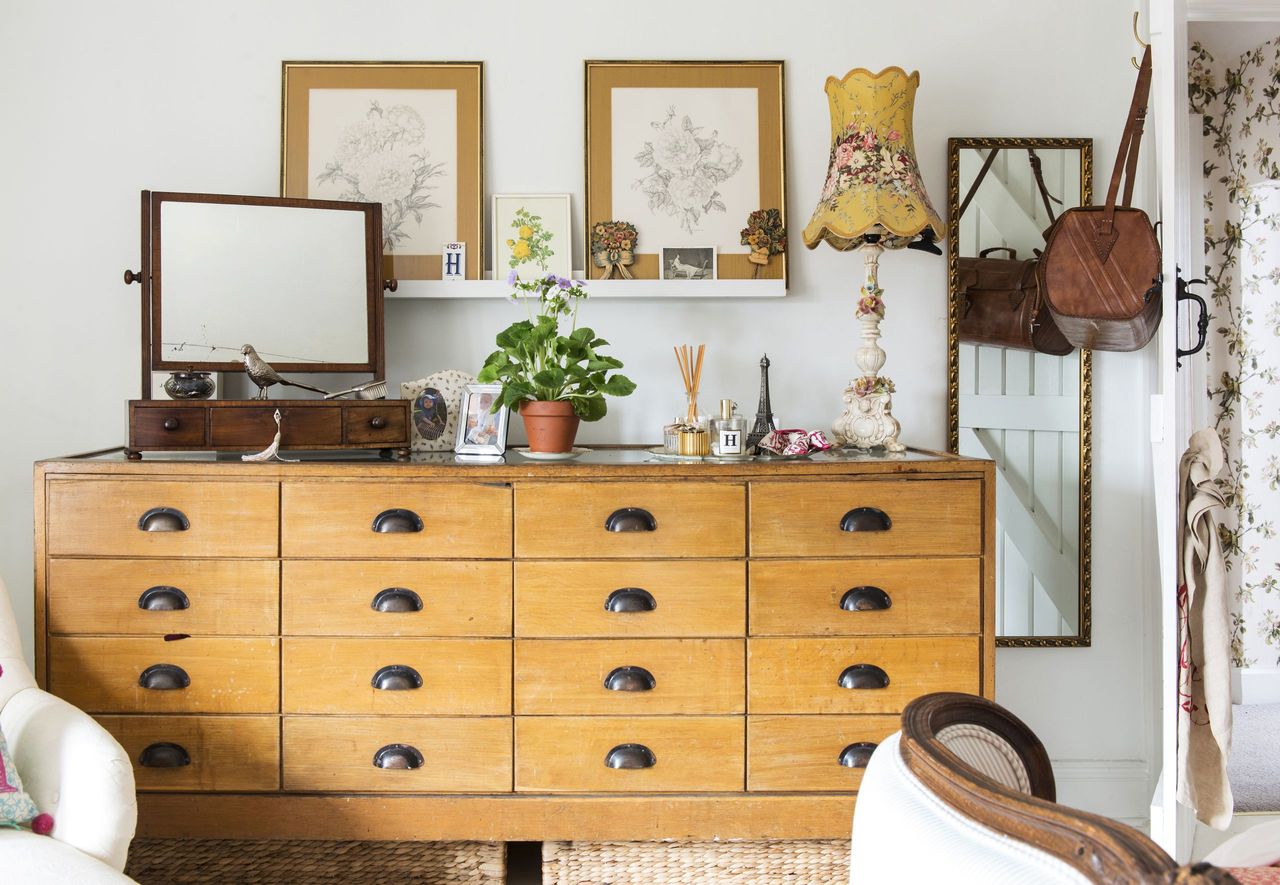 (opens in new tab)
Every bedroom needs a good sized chest of drawers, with taller designs being best for bedroom storage smaller bedrooms with little floor space, and wider ones making the most of the width in a larger room. When choosing a chest of drawers, be sure to pick one with strong drawers and good quality runners or you will soon find that daily use takes its toll.
We tend to store a lot of sentimental items in our bedrooms too – perhaps treasured photos or knick-knacks from our childhood that we wouldn't put on display – and a strong chest of drawers can be a safe home for these too. The top of your chest of drawers is a good place for additional small storage (more on this later), or if you like to relax in your room it could be the perfect place to pop a TV or radio.
11. Keep those drawers in order with drawer organizers
Keep your possessions in check with these bedroom storage ideas – use a selection of boxes and trays so that everything has a designated place. You might feel like you are reaching Monica Geller-Bing levels of tidiness dividing your socks by color or event, but messy drawers do you no favors when you are getting ready, weary-eyed at 6 am. They are also perfect for sorting jewelry, sunglasses and belts.
Some furniture companies will supply trays designed to fit their drawers, but you can get dividers from the likes of Ikea (opens in new tab) and Amazon (opens in new tab). Any boxes small enough to fit in your drawers will do – try shoe boxes or the gift boxes that toiletry sets come in.
12. Try a tallboy as a storage ideas for a small bedroom
If space is at a premium then a tallboy is a great bedroom storage idea. Slim enough to fit into the tightest corner, they often come with different depth drawers, which is really handy. If you live in an old home with lots of alcoves or awkward nooks and crannies, you will be pleased to know you can find a tallboy to fit nearly any space. Plus, they are perfect for small bedrooms.
Another great thing about a tallboy is that if you like to organize your clothes into lots of different categories, lots of smaller drawers are more useful than a few big drawers. Store frequently used items at the top (underwear, accessories...) for easy access.
13. Build bedroom storage into your side table
(opens in new tab)
A list of bedroom storage ideas would not be complete without the humble bedside table. Find one with drawers, cupboards or some kind of storage, perfect for hiding away odds and ends. Drawers are great for chargers, your phone, watch and glasses, but a cupboard is better for books or medication that needs storing upright.
If you are really pressed for space, let your chest of drawers multi-task as a bedside table – but don't choose anything too tall or you will struggle to reach it from your bed.
For our pick of the best bedside tables go and check out our buying guide.
14. Or in a small bedroom use floating shelves
Think you don't have room for a bedside table? Think again. You don't need a cumbersome bedside table taking up a load of precious floor space; instead, why not turn some floating shelves into bedside storage? You can really easily (and cheaply) DIY these yourself too. Just get yourself some wooden planks, saw them to size and wall mount them next to your bed using some stylish shelf brackets.
If you need a guide on how to install a shelf with brackets, check out our step-by-step guide.
15. Add storage to even the most awkward of spaces
In a small bedroom you really have to make the most of every inch of space, even if that space is a bit awkward. This is particularly tricky in loft bedrooms when you will be dealing with slanting walls, but check out this idea! Pop a bed in the eaves and wall mount your bedside table to save space.
16. Add a touch of luxury with a velvet upholstered ottoman
Looking for some elegant bedroom storage furniture to hide away extra bedding and blankets? Try an ottoman with a hinged lid in an opulent fabric like velvet to create a boutique feel. Fabric storage bags can help you group items in there by type, and you could use vacuum storage bags to fit in more out-of-season stuff.
We rounded up some of the best ottomans for adding style and storage in our buying guide.
17. Display stuff in a contemporary bedroom storage trunk
(opens in new tab)
Bedroom storage doesn't just have to be practical – in fact, you could endeavor to make it a feature wherever you can. Acrylic storage containers are a popular choice in not just kitchens and bathrooms but bedrooms too and perfect for displaying items, while keeping them protected from dust.
Use one to store your prettiest books, favorite shoes or colorful linens. And it also makes a great alternative to a bedside table!
18. Storage or showcase? Style your bedroom shelves
For a calming and stylish space, you will definitely want your bedroom shelves neat and tidy. Reserve them for pretty storage boxes, your favorite books and trinket boxes, then accessorize with art and ornaments. Messy but essential items can be squirreled away in drawers and cupboards, allowing your bedroom storage to not be purely functional but well-styled, too.
19. Neat and tidy? Open plan bedroom storage is for you...
The appeal of open bedroom storage is that you can see everything straight away. The downside is that you need to keep it tidy!
Being careful to design a system to suit your specific needs, with plenty of rails for dresses and shirts and a few drawers for the things you really should hide away (we mean you saggy leggings worn only while cleaning the house), will make it really practical. Pretty storage boxes and baskets will be your new best friend for limiting the amount of clutter on show too.
20. Try a bedroom storage unit in a kid's room
Not everything you want to store in your bedroom can be neatly hung or folded away – there may be items that just need flinging in a storage box out of sight. Toys are a fine example and notoriously hard to keep tidy, so encourage a good clean-up routine from an early age (good luck with that) with a versatile storage unit for all manner of items.
Look out for bedroom shelving that combines drawers for clothes, cupboards for boxes of items you don't want on display and open cubes for cherished objects. A simple shelving unit that can be fitted with a few doors, or used in tandem with storage boxes gives the perfect balance of hide-away and display.
21. Fit a ladder shelf into the smallest of spaces
Think you don't have room for a ladder shelf? Think again, you can always use a smaller ladder to add some extra storage to your bedside table. We love this bedroom storage idea of placing ladder storage behind a bedside table, you can use it to store bits of jewelry you wear every day, books and magazines, hang your sleep mask etc, etc. If you are after something similar, check out this bamboo towel rack from Amazon (opens in new tab).
22. Use even the smallest sections of wall for shelves
A great bedroom storage tip is to have everything off the floor. Shelves are obviously ideal for this – hang your shelves next to the bed for easy access, or a bedside table alternative. Another great thing about shelves is that they can be a feature in themselves, so not just for storing but displaying too.
23. Install shelves around the bedroom ceiling...
Tried every other bedroom storage idea and run out of room? Look up! That final foot of wall up to your ceiling is prime shelf space. High up and out of the way of freestanding bedroom furniture, you can run shelves around the perimeter of the room. Store books, photo albums and other things you won't need regular access to up here. Put it on the wall behind the bedhead and you'll barely see it.
24. Big small bedroom storage idea: pick out a storage bed
Let's face it: the bed takes up by far the most room in a small bedroom, especially if you have a double or king sized one. So, it makes sense to let a storage bed – take a look at our pick of the best beds with storage – do the hard work of storing bulky bedding, pillows, and duvets; moreover, if you opt for storing most of your things in the bed, you can keep the rest of your bedroom furniture minimalist and dainty.
25. Or take it even further
While the off-the-shelf storage beds on the market are great, to really optimize the space you might want to consider building your own. A skilled carpenter will work with you to design one, incorporating shelves, drawers or cupboards as required.
This bedroom storage idea is particularly suitable for a child's bedroom as it works well with bunk beds and cabin beds. Done well, it can eliminate the need for additional bedroom storage, leaving plenty of floor space for play!
26. Choose a headboard with plenty of bedroom storage
A storage headboard is a nifty bedroom storage idea if space is at a premium. Simple examples feature a couple of shelves on either side of the bed, but to make the most of every inch look for full-width nooks for bedtime ephemera. You can get headboards with cupboards built-in which are great if you still want something to sit up against when sipping your morning cuppa.
27. Make the most of every inch with under-the-bed drawers
(opens in new tab)
Some beds come with in-built drawers, but even if you don't want to buy a new bed, you can find drawers that roll away under your existing bed. This really is the perfect way to maximize that space under the bed and a great place to store spare towels, bed linen or shoes. Some drawers come with dust covers or lids, others are just a good place to slide away all of those vacuum-packed textiles.
There are plenty of under bed storage drawers to on the market, but if you can't find some you like why not have a go at making them yourself? We love these simple but effective drawers by Medina Grillo of @grillodesigns (opens in new tab) which are made with a few planks of wood and some castors.
28. Doubling up as a home office? Add a stylish desk
(opens in new tab)
With more and more of us working from home, the bedroom can often be the place that doubles up as mini home office space. Or, if you are designing a spare bedroom, it might need to be used for work too. A stylish desk is exactly what you need.
If this desk is going to be in your room you will need to think carefully about creating enough added storage for stationery and paperwork, as the last thing you want to see before bed is a mounting to-do list. This could mean choosing a desk with room for folders and files built in, but for a sleeker look chose a streamlined desk and store office paraphernalia in a cupboard or wardrobe nearby.
29. Save space with a hanging clothes rail
(opens in new tab)
If you're looking for minimalist style bedroom storage ideas and are great at keeping tidy, then why not opt for a hanging rail? They have plenty of space for coat hangers and often feature a shelf for shoes or neatly folded jumpers.
This is a sound option if you have a separate dressing room or walk-in wardrobe and just want to lay out outfit options for the next couple of days in your bedroom, to avoid a morning panic. Should your requirements change, it could then make a great hallway storage idea.
30. Create depth with a glazed bedroom storage cabinet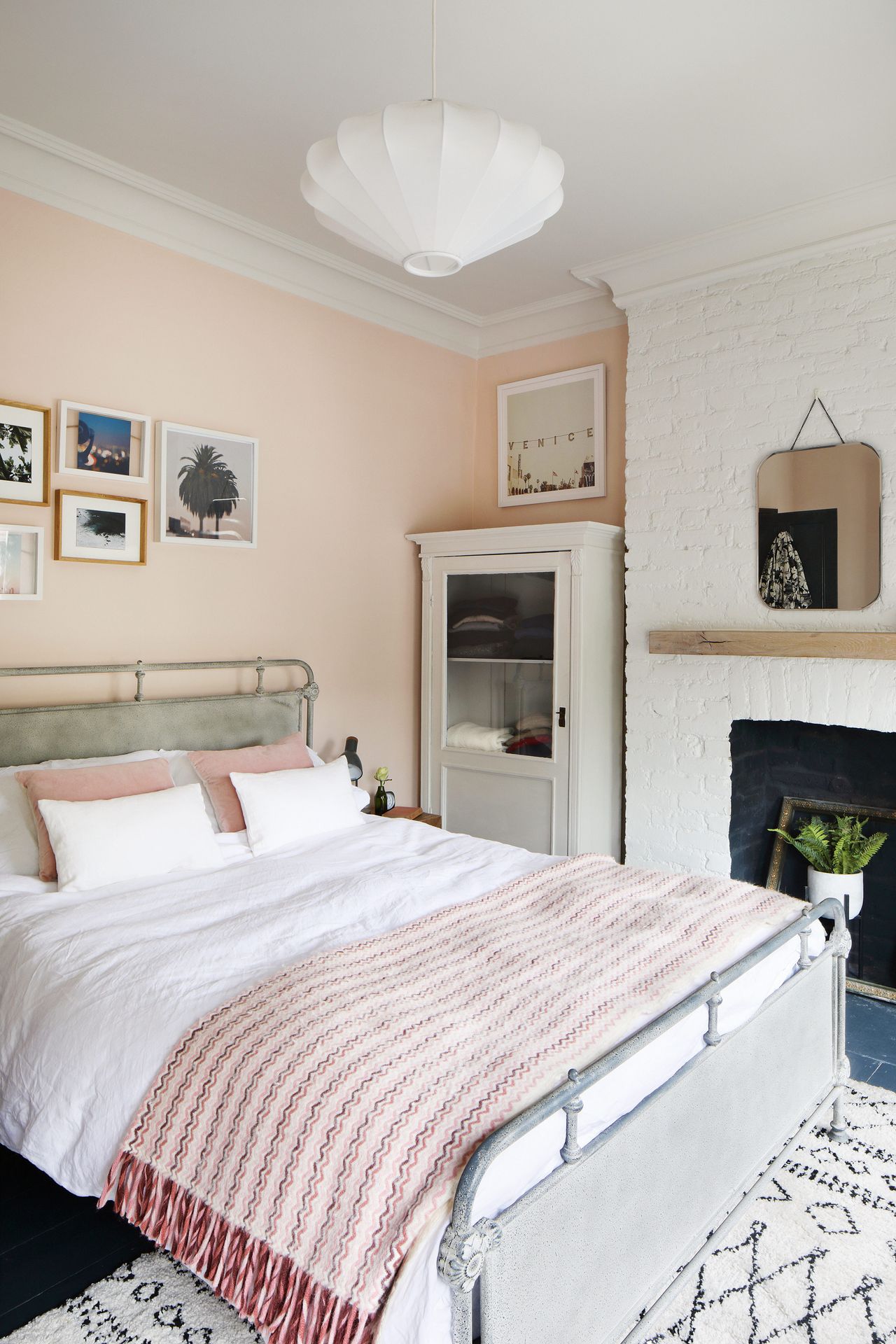 Glazed bedroom storage cabinets aren't just useful as wardrobe or cupboard storage or display – the fact that you can see right to the back of them makes your storage look more transparent, and less like it's dominating a space, just as a mirrored wardrobe would.
This type of bedroom storage is the kind that can be used all over the home, so a good quality one would be a real investment piece. Be it solid wood or even metal, they come in a wide range of colors, styles and sizes so you won't be hard-pressed to find a suitable match for your room.
31. Use bedroom storage baskets for a boho vibe
Forever useful, baskets are a no-effort choice for storing everything from magazines and books to spare throws and scarves. Stow them atop a wardrobe, place them at the foot of the bed or use them to corral makeup on your dresser. They come in a range of colors and materials to suit each and every bedroom design scheme.
32. Make practical wall hooks a decorative feature
Small but mighty, hooks can add a load of bedroom storage. But don't just think about hiding them on the backs of doors or away in your wardrobe, use some cute hooks as a decorative feature in your bedroom.
33. Pick a mirror with storage
This mirror with shelf and hooks is a great small bedroom storage idea. It's a good looking mirror, but it's also a handy place for storing makeup, hanging accessories, bags or even jewellery, saving you space elsewhere. Plus, we all know how a well placed mirror can make any room feel so much bigger, storage or no storage.
34. Stash shoes and accessories in DIY bedroom storage
Looking for bedroom storage ideas that are pretty as well as practical? We love this idea of turning old crates into shoe storage. Looks cute but also provides a handy space to keep shoes that would other wise end up sprawled across the hallway or jammed into a wardrobe.
35. Create a DIY walk in wardrobe
If your room is large enough you can easily create a section of your room that's dedicated to storing clothes. Use wardrobes to divide the space and then add clothes rails behind it so everything is easy to access. Here it's actually Billy (opens in new tab) bookcases that have been used to divide the room and the super cheap Mulig (opens in new tab) clothes rail has been attached to the opposite wall.
What you can't see here is that the other side of the Billy bookcase is being used as a headboard. Very clever.
How do you maximize storage in a bedroom?
The key to maximizing storage in a bedroom is to make each piece work hard. And by that we mean make sure you are getting the most out of all your bedroom storage furniture by adding extra storage to it. Case in point, shelving can be home to boxes and bins that you can fill up with accessories that would otherwise clutter up surfaces or get lost in your closet. Look out for organizers you can hang in your closet to make space for clothes that don't need to be hung or for shoes even.
How can you add storage to a small bedroom?
Clever storage ideas for small bedrooms are the key to making your space work. There is obviously that catch-22 thing that goes along with small bedrooms and storage – the hardest thing to find space for in small bedroom is storage, but the most important thing to make a small bedroom feel less small is storage. It's a tricky balance to get right.
However, it's not impossible. Our top tip would be to pick multifunctional pieces so you don't end up filling your small space with loads of furniture. So storage beds, ottomans, small desks you can use as a dressing table would all work. All wall storage is a good option so you can keep as much floor space free as possible.