Whether you already have a bare shelf waiting to be dressed or a ton of shelves that you don't know what to do with, rest assured, there is much in the way of inspiration. While it's hard to go wrong with styling wall shelves, bookshelves, or other surfaces acting as shelves, a few tips from professional stylists and interior designers never hurt.
There are endless shelf ideas out there to comb through and lots to consider. If it's a new install, the design you go for will not just depend on the look you want but the type of walls and spaces you have available too. You'll also need to be wary of whether or not you're allowed to put holes in those walls (renters may need to reconsider nailing and drilling, for example).
Top shelf styling tips
I could spend hours tweaking small displays of trinkets, books, and photos at home. And, I recently installed a floating shelf in collaboration with eBay UK, dressing it with a mixture of decorative pieces, so I was curious to know how other stylists would approach the task.
Interior designer Anna Popov, from Interiors by Popov based in Seattle, has created and styled countless shelves throughout her career, and she prides herself on meeting the functional needs of her clients while positively impacting the ambiance of their living space.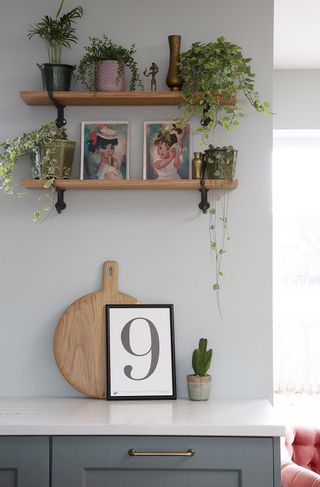 Anna Morley is Real Homes' style editor, and whether she's helping you introduce the desert decor trend or new neutrals into your home, she knows how to perfect a space. She is a fan of using shelving to add personality to a room and maintain a fresh feeling throughout.
Here are their top shelf styling tips.
1. Be intentional with decor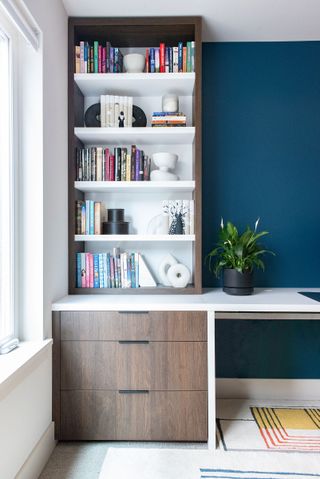 As with most successful home decor schemes, combining design and function is a must.
'You can easily create your own unique look with favorite pieces, then swap out items seasonally to create a whole new feel whenever the mood takes you,' says Morley.
Popov notes that even though a shelf is a small surface, it deserves thoughtful decor choices. 'When styling your shelves, be intentional with the decor you choose,' she says. 'Combining simple, functional items with decorative elements allows your shelf to appear stylish and uncluttered while remaining practical. Everything you put on your shelf has to have a purpose and bring you joy.'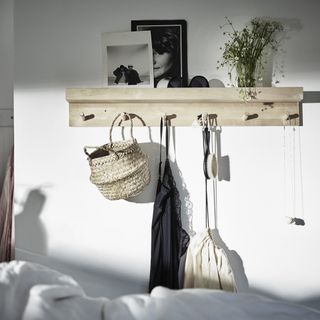 Popov notes that when you're not so thoughtful with the actual design of a shelf or with how you style it, you can house unnecessary clutter and elicit feelings of disorganization and chaos. AKA, bad vibes.
'Incorporating only items with intention, value, and function in your shelf assortment will allow your space to feel clean and controlled. The items on your shelf can also impact your mood in a space. Showcasing important personal pieces such as framed photographs can lead you to feel happiness and comfort.' So try to prioritize items that matter to you and your space for a more positive finish on all fronts.
2. Go in with a vision
Whether it's a shelf in your office bookcase or a surface above your kitchen sink, it's an opportunity to create a storage solution that serves a decorative and functional purpose, enhancing a room's design.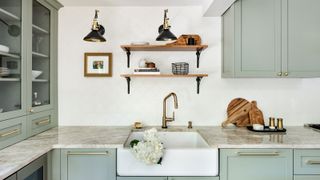 Although fun flourishes often go hand in hand with spur of the moment choices, a little planning is always a good move. Go into styling your shelves with some idea of the finish you'd love so that you can build on it over time. 'Have a vision of what you want on the shelf,' says Popov. 'Don't just buy one thing at a time, look for inspiration and have an understanding of a concept you want. It can be helpful to create a mood board to help guide your design.'
3. Play with height
Whether styling a solo shelf or bookshelf, you can add dimension by simply mixing up the heights of books, trinkets, and accessories.
I love Morley's water-inspired analogy: 'Vary heights of your items to create a flowing "wave" along the shelf that peaks and troughs and is comfortable on the eye.'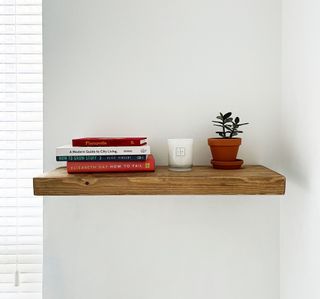 Trailing plants are another great way to add visual interest, as is using a mixture of materials. You don't want your shelfie to look too uniform.
'Layer items in front of one another to stop the look being too one dimensional. For example layer framed art prints with smaller postcards or try a vase with a single stem or pampas reed in front, to break up larger blockier pieces.' Notes Morley.
4. Strive for your perfect finish
We forget that sometimes our vision of something doesn't translate quite right the first time, so be prepared to try new things until you achieve the perfect finish.
'It all comes down to finding a balance between color and texture and understanding what you are trying to achieve,' says Popov.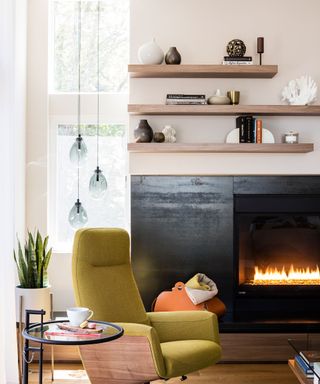 'There is a lot of trial and error when arranging items and decor on shelves,' says Popov. 'The design of a shelf can be wild and loud with bright colors and bold pieces, or it can be simplistic and serene by mixing neutral tones with one or two statement pieces.' Morley also encourages adjustments and advises us to not be afraid to fiddle if something isn't sitting just right.
What top 5 items do you use to style shelves?
I personally love styling shelves with books, switching out different reads to match my mood, current reading list, or even to cater a little more to visitors. I am also a sucker for picking up small thrifted ceramics that I then like mixing in with my displays.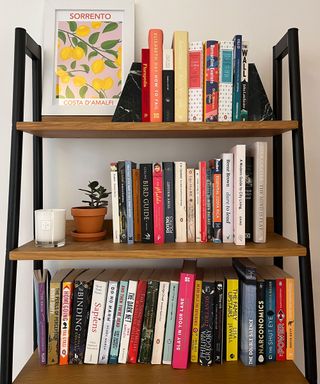 Anything that looks good and that serves as a good conversation starter is always positive. I asked Popov what her top five items to style shelves with are:
Books: My favorite item to use when styling a shelf is books. Books are the perfect example of function and decor. I love when clients have a large book collection and we specifically style their shelves to best showcase their favorite reads.
Pottery: I use pottery, vases, and vessels on shelves because they encapsulate both form and function. Vases and pitchers are decorative, but they can also be employed to display flowers or used to serve beverages.
Boxes: Boxes of all different shapes and sizes add structure and organization to a space. Storage containers that can house items like toys or office supplies that will otherwise clutter a space and your shelves.
Plants: There are a variety of plants that can bring interesting texture, color, and life to a shelf. A small succulent can offer a pop of green to an arrangement while a large plant with leaves hanging off the shelf can serve as an elegant statement piece. Large plants often go into the arrangement first while smaller plants present as accents to the overall design.
Personal Items: If you have something like a picture frame, a candle, or a sculpture that means a lot to you, make it a focal point of your design. It is always fun to style a shelf around something that has significant value for a client.
Is there anything you should not style a shelf with?
Popov says that overused and on-trend items that don't add value or that have no connection to you can make your space look cluttered and are best avoided.
'Putting miscellaneous items on shelves like old papers, pens, and notebooks appears disorganized,' she explains. 'Instead, placing those items in a decorative box, basket, or bin can make your shelf look infinitely cleaner.'
Put your best eye for design first and if something isn't quite cutting it, pull it from your shelfie — it's not worth it.
The key when it comes to styling shelves really is to take a super curated approach and to not be afraid to shake it up every once in a while, be that with the seasons or when the moment takes you.
Small indoor plants, cute frames, Polaroid snaps from last weekend, your favorite coffee cup, or a fresh cotton candle are just a small sampling of shelf decor ideas. Don't be afraid to let your shelf be a snapshot reflection of you and your home.