Living in an apartment, I have to be careful with what, not to mention how much, I buy. Whether it's more clothes, another pair of shoes, or makeup I am lusting after, I'm forever questioning whether I can have it all, and still keep my organization on point. My latest and greatest trick to max out my storage space has to be nifty bedroom organizers.

It started out when I landed on the cute home organizers side of TikTok, and now I am officially obsessed with making sure every inch of my apartment is tidy.
How can we help?
The storage solutions I've featured will help you organize everything from your cute and compact nightstand to your heavily overflowing closet. Yes, a closet organizer means you won't need to completely rethink your system or even get your drill out. It's all renter-friendly here, which your landlord will appreciate too.

I promise these picks will upgrade your bedroom storage in an instant.
21 of the best bedroom organizers, as rated by shoppers
I've shopped everywhere from The Container Store to Walmart and even spotted some genius Amazon organizers that are budget-friendly and stylish enough for every space. Need I say any more?
Bedroom storage furniture
Why you can trust Real Homes Our expert reviewers spend hours testing and comparing products and services so you can choose the best for you. Find out more about how we test.
Need plenty of room to work with? Go for multi-use furniture that's stylish and practical, or some freestanding shelves.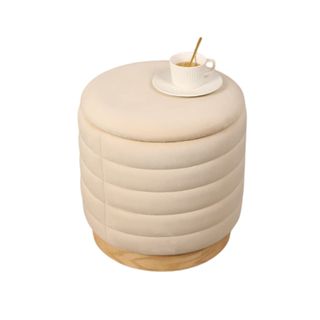 $89.99
1. Newimage Ottoman Storage Box
Hidden storage for your hair tools or handbags
Size (in): H16.5 x W15.5 x L15.5
Made from: Dutch velvet and wood
Color: White
One for hiding your hair tools or for your extensive scarf collection, this storage stool has heaps of space inside once you lift its lid. I spotted it on TikTok and not only does it look good, but it's comfortable, too. You could use it as a stool for your vanity table, for filling an otherwise empty corner, or even in your living room to put your feet up. Either way: no one will ever know that inside, it's filled with your things.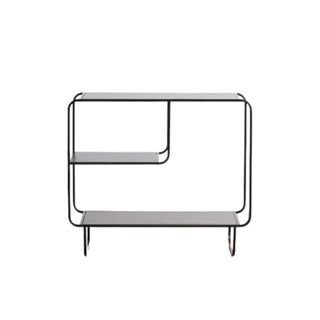 $269
Stylish open storage that's TikTok famous
Size (in): H31.73 x W13 x L35.98
Made from: Metal
Color: Black
I've seen this storage console so many times on my TikTok FYP, and I can totally see why everyone is obsessed with it. Even though it does take up a fair bit of space, with all the different layers of shelving within the one console, it packs a hell of a lot within it. The shape is also giving me serious groovy '60s vibes, which I'm loving. You could layer the shelves with decorative items and useful items, such as books, music players and lamps.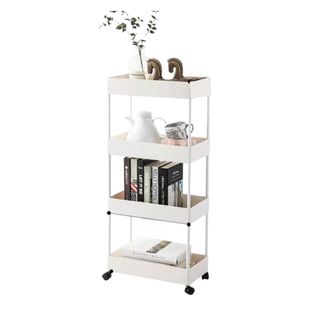 $30.41
3. POPLARBOX Organizer Trolley
Rolling bedroom storage for convenience
Size (in): H35.4 x W15.7 x L8.7
Made from: ABS material and metal
Color: White
Adding an organizer cart to your bedroom can do so much for your space. If you're anything like us, and have more skincare and makeup than you can manage, this trolley is perfect for stashing it all away, while still keeping the aesthetic on point. It's also great for getting ready in different parts of your home, as you can wheel everything you need to wherever you're at. Genius!
Bedroom storage bins
Little items such as stationery and jewelry will fit snugly in these handy boxes.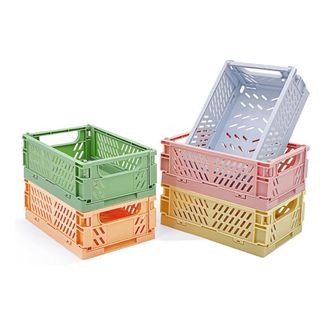 $11.99 for 5
4. Monkiss Pastel Crates 5-Pack
Foldable bedroom storage
Size (in): H5.9 x W2.2 x L3.8
Made from: Plastic
Color: Multiple
Having lots of storage containers is great until you no longer need them and they awkwardly float around your apartment with no purpose. These pretty crates fold down, so you can stack them or slot them into a bookshelf when they're not in use. I've got a few underneath my bed and I use them to store extra cosmetic products and my pajamas. Ten points for the cute pastel colors.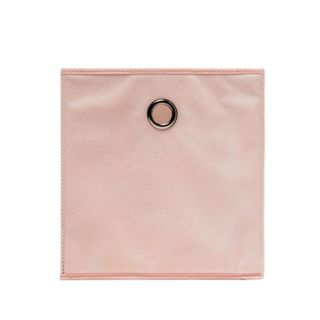 $5
5. Fabric Cube Storage Bin
Bedroom storage cubes
Size (in): H11 x W10.5 x L10.5
Made from: Polypropylene
Color: Peach blush
Storage cubes are legit my fave for storing items in the cutest way possible. They're super easy to place on shelves, and are really deep so can carry plenty of items. This one that I've chosen comes in an adorable peach blush shade, but the same cubes do also come in a range of colors like black, gray, and cream. Coordinate your cubes with your room's decor, and this storage solution will blend in seamlessly.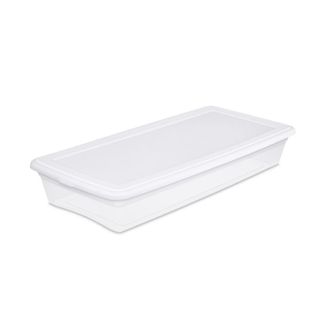 $9.88
6. Sterilite 41-Quart Storage Box
A basic bedroom storage box
Size (in): H5.90 x W16.75 x L35.30
Made from: Plastic
Color: White
Want to make storing items under your bed 10x easier? This huge box can pack 39L worth of items, meaning you can pack it to the brim before sliding it neatly under your bed. Made from durable plastic, it will also protect your belongings without breaking easily — just because they're hidden, doesn't mean they aren't important, am I right? You could bag a few of these, as the rectangular shape means that multiple will easily fit under your bed all out once.
Bedroom shelf organizers
I'm forever running out of room for my clothes, shoes, and purses, and seriously rate these organization ideas for expanding shelf space.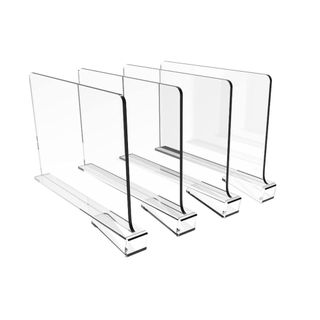 $17.99
7. Cq Acrylic 4PCS Shelf Dividers
For separating your shelves
Size (in): H8 x L12
Made from: Acrylic
Color: Clear
Use these clear shelf dividers to keep your t-shirts from your pants, or your scarves from your hats. They can be used inside your closet or you could use them on open shelving. They're pretty versatile although they'll ensure that your clothes, shoes, and even bags all look lovely. Just clip them onto your shelving and you're good to start sorting.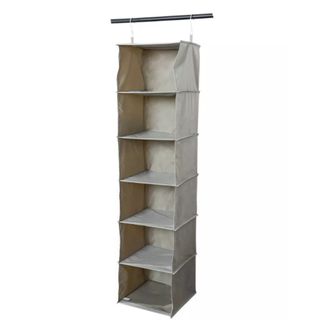 $10.99
8. Shelf Hanging Closet Organizer
Vertical bedroom storage
Size (in): H52 x W12 x L12
Made from: Polyester
Color: Gray
Got a teeny tiny closet that you just wish could have more room? Well it turns out dreams can come true, as this closet organizer magically creates more shelf space in your closet. You don't need to assemble it, and it's also super light so it won't break your hanger. This could come especially handy for planning outfits and accessories for the week — simply grab what you need and go, like you're in a '00s chick flick.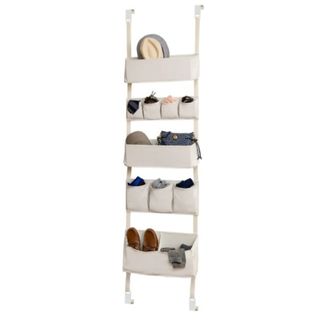 $35.97
9. Honey-Can-Do Hanging Organizer
Shelves for your shoes
Size (in): H78-82 x W6 x L20
Made from: Canvas
Color: Natural
Over-the-door organizers are great not only because they create so much space, but because you can hide them away easily, so they won't take over your space. I love this one because it has small, medium and large sized pockets so that you can arrange it how you like. From shoes to scarves and more, it can hold pretty much anything. It'd also work well on the back of a bathroom door. And it just hangs over the frame so there's no need to get your drill out.
Bedroom makeup organizer
These are so handy for keeping those li'l pieces all in one place.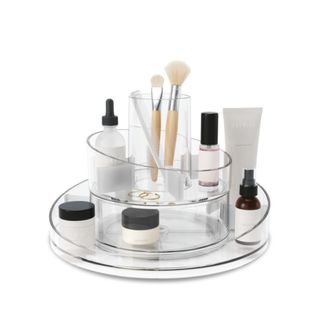 $25
10. Umbra Cascada Cosmetic Organizer
The best skincare organizer
Size (in): H6.5 x W10 x L10
Made from: Plastic
Color: Clear
This spacious and multi-tiered organizer can take on so many roles in your bedroom, including hosting your makeup and skincare and keeping your vanity or dresser neat. It has a swiveling base and nine different removable compartments so you can curate this organizer to suit your setup. I love the acrylic design and it's all over my TikTok at the moment.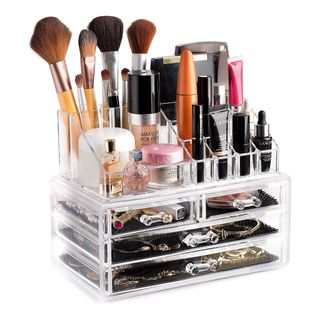 $19.99
11. Masirs Store Clear Cosmetic Storage Organizer
The best makeup organizer
Size (in): L9.5 x W5.5 x H7.5
Made from: Acrylic
Color: Clear
There's a place for everything in this makeup organizer. Drawers for your smaller items, integrated pots for your brushes, and even separate holders for your lipsticks, eyeshadow palettes, and mascara. The drawers detach from the top shelf for your convenience, and it looks chic on any countertop. More than 22,000 happy reviewers agree.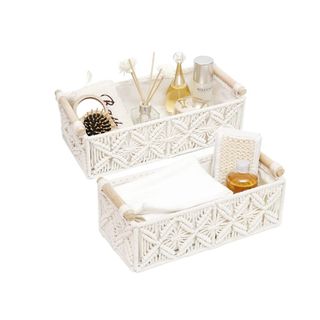 $28.99 for 2
12. Macrame Storage Basket
Perfect for toiletries
Size (in): H6.7 x W13.4 x L3.9
Made from: Wood and cotton
Color: White
These cute baskets are a way to get more space for organizing in whilst adding a nice finishing touch to your bedroom at the same time. The boho vibe that they bring is also accompanied by space for all of those little things you might need to grab, like hand cream, room spray, or even all of your chargers. Otherwise, they should slot underneath your bed nicely, or inside your closet.
Bedroom drawer organizers
Say goodbye to cluttered drawers. Separate out your clothing or your trinkets with these pretty and practical dividers.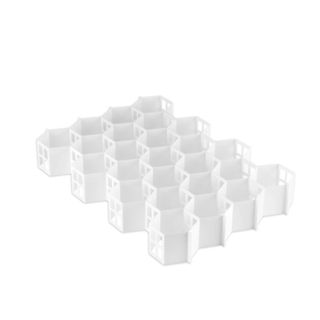 $16
13. Simply Essential Honeycomb Organizer
For organizing your socks and underwear
Size (in): H2.8 x W14 x L18.9
Made from: Polypropylene
Color: White
Streamline every area of your bedroom with this drawer organizer, which has 26 compartments to fill up with whatever you need. Whether it's underwear, socks, or anything else you need to store, you'll have harmony within your dresser in an instant. It'll also make mornings easier and you won't be forcing any more drawers to shut anytime soon.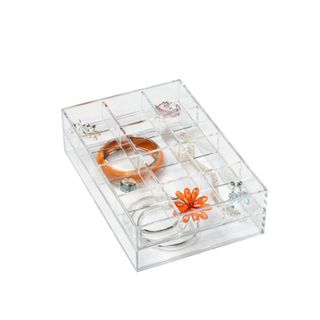 $11.99
14. Clear Acrylic Small Stackable Trays
For organizing your jewelry
Size (in): H1.4 x W9.5 x L6.5
Made from: Acrylic
Color: Clear
Use these trays to sort your bedroom drawers out once and for all. With space for multiple trays to be stacked on each other, as well as eight removable dividers, these trays are super versatile in order to squeeze an array of items in. Think everything from jewelry to keys.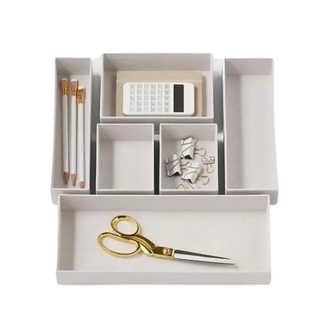 $24.99
15. Marie Kondo Hikidashi Drawer Organizers
For organizing your nightstand drawer
Size (in): H2 x W13 x L15
Made from: Recycled paperboard
Color: Gray
Spark joy with these modular drawer organizers that are perfect for keeping your nightstand drawer tidy. Made from heavyweight post-consumer recycled paperboard, they're also eco-friendly. You can dedicate one to jewelry, the other to vitamins... and so on! We also think it's a great desk organizer for holding your extensive pen collection plus more.
Miscelleanous bedroom organizers
For all of those random bits and bobs you need to keep in check, here are a few general bedroom organizers. For everywhere from your desk to under your bed.
---
FAQs
How do I organize my bedroom?
Audit everything you have in your bedroom, throwing away any trash and giving away anything unused to Goodwill. Then, target specific areas such as under the bed, your desk and your nightstand, and use organization items that will help you utilize the space better.
How did we choose these bedroom organizers?
These bedroom organizers have been carefully chosen because of their high-ratings from verified shoppers. We looked through our favorite stores, such as Amazon, Wayfair, and Target, when researching these items. Everything featured has plenty of reviews from people who have used the pieces to transform their bedrooms.
Browse more bedroom organizers...
You might still be on the lookout for exactly what you need in order to organize your bedroom just as you want it. These are the retailers we would recommend for shopping around for more bedroom organizers: