Decorating an apartment bedroom can be particularly challenging when you're working with limited space. A bed, dresser, and nightstand are all non-negotiables, but this leaves little room left over to showcase your style or enjoy the space when you aren't sleeping. Add in the challenge of renting and you're even more confined to keeping things simple.
These clever small bedroom ideas prove that with a bit of creativity, you can stylishly squeeze more into your bedroom than you may have originally thought. If you're strategic with your furniture selection, lighting installations, and overall design plan, you can make the most of what you're working with. Cozy living, here you come.
1. Switch-on with a small nightstand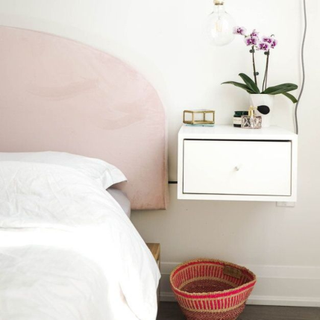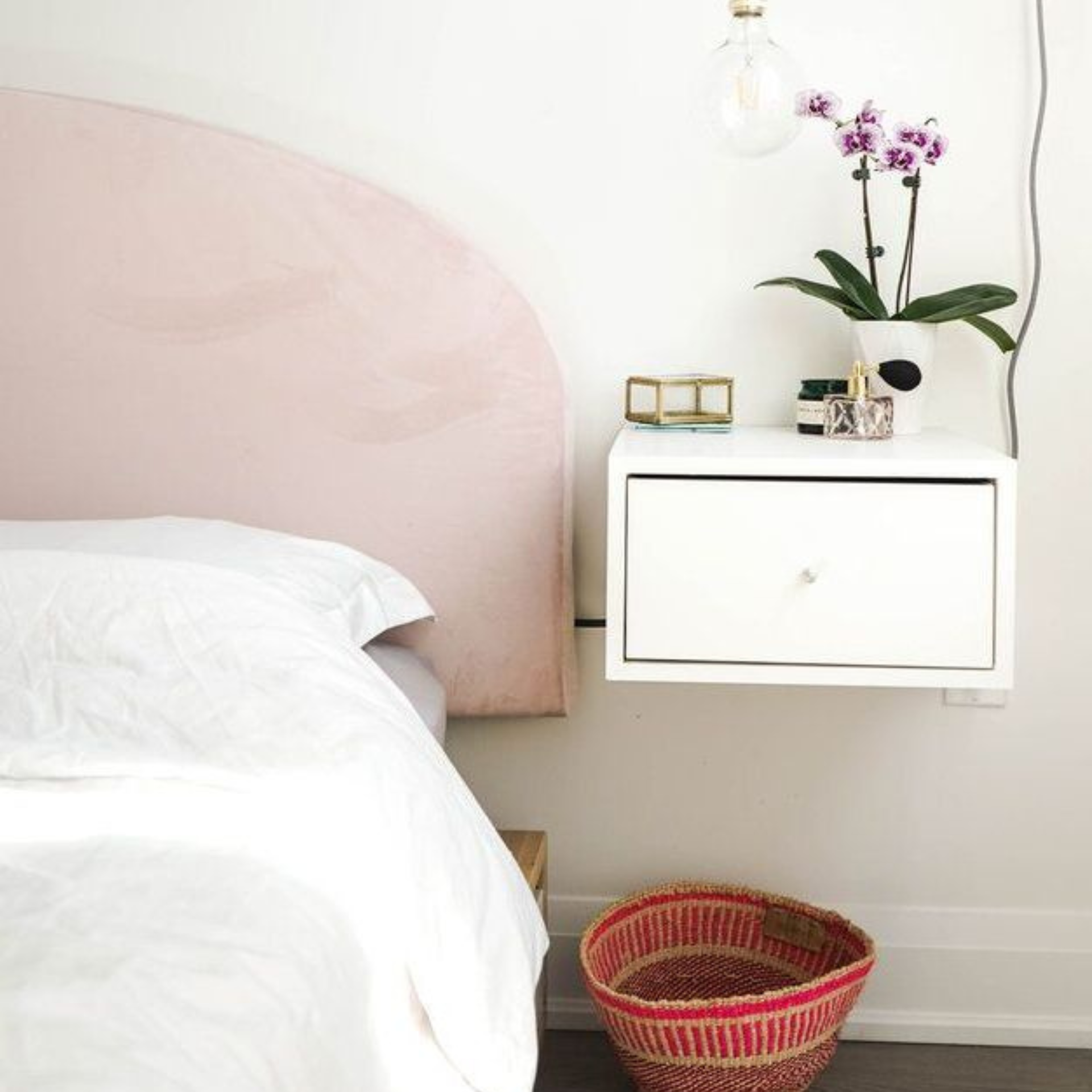 When dealing with limited real estate, it's crucial that you consider which furniture pieces will serve you the most. One question to ask yourself is if you need to have two nightstands in your bedroom or if you can get away with one. Instead of trying to fit two clunky nightstands filled with junk, go for one smaller piece that can hold your true bedside necessities. Not only will this help you pare down and get organized, but it will also leave some breathing room around your bed.
Another idea is to use a floating nightstand or craft a DIY nightstand to suit your space. Floating nightstands can add a fun touch to a bedroom and double up as an eye-catching art piece. They also allow for more room to store other items, like a pretty basket or pet bed, underneath.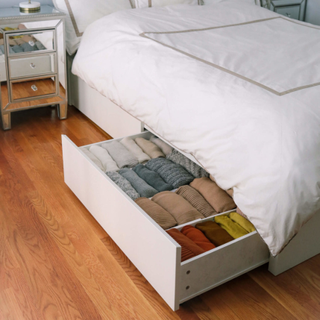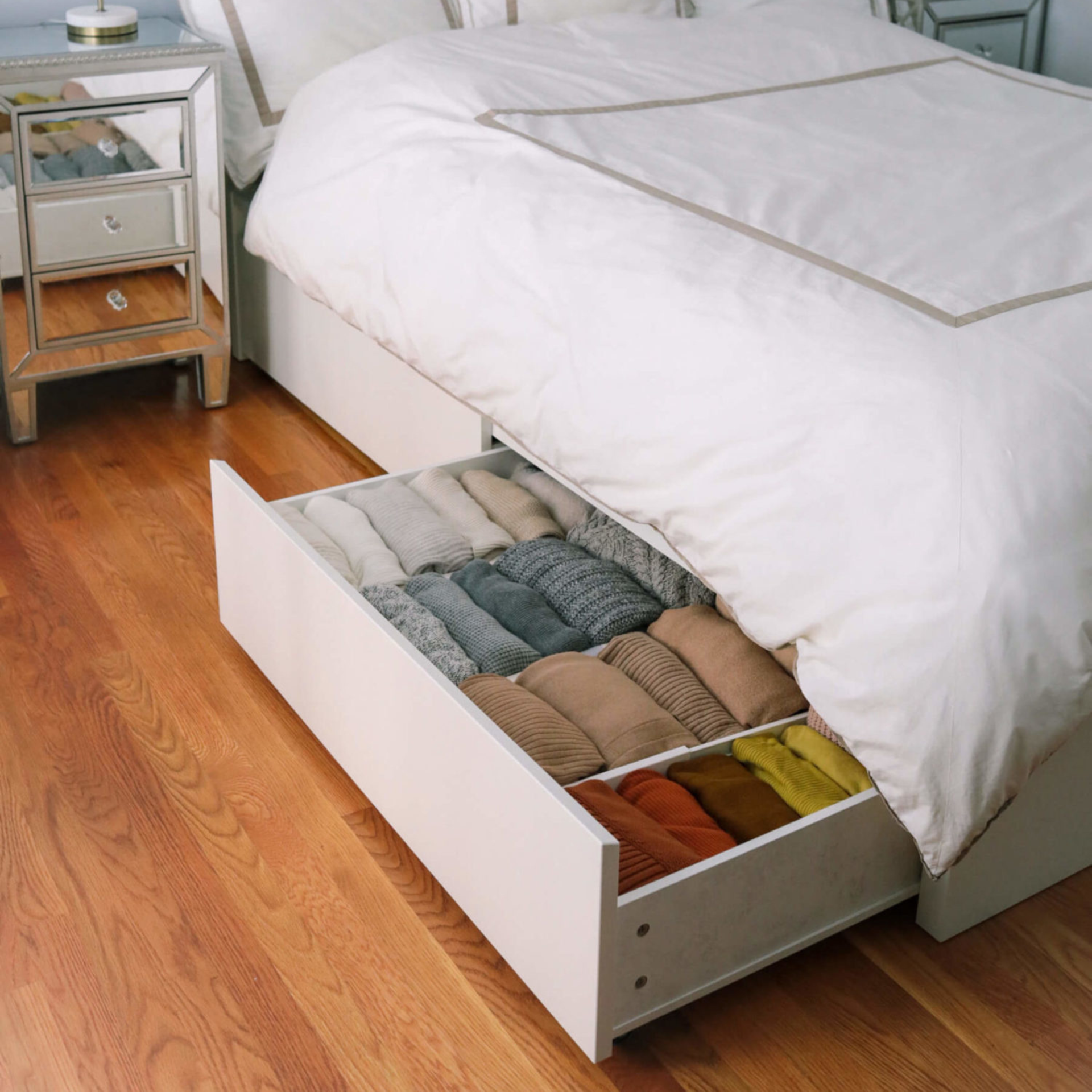 Apartments come in all shapes and sizes, but one common theme among many of them is a lack of storage space. When pondering how to organize a small apartment, make more room by investing in a bed that has storage. Under-the-bed units provide practical bedroom storage and fit more of your belongings into small living quarters. Because it's built into a bed, it won't add any excess clutter to your room. It's a simple solution that will tide you over until the day you can have your own walk-in.
3. Go with a trundle bed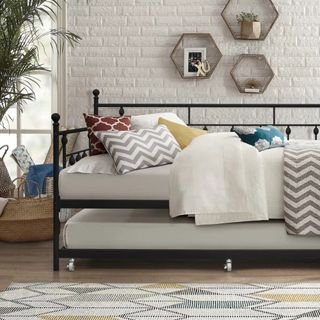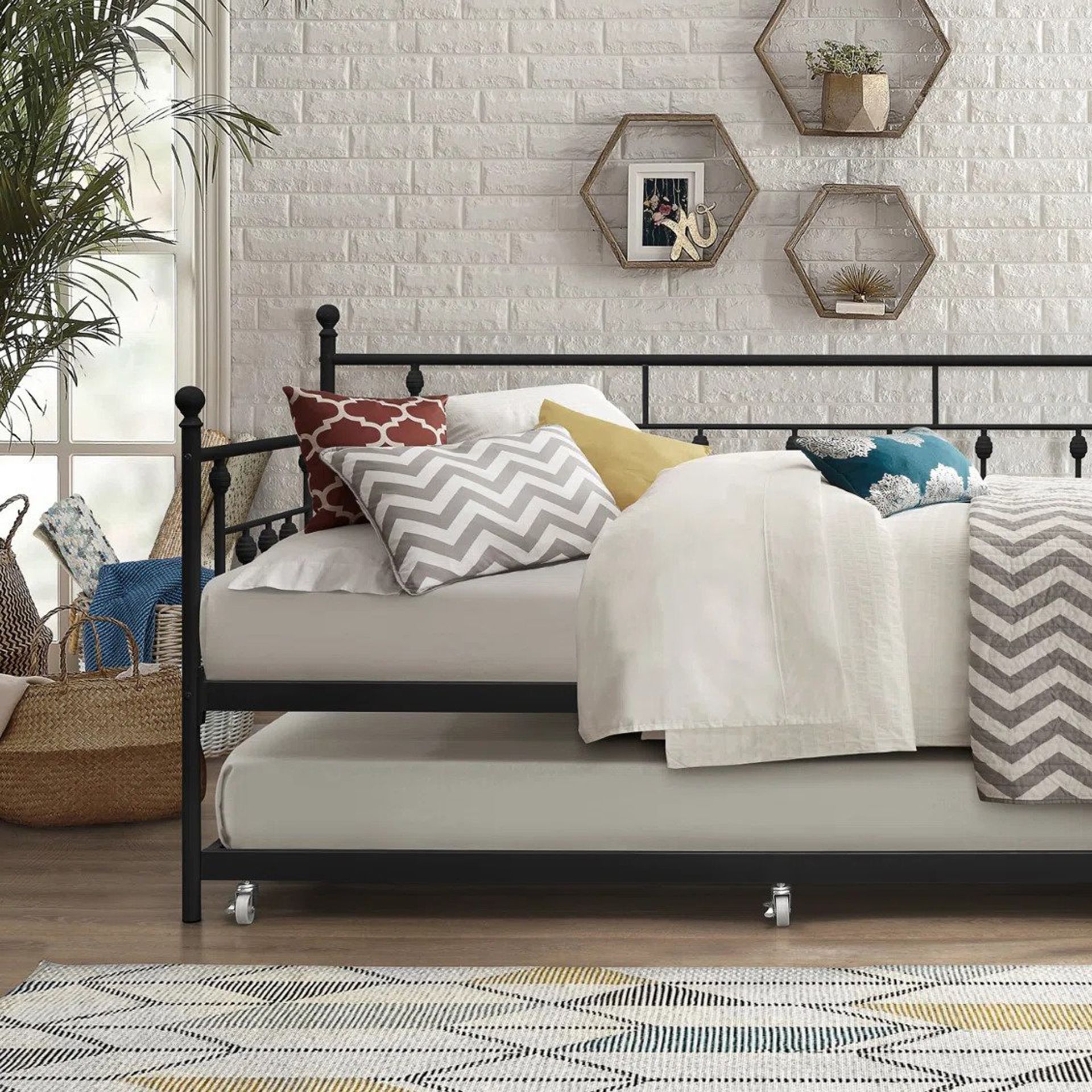 Popular in kids' rooms, guest rooms, playrooms, and shared bedrooms, trundle beds allow homeowners the option to house more guests with ease. Renters shouldn't be excluded from the trend — having a small abode doesn't mean you can't play host.
If you intend to have family or friends stay overnight, even if only occasionally, it might be worth investing in a comfy trundle bed to turn your multifunctioning space into a nifty guest bedroom. You'll feel more grown up and your apartment will look more put together while they visit.
4. Add a rug to give the space texture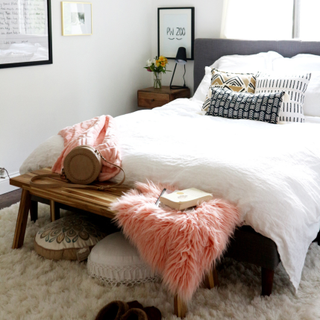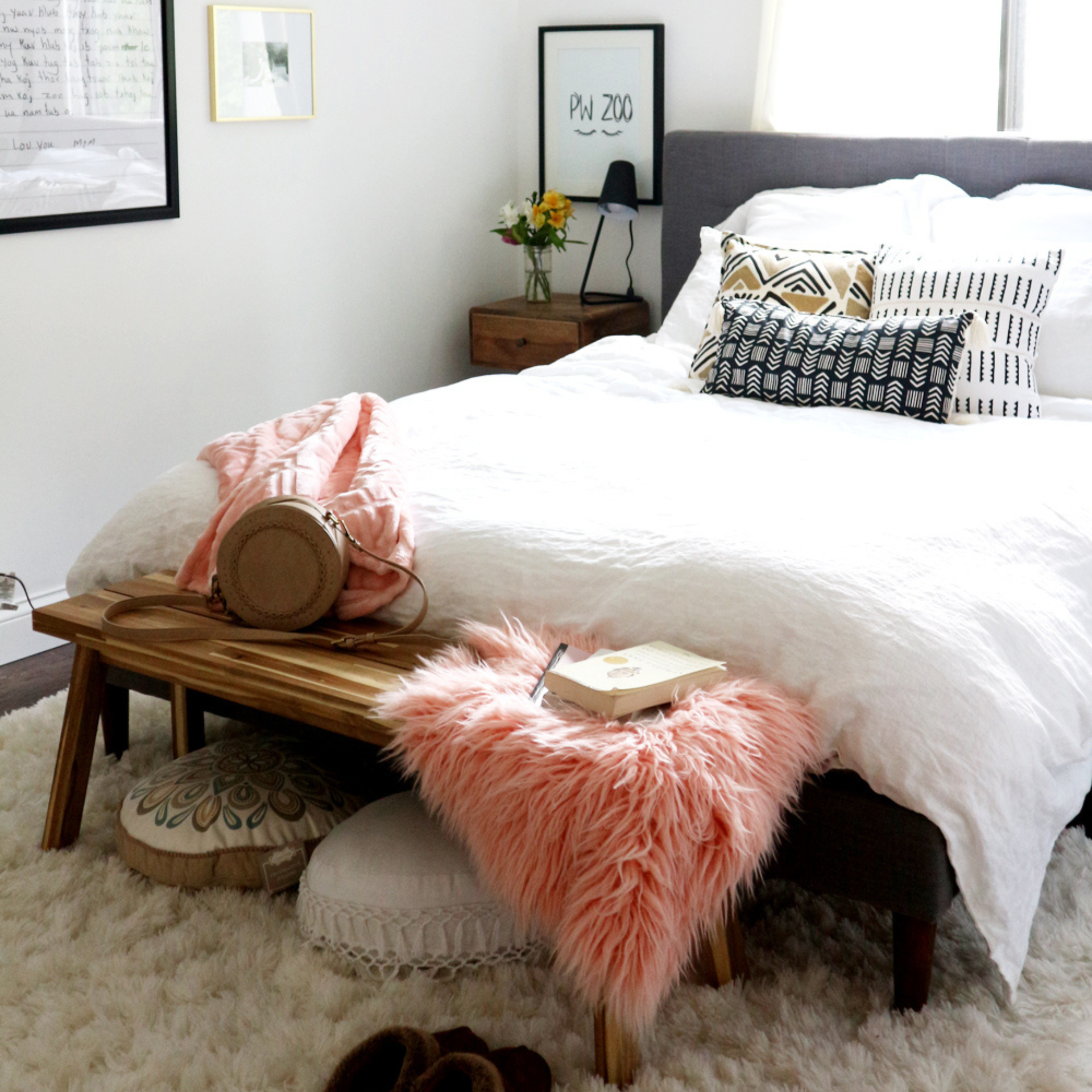 A fluffy, soft rug should be considered a bedroom essential, especially when you're aiming to get the perfect apartment aesthetic on a shoestring budget. They add a welcoming texture to a room and can be a fun way to incorporate a pattern or color underneath your bed. While picking a rug comes down to personal preference, one thing to keep in mind while choosing one for a small space is the size of the rug.
Many decorators choose a rug that's too small for their space, making the room look and feel smaller than it actually is. If your apartment bedroom is already tight on space, be sure that the rug you lay on your floor is bigger than what's resting on top of it.
5. Set up a room divider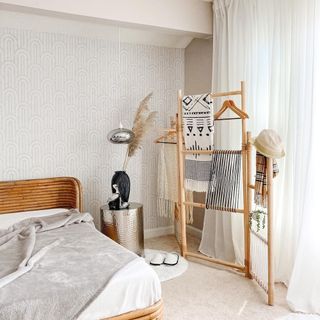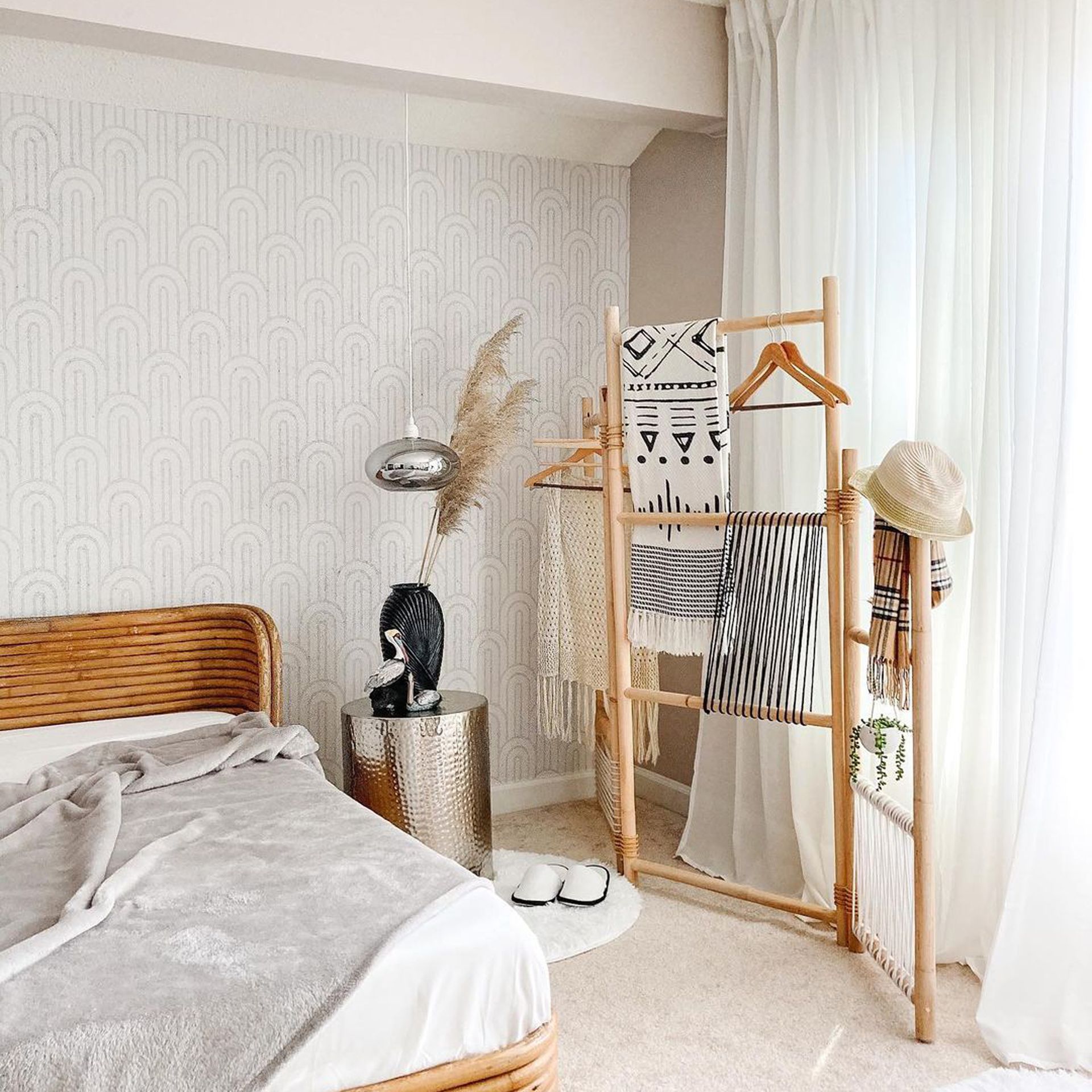 Renting a studio can pose one very intimidating challenge — creating a sense of division between each living area. Room dividers, especially the foldable kind, can come in handy for this specific need. Get crafty and make your own with curtains or take a page from this DIY project and use a bamboo clothing rack with pretty blankets and macrame detailing to separate two spaces.
6. Get smart with lighting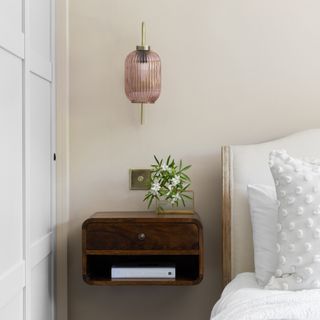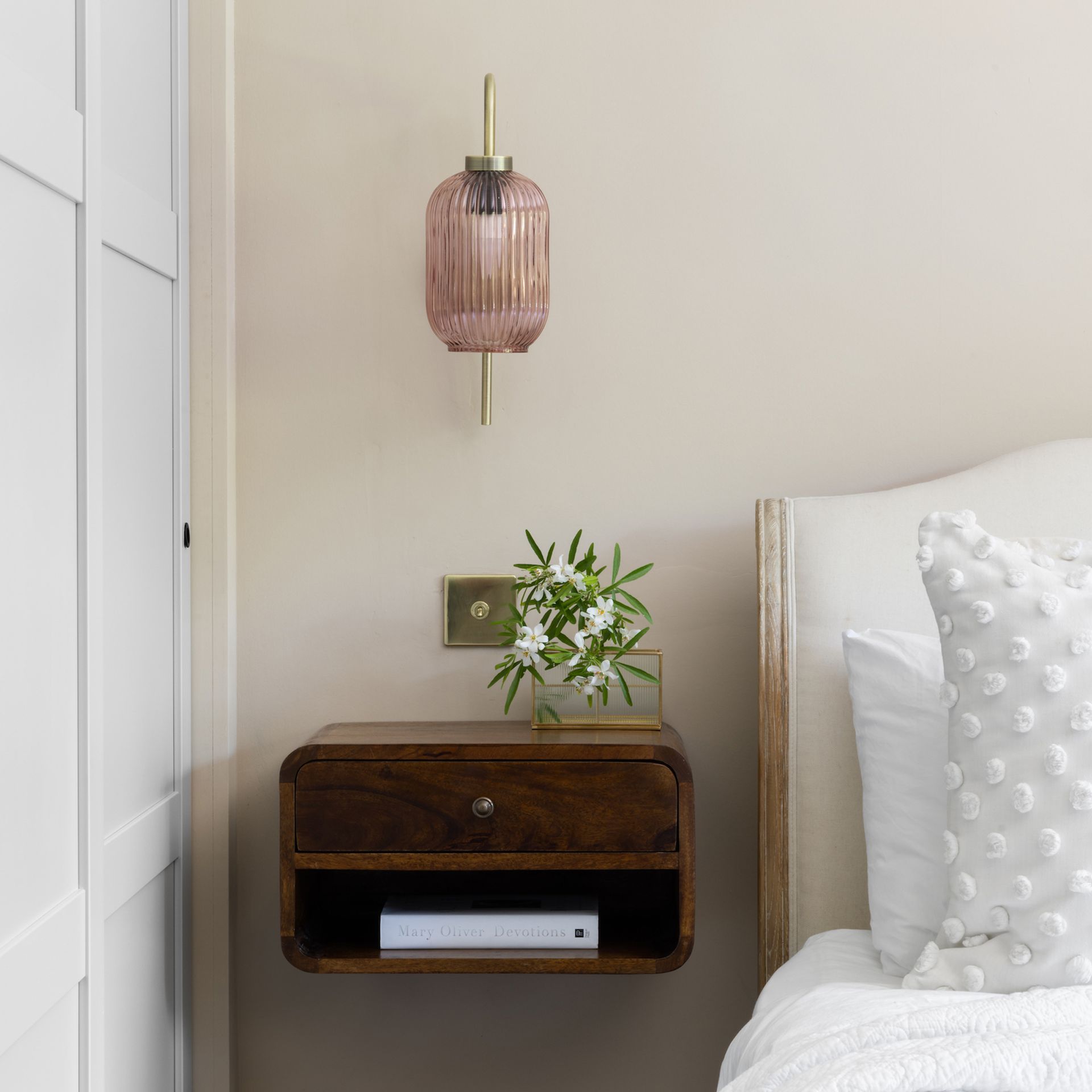 If you don't have much floor space to work with, install sconces to serve as light sources rather than space-hogging tabletop lamps. You can install battery-operated lights inside the sconces so no hardwiring or damage to your walls is needed. There are tons of cute and affordable sconces on sites like Amazon and Wayfair — suitable for every type of style.
7. Add seating at the edge of your bed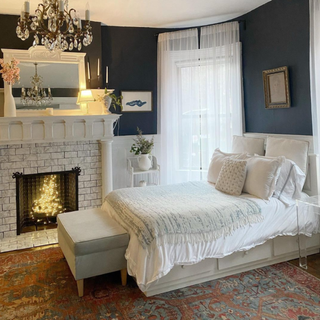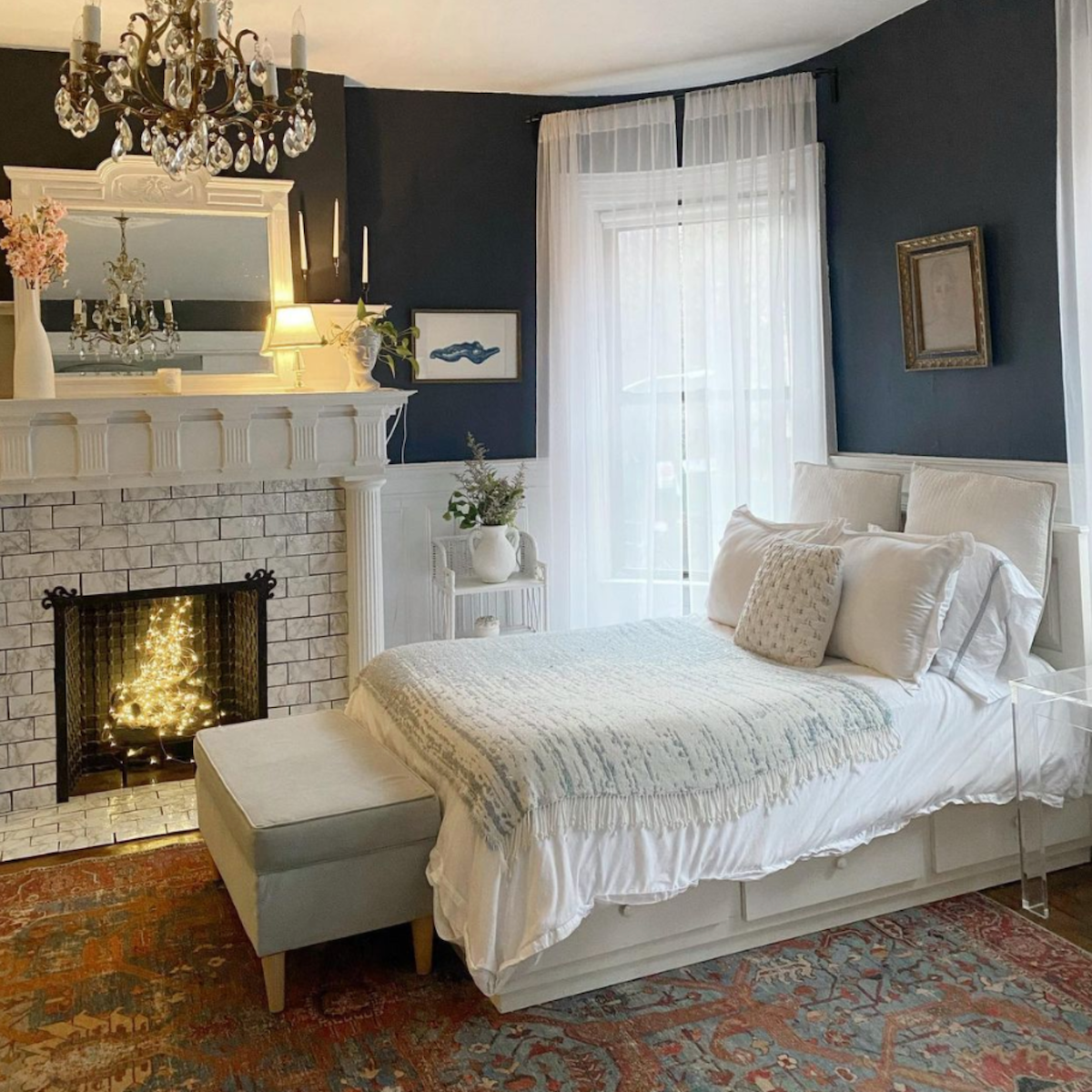 Gain some extra seating in your bedroom by placing a pretty bench at the end of your bed. Not only is it convenient to sit on while putting on shoes or folding laundry, but it'll look cute too. Extra points if you decide to get a bench with storage.
8. Make your bed a statement piece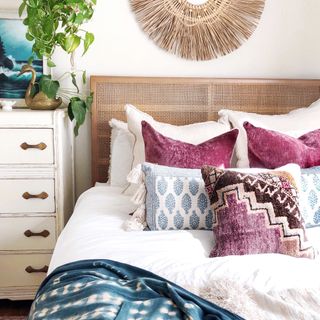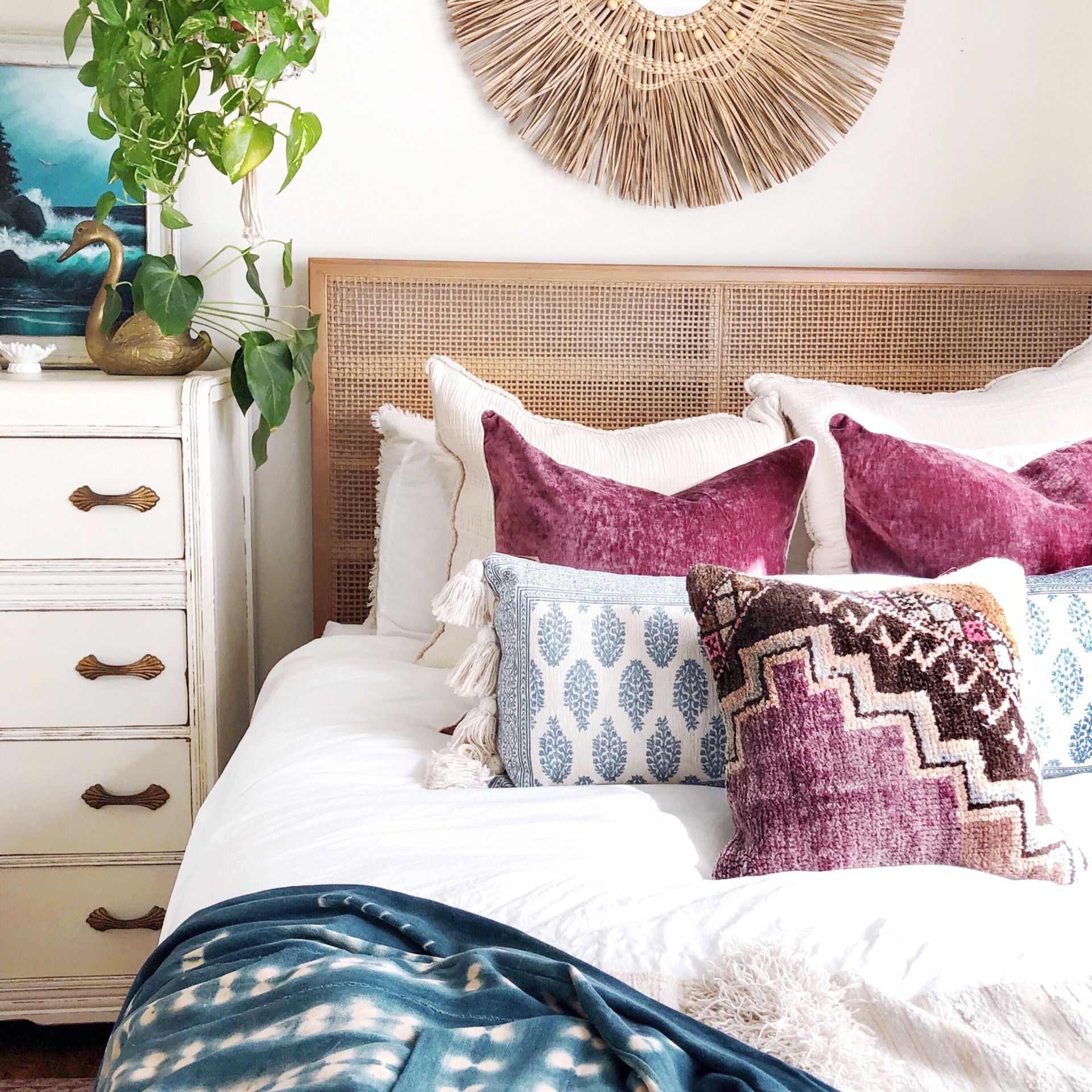 What's the one big statement piece in every bedroom? The bed if you give it a chance. While a lot of design newbies get hung up on small decorative items, making your bed the focal point will help everything else fall into place.
The bright throw pillows on top of this neutral duvet strike the perfect balance between clean and attention-grabbing. The cane headboard and textured mirror are two more showstoppers in this space.
And if you're looking for a transformative weekend project, try one of these quick and easy DIY headboard ideas to refresh your bedroom in just a few hours.
9. Make your furniture multipurpose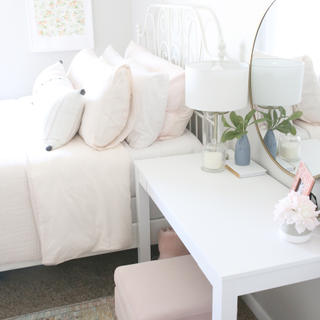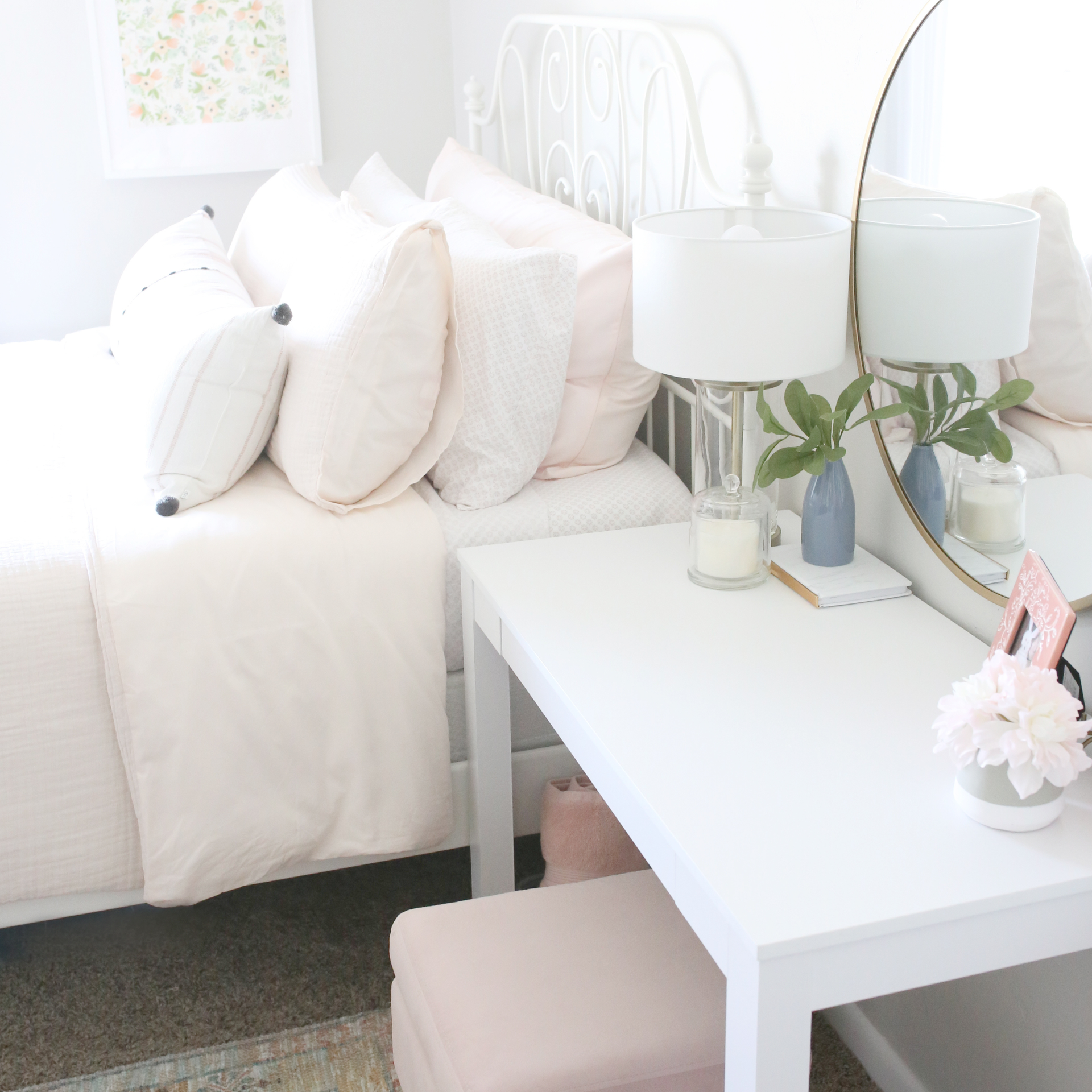 If you don't have space for all the furniture you want in your apartment bedroom, get smart with the items you do choose to bring in. You can make many furniture items serve two purposes (or more), like using a desk as a nightstand or a dresser as a TV stand.
10. Think outside the box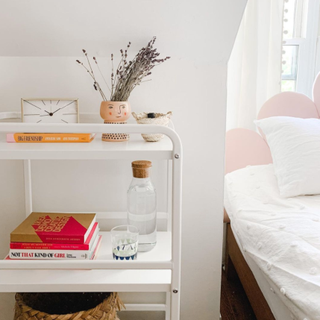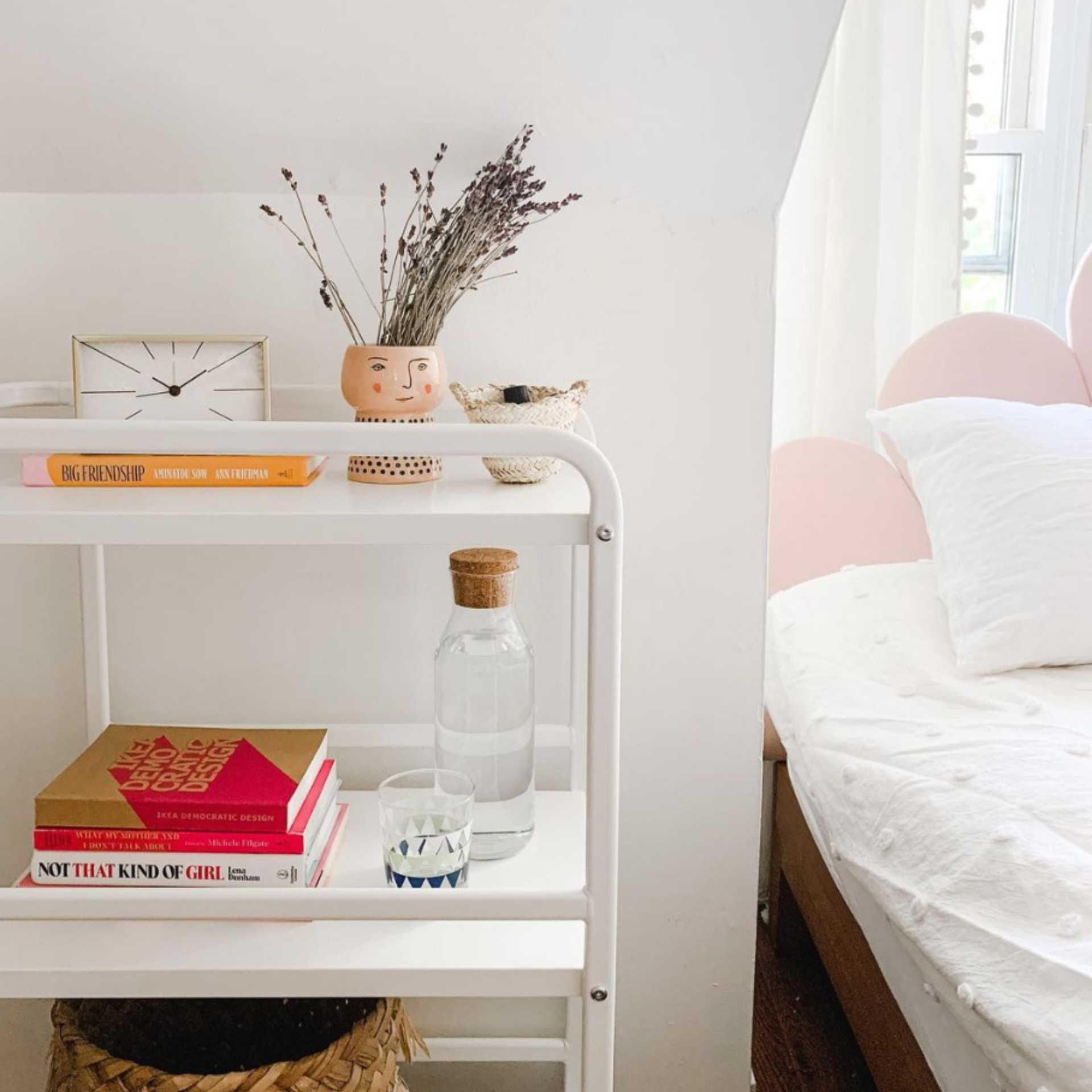 Bedroom decor can fall flat when you stick to traditional furniture. Give things a fresh take by using non-traditional home pieces in place of standard furniture, or have a bash at some fun DIY bedroom decor. We love the way this bar cart was used to corral a bedside clock, books, and dried florals. The cart offers a great styling place to showcase your taste and gives the room a fun, unique feel.