Bathroom renovation is a big task and if you're working with a space that's awkwardly shaped, with quirky (even visible) pipework, not much natural light and so on, a complete bathroom remodel can be a challenge. 
We know how tempting it is to just rip it all out and start fresh, but by using our expert guide, you won't need to resort to such measures when you come to remodel a bathroom. We've put together our best bathroom renovation tips to help with all types of bathroom remodels, straight from the experts of course, to ensure that your bathroom improvement project will be a success.
For more inspiration, bathroom ideas and design expertise on how to make the most of your space, be sure to check out our page for the latest updates.
How much does a bathroom renovation cost?
Before we reveal the tips and tricks to make your bathroom refurbishment run smoothly, let's talk cost. After all, setting the right budget, and sticking to it is essential for all successful bathroom renovations. 
So how much does a bathroom renovation cost? The scope of the project and the standard of fittings you choose has a huge influence, of course, but, on average, a complete bathroom remodel would cost around £4,500, assuming you use the existing pipework.
The costs of sanitaryware vary widely. For a quick bath renovation, you could easily find a bath or shower, basin and loo at places like B&Q for under £100 per piece, while a mid-range bath will be £300 to £500. If you're after luxurious statement pieces, you could be paying upwards of £1000, though. 
For lots more information and details on how much will a new bathroom cost, we have a whole feature on what to expect, so head over there, too. 
Where do you start when renovating a bathroom?
1. Plan a bathroom layout and stick to it
When it comes to bathroom renovations you'll want to avoid making unnecessary changes to your existing sanitaryware layout — the fewer alterations you make, the lower your plumbing costs will be. If you do need to move some key elements, then at least keep the toilet close enough to connect to the existing soil pipe. Find out more about bathroom plumbing in our quick guide.
Once the bathroom design is finalised do not change it, but before signing it off show it to the electrician, tiler and other related trades to make sure they can't see any issues that will interfere with their part of the project.
2. Appoint an electrician early on in a bathroom remodel
You will need to find an electrician for any rewiring, lighting schemes and the addition of an electric shower or shower pump. Chat to one before any building or plumbing work starts so they can plan their jobs into your bathroom refurbishment schedule.
Make sure you choose a registered electrician as you will get additional protection should something go wrong. The approved schemes and regulations around electrical installations differ between England and Wales, Scotland and Northern Ireland, but you can find a comprehensive list of registered electricians in your area by going to electricalsafetyfirst.org.uk.
3. Choose sanitaryware before plastering or tiling
To ensure the hot and cold pipes and waste are in the correct positions, you need to choose all sanitaryware before plastering or tiling. Specify everything before first-fix stage, as leaving key decisions until the sales are on can mean expensive alterations with your bathroom renovator.
Use our handy checklist to make sure you've thought of everything:
4. Salvage any usable sanitaryware
Bathroom renovations provide a good opportunity to reuse any good-quality taps or sanitaryware – roll-top baths are usually salvageable – or, for a cost-effective way to update existing fittings, you can always re-enamel or add a new surround to a bath. This is not only cost-effective, but a great way to maintain character.
5. Mix and match to make savings on a bathroom renovation
When you remodel a bathroom, stick with white, and mix items of sanitaryware from different suppliers, in order to offset affordable buys against luxuries such as a quality bath. However, avoid cheap fixes such as plastic baths or shower trays that are so thin they are flexible and, therefore difficult to seal and make watertight.
6. Even a simple bathroom renovation is effective
Keep the design simple in your bathroom remodel and avoid curves, steps, ornate decorative mouldings and non-essential details or ornamentation. The simpler the design, the more cost-effective it will be to fit out.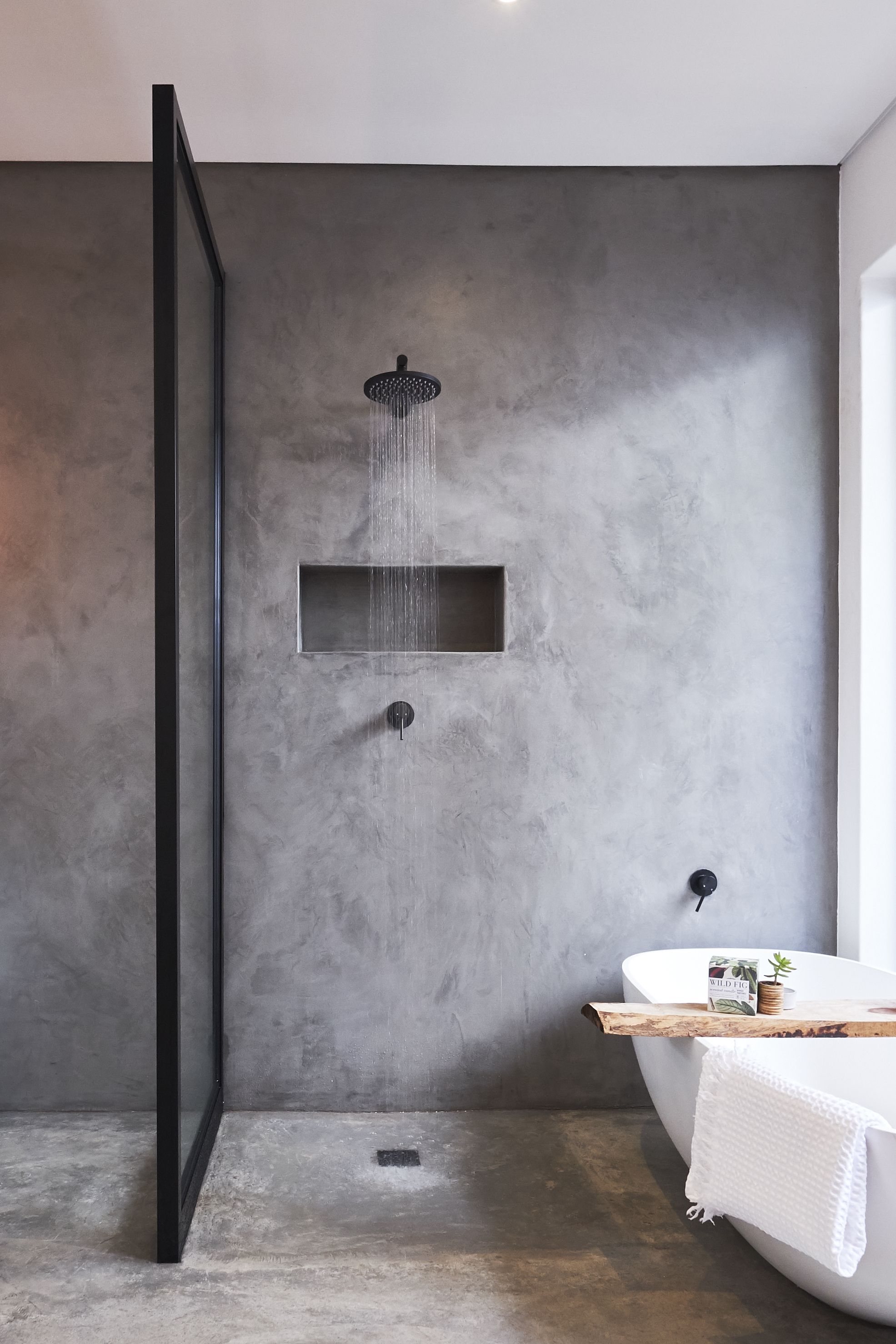 7. Remember you can haggle on your bathroom renovation cost
There's absolutely nothing wrong with asking for a discount – one of our favourite bathroom remodel tips – in fact, it's built into some shops' official policies. Even the big high street DIY stores will be open to negotiation on prices. In a poll by Martin Lewis for This Morning hagglers had 54 per cent and 59 per cent success rates at B&Q and Homebase respectively, showing that you could be throwing cash away by not haggling.
8. Think about waterproofing the space
Tile backer boards can be used to line bathroom walls and shower enclosures. They are 100 per cent waterproof when taped and jointed, and act as insulation too (so are a great recommendation when installed below underfloor heating). These will limit the risk of leaks which can be incredibly damaging and costly to repair.
9. Take the opportunity to include tech
For smart home tech fans, myriad options include waterproof televisions that sit flush within a wall, built-in hi-fi systems, smart lighting controls with preset moods for atmosphere, and automation of blinds and bath fillers. Again, these need planning in at the offset so that wiring can be accounted for.
See more cool bathroom gadgets in our feature.
10. Use mirrors to make a small bathroom feel bigger
When tackling small bathroom renovations be sure to consider large mirrors that can make a small bathroom feel lighter and more spacious – a frameless mirror covering the whole of one wall is very effective. To avoid misting up after showers and baths, fit heated pads behind the mirror (try styles from Demista).
See more tips on small bathroom design in our feature.
11. Pick reputable tradespeople for your bathroom renovation 
Be it plumbers, builders, decorators or electricians, always pick a trusted tradesperson and do your research on your chosen bathroom renovators. Use recommendations from friends and ask to see previous examples of their work.
Avoid traders who ask for cash – it is illegal for them not to declare their income and if you have no receipt, you have no comeback should things go wrong.
Likewise, beware of requests for upfront payments which can imply cash flow problems, or that builders' merchants won't give them credit.
Any reputable builder will be happy to sign a simple contract with you and a third party to ensure the agreed work is on schedule.
12. Never skimp on brassware
These are the items that are in use every day, in particular concealed valves that regulate your home's water temperature. Look for 'rub clean' showerheads with easy-clean nozzles that will prevent limescale build-up; great in a hard-water area.
13. Conceal pipework
For a clean look, ask the plumber working on your bathroom renovation to conceal pipework and services in flooring, ceilings and boxing wherever possible. This also makes tiling and laying flooring much easier. However, be sure to make sure vital components are accessible in the event of a leak.
If you are installing a freestanding bath away from walls, you can raise it on a plinth and hide pipework underneath.
14. Don't forget about ventilation
Many cases of damp are due to condensation. A bathroom is damp and steamy by nature, so install adequate ventilation systems (such as an extractor fan) to keep moisture to a minimum when planning your bathroom reno. 
If your bathroom has wooden windows, a window vac that can suck up condensation will prove invaluable for quickly getting rid of water that may rot the frames (if you have trouble with that, check our guide to dealing with wood rot.
15. Avoid wall-mounted sanitaryware where possible
Ditch wall-mounted fittings, as less work equals less cost. Wall-mounted taps, basins and toilets often require specialist fixings, chasing out to house plumbing, and the concealment of cisterns. It's quicker and cheaper to fit deck-mounted taps, pedestal basins and close-coupled WCs. 
Take a look at our guide to choosing a toilet for more tips.
16. Don't go overboard with lighting
Opt for pendant lighting — a single central fitting will prove much cheaper than individual downlights or wall lights. Check out multi-bulb fittings that only require a single power cable, for a flexible scheme. 
If you are rewiring a house as part of a renovation, then you could take the opportunity to do something more complex in different bathroom lighting zones, such as having two circuits of bathroom lighting for task lights and dimmable mood lights. Look to our bathroom lighting ideas feature for decor advice.
17. Invest in one statement feature for a luxe look on a budget
Choose one feature that will give your bathroom a standout, luxe feel. This might be a freestanding bath – take a look at our pick of the best rolltop baths for traditional homes – or splashing out on some really fancy taps. Or, if you've found tiles beyond your budget, use them on a statement wall with a more affordable complementary tile elsewhere.
18. A bigger space will need more heat
If you are extending the bathroom space in your remodel, don't forget that this will mean a larger area to heat. Re-assess existing heating and upgrade the heat output if needed with a more powerful towel heater or radiator. You could also take the opportunity to include underfloor heating. At the same time, check that the water pressure isn't affected by the addition of new sanitary ware.
19. Remember to include plenty of storage
Nothing can ruin a nice new room faster than clutter, so don't forget about bathroom storage – our feature is full of handy solutions. Use storage furniture and baskets to keep everything out of sight (apart from your posh toiletries of course).
Fitted furniture offers the chance to achieve a co-ordinated finish, with every type of bathroom improvement project, but it needs to be planned from the start. Freestanding and modular furniture offer more flexibility and can be added after the sanitaryware is in place. Modular furniture can also be wall-mounted, making effective use of space in clutter-prone areas of the bathroom.
20. Check materials are suited to a bathroom environment
Always choose materials that can withstand the conditions of a bathroom. From appropriate bathroom flooring to waterproof paints and sealed wall tiles, there are products designed to withstand high volumes of water.
Read more: