We could look at walk in shower ideas all day long, they are just so dreamy! They used to be something we would just lust over, assuming they were reserved for massive bathrooms and luxury homes BUT we have been proven wrong by these gorgeous rooms. Turns out a walk-in shower can work in a smaller bathroom too, in fact, they are a great choice for a small space because you cut out the bulky tray and enclosure. They can also work with any style and you can now get some really budget-friendly designs.
'There are several benefits to having a walk-in shower. Due to the lack of a proper enclosure, you'll be able to utilize a small or awkward corner where a bath or standard shower wouldn't fit. By tanking the room you're also future-proofing your home, as having waterproof surfaces will prove incredibly useful during bath time with small children.' explains Rebecca Milnes, C.P. Hart Designer.
'A walk in shower works well in many types of bathrooms. It's a great option for compact rooms, as having a normal shower enclosure can break up the space and make it look smaller than it is. A walk in shower gives a more continuous feel, creating the illusion of a larger space – particularly if you opt for a minimal, frameless glass panel.'
Walk-in showers blend nicely within many bathroom trends as their styling tends to be unobtrusive. For modern bathrooms, they add to the overall aesthetic and enhance the overall look. For more traditional bathrooms, they can add a subtle modern edge. You can also design your walk-in bathroom in different shades from whites to dark blacks, to fit any color theme you want.' comments George Holland, Bathroom Design Expert at Victorian Plumbing.
Sound like a walk in shower is something you need in your life? Well just keep scrolling to see how you can make your walk-in shower dreams come true, and for more bathroom ideas check out our full feature.
1. Decide on the best position for a walk in shower
Before we all go getting exciting looking at gorgeous pictures of walk in showers (that's to come promise) let's talk practicalities. You first need to decide on the best place for a walk in shower in your bathroom design.
'One of the first things to consider when planning to install a walk in shower is the position of the drain. Ideally, the drain should be as far away from the bathroom door as possible, to minimize any risk of water escaping the room. If you have a wooden sub-floor, the way your joists run is crucial to where your drain can be positioned. You'll also need to think about which way the gradient fall towards the waste will run, to avoid any tricky wedging effects.' advises Rebecca Milnes.
2. Add a stylish partition to a walk in shower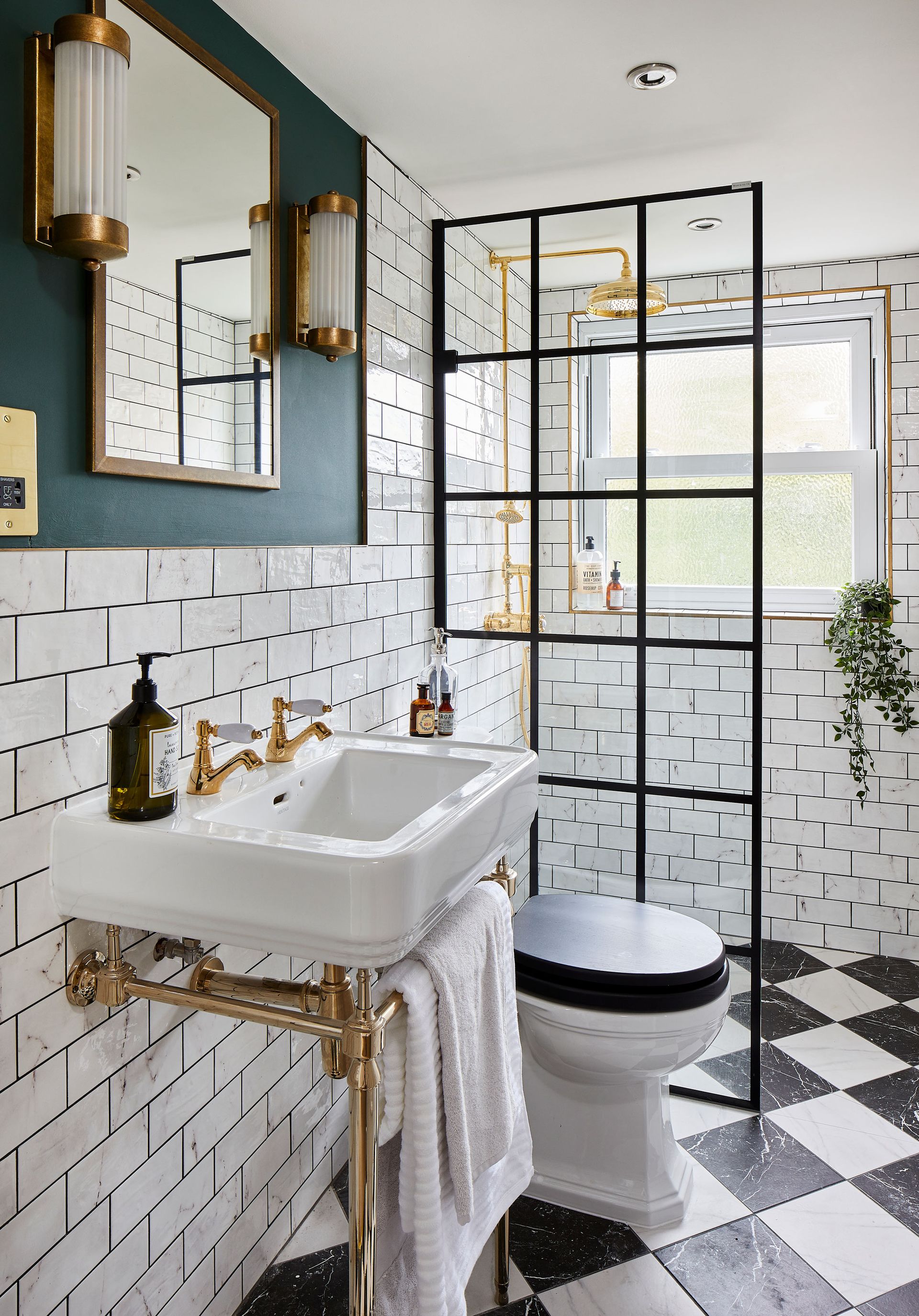 In larger bathrooms, a partition for a walk in shower might not be needed, but to make them work in a small space you will probably need something to prevent water from ending up all over the place. Black Crittall-style shower partitions are super stylish right now, every bathroom on Instagram seems to have them. They somehow manage to be a statement and subtle at the same time – like in this bathroom the black works so well with the flooring and the hints of dark colors in the rest of the space.
3. Add a walk in shower to a traditional bathroom
Walk-in showers do seem to be synonymous with more modern bathrooms, but they can work in more traditional bathrooms too. The wall paneling in this bathroom fits with the period-style and the simple glass screen doesn't break up the room or add anything too contemporary.
Also note the shelves that have been built into this walk in shower, a great way to add some storage for your toiletries and for decoration too.
4. Make a walk in shower work in the tiniest bathroom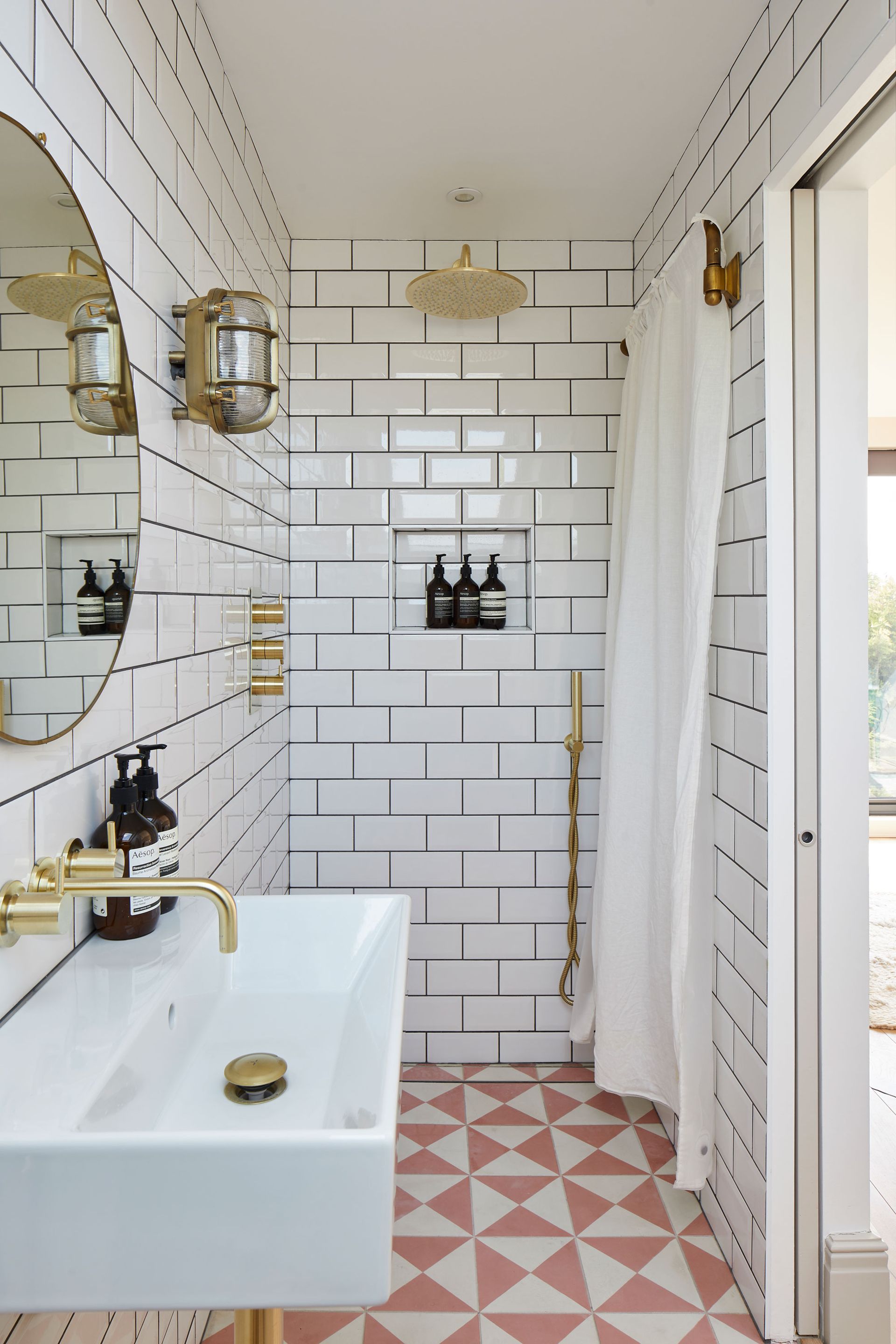 This is exactly what we were talking about when we said that walk in showers can actually be the best option in a small bathroom. A shower enclosure would just waste space in this diddy room, whereas a walk in shower creates a seamless feel. The partition is actually a curtain on a moveable rail that can be moved against the wall when the shower isn't in use, so clever and looks gorgeous.
5. Turn a walk in shower into a feature with bold tiles
You can make a feature of a walk in shower rather than it be a subtle part of your bathroom. Bold tiles are a really easy way to do this and you don't need to tile much of the space to make an impact, try just tiling the back of your walk in shower with a big statement pattern and keep the rest of the room simple so the shower becomes the focus.
For more bathroom tile ideas head to our full gallery.
6. Work around a window with a walk in shower
Well isn't this the dreamiest bathroom you ever did see? A window in a bathroom is such a coveted thing, but it can be limiting as you were you can put your bathroom furniture. A walk in shower skirts around all those problems because you can just have the window in the shower – a practical solution that looks amazing too!
Take a tour of the rest of this gorgeous Edwardian home.
7. Make a walk in shower almost invisible
If you are working with a small bathroom, designing a walk in shower that fits seamlessly, almost invisibly into your space is a good way to go. Match the tiles in your shower to the tiles on the walls (loving this deep teal, very dramatic) and keep the surround slimline and minimal.
8. Work a walk in shower into loft space
Walk in showers are ideal for awkward space like loft bathrooms. You aren't limited by boxy shower cubicles that will only fit at the highest point in the room, a walk in shower can be customized to work with your space, plus it will create more flow rather than cut the room up with a full shower enclosure.
9. Keep you color scheme simple and serene
Let your walk in shower be the focus and keep your color scheme really simple. Stick with greys and neutrals for really serene, hotel vibes and add in some natural textures too for some contrast. This can come in the form of some cute ladder shelving, a wooden vanity, or a little wooden stool, which actually make for really great storage in a walk in shower. Ground the soft look with the clean lines of your shower enclosure plus choose back taps and matching showerhead.
10. Yes, a walk in shower can work for rustic styles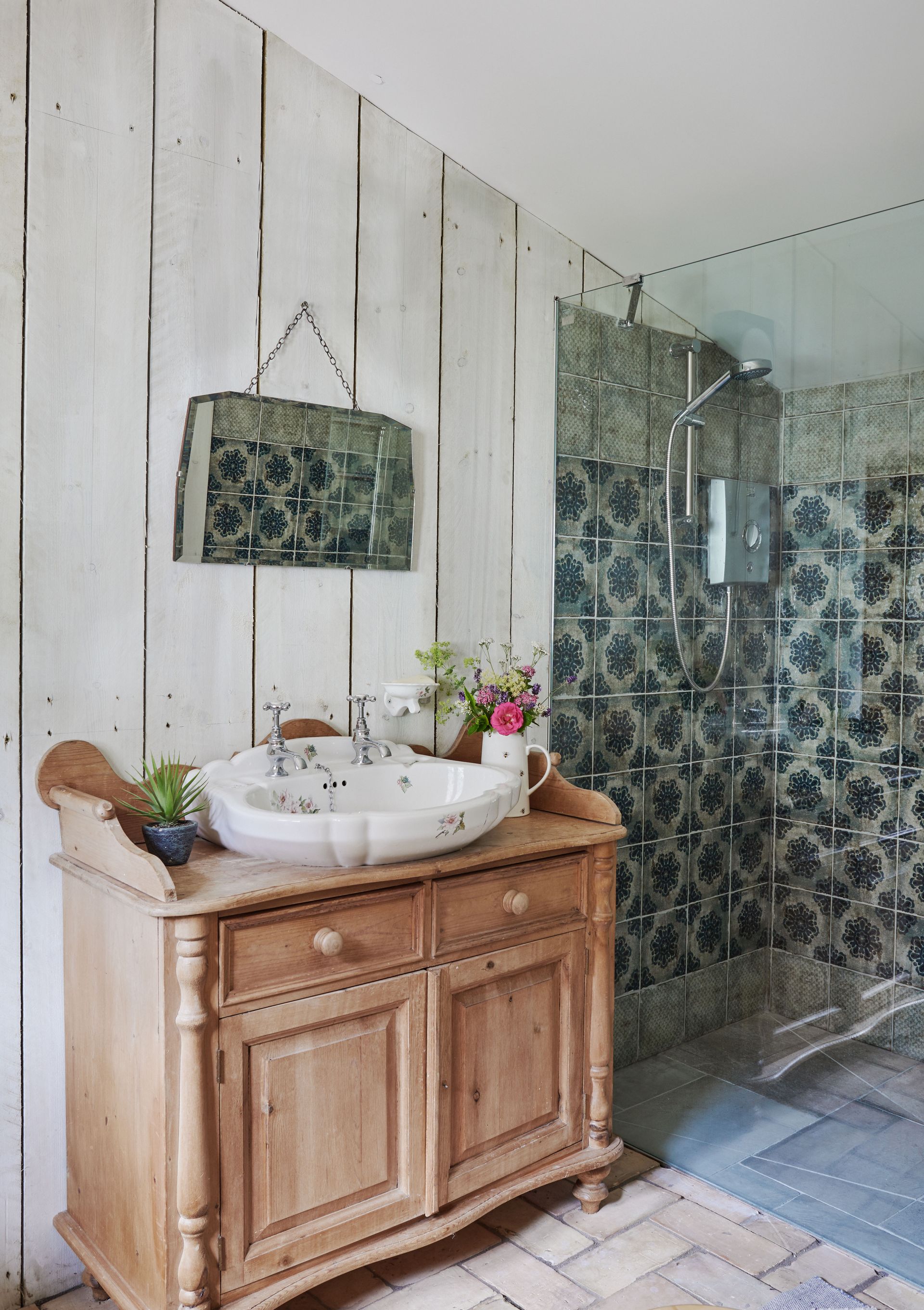 While yes, walk in showers are more often seen in modern bathrooms but they can fit just as well in more rustic, relaxed spaces. The walk in shower works so well in this lovely space because it's not broken up by a cumbersome shower enclosure that would totally contrast (and not in a good way) the relaxed vibe going on here.
11. Create a shower room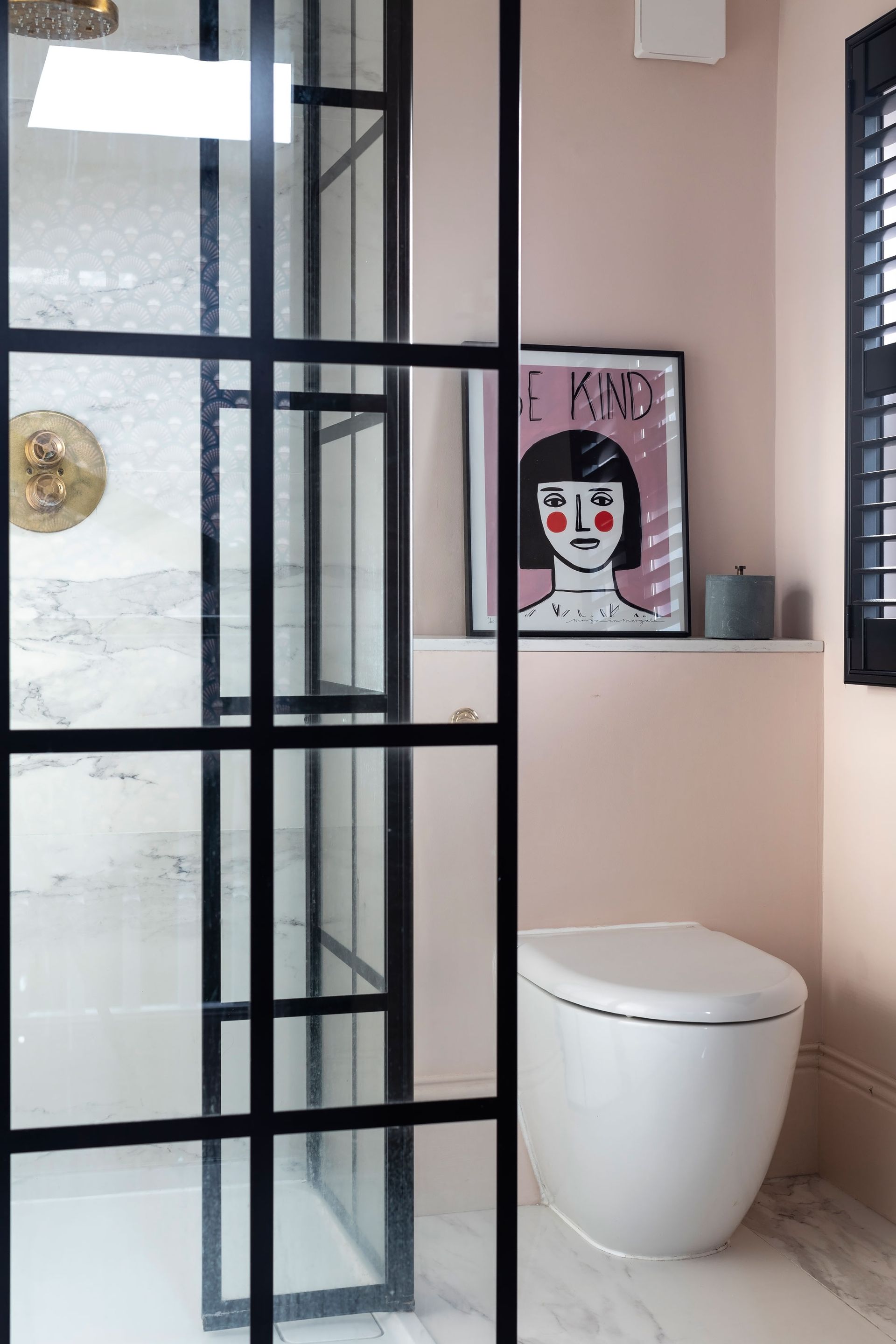 Take a walk in shower to the next level and create a shower room. Rather than go for a single glass screen, and a shower tucked in the corner, create a totally separate shower space for a really luxurious bathroom.
We love the look of the Critall style screens used in this bathroom, combined with the marble and plaster pinks – yes please! Just make sure you have allowed for ventilation by leaving a gap between the top of your enclosure and the ceiling to let out steam.
12. Go for classic subway tiles
Subway tiles are a classic so you can go wall to ceiling with them without overwhelming the space so perfect for a walk in shower when that can of waterproofing is essential.
They are also a really easy way to seamlessly connect your shower to the rest of the space. Check out how in this bathroom the tiles cover the wall in the shower enclosure but are then only brought halfway up the walls through the rest of the room. This creates continuity in the space but avoids the clinical look that a totally tiled room can sometimes create.
13. Match walls and floors
Oooh, terrazzo! Yep, it's back and it's no longer is it reserved for hospital floors and school canteens. In fact, it's becoming an increasingly popular material to use in bathrooms. This bathroom has gone all out walls and floors, and it works particularly well because it is on the smaller side – the terrazzo almost blurs the edges of the room making it look much bigger. This is also the perfect example of how walk in showers can be a much better choice than a traditional shower enclosure.
14. Add a skylight above a walk in shower
If you're designing a new bathroom in a loft conversion think about adding a skylight above your walk in shower to let the natural light pour through while still maintaining your privacy. Alternatively, add a row of smaller windows along the top of the wall. You could also recreate the feel of a skylight by adding spotlights in the ceiling of your walk in shower.
15. Bring in furniture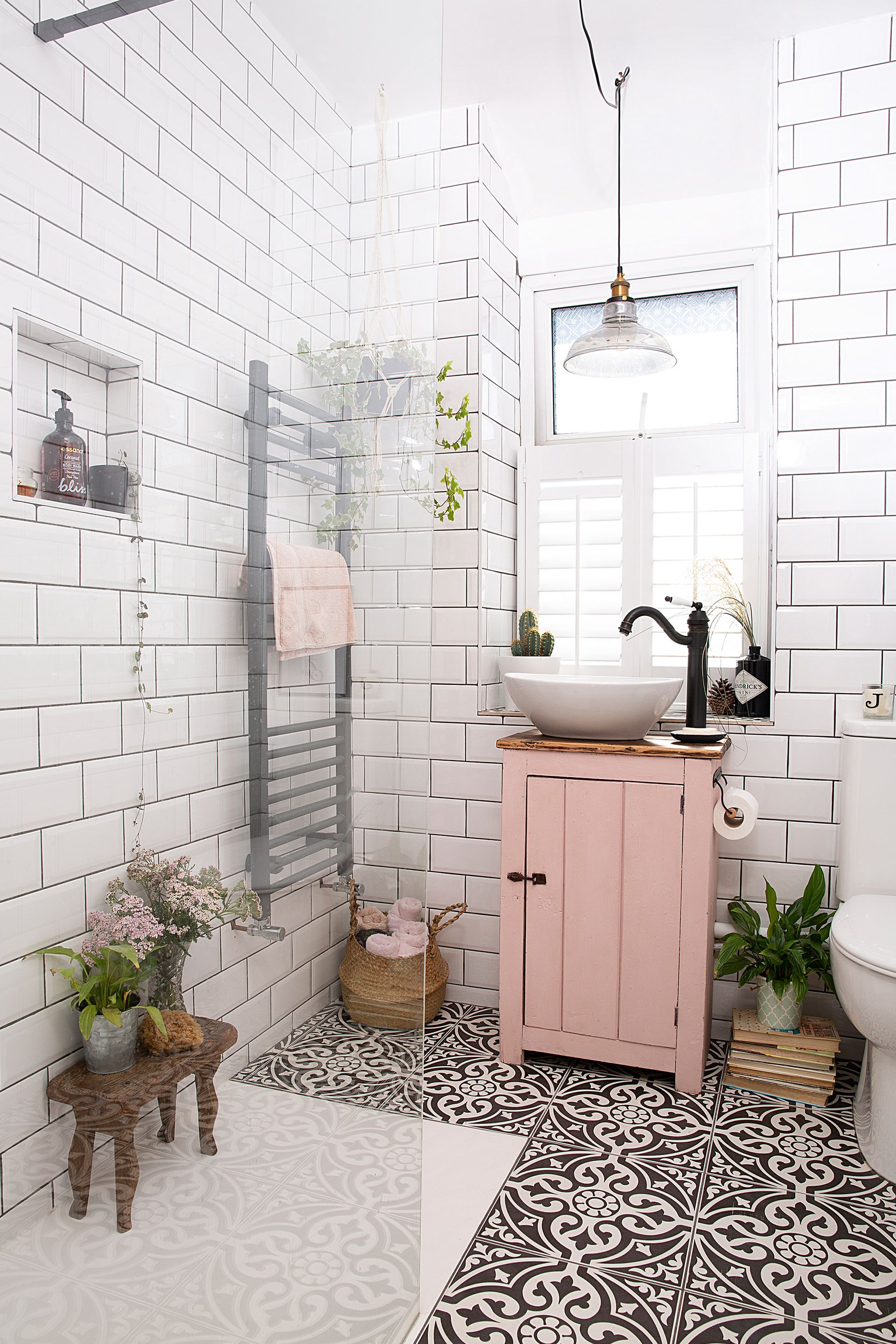 Furniture in a walk in shower is a very Pinterest-esque look, but we are here for it. We aren't talking about adding a three-piece suite or anything, just a small wooden bench or a stool – very boho and on trend.
But not only does adding something unexpected to your walk in shower look gorgeous but is actually practical too. You don't want to go ruining your luxury vibe with a shower caddy now do you? So a stool can be the perfect place to store your toiletries. Add a houseplant for extra Pinterest points.
16. Blend a walk in shower seamlessly
If you love a classic style, pick a walk in shower that fits seamlessly into your bathroom. For this glamourous look, keep things minimal, go with a simple glass enclosure and light tiles – keep them on the larger side too for less fuss. This shower almost fades into the walls and lets the freestanding bath be the focus.
Also note that this walk in shower is on a slight pedestal, which totally works in this space as it means you don't have to tile the whole floor and can instead go with those gorgeous painted floorboards.
17. Add a walk in shower to an awkward space
Don't let an awkward spaces deter you from having a walk in shower, in fact they can work better than showers enclosures. Tucking a walk in shower into the eaves is much easier as you don't have to worry about the ceiling being high enough – just tile the area and add a simple glass screen and problem solved.
The owners of this Edwardian home have really maximized the space in this small bathroom. Note the position of the skylight, it stops that feeling that you are trapped under a sloping ceiling while you are showering and fills the room with plenty of light.
18. Be bold with a central walk in shower
Swear if we started off everyday showering in this beauty we'd be much happier people. Look at it! A waterfall shower bang in the center of your bathroom – it's bold, but in this space it totally makes sense because of the slanted ceilings. Having a simple shower with just a single glass screen keeps this space feeling open and super luxurious, and means there's room for a freestanding tub too.
19. Be on trend with dark tiles
Black bathrooms have been a huge trend over the last few years – glamorous, dark and moody they lend themselves perfectly to walk in showers. You don't want to be ruining that chic, gothic vibe with a bulky shower enclosure! Keep to the minimalist look and go floor to ceiling with black tiles (hexagonal mosaics would be our personal choice) and install a simple shower head to keep the space fuss-free.
PS. we are spending the rest of the day researching black sinks.
20. Make a walk in showers work in a narrow space
See, even the smallest of bathrooms can still go big on style and incorporate a walk in shower. For a narrow space, a walk in shower is the best option as it doesn't break up the space and instead visually lengthens the room. It also means you can add more furnishings without the room feel too full – double sink? Yes please.
21. Separate your walk in shower with a wall
A look we haven't touched on yet is creating a totally separate walk in shower that's divided from the rest of the room not just by a screen but by a partition wall. This allows for more privacy plus creates a mini wet room within your bathroom.
Make the two spaces feel connected by copying this gorgeous walk in shower idea and running your floor tiles up the walls in the adjoining room. You can go much bolder with your tiles with this kind of design and let them be the focus – keep your main bathroom really minimalist but then you have the occasional glimpse of the fully tiled walk in shower too.
How much does it cost to put in a walk in shower?
This depends on the design you go for. For a simple, tray and screen design you can make that happen from around $1000 for a pre-fab unit but if you want something more luxurious the prices go up from there. For something fully customized you could pay anywhere between $8000 and $15,000.
You have to add in the cost of installation too. This depends on how much plumbing work you need doing, but it could cost between $2000 and $2500 if pipes need changing. You might have to add to that the cost of waterproofing the space which will be around $1000. The cost of tiles and the labor to install them should be budgeted for too – obviously, this will depend on the tiles you choose but on average you are looking at $2000.
What is the best material for a walk in shower?
There are plenty of options when it comes to choosing a material for your walk in shower. For the shower walls, glass or ceramic tiles are some of the most popular options – there are plenty of designs to choose from plus they are easy to keep clean. Marble and natural stone work well too but can get pricey, so depends on your budget.
The best material for the flooring of your walk in shower depends on your design – if you are going with a shower tray then you can choose between acrylic or ceramic. If you want to tile the floor to match the rest of your space then you might have to be pickier.
'Forgoing a shower tray in favor of a walk in shower or wet room allows the floor tiles to run through to the shower area, which adds visual space to a room. However, not all surfaces are safe to use in a wet room setting and it is crucial to know what the slip rating of the material is. I'd recommend using a material with a structured, textured finish to give extra grip in wet areas. Mosaics are also a great choice for wet areas, as the grout lines between the tiles give appropriate grip.' advises Rebecca Milnes, C.P. Hart Designer.
'Glass will always look good in a bathroom. Transparent yet reflective, glass can make rooms feel brighter and more spacious. For wetrooms, water-resistant marble effect tiles can look truly sophisticated, and also come in many different shades from dark to light.' recommends George Holland, Bathroom Design Expert at Victorian Plumbing.