Spring is finally here: the days are getting longer, and many of us are finally able to open windows to let in some air and are once again venturing out into our gardens. Give your home and garden some love this spring – give it a head-to-toe checkup and fix any issues now, so that you can enjoy a hassle-free summer and autumn. We cover all the essential spring maintenance jobs for your home and garden, from checking your roof to cleaning and pruning your trees.
For more dedicated advice on home maintenance and more, head to our DIY hub page.
1. Check your roof
A simple system for home maintenance is to work from the top of your property down. Your roof is the most exposed part of your house, and it takes a beating from the winter weather year after year. You should look for cracked or loose tiles, slates or flashings, and instruct a builder to fix any faults to prevent water damage to your roof – and ultimately your home.
Find out how to repair an old roof.
Next, check the gutters are clear of any leaf and twig debris. This is one area where a little time and maintenance could save you a substantial sum in the long term. Clogged gutters can quickly result in water damage to your home, with rainwater running directly down your walls if the main guttering system is blocked-up. The resulting water damage can be expensive to correct. Yet clearing your gutters is quick and cheap – meaning it's a 'no-brainer'.
Learn more about repairing or replacing guttering.
It's also prudent to check your chimneys are standing sturdy and pay for them to be swept – reducing any fire risk with future use. Finally, get up into your loft space and inspect the area underneath the roof, looking for any damp patches, light coming through holes, adding insulation if needed, and assessing for any problems with the interior roof structure.
Find out how to repair a chimney in our guide.
2. Repair your woodwork
Moving down the face of your house, you should take care of your windows and doors – particularly if you have wooden fixtures. Now is the time to address peeling paint, woodworm and rot. If necessary, treat, repaint or stain outside windows and doors to extend their lifespan and brighten up your exterior facades.
Find out how to get rid of woodworm.
If you have a wooden conservatory, you should check the condition of the frame and assess whether it needs retreating. You will need to check wooden frames for damp and resulting rot, beetle infestation or fungus, and any movement in your timber. These individual elements tend to need fixing all at once, which can be costly. However, with regular maintenance, wooden frames can last upwards of 30 years.
Get more advice on how to maintain and repair an old timber frame.
Internal wood doors can also do with some love at this time of year. Give yours a deep clean, then fill in any holes in the wood, and replace any hinges that aren't performing as they should. Get more detailed advice on how to restore wood doors in our guide.
If it's a hardwood front door that needs a spruce up, consult our guide to restoring your front door.
3. Fix any plumbing issues
This may feel counterintuitive, but spring is the time for check and fix all your plumbing, especially everything to do with heating. This includes having your boiler serviced, insulating your pipes, and bleeding your radiators. The boiler must be serviced annually by a licensed Gas Safe or OFTEC registered professional; this is to determine that the boiler is safe to operate. However, you may want to tackle simple issues to do with the boiler's efficiency yourself, if you know how to do it. For example, low boiler pressure is often due to air or dirt trapped in your heating system, so you will need to bleed your radiators. Find out how to bleed a radiator in our guide.
For more information, consult our essential guide to boilers.
If you are going to be calling out a plumber to get help with any of these issues, or you want other problems addressed, such as clogged drains, vents, or dripping taps, spring is the best time to find a quality plumber, as opposed to autumn, which is the busiest time for plumbers, making many of them fully booked for weeks.
4. Essential garden maintenance jobs for spring
Spring is a crucial time for your garden, and how well you look after it during the spring months will determine the health of your plants for the year ahead. To ensure that your garden is healthy and thriving throughout the summer and autumn, there are four essential areas to take care of during the spring months:
Pruning: perhaps you didn't do the pruning in winter, or you grow plants that should be pruned in the spring (hydrangeas are an example). Early spring is the last time to do any pruning, or you may damage fresh growth on your plants. Shrubs and hedges should also be trimmed and pruned at this time. Take a look at our pick of the best secateurs for the job.
Refreshing the soil: It may be tempting to just plug fresh plants into last year's top soil; resist this temptation. Replacing the top layer of your garden soil with fresh soil will ensure that both young and established plants get the nutrients they need and do better throughout the year.
Sowing: Spring is the time to sow the plants you are raising from seed yourself. Always read the packaging carefully: some seedlings will need to be raised indoors or in a greenhouse first (sweet peas, for example), while others, particularly wildflower mixes, are fine to be sown where they are to flower.
Act now to prevent pest infestations: pests and their larvae have been hibernating in your garden during winter, both in your plants and in your greenhouse. If you want to minimise damage from pests, now is the time to tackle them. Want to do it in the most eco-friendly way possible, without the use of harsh pesticides that could harm beneficial insects? Find out how in our guide to creating a wildlife garden.
Get more advice on how to get your garden ready for spring.
5. Repair and repaint garden fencing and railings
Over the winter, your fence would've been getting wet and freezing regularly, which accelerates the wear of the wood. So, spring (especially late spring) is the time to revive and protect your fencing with a fence stain. We have the best fence stains for you to choose from.
If you have iron railings, and the paint is beginning to chip in places, don't ignore the problem – repaint before rust can set in. Find out how to clean, repair and repaint old iron railings in our guide.
6. Repair or update garden furniture
Give all your garden furniture a thorough look-over. Is there damage to the woodwork? Or do the joints feel wobbly? Garden benches in particular need regular maintenance, but even if you've neglected yours, you can restore your garden bench with the help of our tips.
Metal garden furniture need sprucing up? Spring is the time to do it: the scraping and sanding prior to re-coating takes time, so a warm spring day is much more preferable to a scorching summer one. Learn more about reviving metal garden furniture in our practical guide.
While some old wooden garden furniture pieces might just be too much bother to try and revive, you can give many items a new lease of life with a coat of paint. Find out how to paint furniture for a bespoke, vintage look.
7. Repair and refresh outbuildings
Garden room or shed looking sad post-winter? Proceed as you would with furniture – strip, sand, paint, seal. You may need a different type of paint (look for words 'exterior gloss"), and we certainly would not advise using chalk paint on outbuildings.
To find out more, check out our guide to using paint to brighten up your garden.
8. Do a thorough spring clean of your interior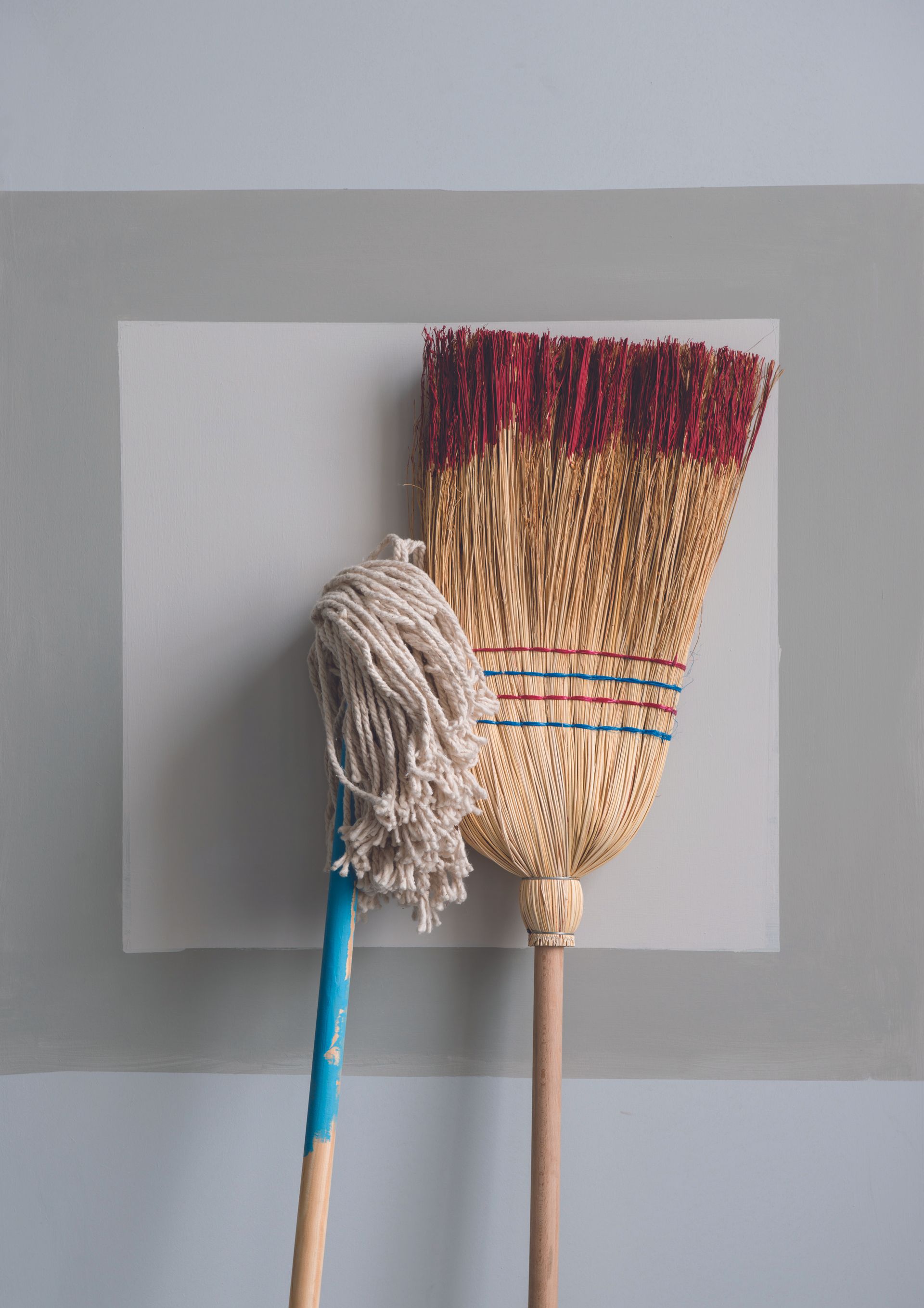 Now that you've brushed up the exterior, it's time to move indoors. The Spring Clean is not just a cunning invention designed to make us buy lots of cleaning products. Cleaning in spring makes sense – and is much more pleasurable as the days get warmer and longer. You can finally open windows, which helps not only with window cleaning itself, but also for airing your home while you are dusting and vacuuming.
By the way, if you hate chemical-laden cleaning products, or have sensitive skin/allergies, you need to make friends with baking soda and vinegar, which work wonders on almost any surface. We have more spring cleaning hacks that don't use cleaning products.
Here's the basic checklist of areas to pay attention to while spring cleaning:
Clean windows: do it on a dry day, obviously. A vinegar solution is all you need.
Do a deep clean of curtains, soft furnishings, and carpets. A professional cleaning service may be necessary, depending on the size of your house. If your home is on the smaller side, you can clean your carpet yourself.
Clean your flooring: wood flooring needs careful maintenance that won't ruin the timber with excess moisture. Check out the best ways to clean wooden floors.
Restore and clean encaustic tiles in your hallway.
Do a wet clean of all surfaces, but be careful not to soak any wood surfaces or marble. A slightly damp, soft cloth is all you need to remove dust. On all other surfaces, including tiles, an e-cloth works like a dream.
Wash all bedding and replace your heavy duvet with a lighter one. For guidance on how to wash different types of fabrics, consult our guide to best ways to do washing.
9. Declutter and tidy up your home
Are you a bit terrified of looking for your summer clothes, because you actually aren't sure where they are? It's probably time to declutter your clothing storage. Whether you are a fan of Marie Kondo, or you're just feeling the need for a bit more order – and more space – spring is the best time of year to declutter.
Nor is decluttering limited to clothing: you can also sort through your kitchen drawers, DVD collection, bookcases, garage...Find out how to declutter and tidy up every area of your home, with top tips from Marie Kondo.
And when you've put everything in bags, why not give your stuff to charity, or give your stuff away to someone who needs it via Freecycle?
10. Give your home some extra prep if you are selling
If you're doing home maintenance with the idea of selling your home, you could aim to get it on the market by Easter – considered by many to be a peak in the property year and the time when many buyers are looking for properties. And even if you're not looking to move, a spring MOT for your home will help you address any problems head-on while the weather is good, and before the busiest time for hiring builders, plumbers and other contractors.
Get more advice on how to present your home for sale.
More home and garden maintenance advice: