Wooden flooring adds sophistication and value to the overall aesthetic of homes – so you need to know how to clean hardwood floors safely to keep yours in great condition and looking beautiful for years to come. Whether yours are mahogany or pine in color, whether you've had them down for a couple of decades already or if you only just discovered them under carpet installed in 1910... Wooden floors are a treasured feature and deserve mindful cleaning.
You will need the best mop you have for starters, then it's all about learning to clean your hardwood floors carefully with Bona and the like or even just water for a natural alternative. You may have heard about cleaning hardwood flooring with vinegar, but this isn't actually recommended if you want to maintain those precious floors for decades to come. Keep scrolling for the best cleaning techniques and protective measures plus, we've included some wise tips from Martha Stewart and another of our favorite cleaning gurus too.
Many struggle with cleaning hardwood floors as the fact of the matter is, they are delicate, and you'll need to adjust your cleaning routine accordingly.
How to deep clean hardwood floors
The best thing for a deep clean is to start by removing dust from the floor surface. The bristles, mop pad, or brush head you use to clean with should be soft enough not to scratch your hardwood floors. Dampen a microfiber mop with a little bit of water. Then make up a cleaning mixture using a gentle detergent like Bona Wood Floor Cleaner Spray or a few drops of everyday Castille soap/dish soap mixed with about 4 cups warm water (not hot). Begin to clean your floors, working in the direction of the grain to buff the surface and remove any stains, plus, it will stop you mopping yourself into a corner! It's also a good idea to dry your floors right after mopping them also.
Can you vacuum hardwood floors?
When it comes to vacuums, there is some debate about whether they are suitable for hardwood flooring or not as there is a risk of scratching them. Therefore, It is essential to be mindful of the bristles on the machine. Those with bristly brushes and rolling wheels may scratch your floor. If you really want to go down this route, choose from the best vacuum cleaners that suction dirt and dust well, and use it no more than once a week. Try and find one with a hardwood floor attachment, and choosing a handheld is also wise as you won't have to worry about wheel or brush roll scratches.
All the hardwood floor experts agree – you should invest in a good microfiber mop, like those made by Turbo. And, although brooms might pick up those big pieces of dirt and trash, they tend to push dust around the room, and could scratch your floors if they have the wrong bristles. The safest brooms have rubber bristles or those designed with horsehair bristles which are soft enough for hardwood floors.
How to protect hardwood floors
Remove dust and dirt regularly: Dust and dirt are two of the most harmful things to hardwood floors, so you don't want either sitting on your floor for too long. Reusable microfiber pads attract dust, dirt, and grime keeping your floors looking fresh and clean. Depending on how dusty your home gets, you might have to use a microfiber mop daily, if not every other day.
Never flood a floor (especially corners): When mopping your hardwood floors, resist the urge to over-saturate your mop. Water is not a hardwood floor's friend. Wood is so porous that when lots of moisture seeps in, it can cause discoloring or the wood to buckle.
Avoid steam mops: Even the best steam cleaner on the market is sadly not the wisest choice for your hardwood floors. While these mops are ideal for non-porous floors like laminate and tile, they saturate wood floors with too much water, an effect that's intensified with steam.
Steer clear of harsh detergents: Avoiding any chemicals and harsh cleaners is vital. For instance, while some are partial to Murphy's Oil Soap, the cleaner can cause a buildup over the finish of your floors and leave behind a sticky residue that makes footprints or streaks more visible.
Don't use vinegar: Many praise vinegar, but the all-natural cleaner is actually too acidic for hardwood floors, and may react negatively with your finish and cause some dulling or damage.
Use furniture pads: When it comes to hardwood floors, it's most important to prevent wear, scratches, and damage. This means outfitting the bottom of the legs of furniture with furniture pads, so the wood doesn't suffer indentations or scratches.
Use door mats: Have them at every entry to your home as they are also necessary to prevent water or dirt from entering the home and damaging the floors.
Invest in an area rug: One of the easiest and most stylish ways to protect your hardwood floors is with a rug. Area rugs are like furniture pads in that they'll protect the hardwood floors from scratches. They also catch the dust and dirt that your door mats don't. Just make sure they don't have a rubber or synthetic latex backing or a rough exterior that will scratch or damage the hardwood.
Monitor sunlight levels: Whether you have curtains or blinds, be aware of how much sunlight you're allowing onto your hardwood floors. Wood is photosensitive in the same way we are. The more light they get, the darker they become. Areas of a hardwood floor hidden under a rug may appear much lighter when the rug is moved. To prevent this, you'll want to move rugs and furniture around, so you don't end up with light and dark patches of wood. You could also invest in curtains, blinds, or shades that help filter light around rooms.
How do I know if my hardwood floors need refinishing?
If you think your hardwood floors have been damaged beyond repair and they need to be refinished, think again. Refinishing hardwood floors is an expensive task and only necessary every decade or so (doing it too often is bad for floors). Historic hardwood floors might not be able to handle the sanding of a refinishing.
In the meantime, there are simpler ways to bring your floors back to life without refinishing. Start with a liquid hardwood scratch concealer to remove eye-catching scratches. Polishing is also a great fix for scruffs and scratches. You only need a flat-head mop with a microfiber cleaning pad and wood floor polish to get it done. If your hardwood floors are unsealed or have a tung oil finish, you'll need to give it a wax, rather than a polish.
Ultimately, if you choose the path of refinishing, be sure to use a finishing that protects the wood from liquid, dirt, scratches, and UV rays. It's worth the extra cost.
Expert advice on cleaning hardwood floors safely
Martha Stewart along with Mary Gagliardi of Clorox suggest that 'Dirt and grime, especially, can make your hardwood floors look dull. If this is the case, deep clean hardwood floors every two to four weeks... ' Gagliardi also suggests sweeping or vacuuming (only if you have a hardwood floor attachment), then mix up your cleaning solution and 'Use a conventional mop (a mop with hands-free wringing makes the job even easier) or you can use a microfiber mop'.
Donna Smallin Kuper creator of Declutter.com shares that 'A common mistake is cleaning hardwood floors with vinegar and water. The makers of wood and wood laminate flooring beg you not to do that as vinegar is acidic and can harm the surface of your floors. They recommend vacuuming first and then using a only a damp mop... Also, never use an eraser-type sponge to remove a stain from wood flooring as it will remove the finish as well as the stain. '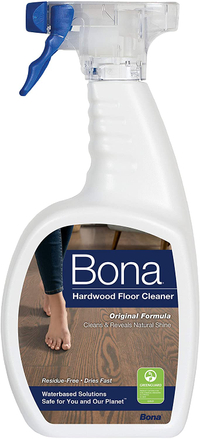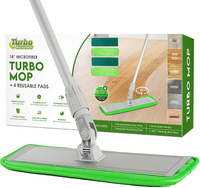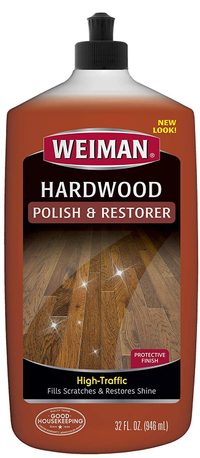 Get your wooden floors looking good as new, for years to come!