Introducing patterns to a space, whether that be a living room, kitchen or bedroom, is such an easy way to make it look full of design interest. But mixing different designs makes plenty of decorators nervous. If you've previously retreated to plains rather than risk an unhappy result, be inspired by these 10 ideas for successfully mixing and matching patterns and prints, which you can translate into your own home with ease.
1. Create a visual link with an accent shade
This high-ceilinged room shows off a fabulous tropical print wallpaper up to picture rail height with an intricate design above. Picking up an accent shade from the leaf and floral design for the print above creates a colour link that allows the pair to sit happily together on one wall, while the all-over print's textural appearance ensures it doesn't fight with the pictorial design below. Love a bold wallpaper? Find more statement wallpaper design ideas.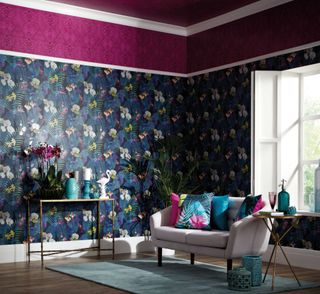 2. Choose two opposing but toning colourways
If you're looking for a super simple way to pattern mix, how about taking a leaf (sorry, couldn't resist) out of this room's book? The same print features on both curtains and wallpaper but, in two different colourways, making the look smart and modern rather than matchy-matchy. To repeat the effect, opt for the more subtle colourway over larger areas with the brighter shade in smaller doses. Discover more gorgeous grey wallpaper ideas.
3. Be inspired by Moroccan interiors
Moroccan interiors mix patterns with ease, and introducing the typical designs can be a quick route to room scheming success. Stick to graphic motifs to get the look, but go for those featuring the ornate detail of decorative tiles – as on this wallpaper – as well as bolder and simpler versions to avoid making the overall effect too busy. Picking a range of jewel colours will also help give the room the right vibe.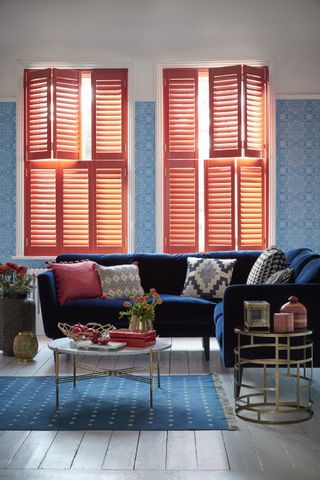 4. Give traditional pattern a contemporary edge
Team a pattern that looks back in time with a second design with modern credentials and your scheme will look bang up to date. This romantic birds and blossom wallpaper – inspired by a 20th century piece – is right at home alongside a chevron rug in bold black and white.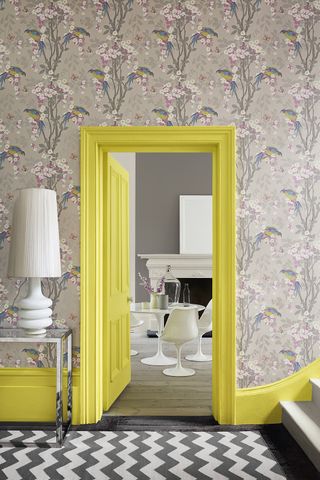 5. Contrast angles and curves
Opting for prints with sinuous lines alongside those with stricter geometry can soften a scheme to suit a room that's made for relaxing. Pick designs that are equally bold in scale so the contrast is clear, and add in plains to give the eye somewhere to rest.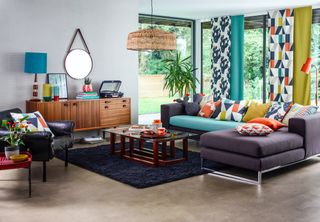 6. Mix florals and graphic prints
Teaming beautiful blooms and geometric motifs needn't be a puzzle. Just look for patterns featuring the same range of colours and they'll work together a treat. You can find your own design combinations or – even easier – look within an individual collection from a fabric house, as the different designs within it are made to look good together.
7. Smarten up with a linear print
Give a traditional living room a tailored edge with linear pattern. Top-to-toe stripes could look as stuffy as a three-piece suit, bowler hat and rolled umbrella, so mix them with variations like the two sizes of chevron in this scheme, and show off dense colour against less solid hues. Be inspired by these traditional living room design ideas.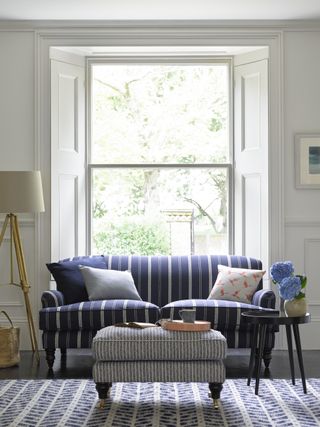 8. Get creative with scale
Sized-up pattern can turn a wall into a work of art, but featuring a design that's this bold doesn't necessarily mean going plain elsewhere in the room. Here the rug features a blossom trail print of medium scale, while a sofa cushion features a small-scale print so that each motif is perfectly sized to the dimensions of the piece on which it's featured. Like this? Be inspired by more mural design ideas.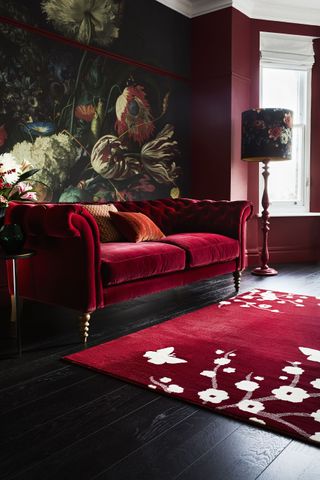 9. Go bold with botanical prints
Foliage and botanical prints are bang on trend and will co-habit as comfortably in a room scheme as the real blooms and vegetation do in the Amazon. Give bolder colourways and medium to large sized designs a plain backdrop for a more traditional finish, or choose a graphic clash for a contemporary look. Find more beautiful botanical wallpapers for your rooms.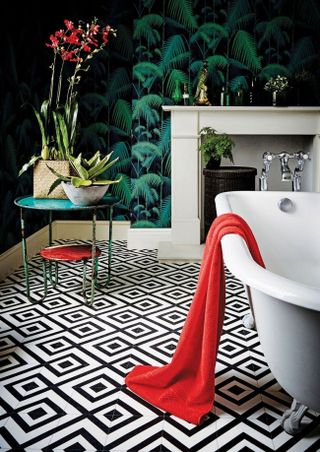 10. Choose a neutral colour scheme
Want a room scheme that's understated but still full of decorative detail? Put together pattern in neutral shades and gentle tints of colour. This room's grey and yellow give the eye plenty to enjoy, but the overall effect is wonderfully calming.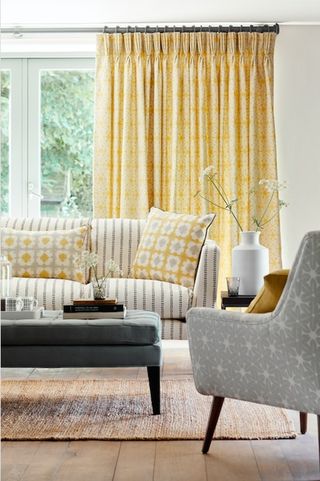 Want more decorating advice?