Check out these small entryway table ideas to add more flair to your entrance. We're all about embracing an entryway, matter the size of your space. I'm specifically looking at ideas for the types of tables that work best in these spaces.
Committing to a little table not only gives you a place to leave your keys and any other last-minute, must-reach-for items (for me, it's a bottle of perfume for a final spritz!), but it also defines the area.
That's right; a table in your tiny entryway tells the world, 'Hey, I might be small — but I still matter!' It makes a statement and carves out this little space as a final farewell to your apartment as you hair flick outta the door. So, if you're stuck for ideas on the type of table you might like in your small entryway, try these out for inspiration.
Small entryway table ideas
Whether your entryway is super pokey, barely has enough room to store your favorite shoes, or actually isn't an entryway at all, and just opens straight into your living space, there's a design trend for you.
1. The tiled bench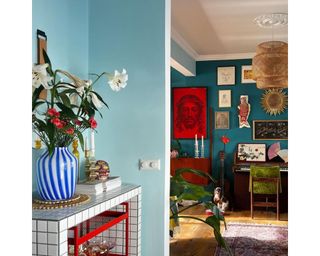 Oft, the tiled table look isn't going anywhere, anytime soon. We really saw this one hot up a few years ago in lockdown when everyone and their dog were trying out the trend DIY-style, but it looks as good now as it did then.
What's great about this type of table is that it often has a lot of space underneath thanks to the bench design, which means you can store shoes, bags, or anything else you might need.
2. Double the storage with a shelf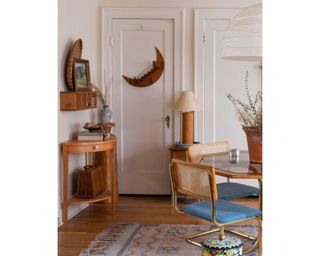 If your entryway is super small, double up on storage with a floating shelf above your chosen table. Candy Murray, Interior Style Manager at Soho Home says that this is a smart way to make the most of the space you DO have.
"In small spaces like this, a shelf is your best friend because it takes up no floor space. In fact, if there's no room for a table at all, you could even choose a set of shelves to do all the heavy lifting on their own."
3. Opt for a locker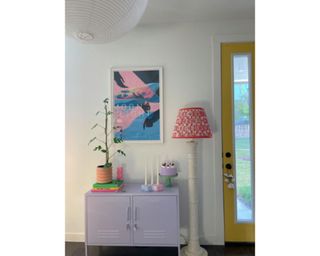 Pastel lockers are my kryptonite! They're cute as hell, right on trend and so versatile that even if you move apartments, you can be sure this little guy will find another spot.
And, thanks to the closed doors there's somewhere to hide your mess away. Extra points here for styling it with a floor lamp, so handy to set the vibe as soon as you get home.
4. Stay faithful to mid-century modern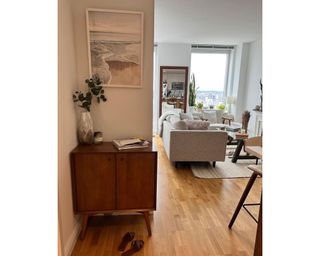 Mid-century modern design is one of the most popular and enduring design periods, ever. It's all about warm-toned wood, sleek lines, and a focus on practicality, but never in a cold way.
Originally huge in Scandinavia, this aesthetic very quickly became the in thing in the US, and it's never really left. See if you can thrift one from your favorite vintage store and borrow these styling tips with a print hanging above and some dried stems in a vase.
5. Accessorize with a mirror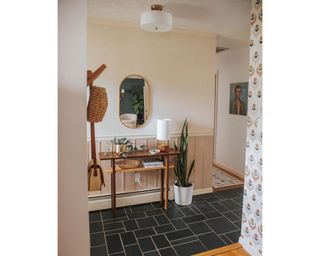 As much as getting the right table is important, so is picking accessories that bring the space together. A wall mirror is always a good idea, especially in a spot where you can do a last check of your lipstick before heading out.
Jessica Sims-Wilson, founder of House of Dawn interiors, says: "Mirrors in a small area are always a good idea as they reflect light and create the impression of spaciousness. So, not only is a mirror helpful on your way out, but it really benefits the entryway's flow, too," she explains.
6. Make a statement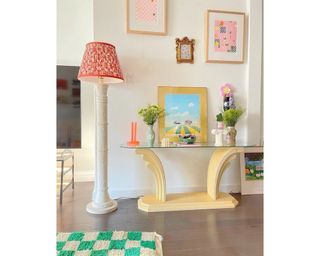 Sometimes, you just need to go all out. In this example, the lack of an entryway and instead, the main living area being the first thing you see, means that a stand-out table is needed to introduce the room.
Use this idea as inspiration and go thrifting to find something that really stands out. The clash-ier, the better!
Small entryway buys
I've shopped the best small entryway buys to give your space a refresh. See everything from storage ideas to decor pieces and more.
Prices were correct at the time of publishing.
Meet the experts
Candy Murray is Interior Style Manager at Soho Home, Soho House's interiors brand.
Jessica Sims-Wilson is an interior designer with experience at huge brands like Neptune and Soho Home. She is also the founder of her own interior design studio, House of Dawn.
FAQs
What other pieces of furniture do I need for a small entryway?
It's a good idea to invest in some storage furniture for your entryway so items like coats and shoes don't get too messy. We found some great small entryway storage ideas including shoe racks and console tables to help tackle the issue.
What should I keep on my small entryway table?
You may want to store important items you need before leaving the house like your keys or wallet on an entryway table. You'll also want to invest in some small entryway lighting like a table lamp to keep on here to add some ambiance.
---
Remember, storage is everything in an entryway, so be sure to accessorize where you can with storage baskets, shoe racks, and trinket dishes.