You may have run out of shoe storage ideas for a small entryway, but we've got some clever tips in mind. When it comes to finding the right space to store your shoes, the entryway is oftentimes the most accessible.
However, small entryways that are lacking in square footage can easily become cluttered and disorganized. Instead of letting your shoes pile up in a corner near your front door, consider finding an organized solution.
Whether you need a small space for a few pairs or an entire shelving rack, these small entryway ideas will have your space transformed into the inviting room of your dreams.
Expert-approved shoe storage ideas for a small entryway
From vertical shelves to over-the-door organizers, here are 8 storage solutions experts recommend when it comes to keeping your small entryway organized.
1. Think out-of-the-box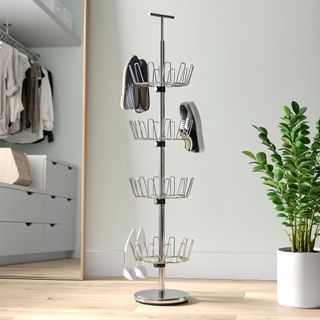 For those with a large shoe collection, interior designer Danielle Matthews has a perfect out-of-the-box solution. "A spinning shoe rack can be helpful for an entryway with minimal space," she says. "It won't take much area, and you can put it in the corner. It can hold plenty of shoes. And one can locate the desired shoe with ease."
Another selling point? It's quirkiness. "It will fascinate your guests," she says. We love this Rebrilliant shoe rack available on Wayfair for this kind of display.
2. Go vertical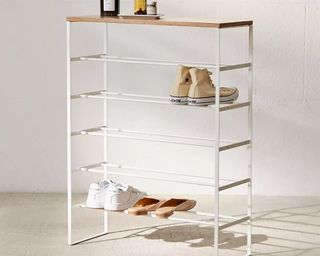 A designer based in San Francisco, amongst the Victorian homes, Jihan Spearman knows all too well about small entryways. "I recently suggested a narrow vertical pull-out cabinet for shoe storage for a client with a small entryway in an old Victorian home," she says.
"The trick to small entryways is taking advantage of the vertical space by staking shoes up as high as the ceilings as opposed to taking up precious walkway space." This six-tier shoe rack from Urban Outfitters takes advantage of tons of unused space.
3. clear solutions to display
Interior designer Ana Coddington understands the importance of storage baskets in organizing. "Acrylic shoe boxes can be an incredibly creative and chic way to display your shoe collection, especially in a small entryway," she advises.
A practical solution that allows you to save time when leaving your home, clear bins, like this See Spring 12-pack of shoe organizers available on Amazon, can also help you display your favorite pairs. "These clear boxes allow your footwear to be part of your home's décor, showcasing the aesthetics of each pair while keeping them dust-free."
4. Try over-the-door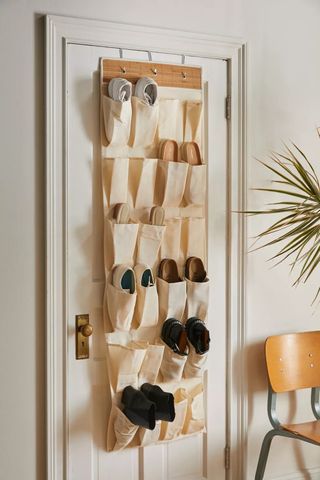 For super small spaces where a cabinet or shelf won't fit, an over-the-door organizer, like this Gorilla Grip organizer available on Amazon, can be the perfect choice to keep your shoes from piling up at your entrance.
"This is a classic storage solution for any small space, including an entryway," Coddington advises. "It's a smart way to maximize vertical space while keeping your shoes organized and easily accessible."
5. Entryway cabinet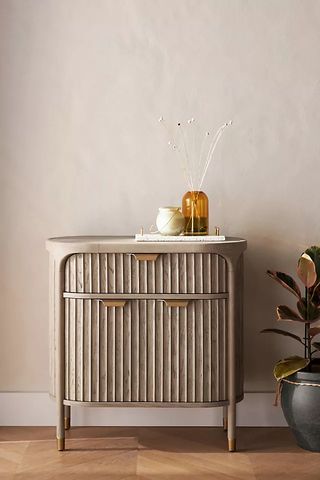 Another solution for keeping your shoes organized in your entryway is to find a small furniture piece that works well with your space. This stunning entryway cabinet from Anthropologie will really bring a small space to life.
"Invest in a shoe cabinet," Coddington says. "They come in various sizes, styles, and designs, so you can select one that complements your home's décor while also providing functional storage space. Consider opting for a tall and slim shoe cabinet if you have limited floor space to work with."
6. Choose multi-functional furniture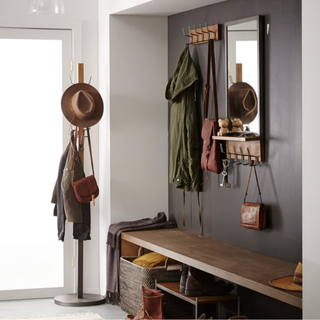 Interior designer Kyle Leman goes one step further by incorporating multi-functional furniture in an entryway. "In small entryways, multi-functional furniture is a game-changer," he says.
"A bench or storage ottoman not only provides a comfortable seat for putting on and taking off shoes but also offers a hidden storage compartment."
7. Utilize your wall space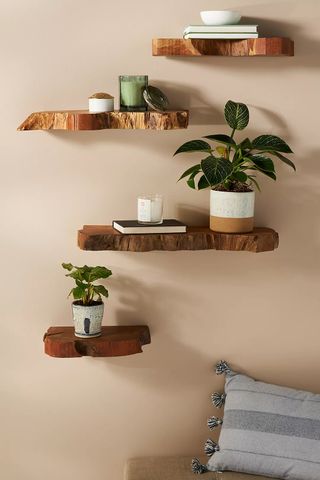 For entryways lacking in floor space with plenty of wall space, the solution is as simple as creating your own shelving. "Floating shelves are a must for maximizing storage in small entryways. They free up precious floor space and offer an abundance of storage for shoes," Leman says.
"To make the most of these shelves, it's a good idea to install them at varying heights to accommodate different shoe sizes. Adding hooks or brackets beneath the shelves is a clever way to hang keys, bags, or other smaller items." This can make an easy go-to place for all your necessities as you leave and enter your home.
8. Stack away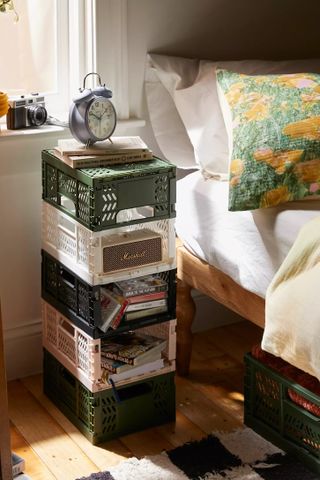 For those who want to inject a bit of their own personal style into their entryway's shoe storage, Leman has the perfect solution. "For an infusion of rustic charm and personalized shoe storage, consider storage chests, crates, or vintage wooden soda crates. They can be creatively repurposed to create custom shoe storage solutions," he advises.
"Stacked crates, like these folding storage crates from Urban Outfitters, can act as cubbies for different shoe sizes, and they are easily adaptable in terms of color or finish to match the entryway's decor." Adding colorful cubbies or vintage milk crates allow you to display your own personal style preference in the space that will be every guest's first impression.
---
3 buys to upgrade your entryway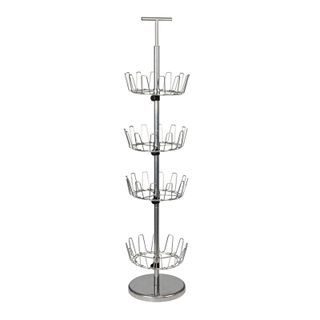 Spinning
1. Rebrilliant 24 Pair Shoe Rack
Price: $46.97
When it comes to organizing many different pairs of shoes, the best space-saving solution is a spinning rack. Keeping your shoes on display and within easy reach, this metal spinning rack can fit behind your front door or in a corner for easy access.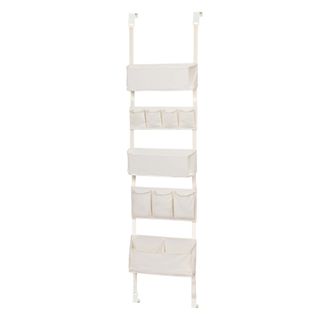 Over-the-door
2. Over-The-Door Hanging Organizer
Price: $50
There's a reason over-the-door shoe organizers are a tried-and-true way to keep your closet organized. This one, made from canvas, can display up to eight pairs of shoes, making it an ideal organizer for your front door.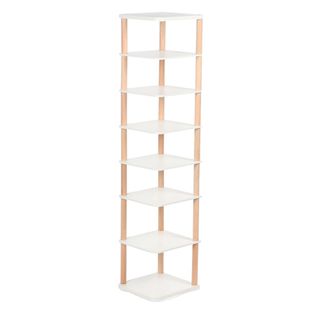 8-tiers
3. Lucknock Vertical Shoe Rack
Price: $37.99
Whenever you're lacking in horizontal square footage, your best bet is to go vertical. This vertical shoe storage shelf available from Amazon is both space-saving and sturdy, allowing you to store many pairs of shoes without sacrificing floor space.
Meet The Experts
Danielle Matthews is an interior designer and co-owner of Reborn Renovations, a dedicated team of construction, design, and operations management professionals specializing in both interior and exterior home remodeling.
Jihan Spearman is the Principal designer and founder of Jihan Spearman Spaces, an Interior Design Studio based in San Francisco, California.
Ana Coddington is the Lead Interior Designer for Archival Designs with over 10 years of experience with consultations, CAD software, and space planning, helping to create unique and stylish homes.
Kyle Leman is an interior design expert working within the construction industry at Crossroads Foundation Repair.
---
Storing your shoes can away can be a total pain if you're a bit of a collector like me. Good news is you're not limited to your entryway if you're really short on storage or have seasonal options you'd like to store away. Picking up an Amazon shoe organizer can help you pack them up in the bedroom instead.