Do you want to know the great thing about small entryway trends? It's so low pressure, you can really go wild! Unlike a bedroom or living room, you don't spend all day in your entryway, so it's the perfect spot to do something fun. That way, you'll get a little dopamine hit every time you pass through.
Plus, your entryway is the first impression that friends will get of your home so, why not kick them off with a bang? Imagine welcoming a buddy into your pad with a wall mural, color drenching technique, or patterned wallpaper to greet them.
If you have a super tiny entryway — don't worry, it's all good! I've spoken to some fabulous experts and consulted my favorite interior influencers for all the tea on what the trends are right now for small entryway ideas. Try them at home!
Small entryway trends
Learn new ways to decorate a small entryway with our expert design tips and tricks. Find inspiration for everything from wallpaper to a custom mural and more.
1. Give your entryway the hotel treatment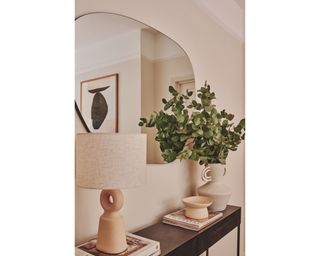 Chloe Weller, designer for online interior design studio Topology, notes that hotel design is having a huge impact on how we design our homes right now and that, actually, the hotel treatment starts from the moment you set foot in the door.

She encourages us to think about how hotels make guests feel welcomed and at home with luxurious little touches that make all the difference. "For that hotel feel you need to go the extra mile and bring greenery into the space with a large plant or dried stems in a vase on your console, like this chic Threshold console table from Target. Dried stems are perfect because they rarely need changing so they're low-effort, too."

And, of course, a scented candle is a must. Go for a rich, heady scent that makes an impact and is giving quiet luxury vibes.
2. Go wild with patterned wallpaper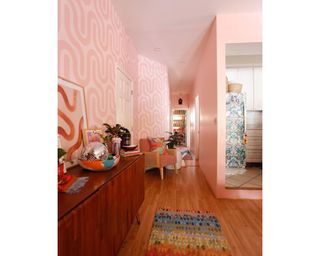 Once upon a time, wallpaper was considered an '80s thing.' For years, it was pushed to the side and labeled outdated, but recently it's made a huge comeback and now you'll find that the coolest influencers wholeheartedly embrace it, especially when it comes to busy patterns, like this floral peel-and-stick wallpaper available on Amazon.
New York-based Megan's apartment is compact, spanning one main room, but using wallpaper across just one wall she has cleverly created an entranceway area and sectioned out her space. Plus, I love that the wallpaper colors still harmonize with the rest of the room, so it's a seamless transition into the living area.
3. Paint your own wall mural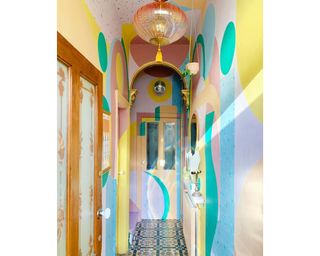 Think you've got what it takes to paint your own wall mural? Well, while Richard of HouseHomo's skills are pretty out-of-this-world, there's more than one way to carry off this trend.
Use his incredible entranceway for inspiration and draw form-led patterns and shapes, project your favorite artworks onto the walls to trace, or even paint a special phrase.
4. Choose statement lighting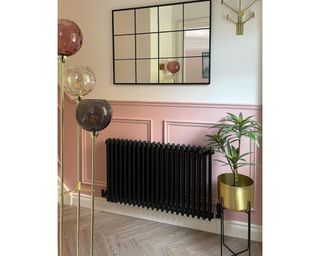 Statement lighting is a tool often used by interior designers to bring a special something to a space. But, while you might usually invest in an unusual fixture for the living room or kitchen (aka the rooms you spend the most time in) you shouldn't forget about the entryway, either. We love this modern Threshold arc floor lamp from Target for making a statement.
Chloe Weller, designer for online interior design studio Topology, says: "Try a statement floor or table lamp or use an overhead fixture to instantly bring personality to a hallway. Not only does it look great, but if you add a dimmer switch you can leave it on to create a soft ambient glow in the evenings."
5. Try color-drenching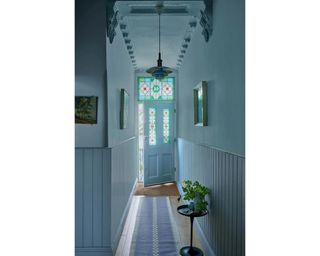 The color-drenching trend not only looks amazing and is huge right now, but it actually does a lot for small spaces, too. "Color-drenching is when you use one paint color and cover everything in it — walls, ceiling, skirting board, door frames — everything," says Matilda Martin, Trend Specialist at home decor brand Lick.
"It makes such an impact that anyone coming over to your place will be instantly wowed, but the mass of color also plays a trick on the eyes. Without seeing certain corners and exactly where parts of the spaces end and begin, the whole area looks much bigger."
6. Add period-style wall paneling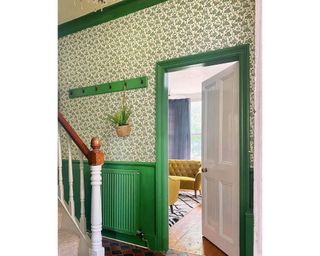 It feels like everyone is installing their own wall paneling right now. A style that used to be reserved only for heritage buildings, we're now seeing pop up in apartments no matter the period they're built.
If you're a DIY enthusiast you can try this look yourself at home and I love the colorful twist influencer Jack March has given his paneling, paired with the cottagecore wallpaper.
8. Give your floor the checkered treatment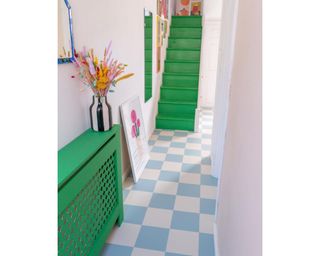 There are two walls people tend to forget about: The ceiling and the floor. If trying out trends on your walls isn't for you, get experimental with the floor instead and paint a checkerboard pattern.
This look has a really cool vibe about it and can be done pretty easily, too. Simply measure out your squares, tape them up, and paint them out and bingo, you've got a floor almost too good lookin' to walk on.
Meet the experts
Chloe Weller is a designer for online interior design studio Topology.
Jessica Sims-Wilson is the founder of House of Dawn interior design studio.
Matilda Martin is the Trend Specialist and Editor of In Good Taste magazine and Lifting The Lid' monthly newsletter at home decor brand, Lick.
FAQs
What trends should I avoid in a small entryway?
Your entryway is your space, so it's totally up to you how you decorate it. While there are some common small space design mistakes you may want to avoid like dark colors or overwhelming the room, it's your choice in the end.
How can I pull off a trend in my small entryway?
If you want to give your entrance a makeover quickly, try choosing one of the best paint colors for your small entryway. It's an good way to hop on a trend that's easy to pull off.
---
If you're looking for more ideas to maximize your entryway, check out these tips for creating a functional nook even in the smallest spaces.