Get organized with our small entryway storage ideas. Turning a cramped entryway into a functional and inviting space can feel like a daunting task, especially when you're juggling the demands of everyday life.
This small but crucial area serves multiple roles: it's where you drop off your keys, kick off your shoes, and make that all-important first impression. The challenge is to balance aesthetics with practicality, all while maximizing every inch of available space.
Fear not — whether you're dealing with a tight corridor or a narrow alcove, our experts gave us plenty of small entryway ideas to store your belongings.
Small entryway storage ideas
From floating shelves to storage baskets, we've got you covered with ideas that are not only practical but also enhance the look and feel of your home. Get ready to make your entryway work for you, offering both style and function in one fell swoop.
1. Floating shelves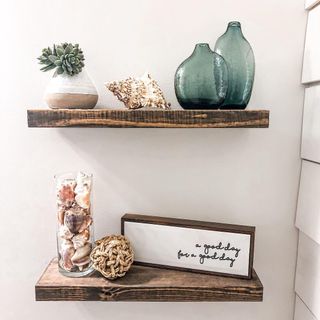 Professional cleaner and organizer, Lina DaSilva suggests investing in floating shelves, as they are more than just a sleek and modern storage solution; they're a minimalist's dream.
Ideal for holding small essentials like keys and sunglasses, shelves like these Richer House floating shelves available on Amazon, keep clutter at bay. Adding a magnetic strip beneath the shelf provides a clever hack.
Imagine coming home and simply sticking your scissors or nail clippers to the magnetic strip, so you always know where to find them. This addition turns an already functional storage solution into a multi-purpose wonder.
2. Shoe rack bench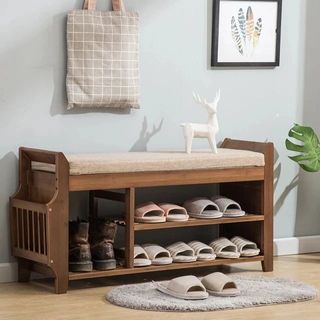 The shoe rack bench is a staple in home organization for good reason. It combines seating and storage into one efficient furniture piece, like this Brightroom shoe rack available at Target.
"But why stop at just storing shoes?," questioned DaSilva. "Adding a hinged lid to the benchtop offers hidden storage for items that don't necessarily need to be on display."
Think of it as your secret compartment for seasonal decor, extra linens, or a stash of reusable shopping bags, all neatly tucked away.
3. Wall hooks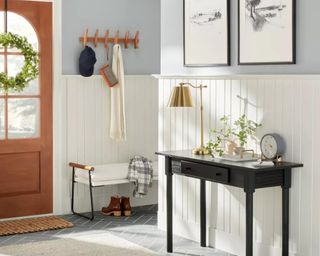 DaSilva mentioned wall hooks, like these wooden wall hooks from Target, can be a game-changer in maximizing vertical storage space. While traditionally used for coats and hats, these wall hooks can serve multiple purposes when installed at varying heights. Lower hooks can accommodate kids' backpacks or your pet's leash and harness.
"You could even add a small basket to one of the hooks to store miscellaneous items like sunglasses or sunscreen," she suggests.
4. Pull-out drawers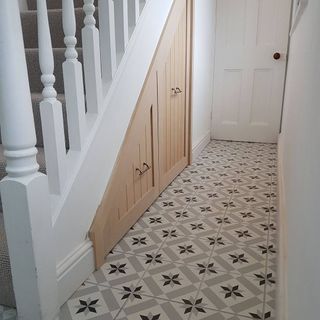 "Pull-out drawers can be a hidden gem of organization," stated DaSilva. Integrated into a console table or as part of a custom cabinetry system, these drawers offer discreet storage. The real genius comes in when you label each drawer.
"Imagine never having to rummage through multiple drawers to find your gloves or umbrella," she said. "It's not just about hiding things away; it's about creating a system that makes your life easier."
5. Narrow console table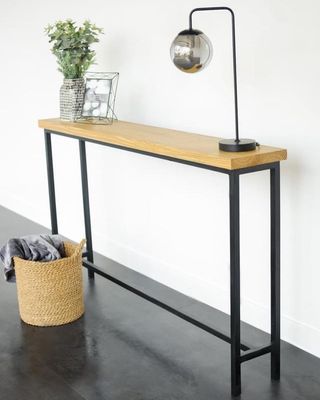 DaSilva advises to not underestimate the power of a narrow console table. It's slim enough to fit into tight spaces but offers ample surface area for everyday items.
She suggests making your console table pull double-duty by installing a charging station beneath it. Now, not only does it hold your keys and mail, but it also ensures your devices are charged and ready for the day ahead.
6. Wall-mounted organizer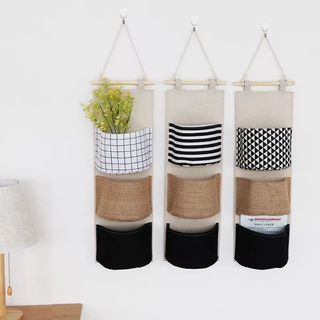 Consider a wall-mounted organizer as your personal assistant. It can sort your mail, hold your keys, and even offer a space for quick notes or reminders with an integrated bulletin board or chalkboard.
"It's the command center that every busy household needs, keeping the chaos at bay and your essentials in one spot," said DaSilva.
7. Over-the-door storage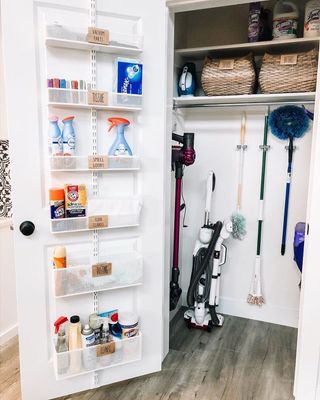 The back of your entryway door is an often-overlooked storage goldmine. Over-the-door solutions can store a variety of items. Whether it's seasonal scarves, sun hats, or small umbrellas, this type of storage utilizes space you didn't even know you had.
"Plus, items are easily accessible right when you're heading out the door," added DaSilva.
8. Corner shelving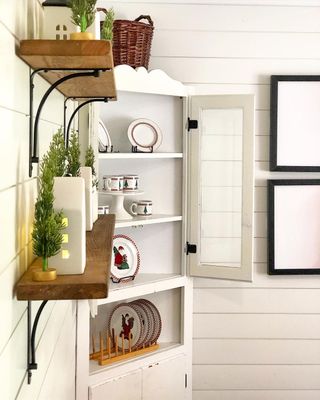 When floor space is limited, DaSilva advises to look to the corners. Corner shelving can turn an otherwise ignored space into a functional storage area.
Use it to display decorative items, or for more practical purposes like holding a bowl for spare change or keys. It's a versatile solution that combines form and function.
9. Mirrored cabinets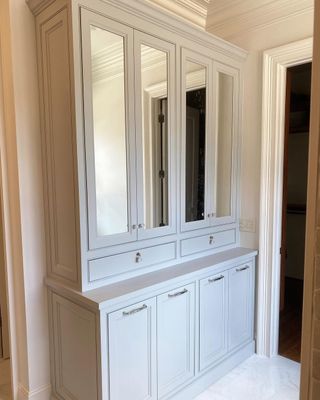 Mirrored cabinets provide a two-fold benefit. The mirrors make your space look bigger, and the cabinet offers hidden storage.
"It's the perfect spot for items you want close at hand but not necessarily on display, like gloves, scarves, or even a small first-aid kit for quick access," expressed DaSilva.
10. Stackable bins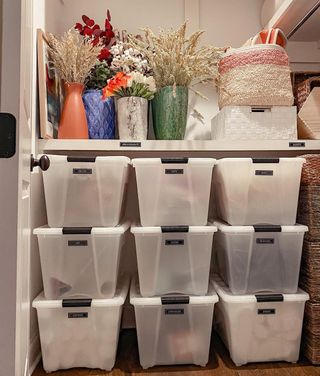 "Stackable bins are the ultimate modular storage solution," mentioned DaSilva. "Label them according to seasons or specific types of items to make swapping them in and out a breeze."
For instance, have a bin for winter gear and another for summer essentials. As seasons change, rotate the bins so that you always have relevant items at your fingertips.
Meet the Expert
Lina DaSilva is the founder of the award-winning Toronto Shine Cleaning. With over 5 years of industry experience, she specializes in residential cleaning and home organization. Her venture focuses on offering living wages and empowering homeowners to enjoy cleaner, more organized spaces.
Small entryway storage buys
Below, you'll find 3 items that DaSilva has on her must-have list for organizing and decorating your small entryway.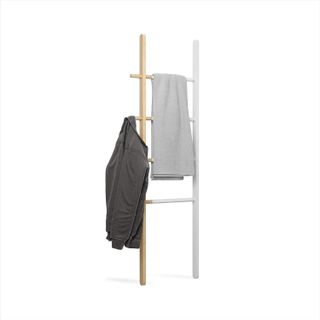 Sleek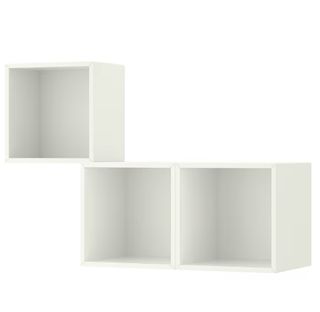 Minimal
IKEA Wall-Mounted Cabinet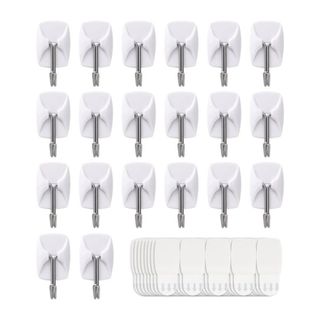 Small
FAQ's
Can multi-purpose furniture save space in a small entryway?
Absolutely, multi-purpose furniture can be a game-changer in small spaces. When a single piece can serve multiple functions, you're essentially getting more utility in the same footprint. Take the example of a shoe rack bench with a hinged lid; it provides seating, shows off your footwear neatly, and hides away miscellaneous items all in one. This type of furniture allows you to maximize every inch of your entryway, making it both functional and clutter-free.
How can the design of my small entryway feel less cluttered?
Color plays a significant role in how we perceive space. Lighter colors tend to open up a room and make it feel airier, while darker hues can make it feel cozy but potentially more confined. If you're trying to make a small entryway feel more expansive, consider using light shades for walls and furniture. You can add pops of color through smaller items like rugs, pillows, or artwork.
---
Having a consistent theme or style in your entryway sets the tone for the rest of your home. Whether it's Scandinavian minimalism, farmhouse rustic, or mid-century modern, a unified theme makes the space feel intentional and put together. It also makes future design choices easier, as you have a set palette and aesthetic to work with.