Looking for the best rattan garden furniture? From sleek cube sets to cosy and comfy hanging chairs, we've rounded up the very best in rattan furniture that's currently on the market. Most of them are weather resistant, too, so you can carry on enjoying them into the autumn months. And the ones that aren't are so good looking that they will make perfect indoor pieces.
Below are some simple tips for buying rattan garden furniture, but read our guide to choosing the best garden furniture for more practical information.
Where to buy the best rattan garden furniture
Rattan garden furniture suits both contemporary and traditional garden schemes; the weaves vary, with modern flat weaves suiting contemporary settings, while rounded, wicker-style weaves are perfect for a traditional feel.
Rattan (and particularly synthetic rattan) can stand up to all kinds of weather. However, it's always worth checking if what you're buying comes with a protective cover if it will be left outside all year round. If it doesn't, you'll need to factor in the extra cost for this.
Another extra to check is the cushions: although rattan is very welcoming, added cushions will make it more comfortable; again, check whether these are included and whether they are weatherproof.
After you've chosen your perfect rattan set, check out our sourcebook of top garden retailers and visit our garden hub page.
1. Hokku Designs Pearl Daybed
The best rattan day bed
Specifications
Best for: Lounging
Dimensions: HWD 250cm x 220cm x 150cm
Colour: Grey
Weather resistant: Yes
Reasons to buy
+ Cushions included + Seats up to 4 people
Reasons to avoid
- Incredibly large
If you've got a big garden with some space that needs filling, then you may like the concept of this large rattan daybed. It has a funky teardrop design which provides seating for up to four people and curved edges that will protect from the wind. The seating includes the cushions which will need to be taken in when not in use, but the structure itself is UV resistant and weatherproof so it will remain intact all year round.
Shop more rattan outdoor furniture at Wayfair
2. Kettler Palma Mini Corner Set
The best rattan lounge set
Specifications
Best for: Casual dining
Dimensions: HW 220cm x 200cm
Colour: Whitewash or rattan
Weather resistant: Yes
Reasons to buy
+ Protective foot caps + Seats up to 7 people
If you'd like to dine outside more this summer, then the Kettler Palma mini corner set is designed to seat up to seven people with ease, allowing plenty of space for friends and family to enjoy your outdoor space. This set has protective caps on the feet, but it is still recommended to place this rattan furniture on a hard surface to avoid ruining your lawn. The whole set, including glass table top, is weatherproof, so it can remain outside all year round.
Shop more rattan corner sets at John Lewis
3. Kettler Palma Garden Sofa
The best rattan garden sofa
Specifications
Best for: Indoor and outdoor
Dimensions: HWD 85cm x 190cm x 80cm
Colour: Whitewash or rattan
Weather resistant: Yes
Reasons to buy
+ Two different shades + No need to cover over during winter
Reasons to avoid
- Not the most spacious seating
Rattan garden furniture doesn't have to be confined to the decking or patio. In fact, this hand-woven wicker sofa is a popular choice for kitting out your conservatory with light and airy furniture. Whether you want to use it outdoors in the summer and indoors in the winter is up to you, but it is completely weatherproof and will be happy wherever you choose to leave it all year round. The cushions are included and require keeping dry, and you have two different shades to choose from to suit your home décor.
Shop more rattan garden sofas at John Lewis
4. Termonde Cube 4 Seater Dining Set
The best rattan cube set
Specifications
Best for: Dining alfresco
Dimensions: H75 x W110 x L110cm
Colour: Brown & cream
Weather resistant: Yes
Reasons to buy
+Large but compact +Foldable chairs+Cushions included
A clever and slick transformer, this cube set features chairs with foldable backs, so that when you pull them out, you're sitting on proper comfy chairs. The tempered safety glass coated table looks contemporary and feels nice and heavy, while the included cushions are nicely padded and thick. One of the best features of this cube set, though, is its superior durability: you can even wash it with a pressure washer!
Shop more rattan outdoor furniture at Amazon
5. John Lewis Dante Luxe Outdoor Sun Lounger
The best rattan sun lounger
Specifications
Best for: Sunbathing
Dimensions: H100 x W211 x D61cm
Colour: Natural
Weather resistant: No
Reasons to buy
+Comes with foot stool+Thick cushioning
Reasons to avoid
- Needs looking after
If we're lucky enough to have some really hot summer days, there's nothing better than taking a nap in the garden under the sun. This rattan sun lounger will certainly help you soak up some rays with a naturally curved design and adjustable back rest that helps you find the perfect position for sunbathing in. The thick cushion makes things super comfy, but you will need to look after this piece of furniture by bringing it in during the winter.
Shop more rattan outdoor furniture at John Lewis
6. Bramblecrest Oakridge Double Hanging Cocoon
The best rattan hanging chair
Specifications
Best for: cosy lounging
Dimensions: H195 x W118 x D132cm
Colour: Natural
Weather resistant: Yes
Reasons to buy
+Lightweight+Spacious design for two +Cushions included
This gorgeous hanging chair from Bramblecrest is the real deal: expertly woven from weather-resistant wicker, it's lightweight but still feels robust enough to accommodate two people easily. What we really like about it is the extra depth that makes it very snuggly and suitable for cooler weather. Just add some cushions and blankets.
See more of the best hanging chairs in our buyer's guide.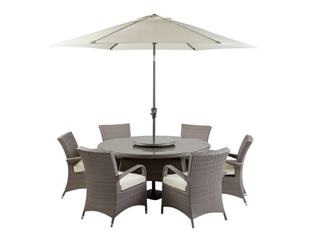 7. Argos Home Seychelles 6 Seater Patio Set
Best rattan patio set
Specifications
Best for: garden parties
Dimensions: Table diameter 160cm, parasol diameter 300 cm
Colour: Grey
Weather resistant: Yes
Reasons to buy
+Stylish design and colour+Very stable and sturdy
What's not to like about this stylish six-seater set from Argos? Made from durable synthetic rattan, it's stylish and modern, and reassuringly heavy and stable. Reviewers report a good quality finish, and a spacious feel to the chairs. The umbrella is also well constructed, doesn't wobble, and can be tilted. Perfect for summer garden parties.
8. LOUISIANE Rattan Rocking Chair
Best rattan rocking chair
Specifications
Best for: Indoor/outdoor use
Dimensions: Ht97 x W75 x D100cm
Colour: Natural
Weather resistant: No
Reasons to buy
+All natural material+Beautiful design
Reasons to avoid
-Not waterproof-Doesn't come with a cushion
This all-natural rattan from Maisons du Monde is really something. Its slightly Scandi design will add boho chic to any patio or deck, while the generous proportions mean that it's comfortable, too – just add a cushion for back support. It's lightweight, too, making it perfect for those who love chasing the sun in their garden. You will need to bring this chair indoors whenever it rains, though, and store it indoors all through the winter. Fortunately, it will look just as good in your conservatory or even living room as it does in the garden.
Summer sale!
Now you've found your perfect rattan garden furniture, make sure you've got a copy of your favourite homes magazine to read while you relax outdoors in the sunshine. In our summer sale, you can get five issues of Real Homes for just £5 when you subscribe today.
Read more: