Orange room design ideas? We know what you are thinking. Orange is a tricky colour to work with when it comes to interiors. But this underdog colour has actually been creeping into the world of interiors for a while now – Pumpkin Flame, Apricot Fizz , Terracotta Earth, Juicy Mandarin, Vibrant Coral, whatever deliciously decadent (made up by us) name you want to call it, all these colours are essentially orange. Not sounding so rogue now, eh?
And under its glamorous new aliases, orange is actually looking to be a bang on-trend colour this year. Don't just take our word for it – look to the likes of Dulux, who named Spiced Honey their Colour of the Year, or Pantone's Living Coral. Both definitely have orange vibes.
So how do you go about working orange into your home? Well, you keep reading... And when you've done that, hop over to our design pages for more trends, advice and inspiration.
1. Choose a warming paint colour for a kitchen
Give a north-facing kitchen a warm glow with orange paint (yes, we did just say ORANGE PAINT, don't get scared too early on). Not normally a four-wall colour we know, but look how it works here to make this light-starved cottage kitchen feel warm and welcoming.
Choose something more muted like Arancia from Graham & Brown, and pick a more neutral colour for your kitchen cabinets. Blind fabric, Vanessa Arbuthnott.
2. Mix orange with vivid reds
Terracotta hues work well in darker spaces too. Again, you can totally go all four walls with this kind of colour. Just keep the ceiling and woodwork a bright, crisp white to contrast the warmer hues; you could pinch this idea and work in some red tones too. For a similar colour palette, try Dulux's Toasted Terracotta with a brighter shade like Collective Coral.
For more kitchen paint ideas check out our inspiring feature.
3. Add pops of bright orange on kitchen cabinets
Painting your entire kitchen orange is a bit of a bold step, but adding pops of a vibrant colour throughout will enliven a neutral space instantly. An orange splashback here, a statement chair there. Or you could paint some sections of your kitchen – in this room a couple of cabinets have been painted just to add a pop of colour the the fairly neutral space.
This is also a great idea if you want to have a bit of a revamp on a budget as you can alway paint kitchen cabinets yourself; just check out our guide to find out how.
4. Choose orange kitchen appliances
And if even that is too much of a commitment for you, pick out some orange kitchen appliances instead. Dunelm make a snazzy orange toaster, Le Creuset do a cute orange stovetop kettle and if you are feeling a tad more spendy, Lacanche has an orange range cooker (check out the one below).
Find advice on choosing a range cooker and buying a new range, too, in our guides.
5. Pick out kitchen flooring with spicy hues
Don't forget flooring when it comes to adding a touch of orange to your home. A patterned tile with just a touch of a warming hue could be all the orange you need in your life. These patterned floor tiles from Tile Giant would give a fresh look to any kitchen, bathroom or hallway.
After more patterned floor tile inspiration? Check out the looks we are loving right now.
6. Make a statement with coral and pink
Pink and orange is not a colour combo we ever thought we could love (kind of reminds of those Fruit Salad sweets), but you know what? We are okay with that; in fact, we really like it. In this dining room, Farrow & Ball's Nancy's Blushes has been used on the ceiling and the deep earthy orange is Red Earth.
For more traditional or vintage style dining room inspiration, see our design gallery.
7. Get create with orange ombre
Add a bit of interest to your standard wall shelves by painting the wall behind each section. No wall shelves? No problem. You could easily recreate the ombre look by painting a book shelf. Either just gradually add white paint to your orange for a subtle finish or pick a different colour to fade into, as seen below. Ah look, it's our favourite colour duo again.
If you wanted to be even bolder with this look, you could use the effect on an entire feature wall - just check out our guide to how to create an ombre accent wall.
8. Go for a 1970s vibe
For all its bright and bold qualities, orange can actually be a pretty muted colour, if paired with bolder, 1970s-style accessories and furnishings. Just see how it looks in this living room... and we love the bold green velvet sofa, too.
We have plenty more velvet sofas over in our gallery, so go and check that out too.
9. Incorporate orange and warm, woody tones
Adding orange to your home needn't all be about paint. The furniture you pick can also add to the warm, inviting vibe that this colour creates. Opting for wooden pieces that have a lighter, orange toned stain, choosing a new sofa upholstered in a muted orange fabric or an occasional chair with orange throw cushions on will do the trick.
10. Switch up your window treatments
A really easy and inexpensive way to add a splash of orange is with your window dressings. If you have blinds, change them out for a funk '70s pattern (these usually always contain a certain degree of orange). We love these Orla Kiely Roman blinds from Blinds Direct.
For more gorgeous living room window dressing ideas have a read through our feature.
11. Make a statement with wall panelling
Pink and orange at it again. If you have been blessed with wall panelling, get creative with how you paint it. Actually, even if you don't have wall panelling you could for sure create something similar. Combine pastel pinks with a bright vivid orange and make it feel just a bit grown up with a splash of deep red.
We have plenty more pink decorating ideas if you are after more colourful inspiration. And if you need advice and inspiration for decorating panelling, we have that, too.
12. Contrast orange furniture with dark walls
Just as in the hallway above, the contrast of orange and darker decorating schemes can make for a very sophisticated space. Black walls have seen something of a surge in popularity thanks to Instagram, but use the colour carefully: if you use your living room at all during the day, you'll want to ensure it gets a good amount of daylight to not feel cavernous. And, you'll need to inject a touch of warmth into it with furnishings to make it feel welcoming.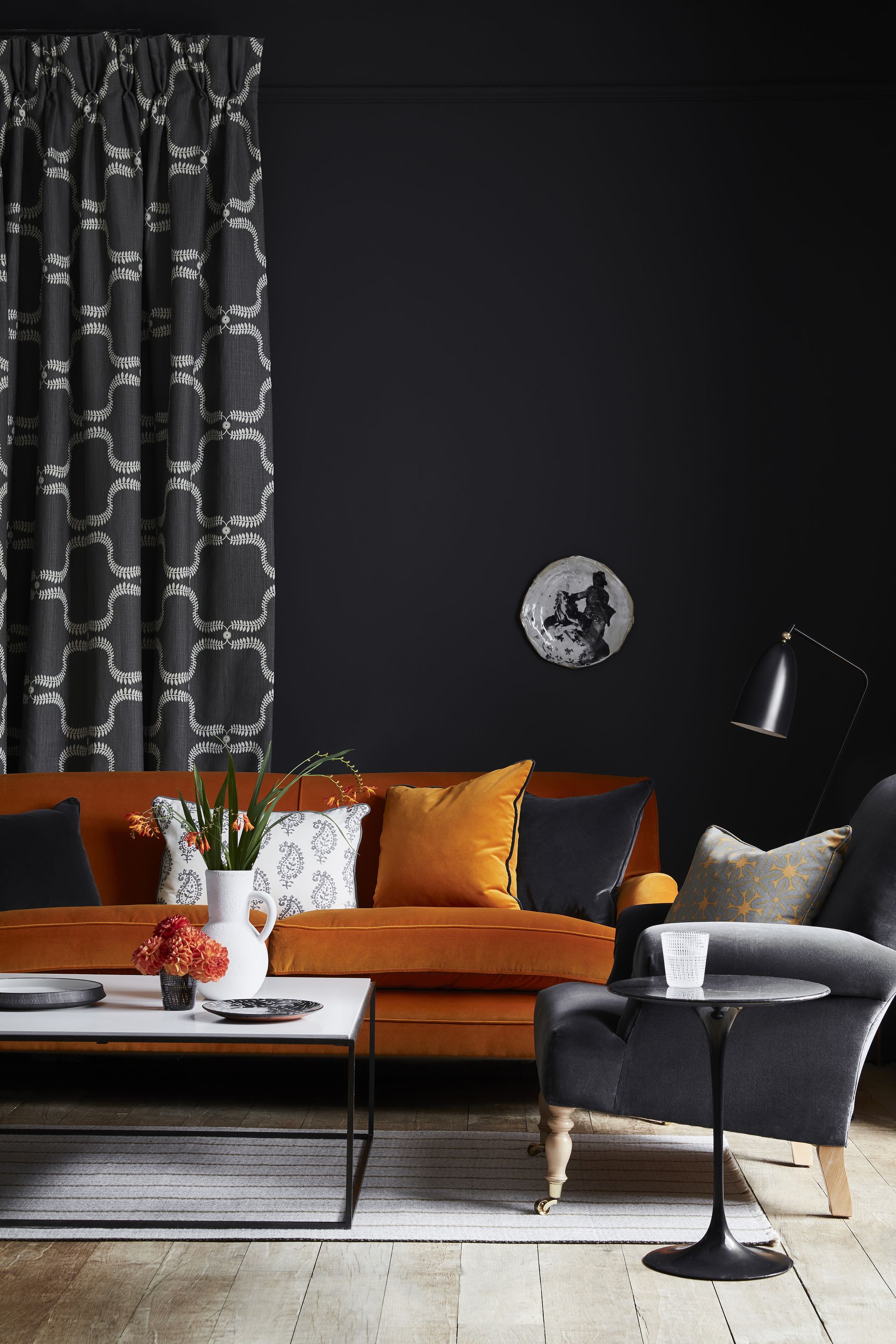 13. Use orange for a vintage style hallway
Matched with black or dark grey woodwork, orange can feel very grown up. Here, a vintage-style wallpaper by Little Greene has been matched with an orange ceiling and door, but given a more muted appeal with dark grey walls and black-painted bannisters. We love it.
Find more traditional hallway ideas like this in our style gallery.
14. Create a feature wall in a bedroom with colour blocking
If four walls are going to be a bit much in your bedroom, copy this trick and just paint to dado rail height. You could mix and match any shade of orange here, keep it subtle with a deeper hue or choose something bright to make more of a statement. One rule – when recreating this look always keep the darker colour to the lower part of the walls and the lighter above to make the ceiling feel higher and the room bigger. And, if you're picking a bold shade, opt for a non-white, or off white accent colour for a softer contrast.
For more tips on colour blocking, head over to our gallery.
15. Or simply just pick out some orange bed linen
Want to add some warmer hues instantly? Switch up your bedlinen. Simple. For a similar relaxed-look bed linen to the one below, try La Redoute.
16. Add a pop of orange with bedroom window blinds
Just as with the living room, changing out your blinds in the bedroom is a super simple way to add just a pop of orange. We love how the simple, vibrant orange Roman blinds look with the monochrome scheme of this bedroom. Oooh, and just look how to bedside table and desk tie together the whole look. Very pleasing indeed.
Find out more about choosing Roman blinds in our advice feature.
17. Go for a luxurious finish with deep orange velvet
If you prefer a more traditional look in your bedroom, opt for dark oranges in rich fabrics. Velvet curtains, chunky knit bed spreads, tartan cushions, the lot. Here, the deep orange wall colour ties in perfectly with the curtains and the bed spread, but the crisp clean white linen and touches of grey keep the look fresh.
These gorgeous curtains are from Neptune who make them bespoke using their beautiful fabrics. We love this two tone look that features their rustic Hugo linen in Pale Oat with the stunning Isla velvet in Fox at the bottom.
Love this bedroom? Go and check out our traditional bedroom ideas for more inspiration.
18. Orange works perfectly in a nursery
Orange was basically made for nurseries and children's bedrooms. Splash it on the walls, invest in some orange nursery room furniture or just put up some orange prints to instantly make a space feel brighter and happier.
If you do opt to 'splash it on the walls', get creative. You can get away with being so much braver with your decorating choices in a kid's room. Check out some of our paint colour schemes from kids' rooms for loads of fun ideas. Look to these nursery room ideas for more inspiration, too.
19. Opt for a statement orange (ish) bath
Does copper count as orange? We are saying yes... Or maybe we are just looking for an excuse to feature this beautiful copper roll top bath. Either way we are loving the statement it's making and it definitely warms up the rest of this cooler toned bathroom.
For more statement freestanding baths, have a scroll through our feature.
20. And add in an orange wallpaper for good measure
If you were looking for an actual, proper, undeniably orange bath then here you are. It gives this more traditional bathroom such a cool edge, it's genius. It works perfectly with the hints of orange in the wallpaper, and even the shower scrunchy (what are those things actually called?) matches.
Check our more of our traditional bathroom design ideas.
Read more colourful decorating ideas...