Looking to redecorate or redesign your apartment but tight on space and/or you are at the mercy of a landlord? We get that when you are limited with what you can do to a place, it can be tricky to envision a space that you would be happy with. So to help you feel more inspired by your shoebox of an apartment or tiny flat, here are a few decor ideas to make your home a little more stylish…
Don't miss all our small-space design ideas.
1. Make your space efficient
When you are living in an apartment that has been generously labelled as a 'studio', there are only so many mirrors you can hang to 'bounce light around' or multi-functional furniture you can buy to 'maximise space'. The key thing is just to be realistic about how much you can actually fit into your apartment and make everything you do choose really space-efficient. For example, do you really need a kitchen table? Or will a breakfast bar or a handy kitchen island with more kitchen storage be a better use of space?
2. Switch up your apartment layout
Before you buy, re-envision what you already have. Refocusing the layout could allow you to update a rented apartment without splashing out. Try floating your furniture – just because your apartment might be on the small side, it doesn't mean that everything has to hug the walls. If you are working with a studio apartment, you can also use furniture to make distinctions between different zones (more on that later).
3. Upgrade your lighting
Is it just a given that most rented apartments come with awful lighting? Swapping out all those builder-grade light fixtures for some funky shades is quick and easy but still has a big impact. If you don't have the option to replace the light fixtures, just invest in plenty of floor lamps, string up fairy lights and avoid using those ugly overhead lights.
4. Make a blank wall better with your own gallery
A gallery wall is the perfect way to add a ton of interest to a space, especially if you are decorating a living room on a budget. They are our go-to for quickly making a room feel more lived in and hanging a gallery wall yourself is probably much more straightforward than you think.
Top tip: If you are renting (and want to leave with your deposit), Command hooks are a fail-safe solution for hanging your gallery wall.
5. Update apartment walls with wall hangings
Want an alternative to displaying photos and pictures? Fabric wall hangings and rugs are a quick and cheap way of brightening up your standard-issue blank wall and give a touch of that on-trend boho vibe.
6. Dress up plain windows
Whether it's dirty curtains or depressing aluminium blinds, a lacklustre window treatment is always going to give a space an unpolished feel. Swap out your old curtains for fresh ones (these Tibast curtains from Ikea are super cheap) or a simple roller blind.
7. Get creative with statement wall designs
If you can paint, do. It's one of the easiest and cheapest ways to switch up a space. You don't just have to stick to one block color either, add a feature wall with color blocking or try out an ombre paint effect.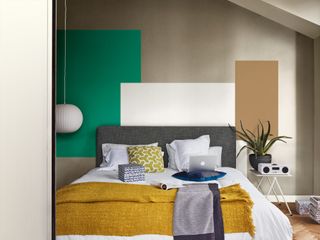 8. Cover boring tiles with decals
If your bathroom tiles or kitchen splashback are in need of a refresh, steal this idea from @spencer.monk and cover them in stylish stickers (yes they do exist, just check out the awesome selection at Etsy).
9. Camouflage the carpet
If you are renting, pulling up the carpet just isn't an option, and even if you don't have a landlord to answer to, it's still a pretty expensive job. So instead of replacing the carpet, cover it in layers of rugs to add extra colour and patterns.
10. Use curtains as room dividers
For all you studio apartment dwellers, you may understand the nostalgia that sometimes overcomes you when you remember what it was like to have (more than just four) walls. Obviously, you don't want to go dividing up your space with actual solid walls, but you can put up some soft walls (ie, curtains) that can separate your space into zones. The great thing about these temporary walls is you can easily take them down when you want to open up the space again.
11. Add plenty of (Instagram worthy) wall shelves
When square footage is limited, keeping everything organised is key, hence the need for extra savvy storage. Wall mounted shelves look amazing (as the #shelfie trend proves), they are often inexpensive, plus they will save on precious floor space, too.
Go for something that's functional and flexible like the String System so you can move the shelves around, add closed storage if you need to and even install a super compact home office by adding a desk.
12. Don't be afraid of paint (even if your landlord is)
Trying to add color to an apartment that is painted in various hues of greige can be tricky, but fear not, you still have options. Can't paint the walls? Paint the furniture instead. Chairs, headboards, wardrobes, so long as they are yours to paint, anything goes.
13. If in doubt... house plants
Greenery makes even the smallest of spaces feel fresher and more interesting. And if you don't have space to spare for house plants on the floor, trying hanging them instead. Check out these house plant display ideas for more inspiration.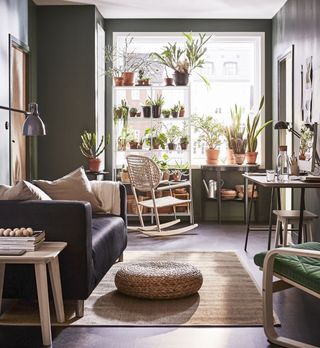 Looking for more decorating inspiration?