Spending time considering front of house design ideas to give your property ultimate curb appeal is time well spent. You might want to boost your home's appeal to maximize your own enjoyment of the property, as well as making an impact on any family and friends who are visiting.
Plus a pleasing house exterior says a lot about you to passersby. Or perhaps you're thinking about making it look its very best to attract buyers and realize the best price.
Whichever is the case, there are plenty of ways to make the front of your home look stylish and enticing as well as beautifully maintained with the right colors, materials, and landscaping.
To inspire you, we've put together all the front of house design ideas that add instant curb appeal right here, along with advice from the experts.
Front of house design ideas with curb appeal
The best front of house design ideas start with the basics. 'When it comes to improving curb appeal, you want to make sure all areas of the home's exterior appearance are attractive and in good working order,' says Eugene Colberg, principal of Colberg Architecture. 'It goes without saying that a homeowner should replace anything broken and repair anything that could use a refresh.
'The top two elements that I would say most impact a home's curb appeal – for both suburban homes and urban homes like townhomes – is paint and lighting. If you have a suburban home, simply painting in a neutral tone like charcoal gray, paired with good lighting, can make an incredible difference in its curb appeal.'
If selling is on the agenda, make sure to strike the right balance with your design. 'If you want to sell it, you need to be generally on trend – but not too trendy,' says Eugene.
1. Paint the outside of your home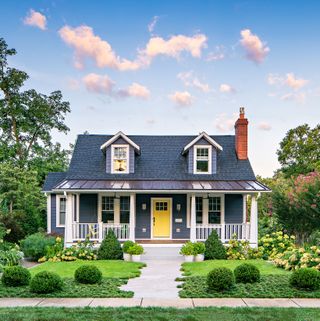 'Give the exterior a fresh coat of paint if needed – you don't want chipping paint to be the first view of potential buyers or visitors,' says Lindsey Mahoney, licensed realtor with Danberry Realtors in Toledo, Ohio, and founder of Building Bluebird.
If paintwork is tired, budget the cost to paint the exterior of a house to create curb appeal. You may want to consider painting your home's exterior yourself, especially if yours is a one-story home, but be aware that real estate professionals may recommend hiring a pro for top results.
It's crucial to select the right paint if you do decide to DIY. Ask for advice in a paint or big box store, advises Ryan Meagher of BVM Contracting. 'For vinyl siding, the golden rule is that you can lighten the existing color but should not make the new paint color darker,' he says. 'This will lead to potential warping of the vinyl siding since lighter vinyl isn't as resilient to heat gain that the darker vinyl is designed for.'
2. Update siding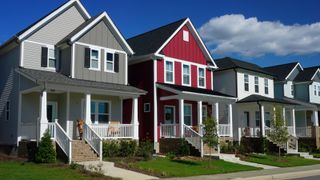 Consider replacing siding for a fresh design. 'Replacing your siding not only improves your home's exterior defense against Mother Nature, it also boosts the value of your home by creating a greater curb appeal and refreshing your home's overall façade,' says Katelyn Lewis, co-owner of Retex Roofing & Exteriors in Richmond, VA.
'When considering what siding you may want for your home, keep in mind the maintenance required to preserve it, its environmental impact, and your climate zone,' she recommends. 'For example, wood siding is eco-friendly, but requires more maintenance than other siding options on the market. Meanwhile, metal siding is gaining popularity with its easy installation process, extreme durability, and little-to-no maintenance, but it offers little insulation and is not soundproof.
'Vinyl siding offers both an easy installation product and the most affordable siding product on the market today. It also comes with low maintenance costs, only needing a power wash every five years or so to keep it looking pristine.'
Find out how to keep your vinyl siding clean.
3. Think shingles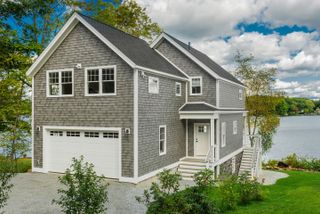 Cedar shingles have enduring appeal, but for lasting curb appeal you might want to consider a composite shingle instead. The advantage of Beach House Shake (shown above) is that it has the look of untreated cedar with individual and natural variations, but is impervious to moisture, avoiding the need for staining with sealant products necessary with natural cedar. It's available in panels rather than each shingle having to be nailed in individually for easy installation.
4. Mix materials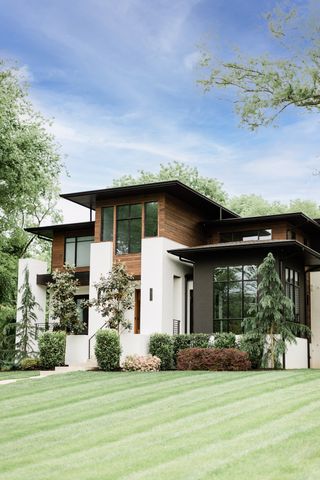 You might want to consider combining different cladding materials as part of your front of house design ideas to create a sophisticated look.
'Add mixed materials to your home's exterior,' recommend Brittany Bowen and Ava Vienneau, co-founders at Girls at Flourish, design experts and the go-to photographers for the top interior designers and architects.
'Adding different textures and colors adds visual interest and makes for stunning curb appeal.'
5. Exploit the potential of brick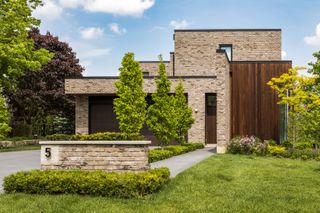 Brick is one of the materials that can enhance a front of house design, and it might be time to revamp existing brick, suggests Tim Leese, marketing director at brick manufacturers Glen-Gery. 'Give worn-down bricks a makeover by repairing or replacing damaged bricks, or by simply giving your bricks a good clean,' he says.
Brick also offers plenty of design potential when the goal is to create curb appeal. 'Select a brick color that contrasts from other elements of the home (trim, doors, windows, etc),' Tim says. 'Modern brick colors such as white, black and gray continue to be popular. Or, paint your front door and shutters for a simple way to accent your existing brick and refresh your home's exterior.'
Think mortar if you're designing with brick. 'Mortar is an important element to the overall look of a brick wall,' he explains. 'Selecting mortar colors that are similar or contrasting will create aesthetic appeal.'
Add interest for the front of the house. 'Brick patterns and details, such as corbelling or quoins, can add a unique visual effect, making a home stand out from its neighbors,' he says.
Try brick for walkways, too. 'Clay brick pavers can add a touch of warmth and color, while emphasizing your home's landscaping and entrance,' explains Tim. 'Play with the patterns of the brick for added visual appeal.'
6. Focus on the windows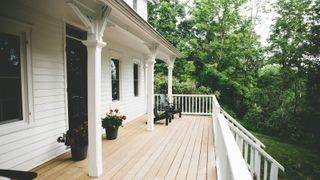 Make sure to repair windows if they've been neglected, and paint them, too, to smarten them up and protect them.
You might want to complement other front of house design ideas with an unexpected shade. 'Paint your exterior window grids a dark color,' suggests Paige NeJame, owner of CertaPro Painters of the South Shore and Boston. 'White window grids are expected and traditional.
'Painting elements of your windows a darker color such as bottle green, burgundy, or black is just stunning.'
An exterior makeover might require replacement of the windows instead, though. 'Outdated windows including their treatments can detract from any home's modern, clean curb appeal,' says Baron Christopher Hanson of Coldwell Banker Realty.
7. Look to the landscaping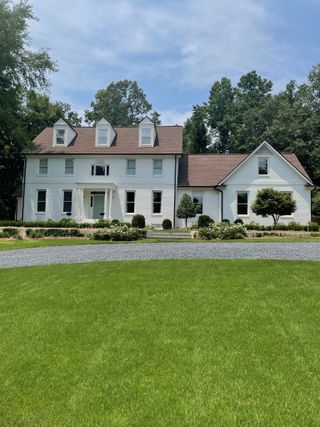 Good front yard landscaping ideas are key to curb appeal. 'Begin with strategically placing container gardens around focal and entry points to your home,' says Carmen Johnston, owner of Bespoke Garden Plans. 'These can be updated throughout the year to take advantage of seasonal plants. I like to layer, achieving height, color and texture.'
A healthy lawn and beds of blooms will make the front of the house look attractive. 'One of the most eye-catching sources of curb appeal is a well-manicured lawn and/or a thriving, beautiful garden,' says Jeremy Yamaguchi, CEO of Lawn Love. 'It depends on where you live, of course. In areas with older residents, a lawn tends to be appreciated more, so you should plant fresh grass seed to ensure it will be lush when you're ready to sell, and make sure you have automatic watering in place.

'In younger areas you'll find that people appreciate a garden. In some areas, having a vegetable garden is also extremely attractive.'
Bear in mind that you may need to take away from the landscaping before you add. 'The main impediment to curb appeal is ugly foliage, unkempt trees, or wonky vegetation – especially if any ugly landscape elements are blocking the view of your better-looking home's façade and newly painted or resurfaced architectural details,' says Baron Christopher Hanson.

And when you're left with planting that enhances your home, be sure to keep it in good shape. 'Here in South Florida, tropical vegetation grows voraciously all year long, so trimming and debris removal is a constant weekly, monthly, and seasonal effort. In many ways, less foliage and landscape clutter can be more,' says Baron Christopher. 'Grassy lawns and shrub areas without a properly timed irrigation system and consistent weeding schedule are doomed to look awful and detract from curb appeal.'
If grass sounds like too much work, there are plenty of low maintenance lawn alternatives that look beautiful and still provide biodiversity.
8. Focus on the porch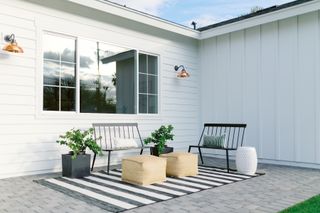 For maximum curb appeal, take inspiration from the best front porch ideas. 'Be intentional with the furniture and decor you add,' say Brittany Bowen and Ava Vienneau. 'If it looks like the kind of place you'd like to sit and enjoy a glass of wine with a friend, then consider it curb appeal.'
Plan a color scheme for the space, and boost its comfort with an outdoor rug underfoot and pillows for seating – these can bring in pattern, too. A classic porch swing is a lovely touch if you have space.
9. Look up to the roof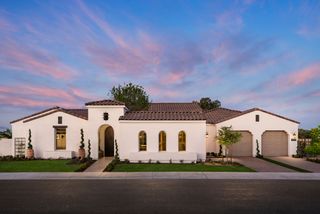 Roof repairs should also be made promptly whether you're selling or staying put – or it may be that roof replacement is due instead. 'The roof on your home can have a substantial impact on curb appeal and home value,' says Trevor Underwood, vice president of marketing at DECRA Metal Roofing.
To boost curb appeal the roof should complement a home's architecture plus be durable in local climate conditions, including severe weather events. Metal is one option and known for its long lifespan, but it also has design versatility. 'It's important to note that modern metal roofing differs from the industrial metal roofs of warehouses and factories,' explains Trevor. 'Modern metal roofing products, such as stone-coated metal roofing, are made from steel sheets that are "stamped" into different shapes and coated with stone granules. The stone-coating process provides the same aesthetics of traditional roofing materials such as asphalt shingles, clay tiles or wood shakes but with the industrial strength of steel.'
Think about complementary elements of the home's façade along with the roof. You might want to update gutters and downspouts in line with the chosen color scheme for the exterior.
10. Change the front door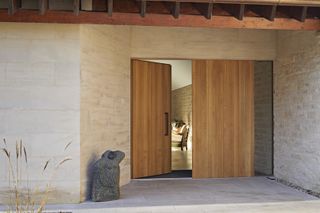 Bringing fresh front door ideas to life is one of the top ways to elevate your front-of-house design. The door is where any visitor's gaze will go, so think color, material, and style so that it's worth the attention it will get.
Wood paneled doors can have traditional or contemporary style to suit the home's architecture while glazed doors can have striking industrial style. Wrought iron is the perfect complement to some house architecture, and can be elaborate or more pared-back in their detail.
Choose to add a pop of color on a painted door, or keep the look more formal in black or charcoal gray.
11. Focus on lighting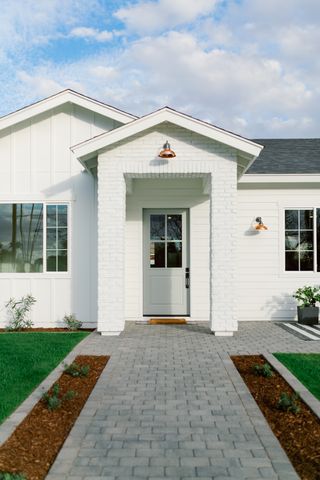 Lighting for the outside of a home is an essential feature, but it can also boost its curb appeal.
'Light fixtures go a long way,' say Brittany Bowen and Ava Vienneau. 'These rose gold farmhouse lights add a pop of color and shine to an otherwise neutral exterior.'
Keep the look more formal with symmetrical light fixtures, but symmetry isn't necessarily the rule and a single lantern above or alongside the door can make a striking impression.
How can I make the exterior of my house look expensive?
To make the exterior of a house look expensive start by repairing, repainting and updating. 'It's no secret that fresh trim carpentry and masonry or stucco repair, along with an elegantly chic paint color combination can immediately refresh any roofline and façade,' says Baron Christopher Hanson.
'The idea is to stand in the middle of your street and envision what improvements would land on the cover of your local real estate magazine,' he says.
Make sure the front yard looks well tended and trimmed, too, for high-end style, keeping up with tasks such as irrigating the lawn, mowing and pruning.
Curate front yard contents, too. 'Put away any visually unhelpful clutter that might be junking up your ideal "magazine cover" shot,' adds Baron Christopher.
How do you make the front of your house modern?
To make the front of your house modern, consider mixing materials on the façade to create interesting contrast. Darker shades for trim can also create contemporary appeal.
Think about updating the driveway as well. 'Modern driveway pavers are the first focal point of most properties,' says Jason Farr, president, and CEO of Aviara Pavers. 'It's what the whole neighborhood sees first, and they make a lasting impression. Make sure the pavers you choose for your front entrance and walkway connect the landscape to your main house and front door.'