Need to know how much a new front door costs? A brand-new front door is one of the most important choices you'll make for the exterior of your home.
It needs to tick several boxes that are crucial to your home's security, insulation, and curb appeal. It really is well worth your while to do proper research before setting your front door budget: you get what you pay for with doors. Considering that a front door should last you many, many years before it needs to be replaced again you should invest as much as you can.
Before you start browsing front door designs, take a deep dive into typical front door costs. The expert-sourced information in this guide will help you decide on the material, and whether you want to hire a professional to install your front door or whether you may want to give a DIY front door a go.
How much does a front door cost?
The final cost of your front door will depend on a number of factors, most importantly the material quality and the size of your door. Let's drill a little deeper into what the costs are likely to be.
Glen Garza, a professional home maintenance technician and consultant at The Project Girl tells us that 'a basic front door with no additional features, such as a storm door or window, can cost anywhere from $100 to $300. This price range includes doors made from metal, fiberglass or wood.
'A higher-quality front door made from metal or fiberglass will cost between $150 and $400. A wooden front door can cost as much as $600.
'If you want to add a storm door or window, this will add about $200 to the cost of your front door installation.'
Glen Garza has worked as a maintenance technician since 2008. Glen's daily responsibilities include woodworking, electrical, building, painting, drywall, plumbing, and flooring. He also consults for The Project Girl.
DIY vs professional front door costs
If you are hanging a front door yourself, expect to pay between $100 and $200 for materials. You can find these materials at your local hardware store.
If you hire someone else to do the work, it will cost anywhere from $1,000 to $3,000.
Richard Kelly, Co-founder & Home Repair Expert at Unique Home Guide, adds that 'If you're handy and want to save some money, you can always try your hand at a DIY front door. The price will depend on the materials you use, but you could knock one out on the cheaper end for around $100.
'You can also find great pre-hung doors at most home improvement stores, which makes the process that much easier. Otherwise, you'll need to measure and cut the door yourself, which can be tricky if you're not experienced.'
Put it this way: if you've never done DIY, then you may find that you'll have wasted precious materials and still don't have a front door. Yes, professional front door build and installation will cost you significantly more, but you can be certain that the job will be done to a high standard, that the door will last and be hinged and installed properly. What you really don't want is a poor-fitting front door or one that isn't strong enough to withstand substantial wear and tear.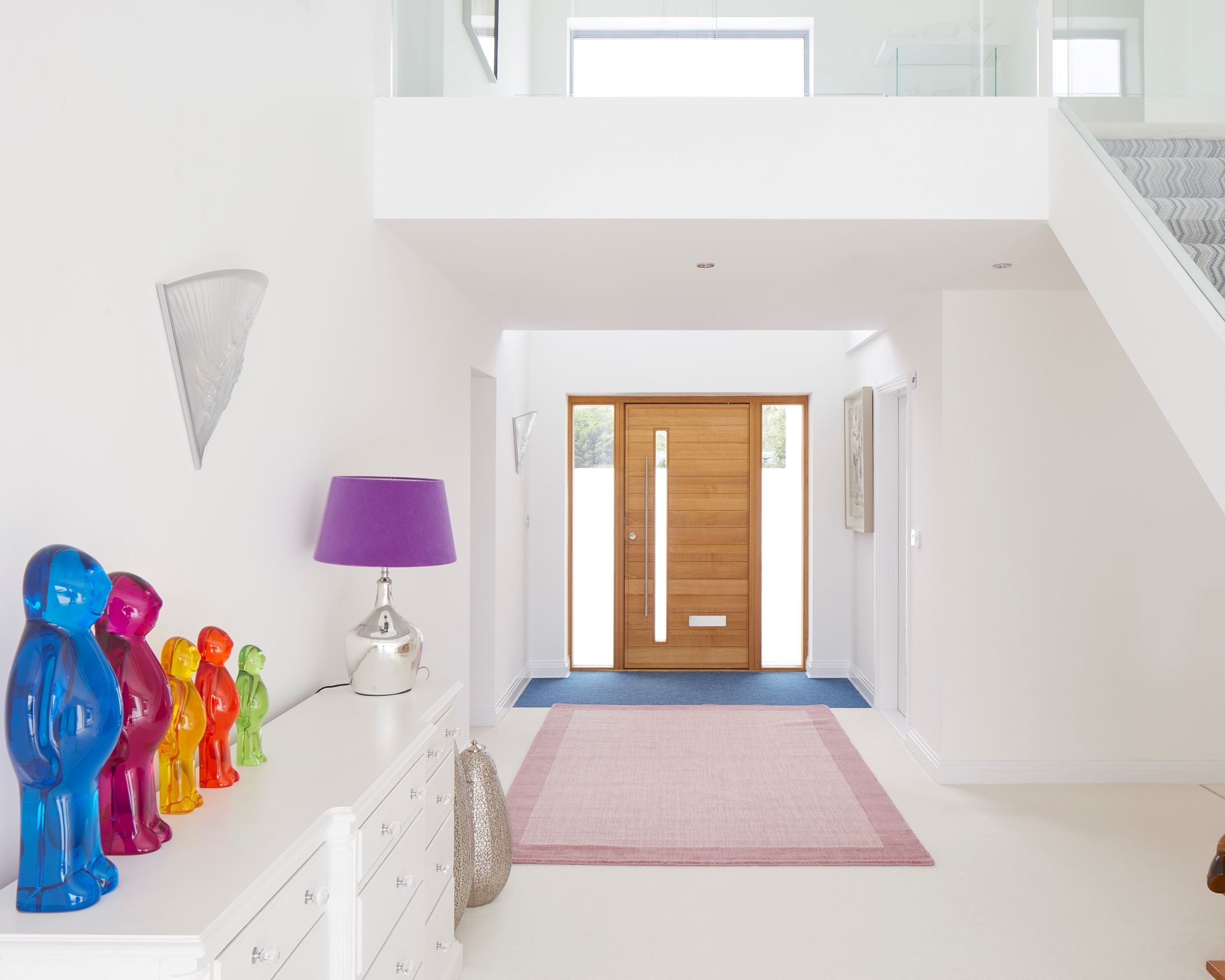 How much does it cost if you need a new door and frame?
The cost of a new door and frame will depend on the type of door you want, the size of your home, and the type of material used.
According to Garza, 'a steel door can be purchased for around $150 to $300. A wooden door will cost more, starting at around $300 to $500. If you have a small house or apartment, the cost of a new door and frame may be as low as $100.
'If you have a larger home or office building, it could cost up to $1,000 for one door. The price will vary depending on what kind of material is used in construction and how many doors need to be replaced in each structure.'
Is there an alternative to a new front door?
If you don't have the DIY skills to make and/or install a front door yourself and you are daunted by the costs of a new front door, you could try restoring your front door. The process will still require physical effort and dexterity from you, but it's much easier than making a front door from scratch.
If your front door is still in good condition but is showing signs of cosmetic wear (e.g. peeling paint and scratches), you can save a lot of money by just painting your door.
Whatever you decide to do, keep your front of house design looking sharp and you won't regret it.