There are so many brands that claim to make the best toasters, so it can be tricky to find one that suits your lifestyle without testing them out firsthand. Luckily for you, we did just that to help you pick out the ultimate small kitchen appliance. We rounded up nine top-rated models of all shapes and sizes, putting them to the test over the course of several weeks. (And eating our way through several loaves of bread in the process.)
Quick Menu:
1. Toaster reviews
2. How we test
3. Things to consider
After comparing today's best toasters side-by-side, we've found the top models from brands like Oster, Cuisinart, Ninja, Dash, and more — all of which are sure to take your breakfast routine to the next level.
7 of the best toasters in 2023
Why you can trust Real Homes Our expert reviewers spend hours testing and comparing products and services so you can choose the best for you. Find out more about how we test.
The best 2-slice toaster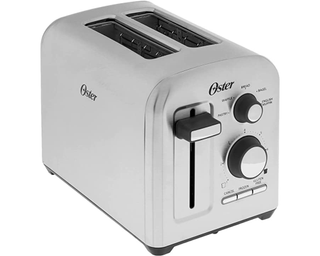 This reasonably-priced two-slice toaster offers everything you need and nothing you don't. It has seven shade settings and five bread options, as well as buttons for frozen and gluten-free bread. We loved that it delivers perfectly even browning across the bread, and its extra-wide slots were able to accommodate even the thickest bagels we tested.
Plus, this is one of the few toasters that lets you select a shade level in between the numbered settings, making it easy to find the perfect level of toasting for your preferences. Our only complaint is that its stainless steel exterior smudges easily, but overall, we think this toaster is well worth the price for any breakfast aficionado.
The best digital toaster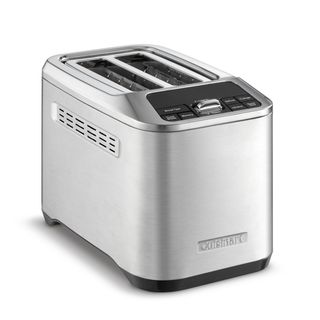 If you toast food on a daily basis, this high-tech motorized toaster is a worthwhile splurge. It provided some of the most even toastings of all the units we tested, and it has several useful settings that make it a breeze to operate. For example, the motorized lift silently raises and lowers your bread; it has a digital countdown timer on its screen while your food cooks; and the "quick view" button lets you see how well the contents are toasting. There's even a special setting for just one slice of bread that provides more even browning on both sides. We love the smooth, high-tech operation of this appliance, but if you're not someone who regularly toasts food, the price might be a little steep to justify.
The best toaster oven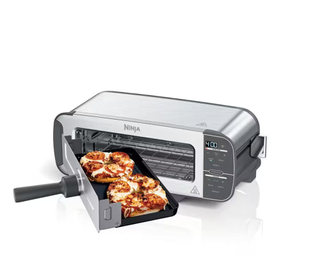 This 2-in-1 toaster had the most unique design of our tested appliances. It can be used upright as a regular toaster, featuring seven shade settings and defrost and bagel buttons, but you can flip it on its side and use it as a small air fryer toaster oven. Its single slot is big enough to accommodate thick bagels and delivers impressively even toasting on bread. When used as a toaster oven, the appliance cooks surprisingly quickly — it can reach temperatures up to 400 degrees and was able to reheat a slice of pizza in just four minutes, leaving the crust crispy and the cheese slightly melted. The multi-purpose design is ideal for smaller kitchens where space is at a premium.
The best mini toaster oven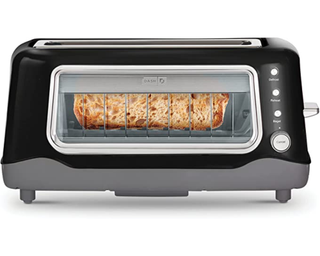 You won't have to worry about burning your bread with this unique toaster, which has a see-through window to monitor your food while it cooks. We were impressed at how evenly it toasted bread, leaving it perfectly browned from top to bottom, and it delivered a nice range of browning across its seven settings. Because the toaster only has one slot, it's a tight fit to cook two wide slices of bread at once, but it is doable. The major downsides of this toaster are that the plastic construction feels somewhat flimsy, and the extra-long form is somewhat bulky to store.
The best air fryer toaster oven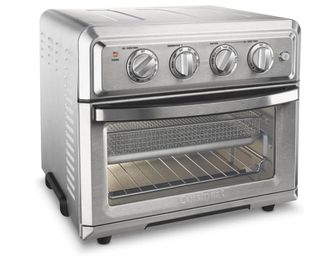 What is this air fryer like to use? Well, our tester used it every single day since it arrived on her doorstep. It has replaced her oven use by at least 85 percent, and that's not an exaggeration.
This convenient machine has an impressive temperature range of 80–450°F. It can keep food warm and even broil. There's a handy interior light that's way better than an oven light and allows you to check on food without opening. If you bake, you know opening an oven can be the death of your cake.
The settings are clear and easy to read, and the timer is self-explanatory. The loud retro-sounding ding alerts you once the time is up. Another nice touch — especially with young kids in the house — is the auto shutoff function.
The instructions give great advice as far as how to cook a wide array of foods (chicken, pork, beef, etc.) and they seem to be fairly spot on.
The best looking toaster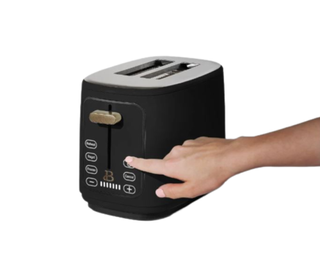 This toaster truly lives up to its name — the countertop appliance is more aesthetic than most thanks to its matte finish, which is available in several trendy colors. It's also the only toaster we tested that has a touchscreen display that shuts off when not in use, giving it a minimalistic appearance on your counter. There are seven toast shade settings to choose from, as well as frozen and bagel modes, and while the settings offer a wide range of brownness, we did notice that bread doesn't always come out evenly toasted. In particular, the bottom edges of our food tended to be much lighter than the rest.
The best Amazon toaster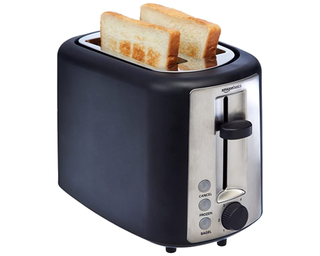 This two-slice toaster is an affordable option for anyone who just wants a simple, no-frills appliance. It has six shade settings, as well as frozen and bagel options, and the exterior stays cool to the touch during operation. During testing, we found that it delivers mostly even toasting, though the bottom of your food may be a bit lighter than the top. However, it might take a little trial and error to find the right shade setting—we noticed that there's a larger-than-average increase in brownness between settings, and our bread was almost burnt on setting 3.
Other toasters we tested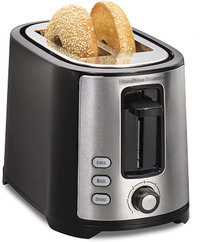 Hamilton Beach 2-Slice Toaster
This inexpensive toaster comes in both two- and four-slot options, allowing you to cook more food at once if desired. We also liked that it has extra-wide slots, which are able to accommodate large bagels and other thick food. However, it's one of the least powerful toasters we tested, and it tends to toast unevenly, leaving patches of the bread significantly less browned.
Real Homes rating: 2.5 stars out of 5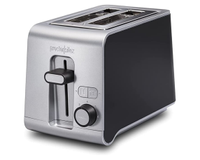 One common complaint about toasters is they cook one side of the bread more than the other. This particular toaster is handy if you like both sides of your food equally toasted, as it has a unique one-slice setting. There are seven toast shades, as well as a bagel option, but this model doesn't have a button for frozen foods. It doesn't deliver the most even toasting—we noticed the bottom and sides of toast were quite a bit lighter than the center—but the smudge-proof finish keeps the toaster looking clean, even if it's handled frequently.
Real Homes rating: 3 stars out of 5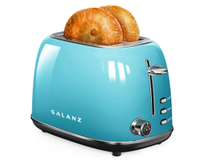 This toaster has a brightly-colored retro design that's sure to add interest to your kitchen. It's available in blue or red finishes, and it comes with a handy slot cover that you can use to keep dust out when the toaster isn't in use. The unit has six shade settings, along with frozen and bagel buttons, and we liked that it offers a nice range of brownness between its lowest and highest settings. Toast does come out somewhat striped after toasting, and one of the biggest downsides of this model is that it "pops" very aggressively, which can be startling, and often ends up tossing bread right out of the toaster.
Real Homes rating: 3 stars out of 5
4 things to consider when buying a toaster
Most toasters have a fairly similar design — at least at first glance — but there are several factors you'll want to think about when choosing an appliance for your kitchen.
Slots
Your average toaster has two slots — perfect for cooking two halves of a bagel or English muffin at once — but there are other options, as well. One-slot toasters generally have a long, skinny design, which allows them to accommodate thicker pieces of bread, but depending on their length, you might not be able to cook two pieces of bread at once. Alternatively, if your family is always waiting in line at the toaster, you might want to look for a four-slice toaster that can cook multiple servings simultaneously.
Settings
Toasters generally offer six or seven shade settings, allowing you to select how browned you want your food. Some models only allow you to use the numbered settings, while others can be set in between numbers for more granular control.
It's also common for toasters to have a bagel setting, which increases the cooking time to accommodate for the bread thickness. Finally, most units have a defrost or frozen food setting, which is ideal for frozen waffles or pastries.
Features
In addition to standard settings, some toasters offer additional features that make them more versatile or easy to operate. Some units we tested had different bread settings — such as toast, English muffin, or waffle — and automatically adjusted cook time based on the food selected.
Other products have special settings for toasting just one piece of bread, digital screens, or motorized lifts. If you use your toaster frequently, these types of features might be worth the additional cost, but they're probably unnecessary if you only break out the appliance once in a while.
Cost
Toasters can range quite dramatically in price — a no-frills model can be as inexpensive as $25, while certain high-end, high-tech models cost over $300. You'll want to take your budget into account as you shop and choose an option that offers the features you want within your preferred price range.
How we tested the best toasters
It can be tricky to tell if a toaster is up to snuff when you're just looking at the product listing. We wanted to get a sense of how today's best toasters perform in the kitchen, so we put nine models to the test over the course of several weeks.
To assess each product's toasting abilities and shade range, we used each model to cook three pieces of bread on low, medium, and high settings — yes, we went through three whole loaves of bread in the process. We compared the shade range of the three pieces and assessed whether the toaster browned the bread evenly. Some left our bread beautifully browned, while others resulted in patchy or striped cooking.
In addition to these standardized tests, we also used each toaster to cook a variety of foods, including bagels and frozen waffles. For toasters with special settings, such as one-slice toasting, we made a point to use all the different features to see if they're actually useful or just gimmicks. With all this info in hand, we then scored each toaster and sorted them into categories based on their best uses.
Camryn Rabideau tested all nine of these toasters — she spent weeks eating all sorts of carbs for breakfast, and her chickens were happy to take care of any overcooked pieces of toast. She frequently uses a toaster to cook bagels, English muffins, pastries, and frozen waffles in the morning, and she's tested dozens of small kitchen appliances in her five years as a professional product tester.