Best tea kettles: Quick Menu
How do you go about buying one of the best tea kettles? Well, gone are the days of buying the first tea kettle you see on sale — unless you're happy with it breaking after six months of daily use, that is. Finding a tea kettle that fits your budget, has all of the functions on offer, and is pretty will prove to be a difficult task.
That's why I'm here to help make this decision a lot easier. Yes, four out of five of the kettles in this guide have been reviewed, so that you know they're worth it. We did a total of seven tests on each kettle, and then we ranked them based on how well they performed.
I've used this list to showcase the best electric kettles and a few stovetop kettles, too. So, whether you want something that you can plug right in or a cute accessory for your stovetop, they're all here in one place. What's the difference? Other than the way they boil, electric kettles work faster and can offer more features ⁠— precision temperature control, built-in filters, indicator lights ⁠— but stovetop ones can bring water to boil to a hotter temperature. Here, we've selected five tea kettles we really love, for their quality, looks, and features. Pour yourself a cup and get reading.
By the way, Prime Big Deal Days (or Amazon Prime Day #2) is on October 10 and 11 this year, which means the deals are coming soon. Pop it in your calendar and keep an eye on this page to be the first to know about the deals we've spotted.

5 of the best tea kettles, tried and tested by us
Why you can trust Real Homes Our expert reviewers spend hours testing and comparing products and services so you can choose the best for you. Find out more about how we test.
The quick list
In a rush? Here's a quick glance at all of our best tea kettles that we recommend.
For tea lovers
1. Fellow Corvo EKG electric kettle
Fancy yourself as a minimalist queen who likes an Americano or matcha? If you live in LBDs and thrive on a Wednesday Addams aesthetic, this tea kettle was practically made for you.
See more on the Fellow Corvo EKG electric kettle below
Best stovetop kettle
2. Mr. Coffee Claredale Stainless Steel Whistling Tea Kettle
If you're after a budget buy that you can heat on the stovetop, Mr. Coffee's Claredale kettle is our top pick. This is often seen around the $20 mark, which is amazing value for a 2.2-quart kettle that whistles when your water is boiled. Go for the red version for tomato girl vibes.
See more on the Mr. Coffee Claredale stainless steel whistling tea kettle below
Best electric tea kettle
3. Cuisinart Electric Cordless Tea Kettle
If you're after a large-capacity electric tea kettle for under $100, may I suggest this contemporary pick? From a feature perspective, this one nails those everyday things you'll appreciate, including an easy-open lid, removable scale filter, cord compartment, and window with legible measurements so you only boil what you need (a great way to save on bills and energy!)
See more on the Cuisinart electric cordless tea kettle below
Load the next 2 products ↴
Best whistling kettle
4. Fellow Clyde Stovetop Tea Kettle
If you're quite the multitasker, you'll appreciate this modern traditional Fellow Clyde stovetop tea kettle. It's got a sweet-sounding two-tone whistle that acts like an audible push notification to let you know when the water has reached new (temperature) heights. A great tea kettle for a two-person apartment.
See more on the Fellow Clyde stovetop tea kettle below
Transparent tea kettle
5. Cosori Original electric glass kettle
Sounds cliché, but sometimes you've got to see it to believe it. And that's the beauty of this Cosori Original electric glass kettle. You can quite literally watch the process of your water boiling, and the LED indicator light looks quite attractive, too.
See more on the Cosori Original electric glass kettle below
The best tea kettles
The best kettle for tea
Buy it if
💕 A speedy boil is part of the brief: Heat 30 fluid ounces in just 70 seconds.
💕 You like drinking specialty teas: This kettle brews water at specific temperatures (great for delicate loose leaf infusions).
💕 You're constantly reboiling the kettle: No need to repeatedly flick the switch with the 60-minute keep warm function.
💕 You're always seen with the latest tech: The LCD screen is a real standout feature for this kettle so you can set the temperature or monitor the real-time temp.
💕 You want to pour hot water without it spilling on the worktop (or god forbid, yourself): The specially-designed spout ensures water flows straight into your cup.
💕 You want a kettle that's easy to hold: The ergonomic handle ensures you've got a good grip on your appliance.
Don't but it if
❌ You live in a busy household: The 0.9-liter capacity won't be sufficient.

❌ You want a simple "fill-and-pour" kettle: Some of the controls will be wasted on you if you just want an appliance that heats water to 212°F
The bottom line
✨ Fellow Corvo EKG Electric Kettle: If you want a stylish and specialist small kettle with a state-of-the-art temperature control system, then add this appliance to your basket. It's the perfect combination of aesthetic design and everyday functionality in my opinion.
The Fellow Corvo EKG Electric Kettle was the top-performing kettle that I tested. While the 0.9-liter capacity is small compared to some of the other kettles, this kettle is ideal for one or two people. The kettle brought water to boiling in just one minute ten seconds, faster than all the other kettles tested. Its handle's ergonomic design sits easily and comfortably in my hand, and the kettle was easy to pour.
Features I loved
By activating the hold function, you can set the kettle to maintain that target temperature for up to 60 minutes, ideal when you think you might want to go back for a second cup. It features an LCD screen that you can use to set a desired temperature, as well as the ability to change the LCD display from Celsius to Fahrenheit.
Good to know
All of these features are helpful, and while learning to use them was slightly difficult, the instruction guide is easy to understand and helpful. Its exterior and base easily wipe clean, and the black matte finish on the kettle dried evenly and looked brand-new, even after testing.
Swipe to scroll horizontally
Fellow Corvo EKG Electric Kettle Test Results

| Attributes | Notes | Rating |
| --- | --- | --- |
| Design | A matte black kettle with LCD interface on base | ★★★★★ |
| Price | Under $170 | ★★★★ |
| Performance | Boils 30 fl oz. in 70 seconds | ★★★★★ |
| Features | Keeps water warm for one hour, abolity to monitor real-time temperature in celsius or Farenheight | ★★★★★ |
The best stovetop tea kettle
Buy it if
💕 You don't have much to spend: Though this usually retails at $39.99, I've seen it go sub-$20 during promotional periods like Amazon Prime Day and Black Friday.
💕 You want a big kettle (but not the biggest): Head-to-head this is the second largest on the list.
💕 You want a lightweight kettle: If you can hold a 1-pound dumbbell — you've got this.
💕 You don't want to struggle cleaning the inside of this kettle: The removable lid will give you accessibility.
Don't buy it if
❌ You want a flexible handle: This kettle requires a bit more of a hands-on approach. Not good if you haven't got good dexterity in your wrists.
❌ You hate rust: Everybody does. We're not saying it's guaranteed to oxidize, but some Amazon reviewers claim it does. Handwashing is recommended as dishwashing can be a little abrasive.
The bottom line
✨ Mr. Coffee Claredale stainless steel whistling tea kettle This appliance is hot on Amazon (for nearly all of the right reasons). It's affordable, heats a fair amount of water at once, and you can decide whether you want it to whistle or not.
Bang for your buck, this is the best stovetop kettle we've laid eyes on. Capacity-wise, it's the largest on the list and is on offer at Amazon right now. Note, that we haven't got the chance to physically put this through its paces, but we have done our due diligence oenline to sift through thousands of genuine reviews.
Features reviewers loved
In short, it does what it claims for a good price. The lever feature (to push the spout cover up or down without being close to the heat) is also clever and well-considered for families and clumsy types. This lightweight 1.2-pound kettle has a timeless look that won't have you chasing trends and a Bakelite handle that'll stay cool too. Aesthetically, the clean black handle and two-toned stainless steel finish are a winning combination.
Good to know
It's also available in both brushed steel and metallic red. On Amazon and Walmart.com, customers criticized this kettle for its stationary/inflexible handle (but that's not a dealbreaker in our eyes). In a handful of cases, some said they spotted specks of rust inside the kettle.
Swipe to scroll horizontally
Mr. Coffee Claredale Stainless Steel Whistling Tea Kettle Test results

| Attributes | Notes | Rating |
| --- | --- | --- |
| Design | A traditional design with classic black handle | ★★★★★ |
| Price | Under $40 and the cheapest on our list | ★★★★★ |
| Performance | Not tested, but Amazon reviews seem fairly positive | ★★★★ |
| Features | Stay-cool handle, but handle could be better designed | ★★★★ |
The best electric tea kettle
Buy it if
💕 Managing hard water build-up is important to you: Nobody likes crunchy limescale in their tea.
💕 You're working with a comfortable budget: This mid-priced kettle is under $70.
💕 Visible cords cramp your style: Keep the cable concealed with the built-in compartment.
💕 You've been guilty of boiling your kettle dry in the past: With the auto shut-off feature, you won't risk damaging the element as there are precautions in place.
Don't buy it if
❌ You don't lift heavy: Our reviewer found this a little uncomfortable to use when it's full to the brim.
The bottom line
✨ The Cuisinart Electric Cordless Tea Kettle is a contemporary style that you're likely to be familiar with if you enjoy hot beverages in a modern home or workplace. It's fairly quick at boiling water (taking 3rd place at 74 seconds) and features like the removable filter, wide handle, easily-open top and cord wrap make this appliance a dream to use for making drinks.
The Cuisinart Electric Cordless Tea Kettle pairs fast heating with a large 1.7-liter capacity, making it ideal for larger families who want to prepare several cups of tea at once. It brought water to a boil in one minute 14 seconds, taking just a few seconds longer than the Fellow Corvo EKG Electric Kettle. The handle remained cool during the heating process and delivered a comfortable grip.
Features I loved
There are many features that make this kettle stand out. Its removable scale filter helps to prevent buildup from hard water. The easy-open lid pops open when you press the button at the top of the handle, and the cord can be wrapped into the base to minimize clutter on your counter. The kettle's water window features large, easy-to-read measurements, and an indicator light makes it easy to tell when the kettle is on.
Good to know
I wiped down the kettle with a damp cloth and it cleans up easily and well. The filter can be run under hot water and rubbed with a clean rag or brush. While I tested the kettle with 0.8 liters of water, I later filled it and lifted it. It was quite heavy, but I still felt in control and was able to precisely pour water, thanks to the generous handle.
Swipe to scroll horizontally
Cuisinart electrical tea kettle test results

| Atrributes | Notes | Rating |
| --- | --- | --- |
| Design | A recognizable stainless steel design | ★★★★★ |
| Price | Under $70 | ★★★★★ |
| Performance | A full boil takes just 74 seconds | ★★★★★ |
| Features | Wide handle, removable hard water filter, easy-open lid, easy-to-read water window with clear measurements | ★★★★★ |
The best whistling tea kettle
Buy it if
💕 You want a contemporary kettle for your small apartment: This appliance ticks the boxes for style and size.
💕 You don't want to sprain your wrist making a hot drink: The long and rounded handle is practical for pouring water.
Don't buy it if
❌ You've got an induction worktop: It simply won't work!
The bottom line
✨ The Fellow Clyde Stovetop Tea Kettle is the moody matte black appliance we didn't know our kitchen needed. If you can't redecorate your cooking scheme, let this be the star of the space. It looks good, sounds great, and heats 1.7 liters of water in under six minutes.
The Fellow Clyde Stovetop Tea Kettle features a simplistic design, yet delivers an excellent performance. The kettle features a large capacity that makes it suitable for preparing several cups of tea. I tested this kettle on my electric stovetop on the high setting and it heated the water to boiling in five minutes and 30 seconds. The whistle sounded at six minutes 45 seconds. Its lid is easy to remove and replace, and the silicone-wrapped handle is comfortable and never heated up.
Features I loved
Its dual-tone design produces a sound that is relaxing and that sounds similar to a distant train whistle. It had a nice, low pitch that didn't send my cats running from the room, unlike higher-pitched whistles often do. The kettle was very easy to pour, even when full.
Good to know
It's also easy to wash with soap and water, and its matte finish is attractive and cleans up very well.
Swipe to scroll horizontally
Fellow Clyde Stovetop Tea Kettle test results

| Attributes | Notes | Rating |
| --- | --- | --- |
| Design | A modern matte-black round design | ★★★★★ |
| Price | Under $110 | ★★★★★ |
| Performance | One of the slowest in our guide, but OK if you can wait | ★★★ |
| Features | Two-tone harmonic whistle and long handle | ★★★★★ |
The best glass tea kettle
Buy it if
💕 You want to keep an eye on your water boiler's progress: This is ASMR if nothing else!

💕 You're slowly trying to cut down on plastic in your kitchen: This has a stainless steel filter instead of the plastic ones you often see.
💕 You want to fill the kettle, fast: The wide lid is great for sticking under the kitchen faucet.
Don't buy it if
❌ You get satisfaction from cleaning the filters: You can't detach it from the device.
The bottom line
✨ The Cosori Original Electric Glass Kettle is a clear contestant for those who like a see-through design. We'd recommend this for large apartments of tea and coffee fans (think room renters who want to chip in for one kettle in a shared space versus. a cheap plastic one in their bedroom)
The Cosori Original Electric Glass Kettle is overall very easy to use. Its 1.7-liter capacity makes it ideal for heating larger amounts of water. This kettle heated 0.8 liters of water in two minutes 40 seconds.
Features I loved
The LED light indicates when the kettle is heating and then turns off once the water is ready. The wide lid design makes it easy to reach inside the kettle for cleaning if needed.
Good to know
While there are measuring increments printed on the kettle's side, they are small and somewhat hard to read. The button at the top of the window will open the lid, and it's easy to use. The lid also features a built-in stainless steel water filter. Unfortunately, that filter cannot be removed for cleaning. The handle provides good control, but I found the kettle slightly difficult to pour precisely, possibly because of its relatively short spout.
Swipe to scroll horizontally
Cosori original electric glass kettle test results

| Attributes | Notes | Rating |
| --- | --- | --- |
| Design | A transparent model with LED lights that indicates boiling. | ★★★★ |
| Price | Under $40 | ★★★★★ |
| Performance | Boils water within time expectations, but pour accuracy is poor due to short spout | ★★★★ |
| Features | Wide lid with stainless steel water filter (marked down as filter is not removable) | ★★★★ |
Compare these tea kettles
Swipe to scroll horizontally
Tea kettle comparisons

| | |
| --- | --- |
| Tea kettles | Our verdict |
| Fellow Corvo EKG electric kettle | A small-capacity statement kettle for specialist tea drinkers |
| Mr. Coffee Claredale kettle | A traditional two-liter stovetop kettle that's the cheapest in our guide |
| Cuisinart electric cordless kettle | A modern electric model with removable filter, backlit water window and cord wrap |
| Fellow Clyde stovetop tea kettle | A chic, two-tone harmonic whistling kettle with ergonomic handle |
| Cosori Original electric glass kettle | A contemporary glass kettle with LED indicator light |
Other tea kettles we've tested
There are some tea kettles that we tested but didn't like enough to put on our best tea kettles list. Here's one: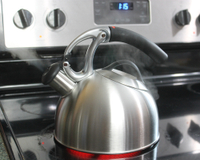 OXO Uplift Tea Kettle | $69.99 at Amazon
This 1.9L stovetop kettle has a few good points including that it's affordable, but mostly we found it to be a bit of a pain while in use. The spot automatically opens when you lift the bottom of the handle, making for easy pouring and helping to prevent you from burning your fingers when manually lifting the spout. But, while this feature is convenient, it takes a little practice to find the right position on the handle to avoid opening the spout while simply carrying the kettle. The kettle's lid was difficult to remove and equally difficult to reinsert. I found I had to use a lot of pressure and wiggle the lid around before I felt it was secure. I tested the kettle on my electric stovetop, and while it does have a traditional high-pitched whistle, the whistle was weak. Steam escaped not only from the spout but also from the lid, indicating that even after trying, I hadn't managed to fully secure the lid. While the whistle could be heard in the kitchen, it wasn't loud enough to summon someone from another room in the house.
Real Homes rating: 3 stars
Things to consider when choosing a tea kettle
When buying a tea kettle, think about how you're likely to use the kettle most often.
1. How large does it need to be?
Consider what capacity would be best for your needs.
2. Stovetop or electric? Which is more convenient for you?
If you're looking for fast heating, electric may be best, but stovetop kettles do have a traditional and cozy feel to them.
3. Think about the design of each kettle
It's also important to pay attention to the handle design. Comfortable, ergonomic kettles can help to give you a secure grip, contributing to your safety when using the kettle. Also, investing in a new kettle (and maybe a matching toaster, too) is a great way of sprucing up kitchen worktops. With this in mind, check if you can buy other matching appliances.
4. How easy is it to empty and refill?
Assess how easy or difficult it is to empty and refill the kettle. While some electric kettles come with a push-button lid, others have a more manual process of removing the top, replacing the water under your tap, and then replacing the top.
5. Think about any additional features you might find handy
Think of everything from loud whistles to automatic shut-offs, to help prevent damaging the kettle.
6. Don't forget about the environment!
We all want to do our bit for the environment and saving energy also cuts down on the bills too — a win-win for everyone. Look for kettles with specific energy-reducing features and functions, such as rapid boil, digital control, and variable temperature to ensure you don't needlessly over-boil.
7. Check the kettle's wattage
While the cost to boil a kettle isn't scaldingly expensive, it's worth keeping an eye on (especially if members of your household like to brim the kettle and reboil it). The higher the wattage, the more powerful your electric kettle is. Which means a pricier cup of tea!
8. Do you want a smart kettle?
Practically every appliance in the home is now available in a smart version for those who love their tech. Even kettle manufacturers have got in on the act, with models that can be operated via an app on your smartphone or tablet. Some are even voice controlled for a hands-free switch-on. So now you can turn the kettle on without leaving the sofa, or get it boiling your way home from work when you fancy a brew.
FAQs
Should you buy a stovetop or electric kettle?
Both stovetop and electric tea kettles can quickly boil water, but there are some key differences between them.
Stovetop kettles can heat water beyond its boiling point, and you can keep them at a rolling boil to maintain the water temperature. They're also versatile, meaning you can use them not only on stoves but also over campfires. Since these kettles contain no heating element, they are easy to clean inside (and out!). They also don't take up any countertop space as they can be stored in a cabinet or on top of your stove.
Electric kettles offer more precise heating options, including the ability to heat water to a specific temperature. Some of them have hold settings that will maintain the water at that specific temperature. They boil water much faster than traditional stovetop kettles, and because they are electric-powered, you can use them just about anywhere that you can find an outlet.
There isn't one type of kettle that's better than another. Instead, consider which kettle will make your life easier.
How to keep your tea kettle clean
When cleaning your tea kettle, it's best to refer to the manufacturer's instructions. Most kettles can be wiped clean with a damp cloth, but specific cleaning instructions will depend on your kettle's construction and materials.
Regularly descaling your kettle will remove any buildup left behind by hard water and help to keep your boiled water clean. Your kettle's manufacturer will likely provide instructions on how to descale the kettle. Some manufacturers recommend using a lime remover, while others recommend a combination of lemon juice, distilled vinegar, and water.
We've got a guide on how to descale a kettle if you're looking for some tips.
When should you replace your tea kettle?
There are two factors that you'll notice that should ring some alarm bells that you need to replace your tea kettle with a new one, these are:
Your water starts to taste strange
A build-up of minerals in your kettle can start to alter the taste of your boiled water. If you start to notice a metallic taste, it's probably time to get a new kettle. Regular cleaning/descaling can reduce the build-up of these minerals and increase the lifespan of your appliance. No one likes crunchy bits at the bottom of their teacup.
Your kettle is taking longer to boil
The heating element in your kettle can lose efficiency over time. This is primarily due to limescale build-up, particularly in hard water areas. If you notice that it's taking longer to make your morning brew, it's probably time to replace the appliance. Regular descaling can help to prolong the shelf life of your kettle.
Where to buy
Ready to flick the switch? Here are some retailers we'd recommend shopping for the best tea kettle. BTW, this isn't a conclusive list... it's just a "tea-ser."
How we tested these tea kettles
One of the tea kettles in this guide was chosen purely based on impressive reviews, while the others we had a freelancer test in her home kitchen. She performed a number of tests and the kettles she found to be most impressive, made it to this guide.
Test 1:
We lined up the kettles, plugged them in (if applicable), and then filled them all with approximately 3.5 cups of cold water. We timed how long each one took to come to a boil.
Test 2:
Once each kettle had come to a boil, we lifted each one and compared their weight. They all had the same amount of water inside them at this time.
Test 3:
We tested how easy insulated each kettle was by waiting half an hour once boiled and measuring the water temperature again.
Test 4:
We tested how easy each kettle's exterior was to clean. These kettles didn't get dirty enough on the inside during our testing to check how easy they are to descale.
Test 5:
We took an energy meter reading to assess the ongoing cost of use of each kettle. Do note that all of the kettles we tested were brand new, so the cost per use will change once a bit of limescale has formed.
Test 6:
We poured water out of each kettle to see how easy they were to re-fill and tested whether they had the potential to burn you if you touched the exterior of the kettle after it had boiled.
Test 7:
Finally, we took into account the style of each kettle, asking members of the team which look they'd be happiest to have in their kitchen.
Meet our hands-on reviewer:
Reviewed by
Reviewed by
I'm Paige Cerulli and I specialize in product reviews and have been writing product reviews for more than five years. I used several tests to evaluate these kettles in my home. To establish how quickly the kettles brought water to a boil, I timed each one as it heated 3.5 cups of cold water. I also filled the kettles to capacity and boiled the water, and cleaned each kettle.
In testing the kettles, I looked for products that were reliable and easy to use. While being able to quickly boil water is an advantage, I ranked these products with an emphasis not only on their performance but also on their overall quality. I considered factors like cleaning, ease of lifting and pouring, and features like filters and automatic shut-offs when ranking the kettles.