We all know that classic saying 'don't judge a book by its cover,' but when it comes to getting your home holiday-ready, there's an exception to be made. Recruit the whole family for merry-making magic and get the exterior of your house looking fa la la fabulous with DIY outdoor Christmas decorations that deliver joy to the world.
Welcome holiday visitors with a merry and bright first impression. Sprinkle your front door, porch and yard with some festive DIY Christmas decorations and make the neighborhood curtains twitch with curiosity (and a grumble of good-natured baa humbug jealousy!) Your home will be the most joyful on the block with just a few holiday-happy and budget-friendly, crafty makes.
DIY outdoor Christmas decoration ideas
Knock-knock, who's there? 'What better way to welcome friends and family this Christmas than with a freshly painted front door,' says artist and innovator, Annie Sloan.
'Be brave and go for a bright color for a warm, inviting entrance. It's the first thing your guests will see, so why not make it bold and expressive!'
Another fabulously festive outdoor DIY idea to consider is tall ornament topiary. Robert Johnson, founder of Sawinery, advises: These tall ornament topiaries are the perfect accent to your outdoor Christmas decorations, and they're very simple and affordable to construct while still looking amazing!'
Enhance your shop-bought decor with homemade or upcycled pieces full of holly jolly character for that extra special, personal touch. The more really is the merrier, so think big, shine bright and 'gift wrap' your home in candy-cane charm.
1. Grand evergreen greetings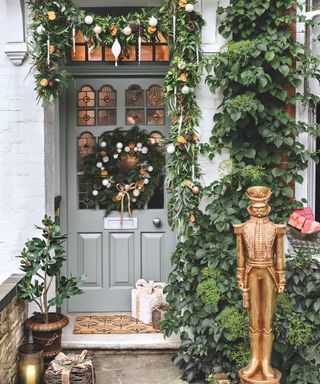 Last Christmas, the craze to decorate the exteriors of our homes became bigger and brighter than ever before. Dazzling light displays, winter wonderland garden scenes and show-stopping Christmas porch decorating ideas spread joy and a sense of connection at a time when loved-ones were separated.
Now the Christmas trend buzzword back for 2021, 'doorscaping' is once again set to dominate the Instagram feeds. Get in on the 'gram-glory by adding simple yet eye-catching accessories, such as a homemade foliage wreath or statue to your home's entrance.
Joanna Thornhill, stylist, Homesense says: 'Pimp up a plain wreath or garland by weaving through your own baubles and LED string lights, then embellish with a selection of natural elements like pinecones, dried orange slices and rustic ribbons tied into bows.'
2. Merry mail box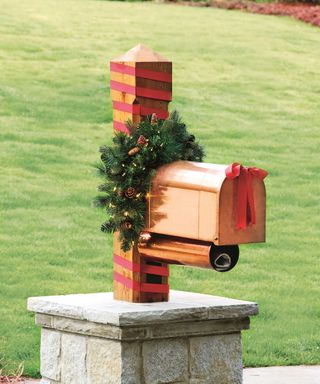 Forever green, forever full and forever in style, use a pre-lit swag or homemade wreath to merry-up your mailbox just in time for the Christmas cards to come flying in. For an extra jolly holly touch, wind a thick red ribbon around the mailbox stand and attach an oversized bow to the front. What a joyful sight to help the postman smile through the wintry brrr.
3. Snowy scene window decal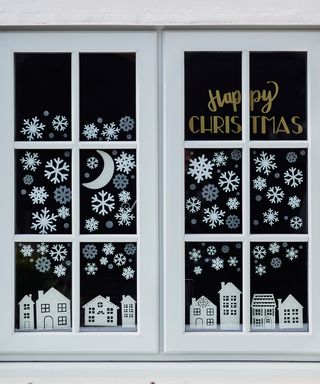 Enchant passers-by with a charming snowflake sprinkled scene – a lovely and effective DIY look for Christmas window displays.
Cricut frosted window cling and removable vinyl have been used to create this snowy winter scene, which is key to ensuring the vinyls can be removed from your windows when the time comes. Discover how to make window decals on the Hobbycraft Ideas Hub.
4. Twinkling presents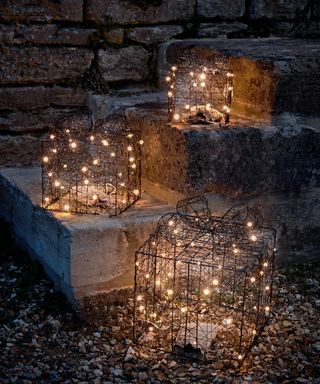 Let the magic spill from your home and illuminate your porch steps and decking with a twinkling display of DIY outdoor Christmas lights. Make simple shapes using a wire frame, or visit your local craft center or garden center to source pre-made silhouettes and characters. Choose anything from stars to winter animals, or mix and match a variety of designs for an eclectic Christmas narrative. Thread each design with LED battery powered Christmas fairy lights, and position in groups of odd numbers for maximum dazzle factor.
5. Al fresco festive dining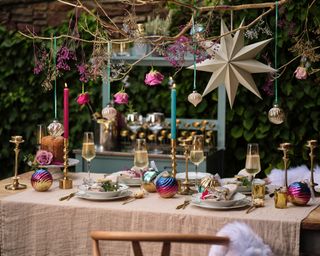 Faux-furs at the ready - layer up and head into the frost-fresh outdoors to enjoy festive dining with a colorful, nature-nurture twist. Christmas table decorations never looked so glimmering and bright!
'The garden has been a welcome escape for many over the past 18 months, providing an extra space for entertainment and relaxation. Weather permitting, embrace outdoor dining this winter, creating a glamorous picture-perfect setting. Hang spray-painted branches above your table and adorn with outdoor Christmas decorations of your choice, for that extra-special statement look. Candles, fairy lights and cosy faux fur throws will transport your garden dining experience into a truly magical winter wonderland,' says Nadia McCowan Hill, resident style advisor, Wayfair.
6. Paper snowflakes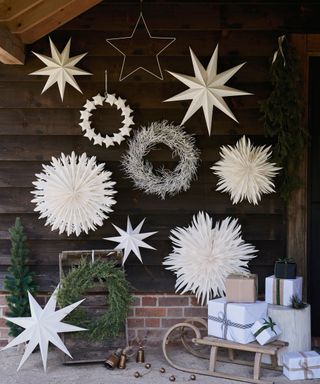 Create an eye-catching scene with a beautiful display of supersized, snowy white paper snowflakes and stars. This easy, fun and effective DIY Christmas craft is something the whole family can enjoy. With just a few nifty scissor snips, create a flurry of unique snowflakes and enjoy a self-made white Christmas.
To make paper snowflakes, all you need are scissors, paper (we recommend using medium to heavy weight paper which is more robust for decorating outdoors), a hole punch and some string.
*Tip: For variety, try using downloadable templates. Simply scale to your paper size, print, and cut out.
7. Personalized festive front door mat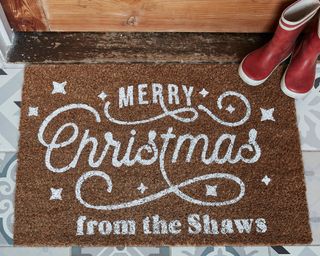 Welcome holiday visitors in merry spirit with a personalized door mat to enhance your festive door decor furthermore. Create this impressive festive design by making a stencil using a Cricut Maker 3, before stippling with acrylic paint and protecting with a spray matte varnish. And ta-da, a truly joy-spreading welcome that also makes a thoughtful personalized Christmas gift idea. Discover how to create this fabulous festive door mat on the Hobbycraft Ideas Hub.
8. Carnival light wreath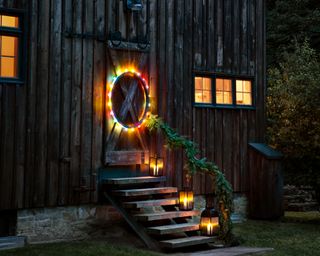 You've got your alternative Christmas tree indoors, so why not mix things up outdoors too with a bright alternative to the traditional foliage wreath. To recreate this fairground-inspired door decor, you'll need a large iron circle or even a hula hoop as your base shape. Then simply wrap your hoop with an LED bulb set to transform it into a glowing marvel. We recommend using a mounting chain for easy installation. Use multicolored lights for a cheerful carnival vibe, or go classic with warm glow white lights.
9. Rustic textures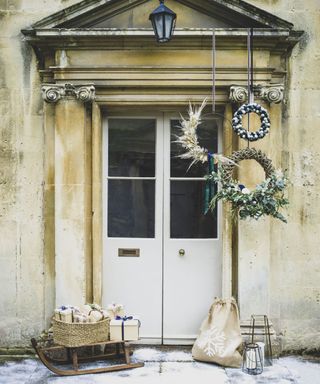 Welcome favorite faces to your Christmas doorstep with a relaxed holiday scene that incorporates natural materials and rustic textures for a Scandi Christmas look and feel. Hang a trio of handmade wreaths at staggered heights (use mixed designs for added interest, for instance, a pom pom, dried flower and fresh foliage design.) A vintage sleigh makes a charming addition to adorn with a basket of 'stunt presents,' whilst a cluster of glowing lanterns adds beckoning warmth.
10. Fill lanterns with baubles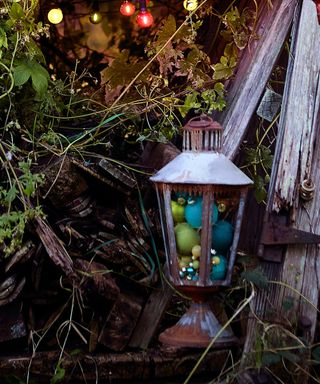 Go Christmas crazy and repurpose lanterns by filling them with colorful baubles for a sustainable Christmas decoration idea. Group the bauble-filled lanterns in mixed-height groups around your outside space, or hang on colored ribbons from a tree to give baron branches a few joyful pops of color.
11. Christmas tree teepee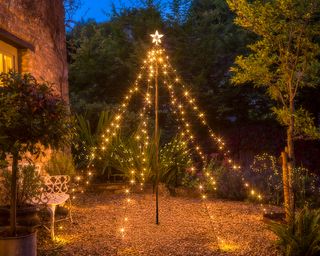 Add a festive twinkle in your garden with a DIY tree-shaped LED light tower. To recreate this magical display begin by securing a long vertical pole (wood or metal) into the ground. Use a metal soil spear if the ground is too hard. You could even use an outdoor rotary dryer clothesline as the foundation if you have one already installed. Next, attach individual lengths of battery powered fairy lights to the top of the pole, before fanning out and securing in the ground with tent pegs to create a Christmas tree formation. Finally, crown your brilliance with a glowing Christmas tree topper. In teepee fashion, scatter weatherproof cushions on the ground within the 'interior' of the tree to enjoy an extra enchanting evening of star-gazing.
How can I make the outside of my house look Christmassy?
Let your Christmas window lighting display do the talking this year with illuminated, winter wonderland scenes-capes.
'Window displays will once again be a huge part of our Christmas aesthetic this year. Whether you keep it classic with wreaths and garlands or opt for a quirky and creative alternative, Christmas window decorations will have your home looking and feeling festive from the inside out,' according to analysed Pinterest trend data by interior experts at WeThrift.
'Hanging ornaments, lights or creating a winter wonderland landscape in your window is a great way to display your creativity and celebrate the beauty of the holiday season. Window displays are a quick and easy project to make your house the most festive on the street.'
What is the Christmas color for 2021?
It's in with the bright and bold this season as we embrace an energizing, maximalist mood.
'The traditional Christmas colors of red and green, and more recently gold and silver, will always be favourable. However, Christmas 2021 will see us steer away from the traditional, and colours like dark blue, green, brown and pink will be introduced,' says Rachel Epstein, interiors expert and creative director of CARME Home.